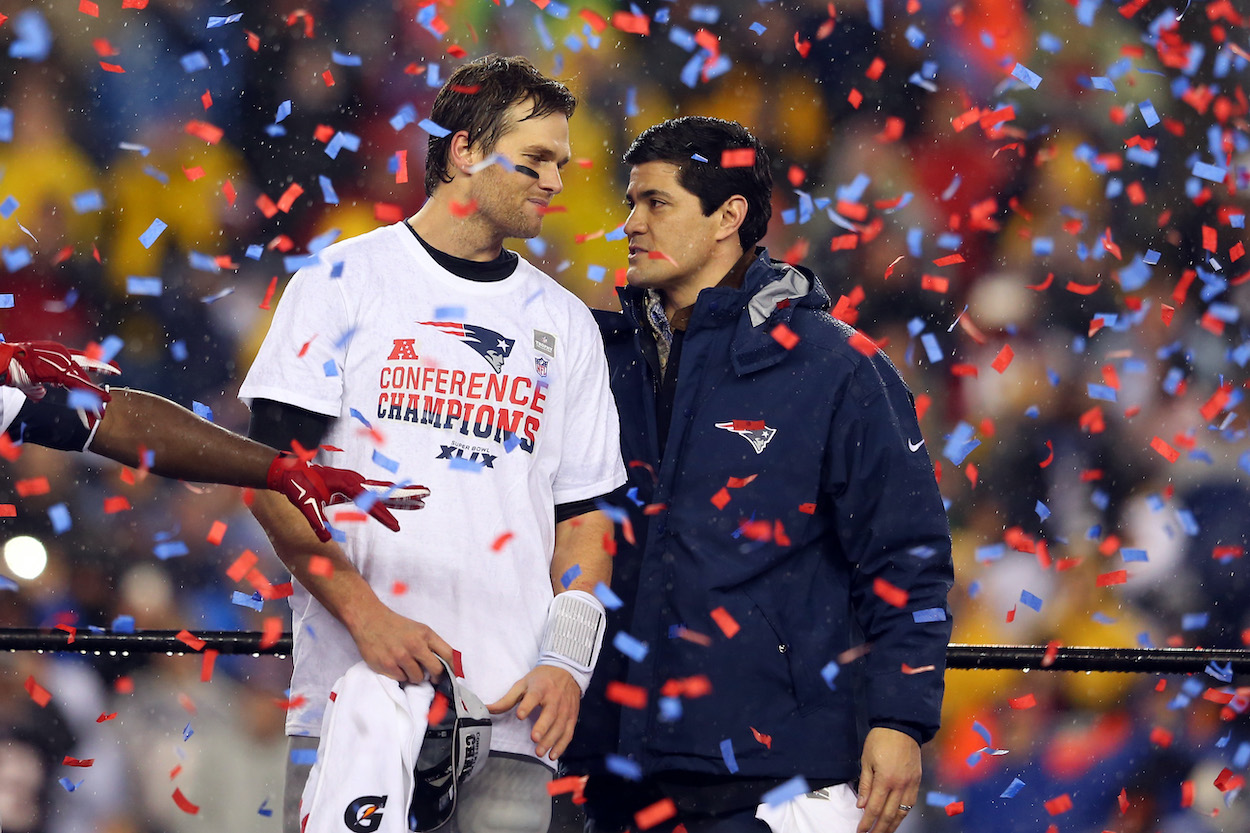 Tom Brady Savagely Mocked NFL Defenders on the 'ManningCast' and his former Pro Bowl Teammate Wasn't Happy: 'They're Like a Dog Chasing a Car'
Tom Brady joined the Manning brothers for an incredible 'ManningCast' appearance where the Tampa Bay QB offended defensive players everywhere, including a former Patriots teammate.
When Tampa Bay Buccaneers quarterback Tom Brady joined Eli and Peyton Manning on ESPN2's Week 7 "ManningCast," it was predictably amazing. The three iconic-QBs-turned-friends chatted about football, ribbed each other, and shared some insight into what made them all so great. Brady also went a step further and candidly (and hilariously) insulted the intelligence of all defensive players in pro football.
Tom Brady joined former rivals Eli and Peyton Manning on the Monday night 'ManningCast'
The "ManningCast," ESPN2's alternate Monday Night Football has been a critical hit and a pretty decent ratings success since its debut in Week 1 of the 2021 NFL season.
For the uninitiated, the broadcast involves legendary NFL quarterbacks Eli Manning and Peyton Manning. The brothers chat about football during the Monday night game. Each week, they welcome a variety of guests from the sports world to watch the game with them.
The guests can be hit or miss. They range from the good (Pat McAfee, Charles Barkley) to the bad (Nick Saban, Brett Favre's internet) to the delightfully unpredictable (Marshawn Lynch, Rob Gronkowski).
In their return from a two-week hiatus, the Manning brothers welcomed a guest that ManningCast fans have been clamoring for. A guest that is one of the only signal-callers in the world more accomplished than the two hosts. The GOAT of ManningCast guests, if you will: seven-time Super Bowl-winner Tom Brady.
What happened next — from incredible inside-the-mind-of-a-QB breakdowns to ragging on the fan who gave Brady his 600th touchdown ball back — was Monday night magic.
This includes the moment when Brady savagely roasted NFL defensive players.
Brady shared his (very critical) thoughts on defensive players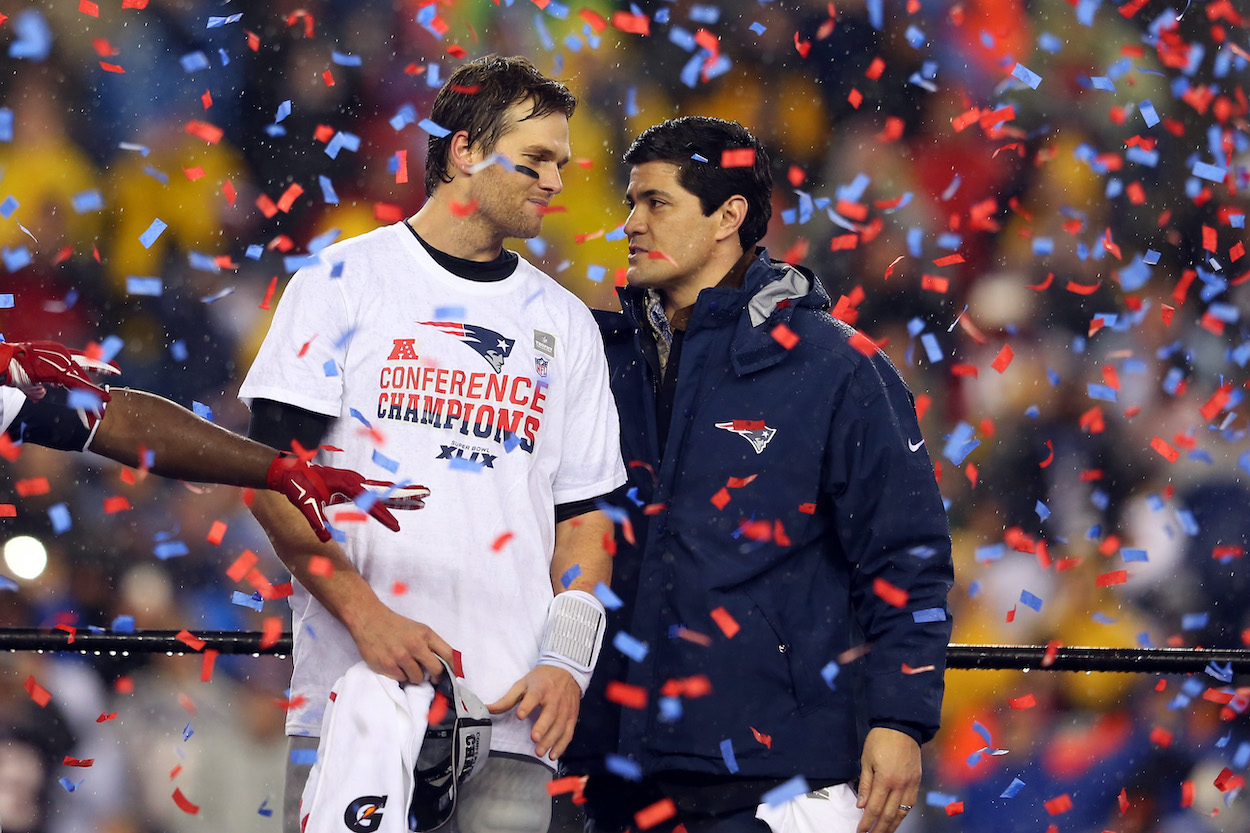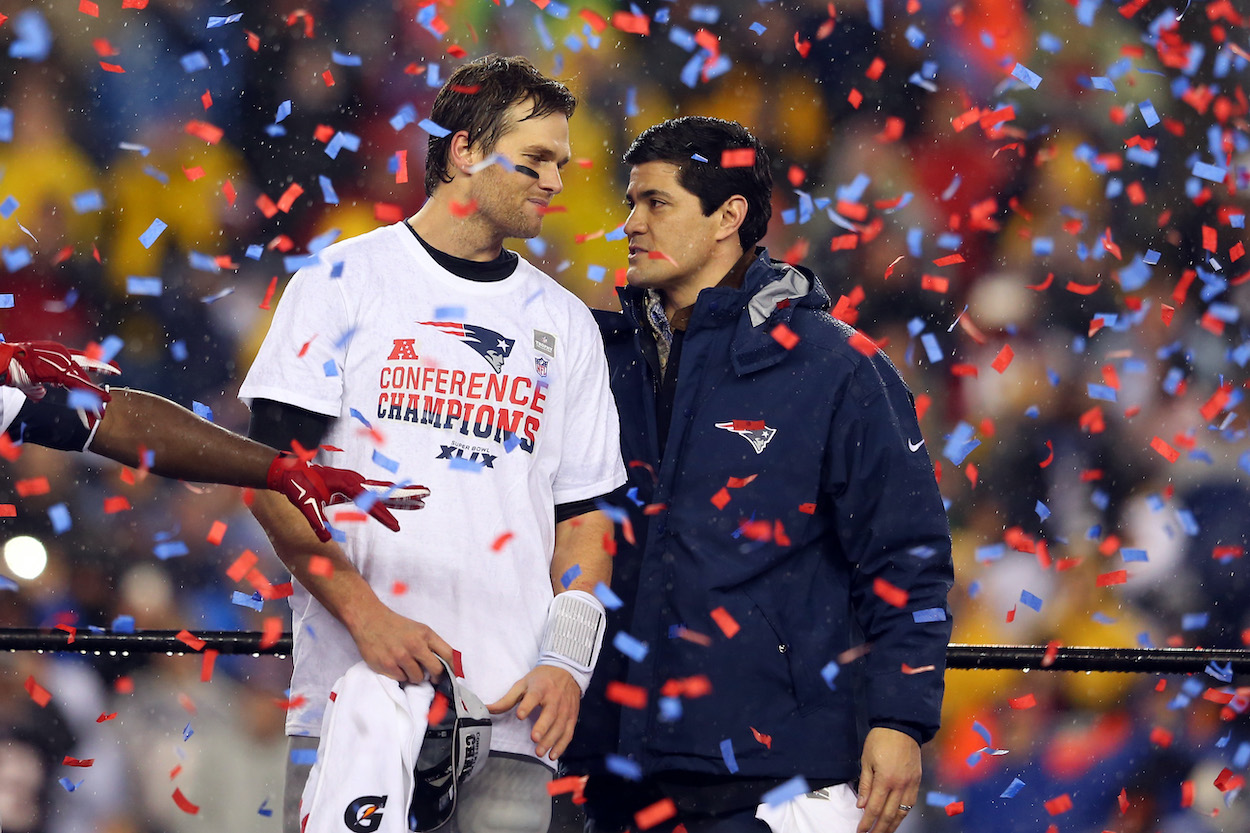 As the first half was winding down and the New Orleans Saints were driving for a score, Saints QB Jameis Winston scrambled out to his right. As he passed the line of scrimmage, the passer pump-faked, causing second-year Seattle Seahawks linebacker Jordyn Brooks to jump up in the air.
Winston ran right by Brooks for a nice gain. This action prompted Tom Brady and the Manning's to start making fun of defenders who fall for pump fakes past the line of scrimmage.
After the three Super Bowl QBs had a good chuckle, Brady shared his candid thoughts on the brainpower of defensive players in general:  
Would you give [the defense] any credit for being smart enough to figure that out? No, I wouldn't, believe me. Have you ever been in some of those defensive meeting rooms? I mean, you wonder why they play defense, and after about two minutes, you go, "yep, they can never be an offensive player." Defense is kind of like a dog chasing a car, you know? Just get the guy with the ball.

Tom Brady on NFL defenders
"I'm sure [Buccaneers safety] Antoine Winfield really appreciates those comments," Peyton told his former rival. "Tell me how that conversation goes at breakfast in the morning."
Brady responded by predicting how it would go, simply admitting, "not well."
The seven-time Super Bowl winner's defensive teammate was not happy with his characterization of defensive players
As great as Tom Brady has been in his illustrious, two-decade career, he didn't win all those Super Bowls himself. He did it with some great defenses. This was especially true early in his career. Brady's first three titles in his first four years came as a game-managing starter.
One of those early teammates who led the fearsome early 2000s New England Patriots defenses was linebacker Tedy Bruschi.
The Pro Bowl defender from the University of Arizona spent his entire 13-year career in New England. Now an ESPN NFL Sunday Countdown co-host, he retired in 2009 with 1,074 tackles, 30.5 sacks, 12 interceptions, and seven fumble recoveries.
Bruschi took to Twitter after Brady's nationally televised slight to deliver a (seemingly tongue-in-cheek) message to his old teammate:
Playing defense is like a dog chasing a car?! @TomBrady is not my friend anymore.

via @TedyBruschi on Twitter
Despite mocking the intelligence of the players who line up on the other side of the ball, Brady surely knows and appreciates how many great defensive teammates he's had over the years.  
The list of All-Pros he's played with is extensive. It includes some of the best defenders of the last few generations. Former teammates like Richard Seymour, Ty Law, Vince Wilfork, Lawyer Milloy, Jerod Mayo, and Darrelle Revis, and current ones like Ndamukong Suh, Lavonte David, and Jason Pierre-Paul are all on this list.
It'd be interesting to see if Brady would ever tell any of these all-time greats (and all-time intimidating players) that they are like "dogs chasing a car" to their face.
Probably not, because offensive players are so smart.
Like Sportscasting on Facebook. Follow us on Twitter @sportscasting19