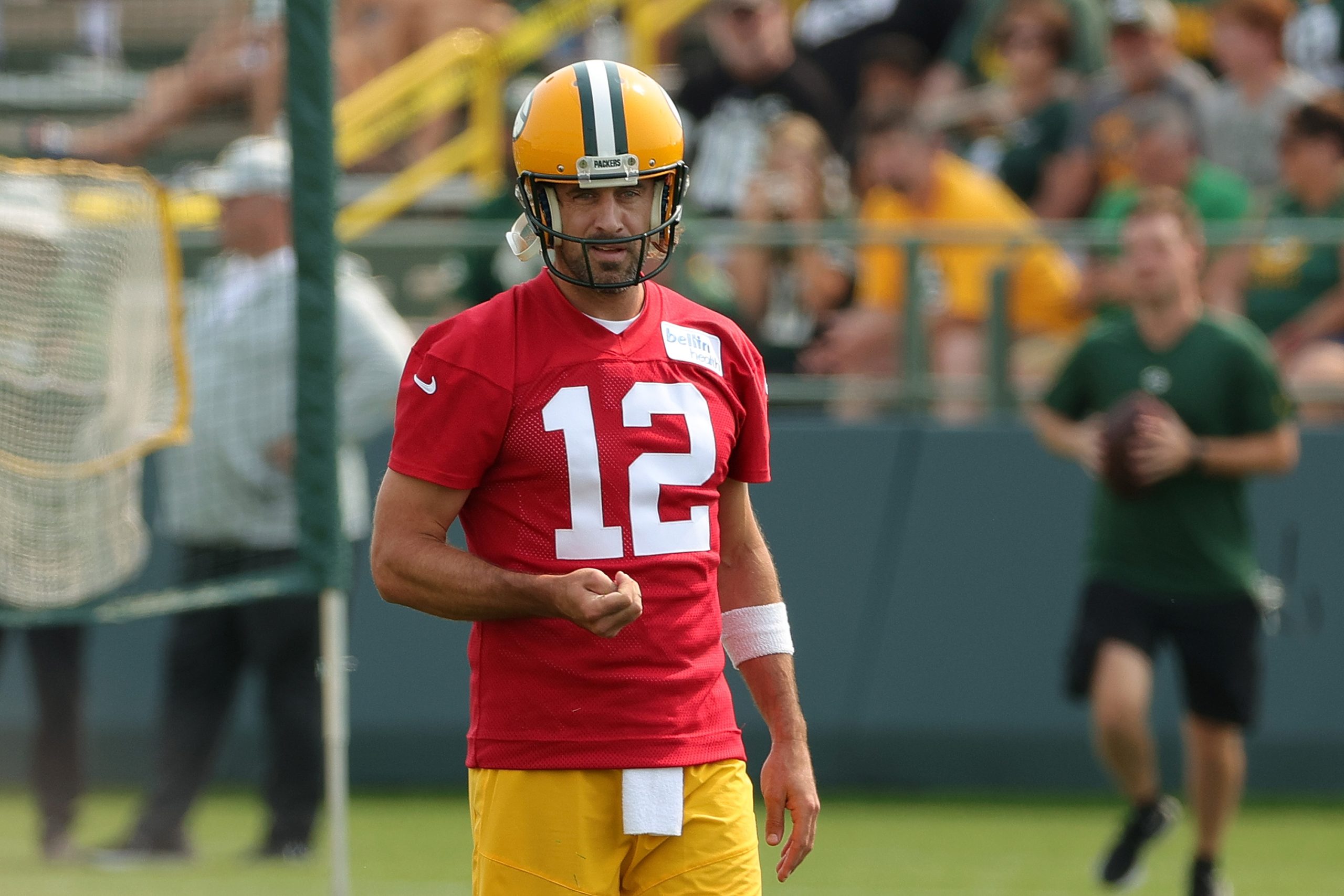 Aaron Rodgers Just Showed the World He's His Own Biggest Fan: 'People Are Coming Here to Play With Me'
Aaron Rodgers' ego was on center stage Wednesday.
Chances are if you didn't like Aaron Rodgers before Wednesday morning, you like him a lot less now. He spoke to the media for the first time since reports stated he no longer wanted to play for the Green Bay Packers. Rodgers seemed to speak candidly on his ugly offseason with the team. In fact, he probably was too honest as his ego took center stage.
Aaron Rodgers gave seemingly honest answers at his highly anticipated press conference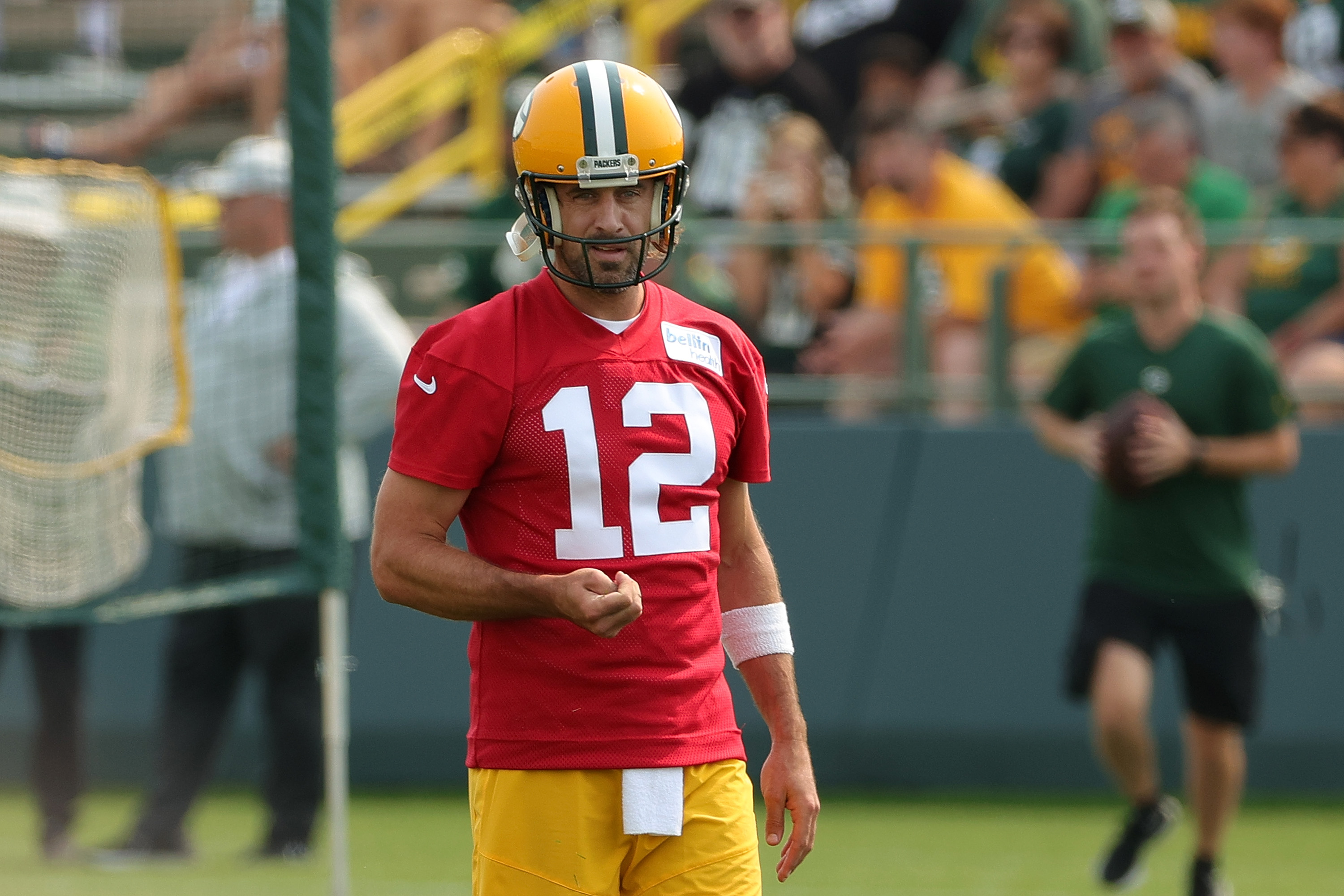 After an ugly offseason where Rodgers failed to attend any of the Packers offseason workouts, he showed up. Rodgers attended the first day of training camp as much of the NFL world waited for answers. The reigning MVP spoke for the first time publicly since Adam Schefter reported on draft day that the quarterback was unhappy with the organization.
He was honest. He seemed to get a lot off his chest. One of Rodgers' biggest gripes was that he wanted a little more say in some of the decisions made by the team.
"I just want to be involved in conversations that affect my ability to do my job," Rodgers said.
He also rattled off a long list of former Packers players, including Charles Woodson, Jordy Nelson, and Randall Cobb, whom he felt weren't treated with respect when the team let them go.
"I wanted to help the organization, maybe learn from some of the mistakes in the past … and about the way that some of the outgoing veterans were treated," Rodgers said. "And just the fact that we didn't retain a number of players that I felt like were core players to our foundation, to our locker room. High-character guys."
Aaron Rodgers put his ego on full blast during the press conference
The honesty was great. The egotistical part, not so great. Rodgers was calm and clearly came prepared for the onslaught of questions he received. Rodgers having an ego is no secret. If there was any doubt about how big it was, that, too, was answered at the press conference.
Rodgers was speaking about free agency and how he wanted to be more involved as a recruiter to help bring in some talent. While trying to make his point, he belittled the city that's been his NFL home since 2005, while boasting about his own talents.
"I think we can all understand Green Bay isn't a huge vacation destination," he said. "People are coming here to play with me."

Aaron Rodgers
He continued.
"The fact I haven't been used in those discussions is something I wanted to change moving forward," he said. "And I felt like based on my years, the way I can still play, that that should be a natural part of the conversation. As that progressed from that point, nothing really changed on that front."
Rodgers is trying too hard to be a part of the decision-making process
Rodgers is the quarterback. He's not the general manager. Just imagine GM Brian Gutekunst heading down to the field and telling Rodgers he should be stepping into his throws more or not moving out of the pocket so much. It wouldn't work.
Should Gutekunst have notified Rodgers they were going to draft Jordan Love in the first round in 2020? Sure, but would that have made any difference? Rodgers' ego still would have been shattered.
The Packers don't owe Rodgers anything. He seemed insecure about his time left in Green Bay because of the Love pick. He said he didn't want to be a lame-duck quarterback.
"I felt like if you can't commit to me past 2021 and I'm not part of your recruiting process in free agency, if I'm not a part of the future, then instead of letting me be a lame-duck quarterback, if you want to make a change and move forward, then go ahead and do it," Rodgers said, according to ESPN.
The Packers have since offered an extension. He declined. It sounds like he'd still like to move on.
Maybe after the season, he'll get his wish and play for someone else. There will be plenty of teams knocking on Green Bay's door for his services. He is still one of the NFL's best. Just ask him.