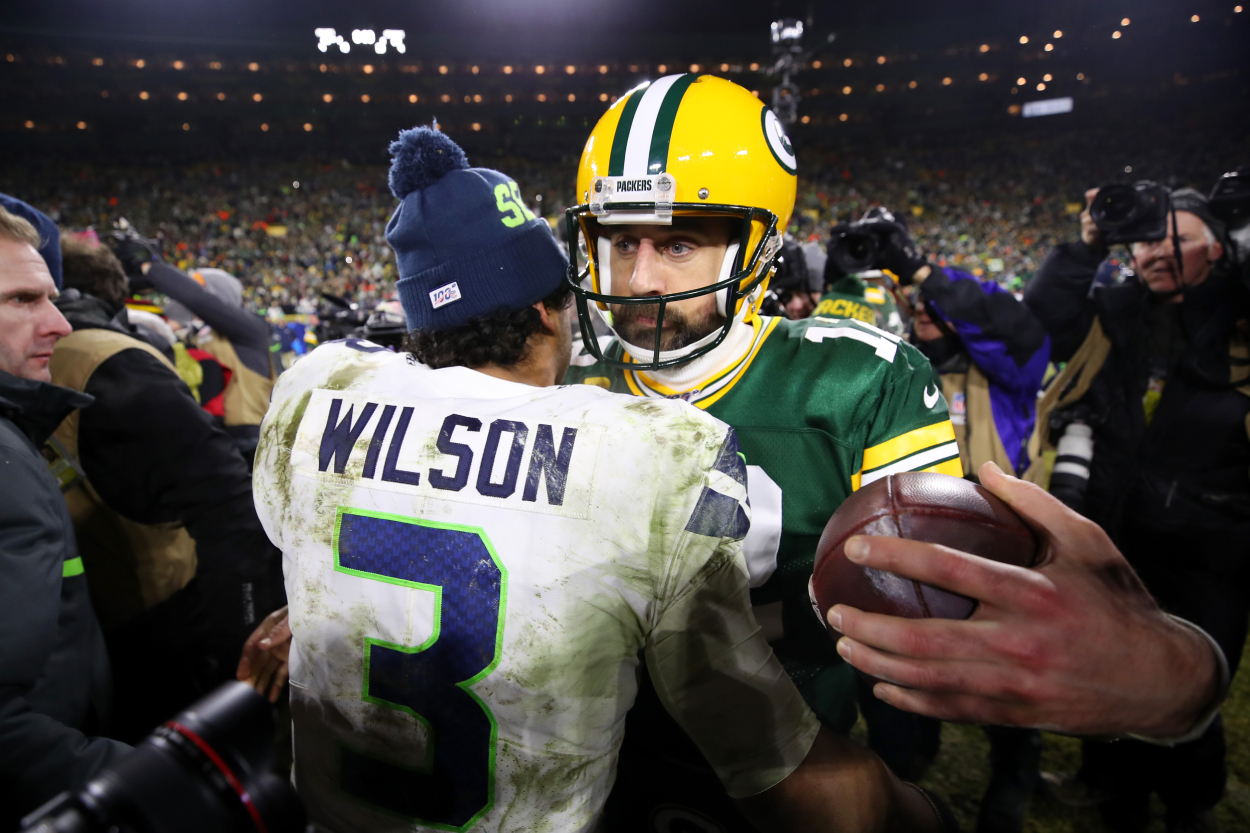 Aaron Rodgers Making an Impact on Russell Wilson in Denver
Aaron Rodgers is making an impact with new Denver Broncos quarterback Russell Wilson.
Aaron Rodgers is back with the Green Bay Packers. Russell Wilson is starting over with the Denver Broncos. In what has been a wild and wacky NFL offseason, the two Super Bowl-winning quarterbacks have connected without coming together.
After 10 years with the Seattle Seahawks, Wilson was traded to the Broncos for five draft picks, including two first-rounders, and three players. He joins an AFC West division led by young quarterbacks Patrick Mahomes and Justin Herbert, and veteran Derek Carr. 
While Wilson braces for life as a Bronco, Rodgers is back with the Pack after a year of uncertainty. While the two haven't had any face-to-face discussions, Rodgers is already having an impact on Wilson and his new beginning.
Aaron Rodgers expected to stay away from Packers voluntary camp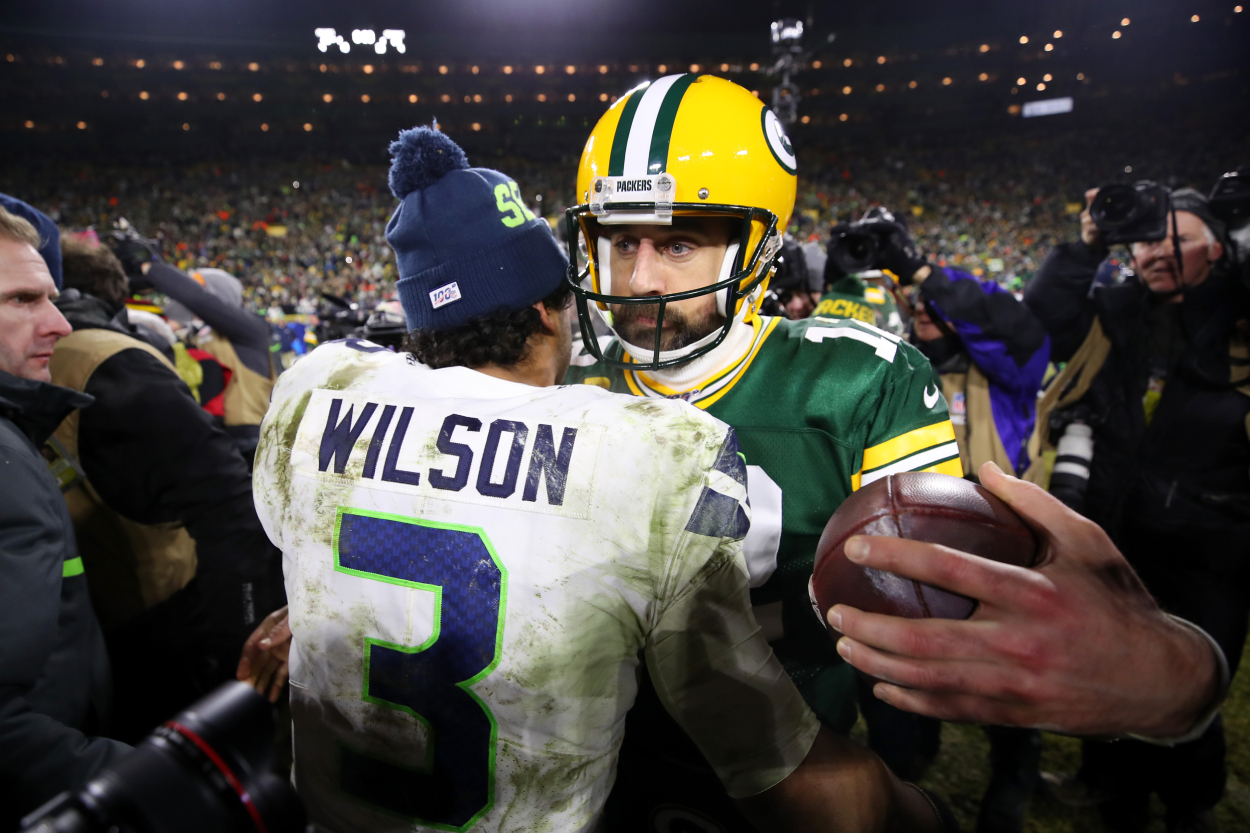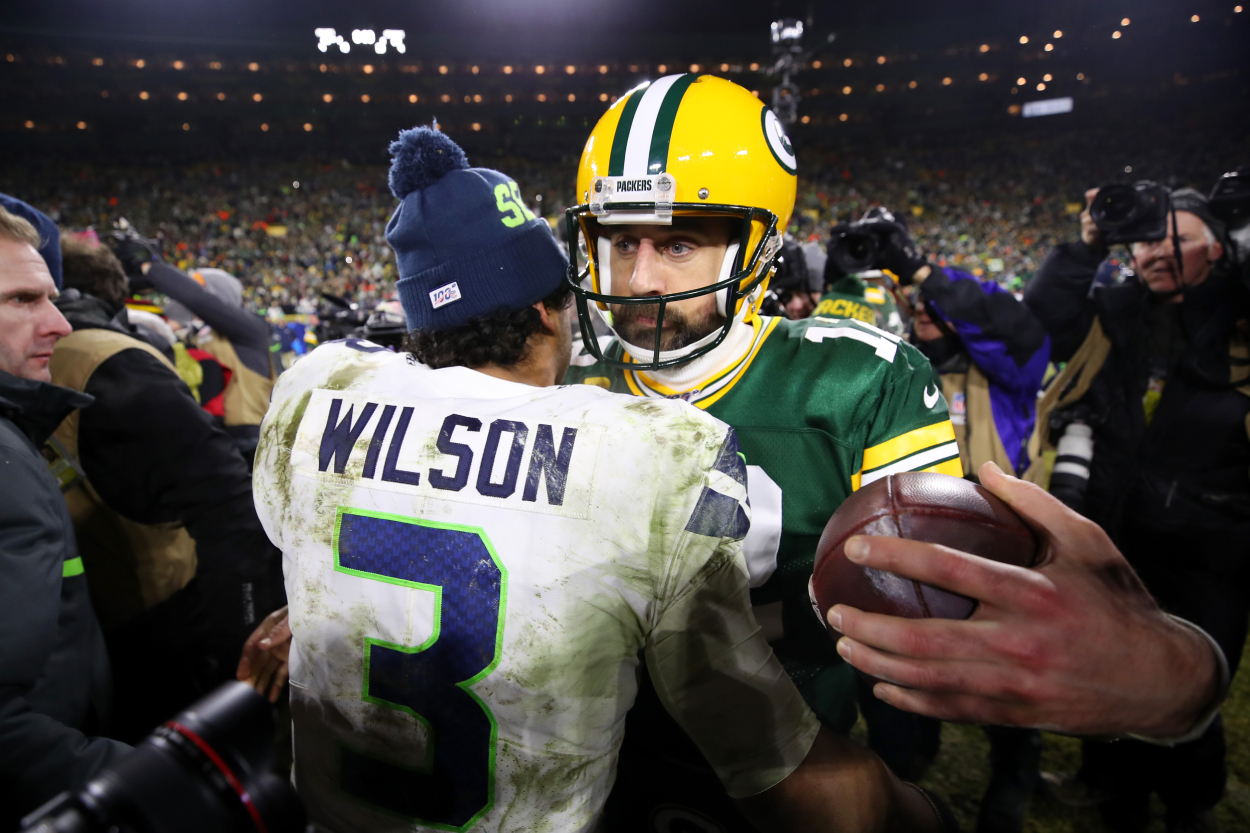 Rodgers just completed his second straight MVP season, but he's expected to stay away from the team's voluntary meetings and workouts. According to the Milwaukee Journal Sentinel, Rodgers will be a participant in the team's mandatory minicamp in June, something he missed a year ago.
Despite winning the MVP for the third time in his career, Rodgers had a tough year in 2021. He did show up to the team's training camp with the veterans in late July but had a clunker of a first regular-season game when the Packers dropped a 38-3 decision to the New Orleans Saints in Week 1. 
Rodgers bounced back nicely the rest of the year, throwing 37 touchdowns against four interceptions. He led the Packers to the top seed in the NFC but struggled in the first round of the playoffs in a shocking loss to the San Francisco 49ers.
His season was magnified by his COVID-19 vaccination status. The league was ravaged by the pandemic. When a reporter asked Rodgers if he was vaccinated, he famously said, "Yeah, I'm immunized." As it turned out, he wasn't vaccinated and that was a focal point for the remainder of the season.
Aaron Rodgers making an impact with Russell Wilson
The Broncos are undergoing a significant change this season, starting with their new head coach. Denver fired Vic Fangio at the end of the season and brought in Nathaniel Hackett. For Hackett, it's his first head coaching job after helping Rodgers to those two MVP awards as his offensive coordinator.
Now the Broncos are bringing in Wilson. Like Rodgers, Wilson is an established quarterback with a terrific resume. Rodgers taught Hackett a valuable lesson in Green Bay, and now Hackett is passing it on to Wilson.
"What my dad has always talked about, it's a 'can't stop me' mentality; you have to find that and give it to the quarterback," Hackett said, per Albert Breer of Sports Illustrated. "Aaron taught me that you have to respect and listen to what he has to say, because of how much he's accomplished in what he's done before he was with me. Whether I believed in it or not, you have to be sure, what a great quarterback does, that you respect that. You have to understand that they see things, they're out there, and you have to find out what they see. You have to learn what they see.
"I think the fun thing about working with Aaron, and our relationship was really strong early, was that I was able to talk with him and hear from him and learn about him. That's the thing I'm so excited about with Russell now. Russell, I want him to open up. I want to understand what he's looking at, I want to understand what he's thinking, and I want to know why he's doing something."
Hackett wants to be more partner than coach with Wilson
During his time in Green Bay, Hackett said he and Rodgers had a partnership rather than a player-coach relationship. He felt that way with Packers head coach Matt LaFleur and GM Brian Gutekunst as well. He hopes he and Wilson can share that same mentality.
"I would say that my relationship with Aaron, especially during game days and the preparation process to get to game day, was a pure partnership," Hackett said. 'And it was like that with Matt, too. It was Matt, me, and Aaron, and with Getsy, it was all about, 'Hey, let's put this thing together — together.'
"And that's what I need to do, that's the process with Russell now."
For Hackett, it's not about being the boss. It's also about letting his stars shine. It worked well with him with Rodgers in Green Bay. Now it's time for him to see how Wilson responds.