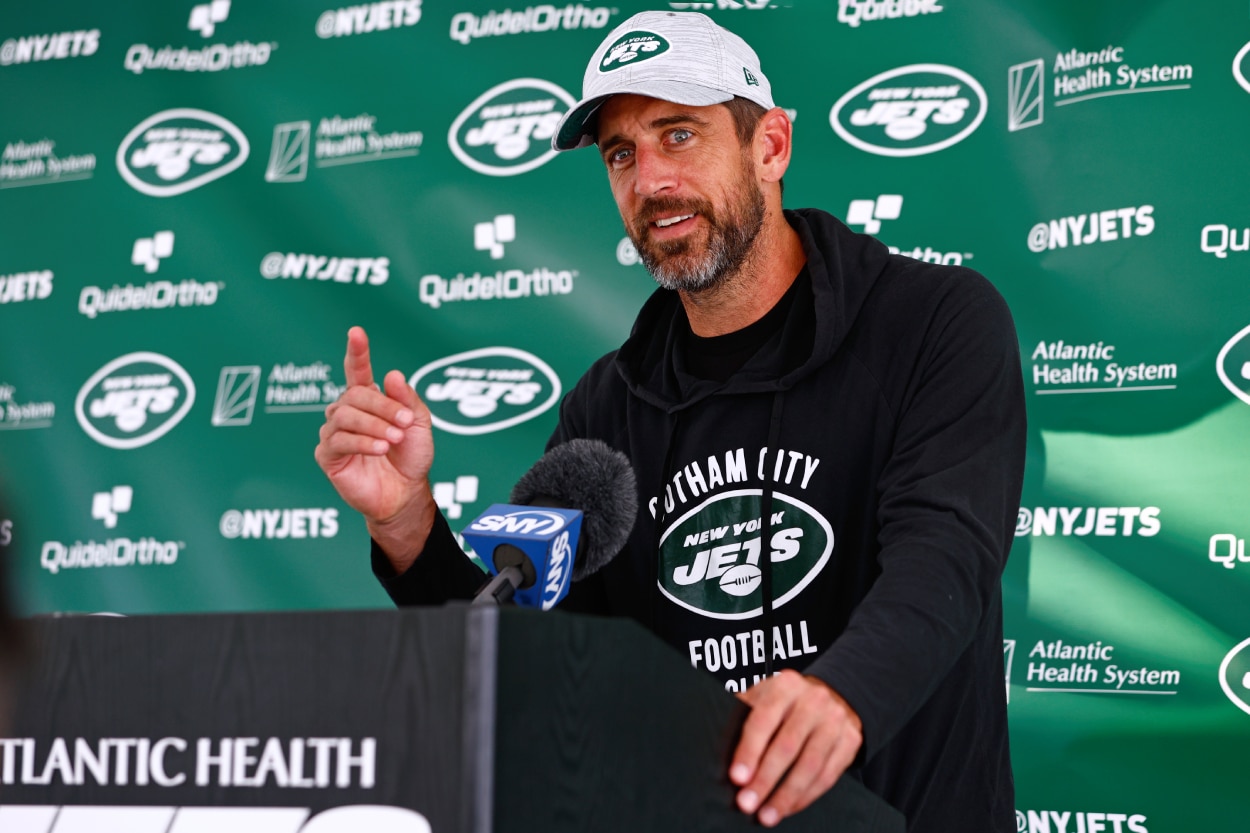 Aaron Rodgers Making Significant Impact With the New York Jets Without Stepping Onto the Field
Aaron Rodgers is showing his worth on and off the field with the New York Jets.
There's no question Aaron Rodgers will help take a stagnant New York Jets offense to another level. A year ago, second-year quarterback Zach Wilson struggled mightily after a rough rookie season. Wilson, the No. 2 overall pick in 2021, has gone 8-14 in 22 starts. He's thrown more interceptions (18) than touchdowns (15).
Rodgers, a four-time MVP with the Green Bay Packers, is in his first season with the Jets, taking over for Wilson as the starter. He hasn't even stepped onto the field for any game action, yet he's already making a significant impact with Wilson and the Jets.
Aaron Rodgers made his presence felt from the sideline in Thursday's Hall of Fame Game
The New York Jets and Cleveland Browns kicked off the NFL's 104th season Thursday night with the 2023 Hall of Fame Game. As he has since the 2018 preseason, Rodgers sat this one out.
Although he was dressed in street clothes, Rodgers came up with a big play for the Jets, engineered by Wilson. Wilson played one quarter in Thursday's 21-16 loss to the Cleveland Browns. He completed three of his five passes for 65 yards.
One of those competitions — a 57-yarder to Malik Taylor — came on a play suggested by Rodgers.
"Great call by Aaron Rodgers," Wilson said after the game, per ESPN. "Have to give him a little shoutout there."
Rodgers might just be the mentor Wilson needs. Wilson was thrown into the mix as a rookie, but now he'll take a step back and learn from a future Hall of Famer. Rodgers has no problem with the mentor role, and Wilson is appreciative of his support.
"I'm very grateful for him," Wilson said. "He helps me more than he needs to."
Rodgers has also helped the Jets financially
Not only is Rodgers helping Wilson, but he's also making sacrifices so the Jets can thrive in a wildly competitive AFC. He recently reworked his contract that had two years remaining and nearly $110 million guaranteed.
Rodgers and the Jets restructured the deal into a two-year deal worth $75 million. He sacrificed nearly $35 million in order to free up some money to allow the Jets to build a nice supporting staff.
Rodgers didn't think twice about the contract, saying it was no big deal.
"There wasn't a whole lot of process to it," Rodgers said, per NFL.com. "It was, like, a million something this year and 100 (million) and something next year, and it obviously never would've worked. There's two caps. There's basically the cap number, salary cap, and then there's the cash. So there were a few of us, I believe, who did some things cash-wise to open up some freedom there. The cap number obviously is very low because of the ability to prorate the contract in this case. But I feel great about what I'm making.
"It wasn't really a negotiation, like back and forth, me starting at 50 and them starting at 20 and meeting somewhere. It was an easy conversation, much of it between me and (general manager) Joe (Douglas), just talking about the state of the team, the opportunities that could be out there, that are out there now, that could be out there, and what both sides felt comfortable with.
"It wasn't like there was a stress point. I think the only stress was maybe Mr. Johnson wanting to get something done, but we weren't stressing about it at all. It took a couple days to get it down on paper, but it wasn't a big deal."