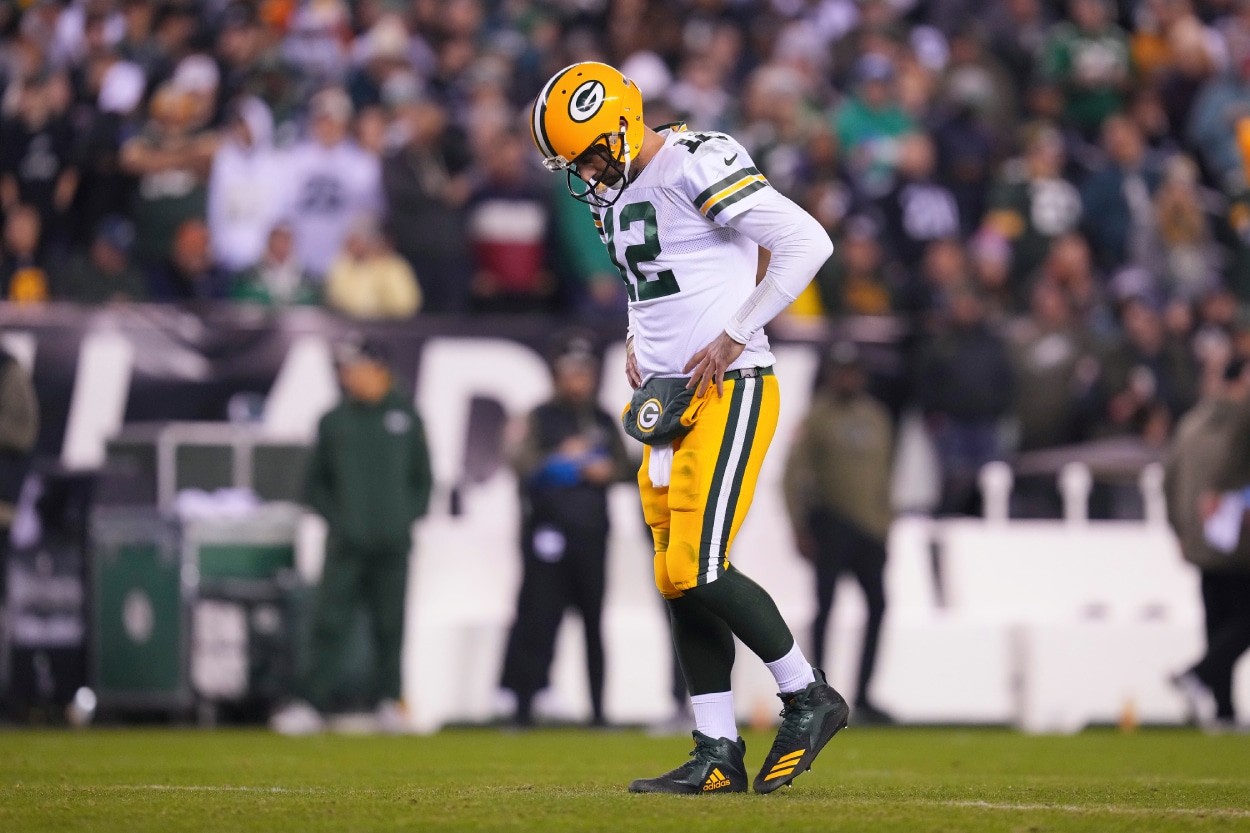 Aaron Rodgers Needs To Do the Right Thing and Sit This One Out
The Green Bay Packers should do the smart thing and hold out Aaron Rodgers this week.
This isn't about what Aaron Rodgers has done for the Green Bay Packers during his illustrious. It's more about what he hasn't been doing lately.
The four-time MVP is giving it his all. He's playing through pain. His competitive drive is still keeping him on the field through the worst season of his career. He's also not himself.
Rodgers recently admitted he's been playing with a broken thumb on his throwing hand. On Sunday, he left the game with injured ribs, giving way to Jordan Love. After the game, Rodgers said if he's cleared to go Sunday, he'll be out there. He needs to sit this one out, whether he's cleared or not.
Aaron Rodgers isn't doing the Packers any favors by being out there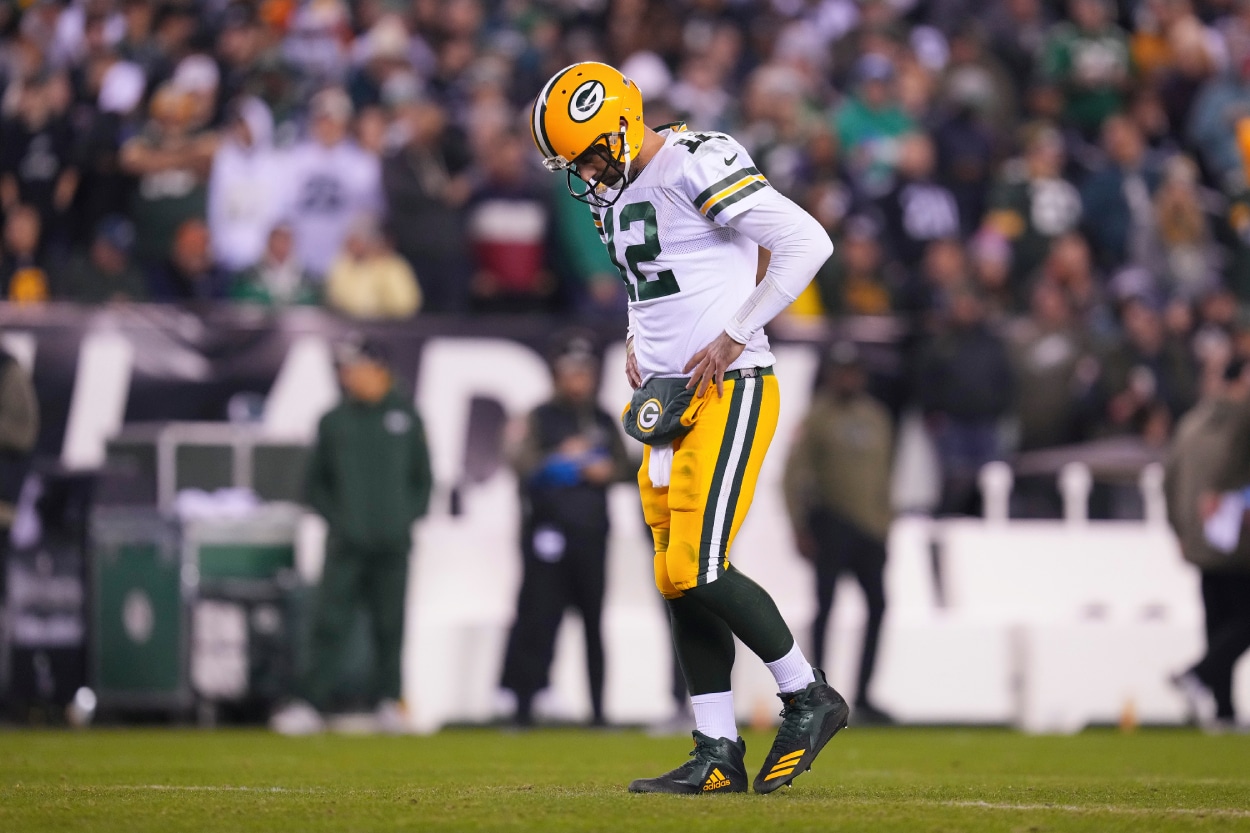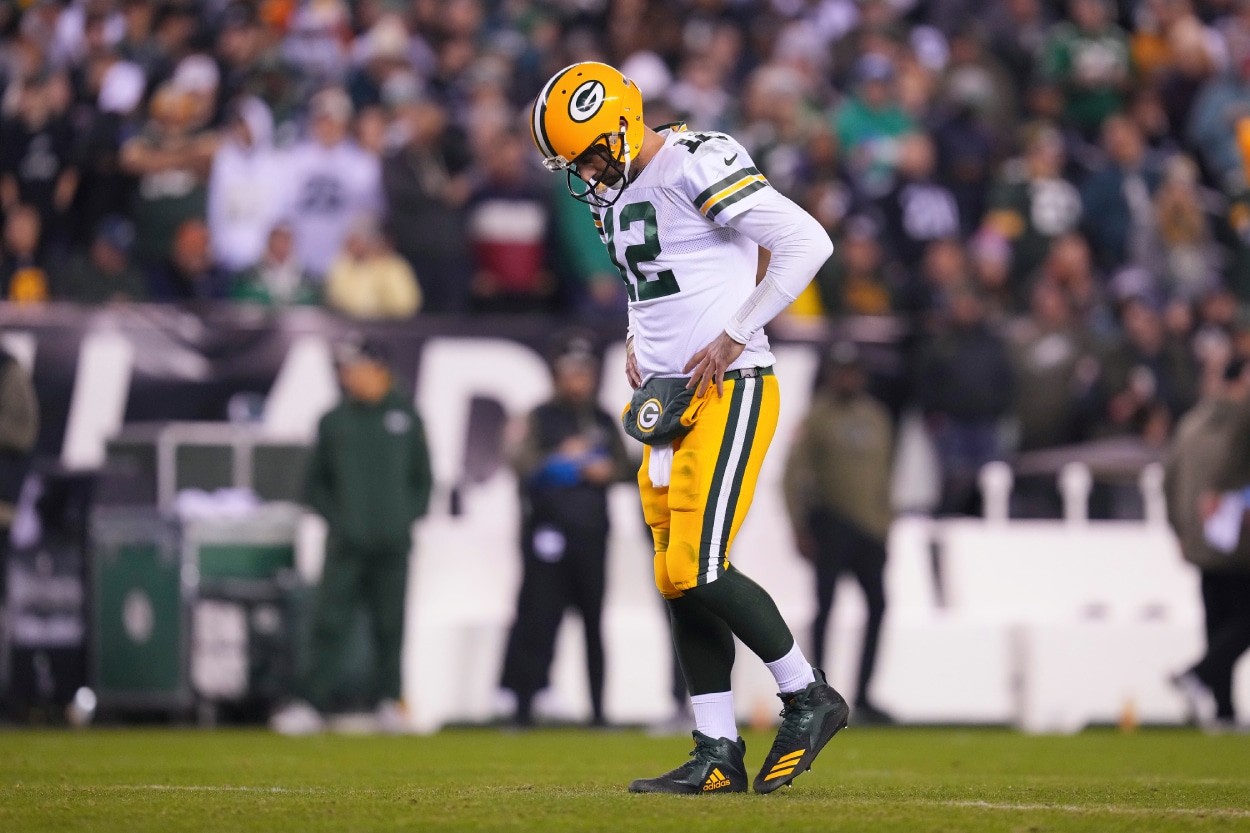 A healthy Rodgers gives the Packers the best chance of winning. There's no debate there. The problem is he isn't healthy.
Mathematically, the Packers aren't eliminated. Realistically, they're done.
Rodgers added two more uncharacteristic interceptions to his total during Sunday night's 40-33 loss to the Philadelphia Eagles. In his 18 seasons in the NFL, he's only had two seasons with more than nine interceptions. He still has five games left to play.
If the Packers do the right thing, he'll have no games left to play this season. He's hurting the team by playing hurt. The Packers are 4-8. Rodgers has been a shell of himself this season.
Rodgers took a shot to the ribs Sunday night and played through pain before leaving the game in the third quarter. He never returned. He was 11-for-16 for 140 yards with two touchdown passes and his two picks.
Love came in and connected with Christian Watson on a 63-yard touchdown pass to cut Green Bay's deficit to 37-30 with nine minutes to play. Love looked sharp, going 6-for-9 for 130 yards and a touchdown.
Packers coach Matt LaFleur said Rodgers will go if he can
At his press conference Monday, Packers head coach Matt LaFleur said the tests on Rodgers haven't been completed, but the coach said if Rodgers is cleared, he will get the start at Chicago on Sunday.
LaFleur's move doesn't make a whole lot of sense. If Rodgers is cleared, he still has a broken thumb. The thumb has been the problem, and Rodgers has said rest is what he needs. Green Bay has its bye week after the Bears game, so why not give him two weeks of rest?
Love had a promising outing in limited action Sunday night. Let a healthy Love suit up against the Bears in a season that's already lost.
Putting Love in there Sunday isn't a death sentence on Rodgers' career with the Pack. It's clear Rodgers' thumb is a problem. Resting it, along with his ribs, is the smart move.
Rodgers inked a three-year extension for $150 million. His career isn't over. He wants to play just as any other competitor would. LaFleur needs to finally take a stand and let Love take over for the week.