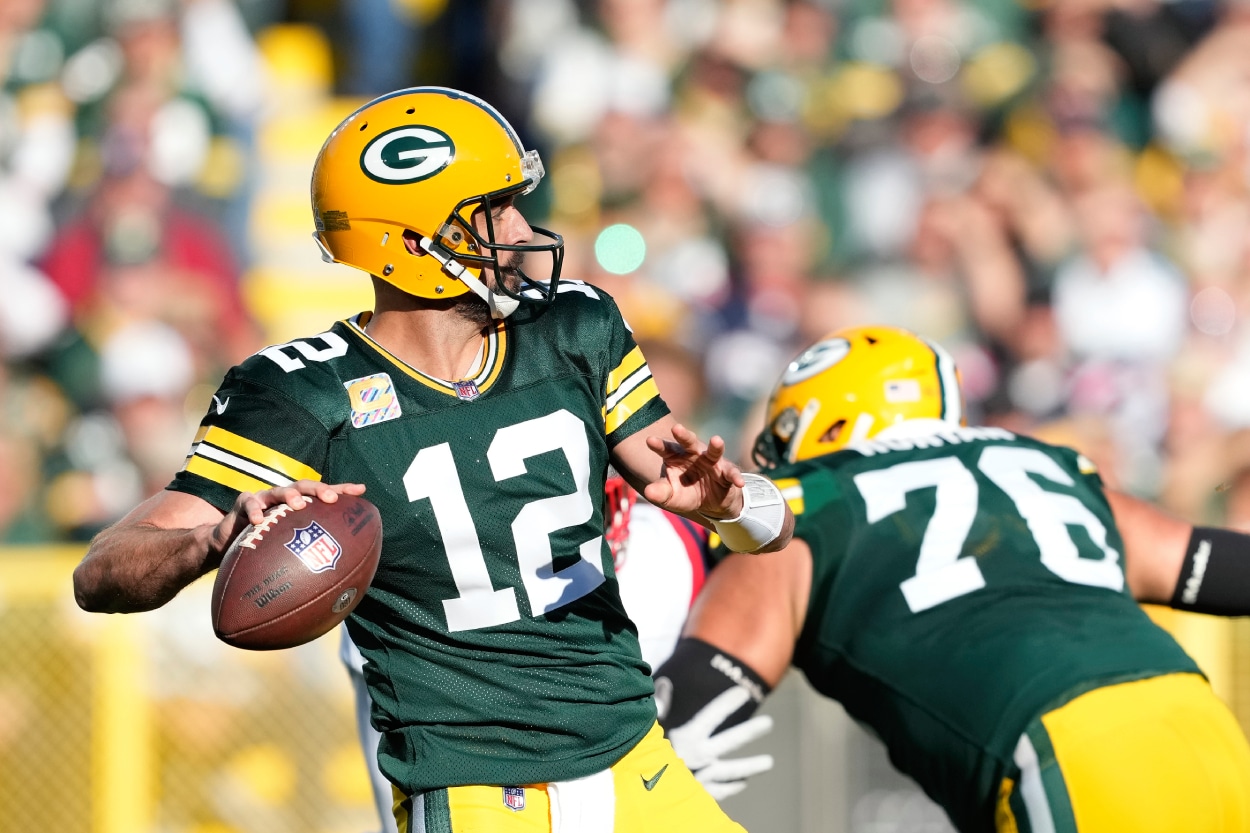 Aaron Rodgers Wasn't Overly Accurate With His Comments About the Green Bay Packers Heading to London
The Green Bay Packers make their first-ever trip to London this week when they face the New York Giants.
The Green Bay Packers make their first trip to London this weekend when they face the New York Giants. Both teams come into the game at 3-1. It's the first time ever that an NFL game played in London has both teams sporting winning records. In fact, the Packers/Giants game is the only one on the NFL's Week 5 schedule that features two teams with winning records squaring off against each other.
Packers quarterback Aaron Rodgers has his team on a three-game win streak. He said he's excited about making the London trek, but he wasn't quite accurate with his comments when speaking about Green Bay's historic trip.
Aaron Rodgers says the Green Bay Packers are excited about their London trip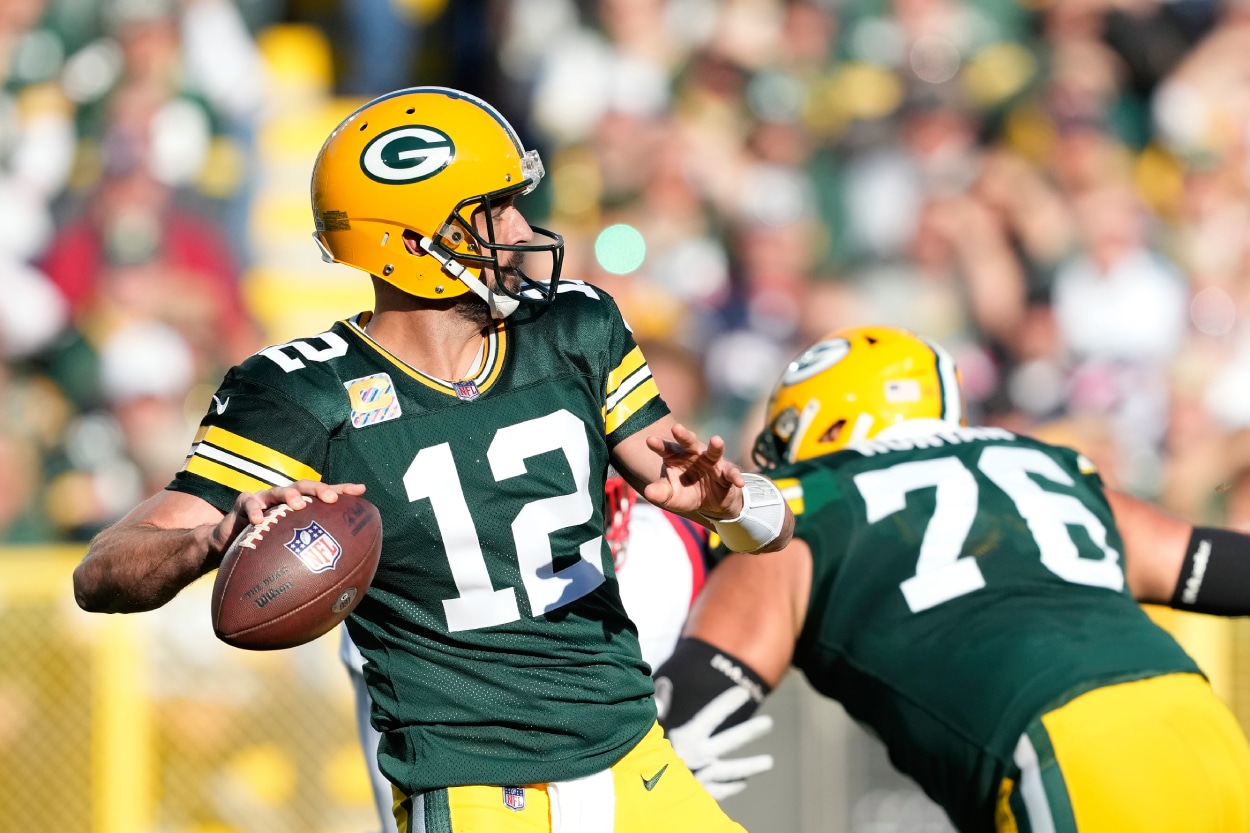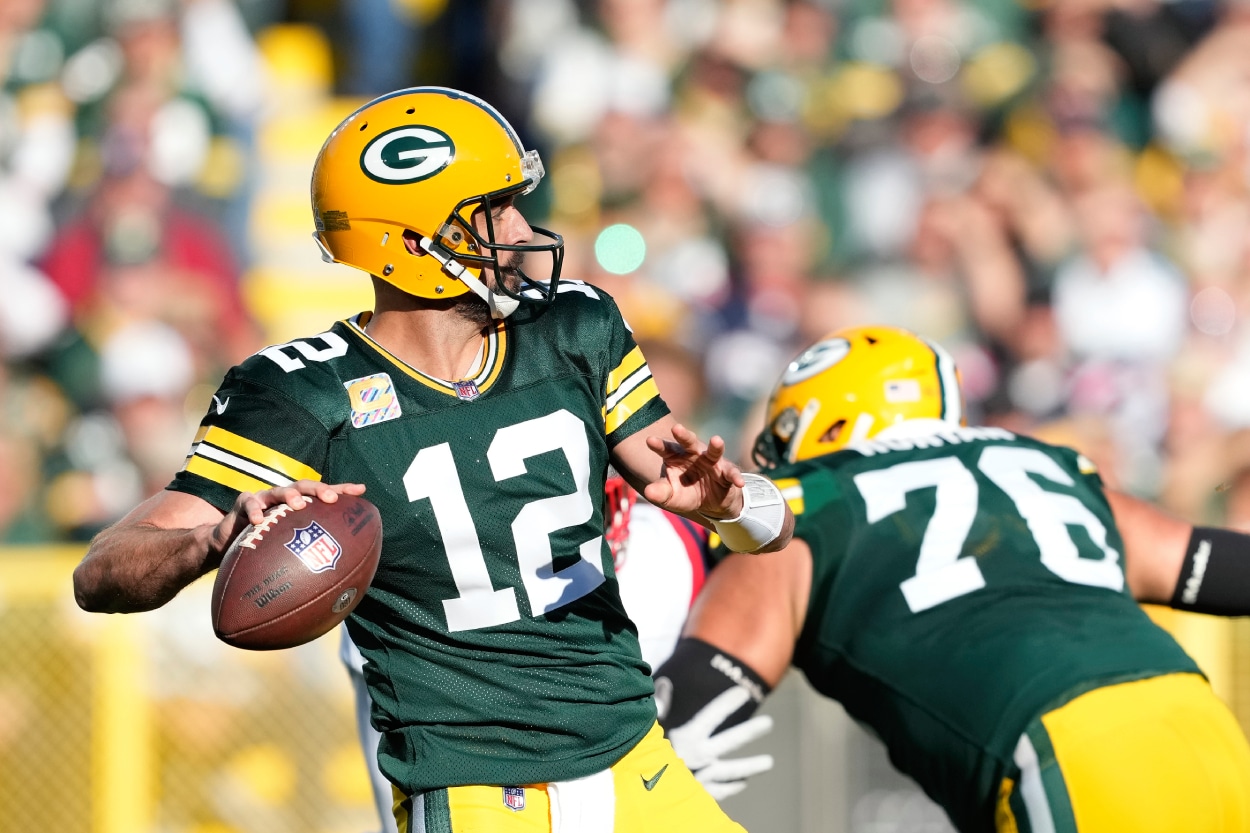 Rodgers said he's excited to make the trip to London. Actually, he said "We're excited," implying the whole group was eager to play their Week 5 game overseas. The Packers, unlike other teams who have played in London, didn't make it a pleasure trip. It was all business.
The Packers didn't get there early to explore London. They landed on Friday, and will head right back home after Sunday's game. On Wednesday, Rodgers said he wished they could have gotten there a little earlier.
"We're all excited," Rodgers said, per Rob Demovsky of ESPN. "I think the reason I said I wanted to go over early was just to experience a little bit of that culture, to be able to get out and see some sights and interact with fans and … shoot, go to a pub and have a Guinness or whatever the local brew is. That's what we all want to do, those of us that want to go over early."
You can scratch head coach Matt LaFleur off that list of "excited" Packers. He didn't fully offer his true feelings about the trip, forcing us to read between the lines.
"I'm not going to give you my honest answer," LaFleur said. "I'd rather refrain. It feels like a Thursday night game for us as coaches just in terms of all the preparation you've got to do. But you just do it, so it is what it is."
Rodgers was a little off when he gauged everyone's excitement
Sure, there are some Packers excited to suit up and play a football game in London. Cornerback Rasul Douglas isn't one of them. He's been there before, playing for the Philadelphia Eagles during his second year in the NFL.
"It (expletive) sucked," Douglas said, per Packers News. "You don't get to do nothing over there. You just (expletive) get on a plane, get over there, and (expletive) practice, and then you play a game. Then you get back on a plane and travel (expletive) eight hours somewhere else."
Rodgers said the late departure might have the team scrambling with their schedule, but he said it's not a major issue.
"Obviously the time we're leaving might put a little stress on the schedule," Rodgers said. "But that's way down at the bottom of the concerns."
Wide receiver Randall Cobb said he's just trying to mentally keep things as normal as possible.
"Right now, just the way that we are going about it with our schedule, trying to keep everything as normal as possible," he said Wednesday. "I just try to put it in the mind frame of us going to the West Coast and having an extra day on the West Coast. We'll see what it entails on the other side of it, but as far as here preparing, we're preparing the same way to find a way to win a football game."
Everyone on the Packers has a different mindset about heading overseas, but it's clear not everyone is excited.
Like Sportscasting on Facebook. Follow us on Twitter @sportscasting19 and subscribe to our YouTube channel.