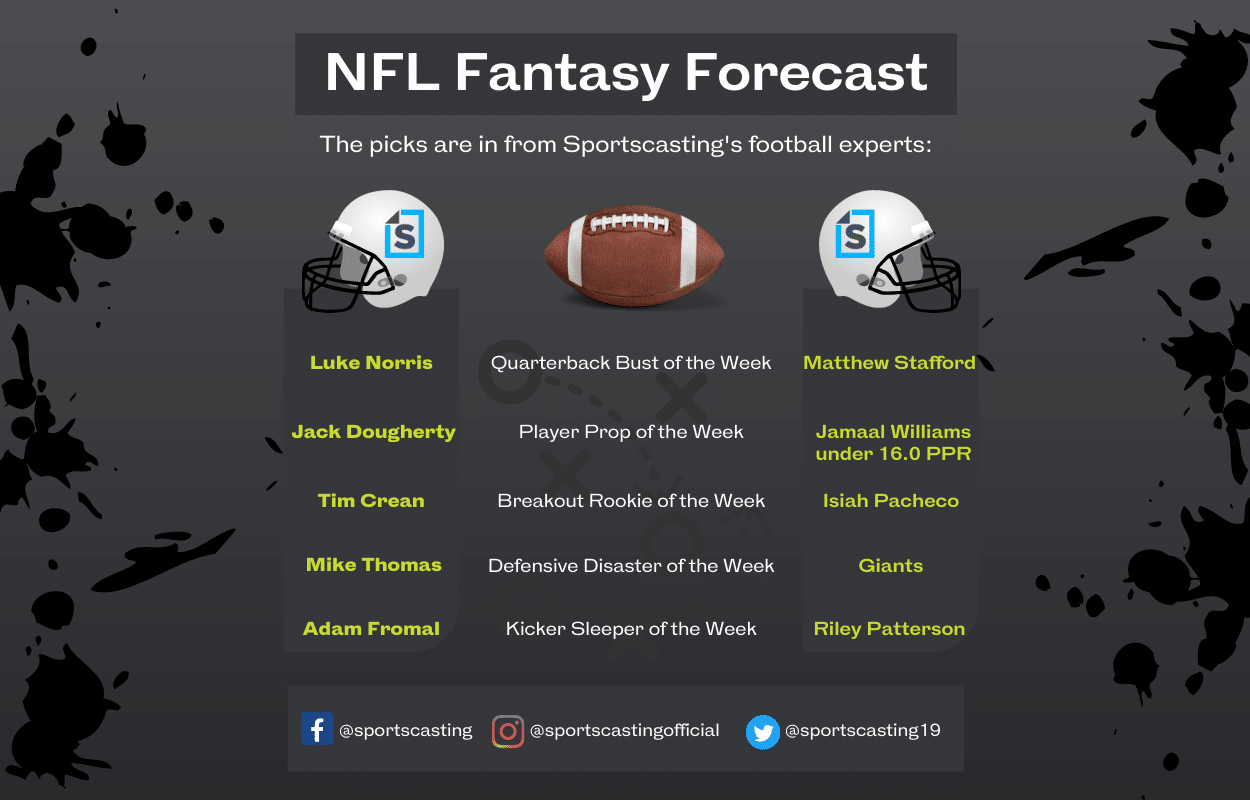 NFL Fantasy Forecast Week 5: Busts, Breakouts, Sleepers, and More
Sportscasting's NFL writers offer up a few fantasy football tips for Week 5 of the 2022 season.
As hard as it is to believe, we're already a month into the 2022 NFL season, and there have certainly been plenty of surprises (both good and bad) as it pertains to fantasy football.
As far as our predictions go through the first four weeks, we've hit the mark most of the time and have no plans to stop now.
So let's just dive right in and take a look at what our NFL experts are predicting for Week 5.
Sportscasting's Week 5 NFL Fantasy Football Forecast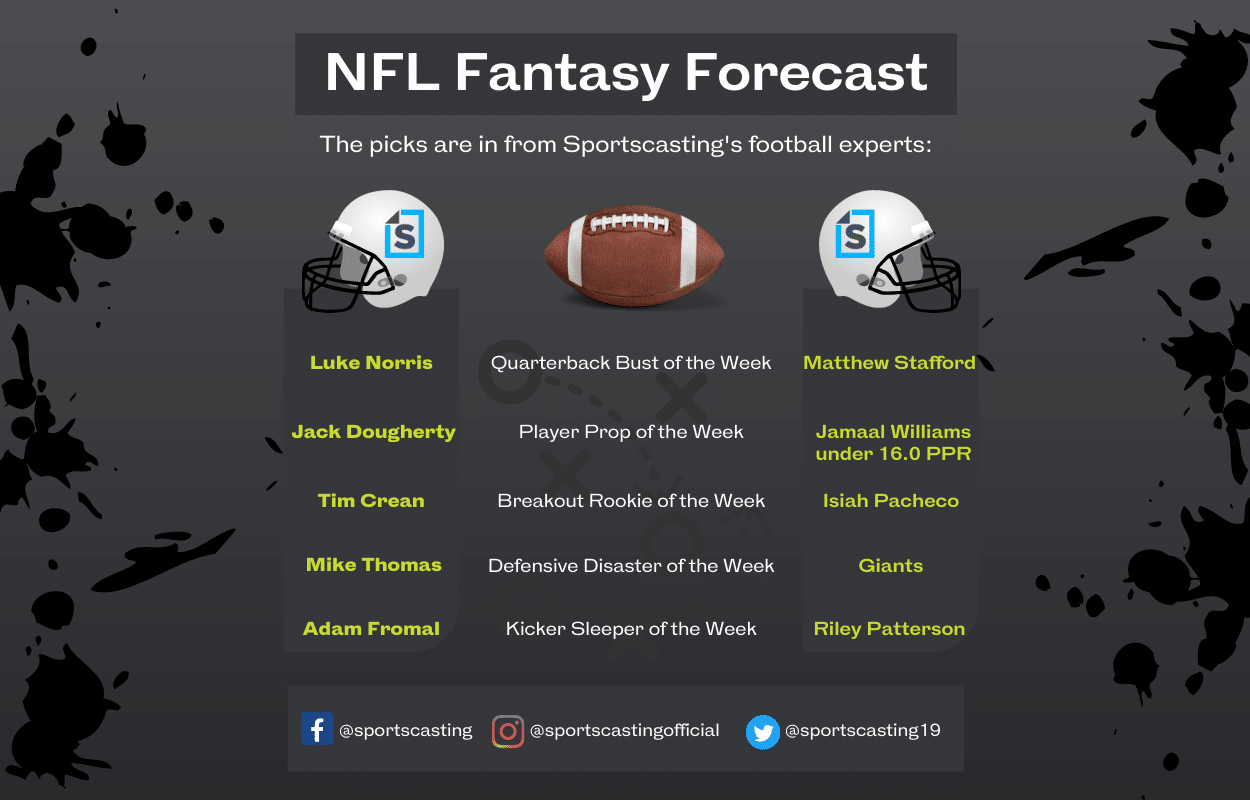 Quarterback Bust of the Week: Matthew Stafford
Luke Norris: Matthew Stafford didn't have a pleasant Monday night against the San Francisco 49ers, taking seven sacks while throwing zero touchdowns and an interception in a 24-9 loss.
And things don't get much easier for Stafford and the Rams in Week 5 as they welcome the Dallas Cowboys to SoFi Stadium on Sunday afternoon. The Dallas defense has been ferocious through four games, allowing the third-fewest points in the NFL (15.5 per game) and the sixth-fewest passing yards (171.0 per game).
They're also tied with the Niners with the second-most sacks in the league with 15. Micah Parsons and DeMarcus Lawrence have combined for seven of those and are sure to give Stafford fits all afternoon long. And we all know how dangerous the Cowboys' secondary can be. You don't think that unit is salivating about facing Stafford and his league-leading six picks?
Trust me. If Matthew Stafford is your QB1, bench him.
Player Prop of the Week: Jamaal Williams UNDER 16.0 PPR
Jack Dougherty: Jamaal Williams is the sixth-ranked running back in fantasy through four weeks, thanks in large part to his league-leading six touchdown runs.
With D'Andre Swift inactive for Detroit's Week 4 clash against the Seattle Seahawks, Williams went off for 108 rushing yards and two touchdowns to finish with 23.9 PPR fantasy points.
It won't be that easy this week against a strong New England Patriots front. The Patriots are allowing the fourth-fewest fantasy points to running backs through four weeks. Bill Belichick knows how to shut down his opponent's strength, and he won't let Williams get loose like he did against the Seahawks. 
Williams can't keep up this torrid pace of touchdown runs forever. I think he disappoints his fantasy owners in Week 5.
Breakout Rookie of the Week: Isiah Pacheco
Tim Crean: It doesn't take a professional NFL scout to see that seventh-round rookie running back Isiah Pacheco is the most explosive running back on the Kansas City Chiefs roster. Through four games, though, Pacheco has played 16% of the team's offensive snaps, while Clyde Edwards-Helaire has 45%. 
The good news for Pacheco is that his snap count jumped from 7% to 8% to 21% in Week 4. In Week 5, the Chiefs take on a Las Vegas Raiders team that's given up over 100 rushing yards twice, so if Pacheco gets the opportunity, he'll have his best week yet.
Defensive Disaster of the Week: New York Giants
Mike Thomas: Somehow, the Green Bay Packers are 3-1 with an offense that has yet to click. Somehow, the New York Giants are 3-1. That's it. It's just amazing this team has won three of four games.
Reality sets in for both teams this week on a neutral field in London. Packers quarterback Aaron Rodgers hasn't looked sharp, but it's not all on him. There have already been two key drops by rookies that would have gone for touchdowns — one by Christian Watson in Week 1 and one last week by Romeo Doubs.
Week 5 is when we'll see Green Bay's offense gel. Doubs and Watson are playmakers, and now they've had a quarter of a season of NFL experience under their belts. The Packers make an offensive statement this week and make the overseas flight well worth the trip.
Kicker Sleeper of the Week: Riley Patterson
Adam Fromal: Jason Sanders had a neutral result in Week 4, tying for 13th among kickers with nine fantasy points in standard scoring systems. But we'll get back on track by selecting Riley Patterson of the Jacksonville Jaguars to throw up some bigger figures in a divisional Week 5 clash with the Houston Texans. 
Only the Dallas Cowboys, Cincinnati Bengals, and New Orleans Saints have given up more points to kickers than the Texans, but Patterson doesn't enjoy a roster percentage (a meager 4.0% in ESPN leagues) commensurate with his performance or projected output.
He's made every one of his extra-point attempts and seven of his eight field-goal attempts this season, including a successful boot from outside 50 yards, landing him at No. 13 in the kicker hierarchy.
Coming off a soggy loss to the Philadelphia Eagles, Jacksonville should move the ball with far more ease but remains too young and inexperienced to find the end zone on an elevated number of its drives. As head coach Doug Pederson continues to gain confidence in Patterson, expect him to try a few long attempts when Trevor Lawrence and Co. stall out prematurely.
Stats courtesy of Pro Football Reference
Like Sportscasting on Facebook. Follow us on Twitter @sportscasting19 and subscribe to our YouTube channel.