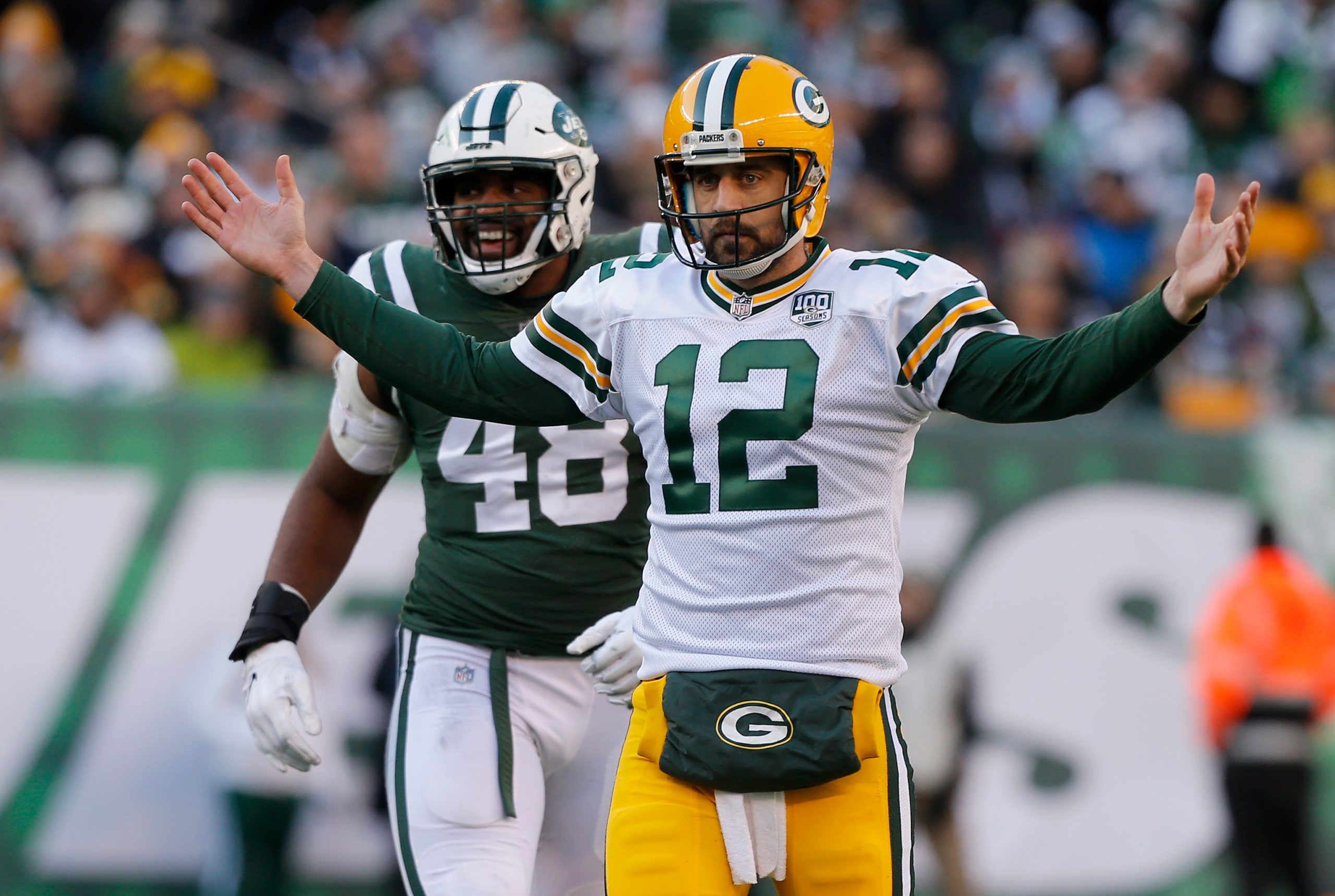 Here's What Aaron Rodgers Will Forfeit If He Sits out the 2021 NFL Season
Aaron Rodgers will lose much more than some serious money if he holds out this season.
Just how long will Aaron Rodgers play the waiting game with the Green Bay Packers? The quarterback remains away from the team after a dispute over… something. He hasn't spoken publicly about the situation, but it seemingly has to do with the 2020 NFL draft when the Packers traded up in the first round and selected his eventual replacement, Jordan Love. It might also have to do with his contract that has three years remaining. If Rodgers remains away from the team for the year, the financial hit, and more, will be crushing.
Aaron Rodgers remains away from the Green Bay Packers' mandatory minicamp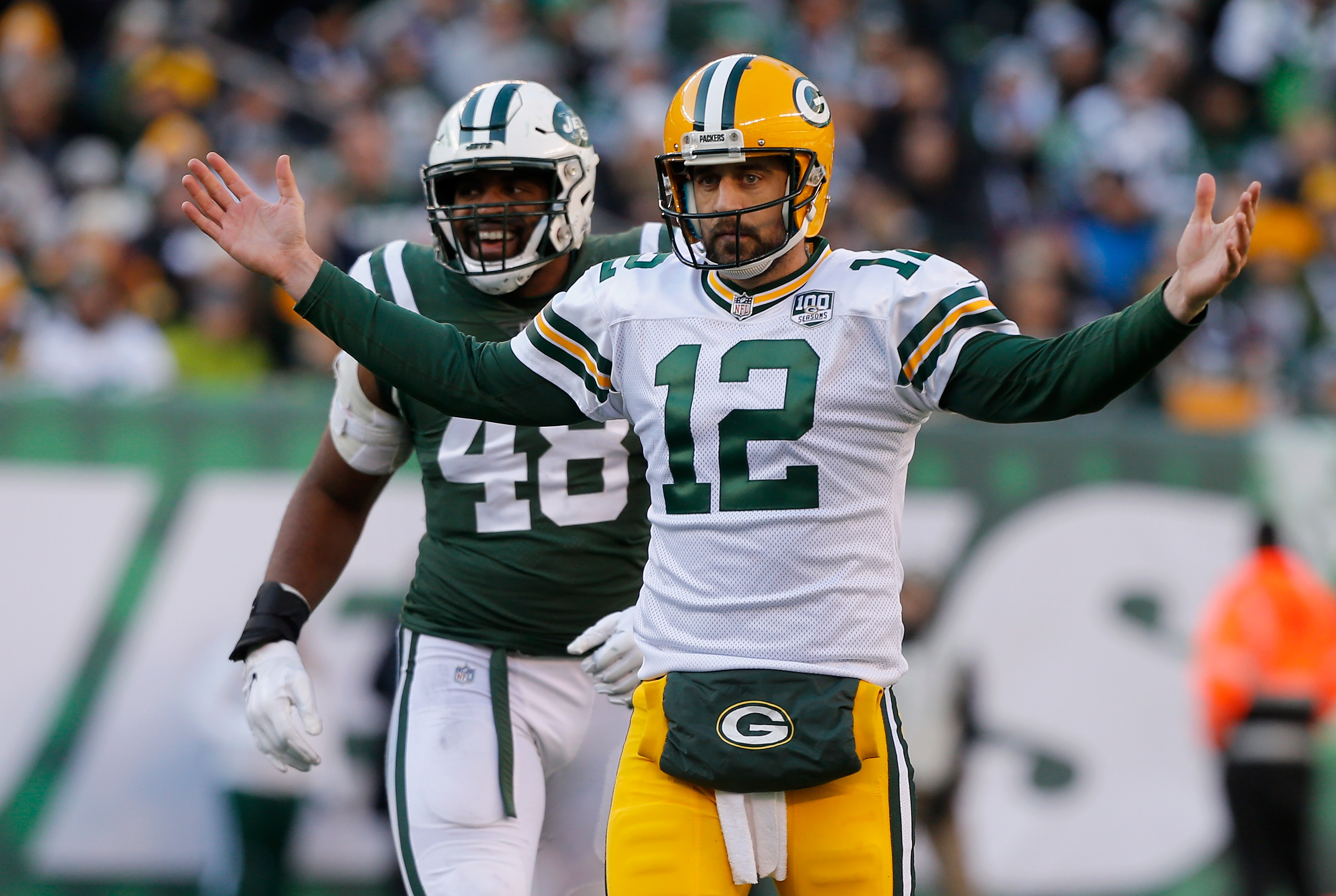 For the first time in 16 years, Rodgers did not attend the team's voluntary OTA sessions. He also failed to attend the team's mandatory minicamp. Rodgers hasn't been happy since the Packers traded up to select Love in the 2020 NFL draft. On the day of this year's draft, it was reported by Adam Schefter that Rodgers told some within the organization he no longer wanted to play for the team.
In 2018, the Packers took care of their quarterback by signing him to an extension worth $134 million over four years, according to Over The Cap. He has three years remaining on that deal that gave him $78.7 million fully guaranteed at signing.
The Packers have repeatedly stated they won't trade Rodgers. General manager Brian Gutekunst even apologized for the way the team handled the 2020 draft, saying the Packers should have communicated better with Rodgers. The quarterback clearly has an issue with the club but hasn't made it known what it is. Less than two months from the preseason, Rodgers has shown no indication he plans to play in Green Bay this year.
Here is what Aaron Rodgers stands to forfeit if he sits out the season
The Packers reportedly are trying to work things out with Rodgers. If nothing gets done as the season draws near, the team will likely turn to Love to be its starter for Week 1. The Packers could try and swing a deal with someone, although they've stated several times they won't be doing so. They can also do nothing, which would result in quite the financial hit for the quarterback.
Rodgers isn't hurting for money. Anyone who signs a contract extension and collects nearly $79 million as soon as their name is written is in pretty good financial shape. Rodgers can afford to miss a year of football and not be relegated to the poor house.
The amount of money he will be forfeiting, however, is staggering. If he refuses to report to the Packers and misses the whole season, Rodgers will be out $35,643,085, according to Spotrac. His $14.7 million base salary will be lost, as will his $11.5 million signing bonus and his $6.8 million roster bonus. If the team chooses, it can fine him $2.05 million in training camp fines and $93,085 in minicamp fines. He'll also miss out on a $500,000 workout bonus.
Rodgers has a lot more to lose than just money
Rodgers is 37 years old. He played at a high level in 2020, claiming his third MVP. As talented as he is, he's been to one Super Bowl in his 16 years with the Packers.
Rodgers has an ego. He wants to be good. He wants to win. For the last two years, he's been one game from getting back to the Super Bowl. He can't win and be good if he sits out. Time is running out.
His legacy is on the line. Rodgers is as athletic and talented a quarterback to ever play in the league, but it's tough to label him a winner. He's 0-4 in his last four NFC title games. The Packers are so close to getting over the hump, and he'll lose another golden opportunity if he holds out.
Rodgers will also lose the respect of the Green Bay fans. They've seen this before during Brett Favre's reign. The Packers may have butchered the 2020 draft, but Rodgers needs to move past that and build on that legacy.