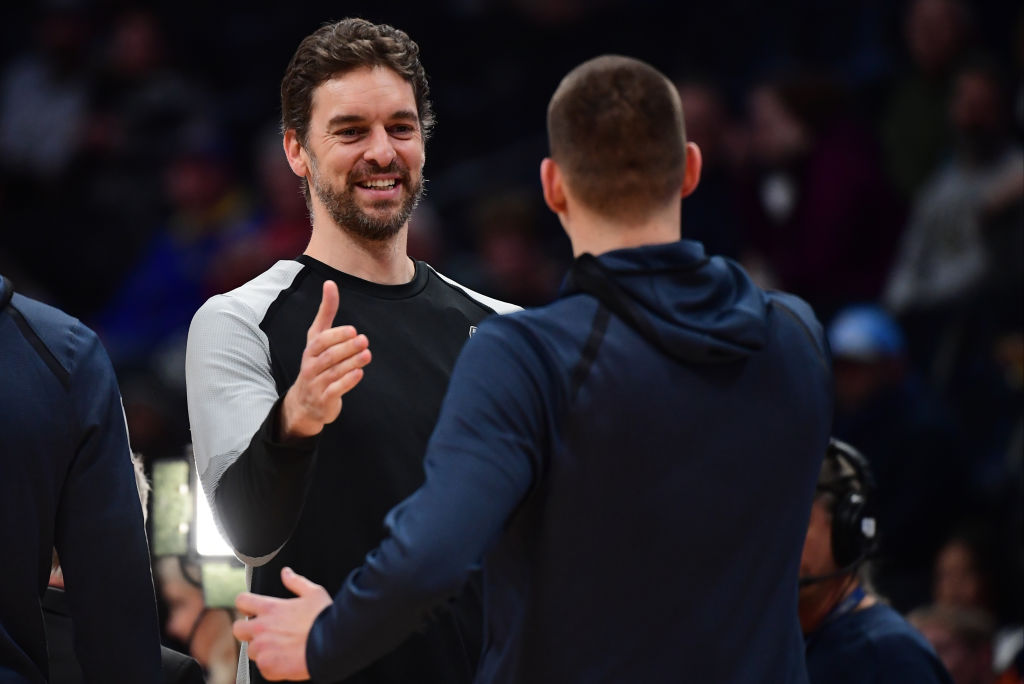 These Are the Active NBA Players Who Have Earned the Most During Their Careers
You can probably guess who's No. 1 on the list, but the rest of our list of NBA players with the largest bank accounts might surprise you.
The NBA playoffs are right around the corner, and fans of teams not in the postseason hunt are looking at the 2019 NBA free agency period. There should be several superstars potentially on the move, and with a number of max contract slots open in both conferences, we decided to take a look at the active NBA players who have earned the most during their careers. You can probably guess who's No. 1 on the list, but the rest of our list of NBA players with the largest bank accounts might surprise you.
5. Pau Gasol — $214.9 million
Gasol is one of the best international players in league history and got his career started with the Grizzlies, earning over $25 million before being traded to the Los Angeles Lakers.
He won two titles in L.A. and ultimately earned $116 million of his career earnings there. In 2014, he signed a three-year deal with the Chicago Bulls, but he only earned $15 million after declining the option on the last year of his deal. He has since signed two contracts with the San Antonio Spurs and could finish his career with one of the most successful franchises in NBA history.
4. Chris Paul — $222.4 million
Chris Paul could go down as one of the toughest competitors to ever play the point guard position, and he is clearly one of the richest. He has earned over $220 million between stops in New Orleans, Los Angeles (Clippers) and now Houston. His current deal runs through the 2021-22 season and at that point he will be near $350 million, which would solidify him as one of the highest-earning NBA players of all time.
3. Dwight Howard — $234.4 million
Dwight Howard has carved out an excellent NBA career and should find his name in the Hall of Fame when he hangs up his jersey. The three-time NBA Defensive Player of the Year signed mega deals at a number of his stops in the league, which is why he's among the highest earning active NBA players. Although he hasn't played for a team for more than one season since leaving the Houston Rockets, that hasn't stopped Howard from cashing in.
He signed a three-year $70 million free agent deal with the Hawks in 2016 but has been traded every season since. His rights were renounced by the Brooklyn Nets and he joined the Wizards on a mid-level exception deal this season, so it's safe to say Howard's days of making seven figures in the league are over.
2. Dirk Nowitzki — $251.6 million
Is Dirk the best international player to ever step foot on an NBA court? You would be hard pressed to find another player of his caliber inside or outside of the United States. He has signed huge contracts while playing his entire career with the Dallas Mavericks.
Although the last few seasons have seen him take pay cuts to help the team financially, Dirk is clearly one the greatest player in Mavericks history and one of the richest NBA players we have ever seen.
1. LeBron James — $269.5 million
Did you think anyone else was going to be in the top spot? James has been one of the greatest players in NBA history, but he hasn't always been it's highest paid. When he went to Miami to create the Heat's big three he signed a deal worth $110 million but declined the last two years of the contract.
He rejoined Cleveland on a two-year deal worth $42 million, then signed consecutive one-year deals before leaving for the Los Angeles Lakers. His commitment to the Lakers was similar to Miami as he signed a four-year contract worth $153.5 million dollars last offseason. By the time the contract ends James will have earned over $387 million for his career.
Who will join this list?
With mega-contracts popping up due to trade kickers and All-NBA incentives, there are chances for a number of players to join this list in a few seasons. Who do you think will enter the top-five next? Giannis Antetokounmpo? Perennial MVP candidate Richard Harden? Two-way stud Kawhi Leonard? Only time will tell.