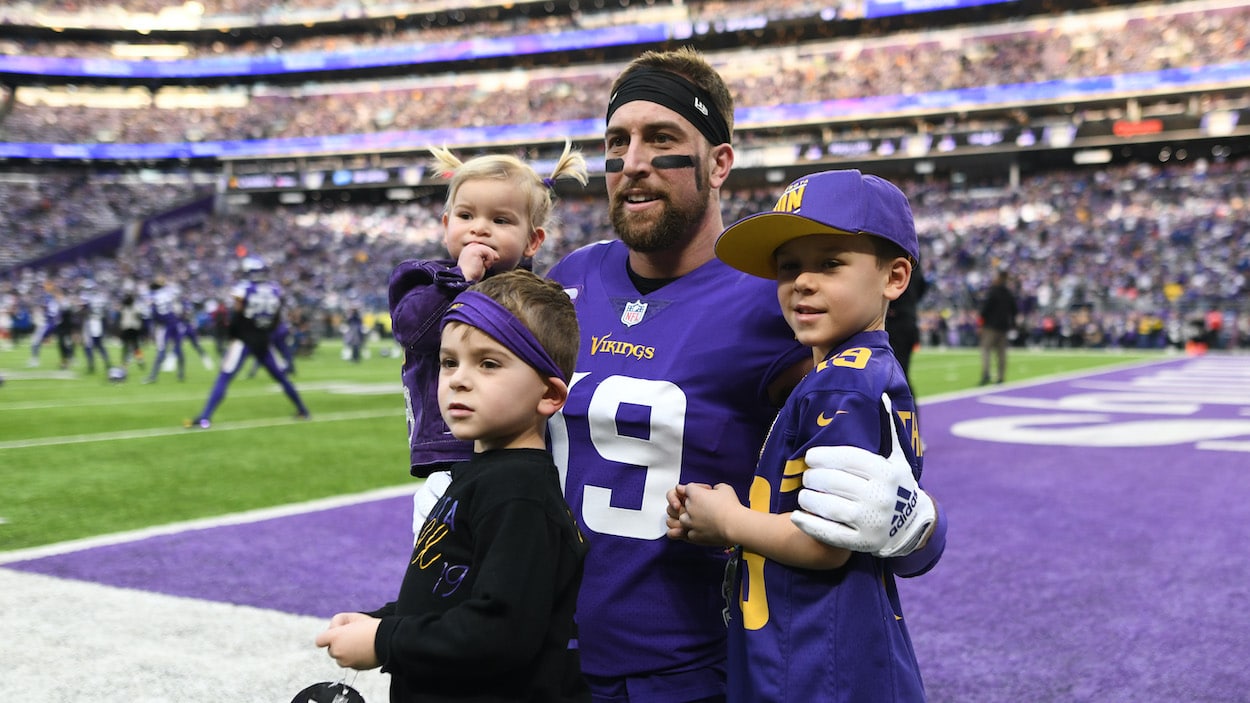 Adam Thielen Contract: Vikings WR Could Take a 'Pay Cut' in 2023, but His Wife Hints That He's Gone
The Adam Thielen contract, the WR's age, his production, and even Adam Thielen's wife all suggest he's done with the Vikings this offseason.
Over the years, the Minnesota Vikings have had some great wide receivers. There was Randy Moss and Cris Carter in the 1990s and early 2000s and Justin Jefferson now. The player bridging the gap between these two incredible eras was Adam Thielen. The Pro Bowl wideout is 32, though, and not the same pass-catcher he once was. With the money left on the Adam Thielen contract, his time in the Twin Cities may be over. And while NFL insiders like Ian Rapoport think there are ways he could stay with the team, it doesn't seem like Adam Thielen's wife agrees.
The Adam Thielen contract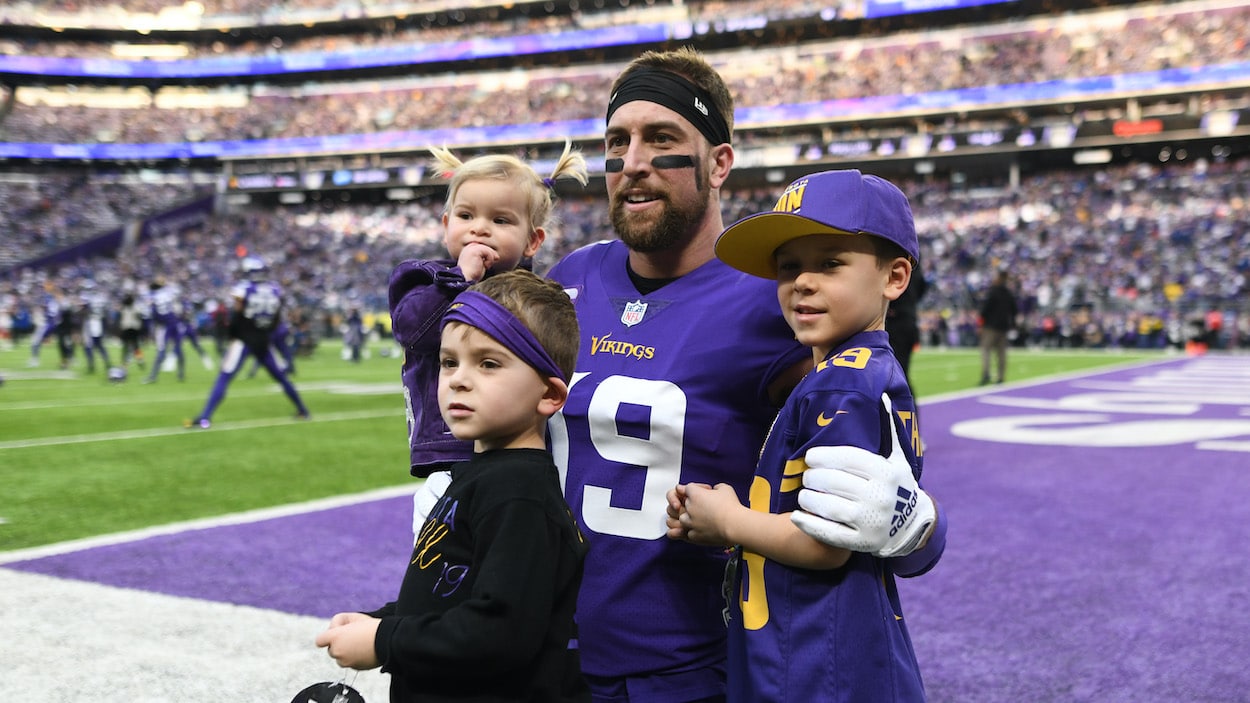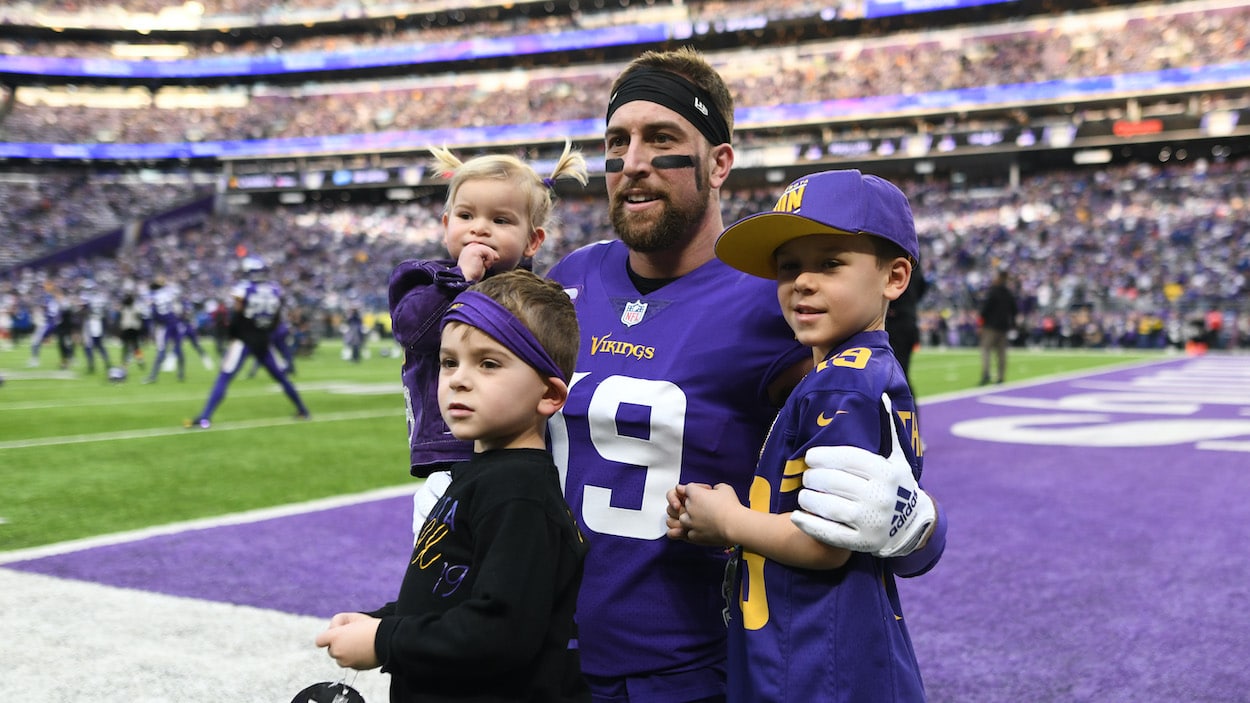 Adam Thielen is one of the most unlikely success stories in the NFL. Undrafted out of Division II Minnesota State in 2013, Thielen went to Vikings training camp that year and was cut. The next season, he again got the invite to try out, and this time he made the team.
In his first two seasons with his home-state team, the WR had 31 targets, 20 catches, 281 yards, and a touchdown. During the 2016 season, he became a legit NFL pass-catcher, grabbing 69 balls for 967 yards and five TDs.
That performance earned the WR his first good-sized Adam Thielen contract for four years and $19,246,000 with $9,646,000 guaranteed.
Thielen then far outperformed that deal, catching 204 balls for 2,649 yards and 13 TDs while making the Pro Bowl twice in the following two seasons. This superstar-level performance earned Thielen the contract he has today.
The current Adam Thielen contract is a four-year, $64,200,000 extension with a $9,000,000 signing bonus and $33,000,000 guaranteed that kicked in at the end of his prior deal, starting in 2021.
In 2022, Thielen earned a $4,253,529 base salary, $4,050,000 in prorated signing bonus, $864,706 in roster and workout bonuses, and $2,500,000 in restructuring payouts for a salary cap hit of $11,668,234 with a dead cap value of $24,453,529.
The issue is Thielen's production has steadily dropped in the last three seasons with his age and the emergence of Justin Jefferson. This past season, he caught 70 balls for 716 yards and six touchdowns.
This production is good, but it is not in line with a player who will make $11,817,647 in base salary and have a $19,967,647 cap hit next season. Thielen's dead cap number is $13,550,000, which will save the club $6.4 million if the Vikings cut him.  
Adam Thielen's wife hints he won't stay with Vikings 
The Adam Thielen contract has become too much money for a player with his production who will be 33 when the 2023 season begins.
That said, the WR should have a few decent seasons left at the right price. And it's hard to imagine Thielen — the Detroit Lakes, Minnesota native, former Minnesota State Maverick, and longtime Minnesota Viking — leaving the Gopher State.
However, one person who does seem to believe he's done with the Vikings is Adam Thielen's wife, Caitlin.
After the Vikings Wild Card loss to the New York Giants, Caitlin posted a picture of her and her husband on Instagram with the caption, "And just like that the season and out time here in MN might be at an end [sad emoji] super proud of your attitude his season and always fighting."
That certainly sounds like a goodbye. NFL Ian Rapoport doesn't think it's a done deal yet, though. The NFL Network reporter told Pat McAfee on the Pat McAfee Show, "There's contractual things that you can do — pay cut. There's other things."
So while the WR might not be done with the Vikings, it sounds like no matter what happens, he's played his last snap under the current Adam Thielen contract.