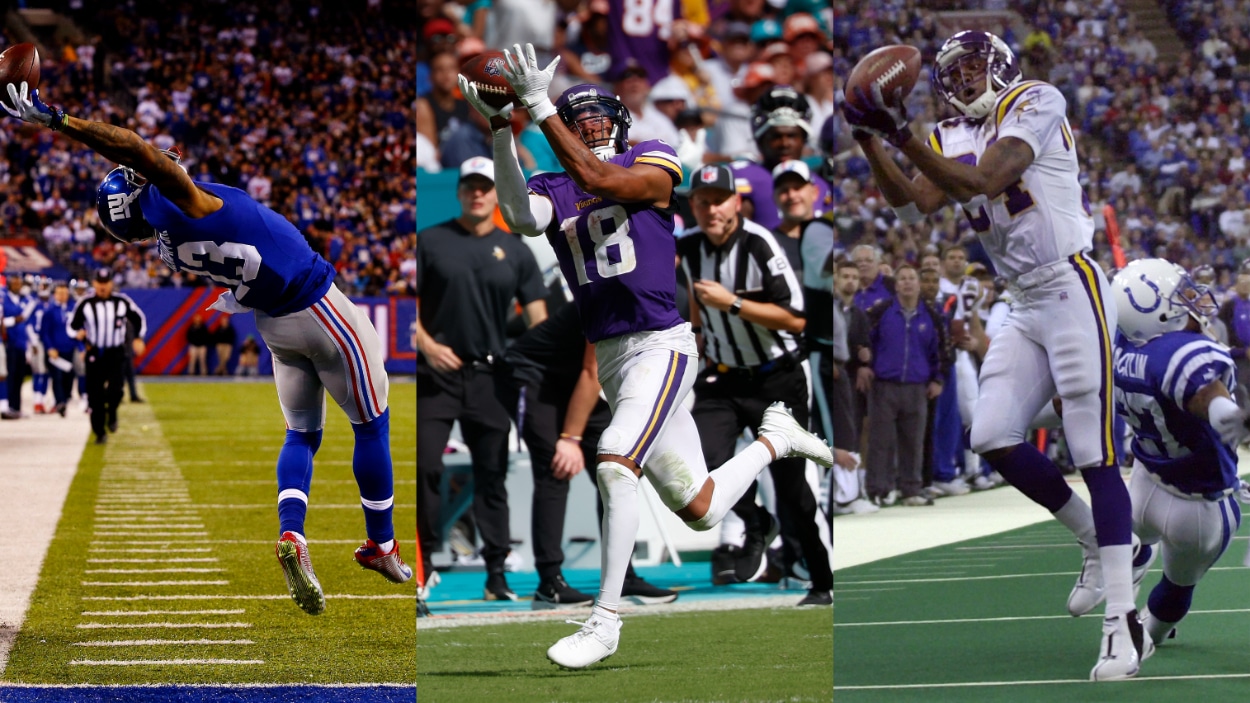 Justin Jefferson Makes History, Surpassing Odell Beckham Jr. and Randy Moss
Justin Jefferson is putting his name above Odell Beckham Jr. and Randy Moss, which makes the Vikings 2020 trade for him one of the greats.
Minnesota Vikings superstar wide receiver Justin Jefferson is quickly becoming the best player at his position in the NFL. He leads the league in receiving with 1,232 yards (with 84 yards and a game in hand over Tyreek Hill) and has the catch of the year with his one-handed snag vs. the Buffalo Bills. Just by watching Jefferson, you can tell that he's an incredible talent, but the numbers back it up as well. Through not even three full seasons, Jefferson is now ahead of all-time greats like Odell Beckham Jr. and Randy Moss.
Justin Jefferson has the most receiving yards in NFL history through three seasons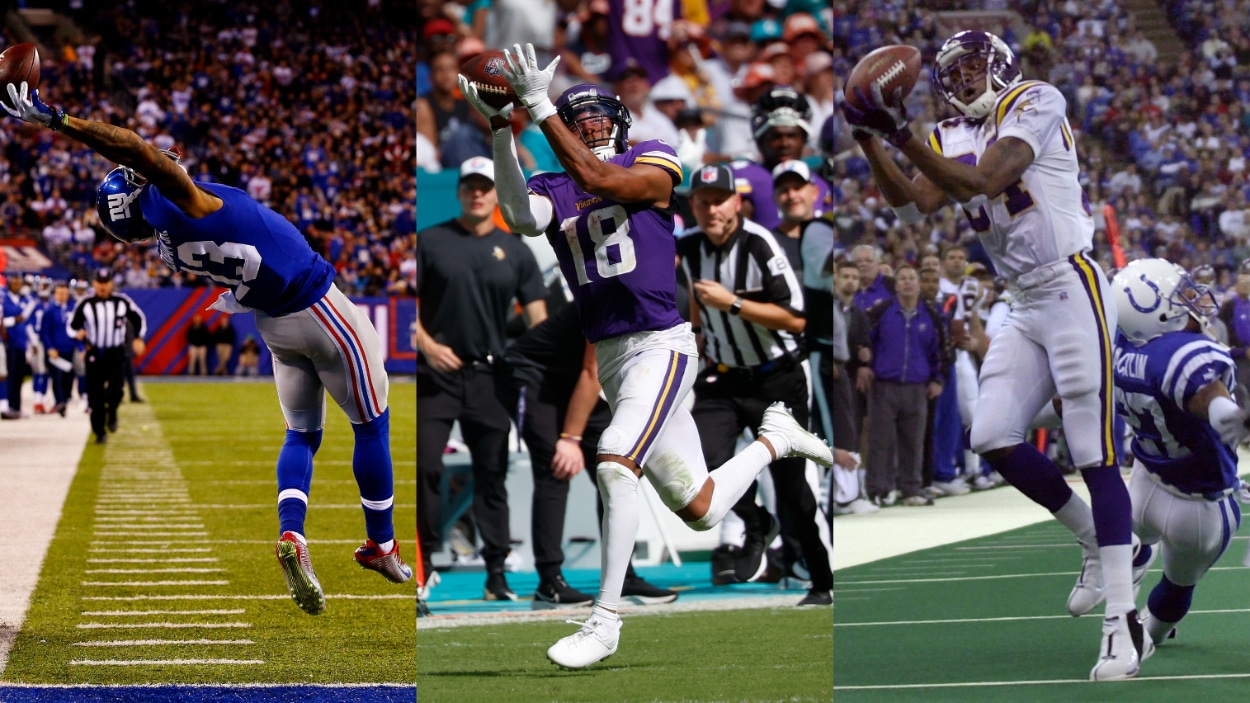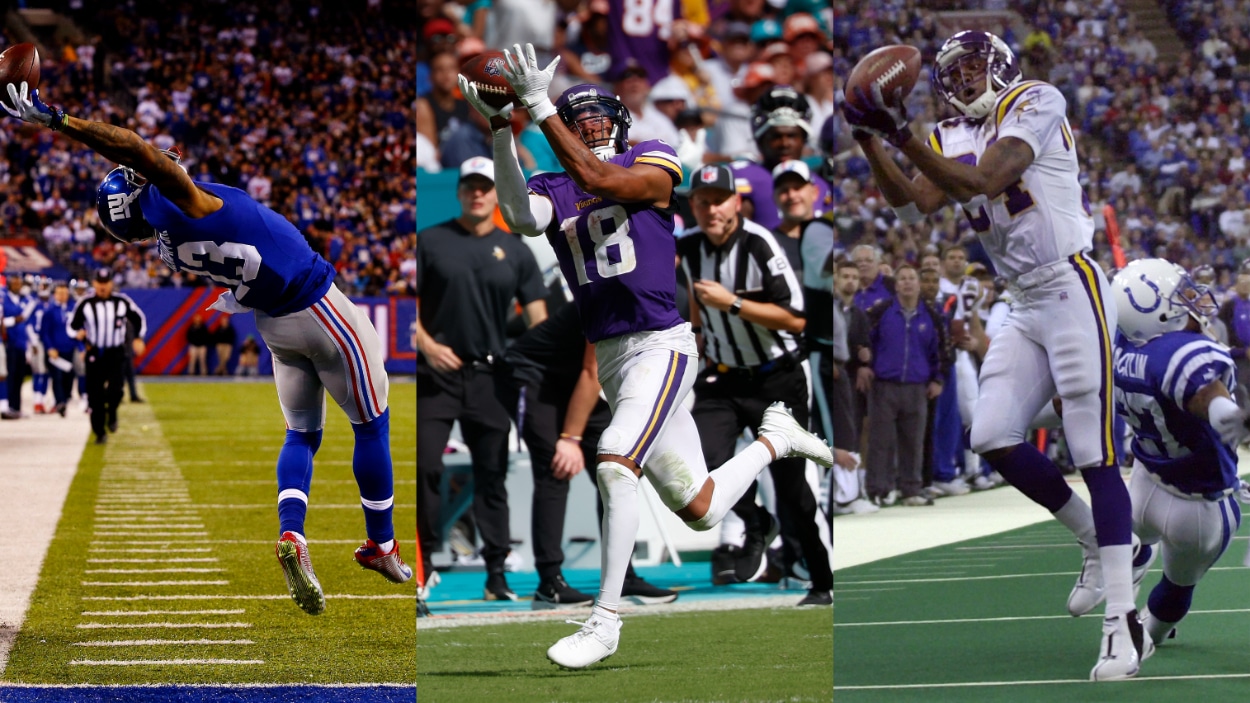 In the 2020 NFL Draft, wide receiver-needy teams selected Henry Ruggs, Jerry Jeudy, CeeDee Lamb, and Jalen Reagor at pick Nos. 12, 15, 17, and 21, respectively. Two-plus seasons later, Ruggs is tragically out of the league, Jeudy is oft-injured, Lamb is a top 10 WR, and Reagor is on his second team and is primarily a kick returner.
At No. 22, with a pick they got from the Buffalo Bills (more on that below), the Vikings selected LSU WR Justin Jefferson.
Jefferson has been nothing short of spectacular since. He was named Sporting News Rookie of the Year in 2020 and has made the Pro Bowl in each of his first two seasons, with 88 catches, 1,400 yards, and seven touchdowns as a rookie and 108 catches, 1,616 yards, and 10 touchdowns in his sophomore season.
With 81 receptions and 1,232 yards through 11 games this season, the wideout is on track to smash those marks in 2022. His catch vs. the Bills also rivaled Odell Beckham Jr.'s iconic one-handed grab, which gives him a highlight that will live on long after he's done.
You can argue if Jefferson or Beckham's catch was better. What you can't argue, though, is who has more receiving yards in their first three NFL seasons. With 139 yards on Thanksgiving night in a Vikings win over the New England Patriots, Jefferson now has 4,203 career receiving yards, which is more than Odell Beckham's 4,122 and even Hall of Famer Randy Moss' 4,163, per NFL Research.
That is heady company for a young WR to be in, but that serves to underscore just how special Justin Jefferson is.
Bills-Vikings trade the most win/win deal in NFL history
In March of 2020, the Vikings traded WR Stefon Diggs and a 2020 seventh-round pick to the Bills for the No. 22 pick in the 2020 NFL Draft, along with 2020 fifth- and sixth-round picks and a 2021 fourth-round selection.
When the Vikings picked Justin Jefferson with that Bills pick, the trade essentially became Diggs for Jefferson.
Two-plus years later, when trade winners and losers usually start to come into focus, this is one of the few trades in all of sports that is a resounding win/win for both sides.
The Bills got the veteran, go-to WR they needed to help Josh Allen flourish. And the Vikings got a young up-and-comer to help carry them into the future. It was exactly what each team needed at the time, and two and a half seasons later, it is still working out great for both sides.
After two seasons with Kirk Cousins, Diggs didn't see eye-to-eye with his QB and needed a change of scenery. And in Buffalo, the pass-catcher has taken his career to another level. In his first season with Allen, Diggs led the league in receptions (127) and yards (1,535). He made the Pro Bowl and his first All-Pro team. Currently, he again leads the league in receptions (84) and has 1,110 yards.
In Minnesota, Jefferson has connected with Cousins in a way Diggs never did, and the Vikings are 9-2, which is the second-best record in the NFC.
It's a win/win all around, and the 2022 NFL playoffs will likely illustrate this dynamic even further.