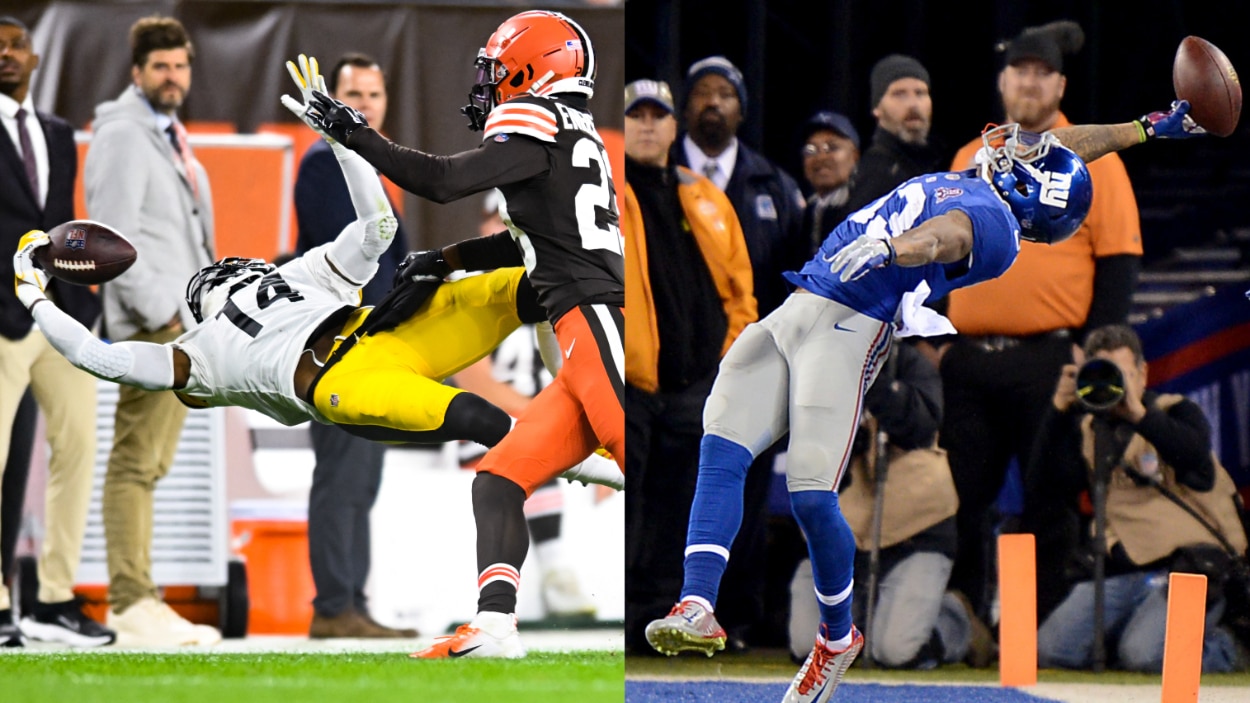 WATCH: Is George Pickens Catch Better Than Odell Beckham Jr. Catch?
The George Pickens catch by the Steelers rookie wideout on Thursday night might be as good or better than the iconic Odell Beckham Jr. catch.
On November 23, 2014, in a Week 12 Sunday Night Football game vs. the Dallas Cowboys, New York Giants rookie wide receiver Odell Beckham Jr. made one of the best catches in NFL history. Eight years later, on a Week 3 Thursday Night Football game, Pittsburgh Steelers rookie WR George Pickens made a catch to rival that iconic grab. Now the question becomes, is George Pickens' catch not quite as good, as good, or possibly better than the Odell Beckham Jr. catch? 
The George Pickens catch
George Pickens was a five-star recruit coming out of high school in Hoover, Alabama, and committed to the Georgia Bulldogs. However, Pickens' college career was an absolute roller coaster. 
The 6-foot-3, 200-pound pass-catcher caught 49 balls for 727 yards and eight touchdowns in his true freshman season. But he also served suspensions for breaking team rules and fighting on the field vs. Georgia Tech. He then had a solid shortened sophomore season before tearing his ACL in the spring of 2021. He then battled back incredibly quickly to play at the end of that season. 
All this talent, plus the "red flags" and injury concerns, mixed with a 4.47-second 40-yard dash at the combine, and Pickens ended up with the Steelers at No. 52 overall in the second round of the 2022 NFL Draft. 
After two relatively quiet NFL games (two catches, 24 yards), George Pickens officially announced his career with authority, much like Odell Beckham Jr. did almost a decade ago.
On a 2nd-and-3 in the third quarter of the Thursday Night Football Week 3 matchup between the Pittsburgh Steelers and Cleveland Browns, Steelers QB Mitchell Trubisky rolled out right and threw to Pickett, streaking down the right sideline. 
With fellow rookie Martin Emerson Jr. covering him, Pickett reached back for the underthrown ball with his right hand. At the same time, the WR threw his body backward and was almost horizontal when he made the one-handed snag. 
Anyone who saw it couldn't help but think back to that Sunday night game eight years ago. 
The Odell Beckham Jr. catch
Odell Beckham Jr. caught 143 balls for 2,340 yards and scored 12 touchdowns in his three seasons at LSU. Those stats and his raw athleticism and talent made him the New York Giants No. 12 overall pick in the 2014 NFL Draft. 
After missing the first five games of his rookie season with a hamstring injury, Beckham burst onto the NFL scene in a big way in Weeks 8 and 9. In these games, the pass-catcher had eight catches for 156 yards and seven catches for 104 yards.  
In Week 12, Beckham got a national audience in a Sunday night matchup with the rival Dallas Cowboys. 
At the start of the second quarter, Eli Manning and the Giants had the ball at the Cowboys' 43-yard line. On 1st-and-10, Manning dropped back and launched a bomb to Beckham that he met at the front right corner of the end zone. 
With corner Brandon Carr draped all over him, Beckham stuck one hand over his head while falling back and caught the ball while careening into the end zone. In the aftermath of the catch, announcer Cris Collinsworth exclaimed, "that may be the greatest catch I've ever seen!"
Is the Odell Beckham Jr. catch or George Pickens catch better?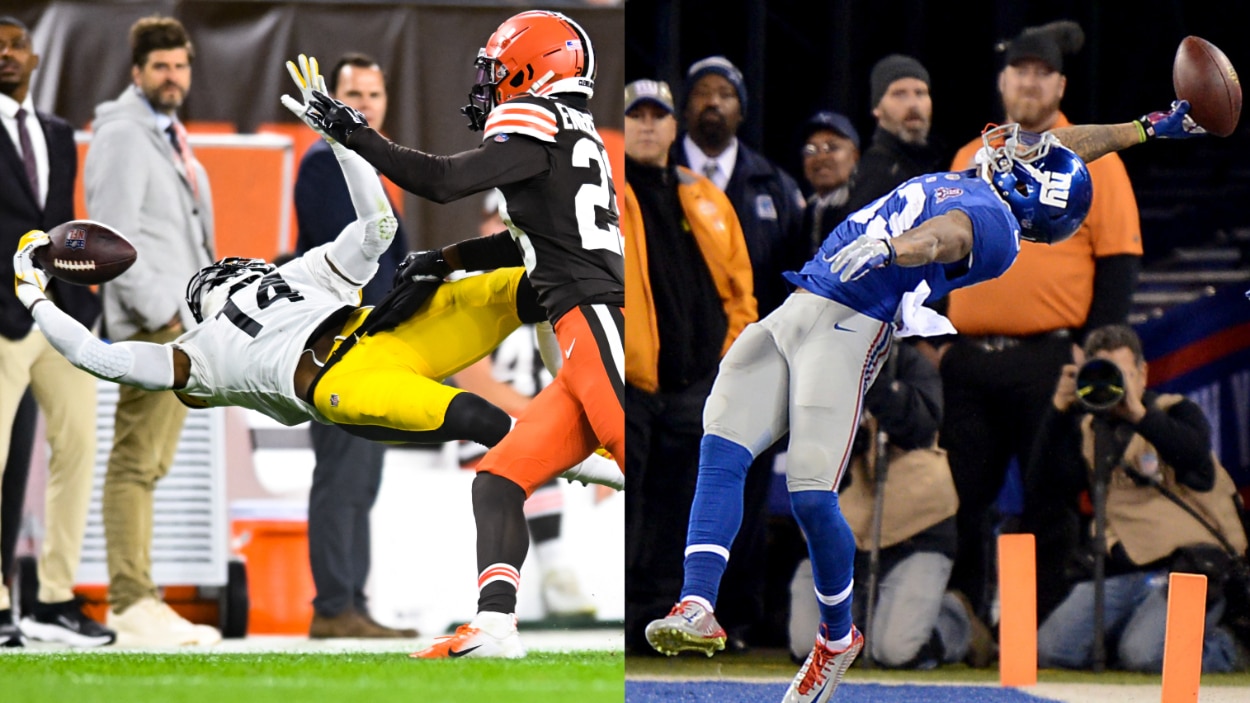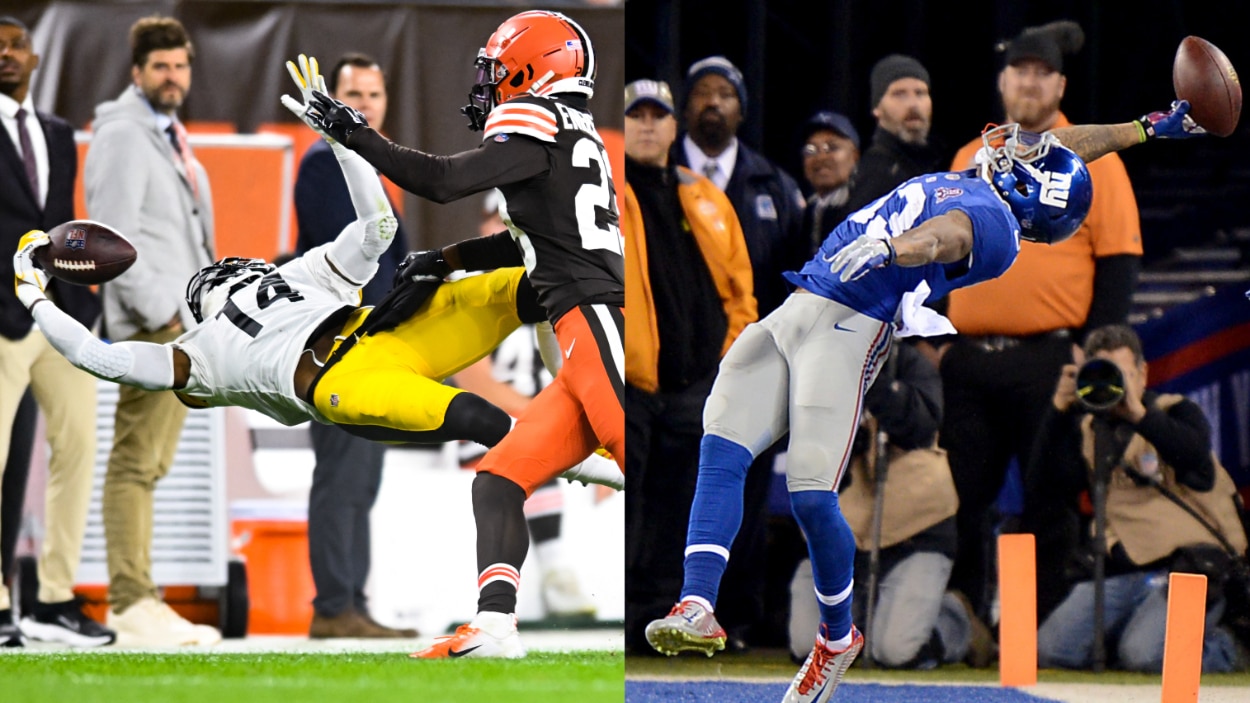 Now that the George Pickens catch is out there to rival the Odell Beckham Jr. catch let us know which incredible prime-time catch by a rookie and called by Al Michaels was better. Weigh in by sounding off in the comments section! 
Like Sportscasting on Facebook. Follow us on Twitter @sportscasting19 and subscribe to our YouTube channel.