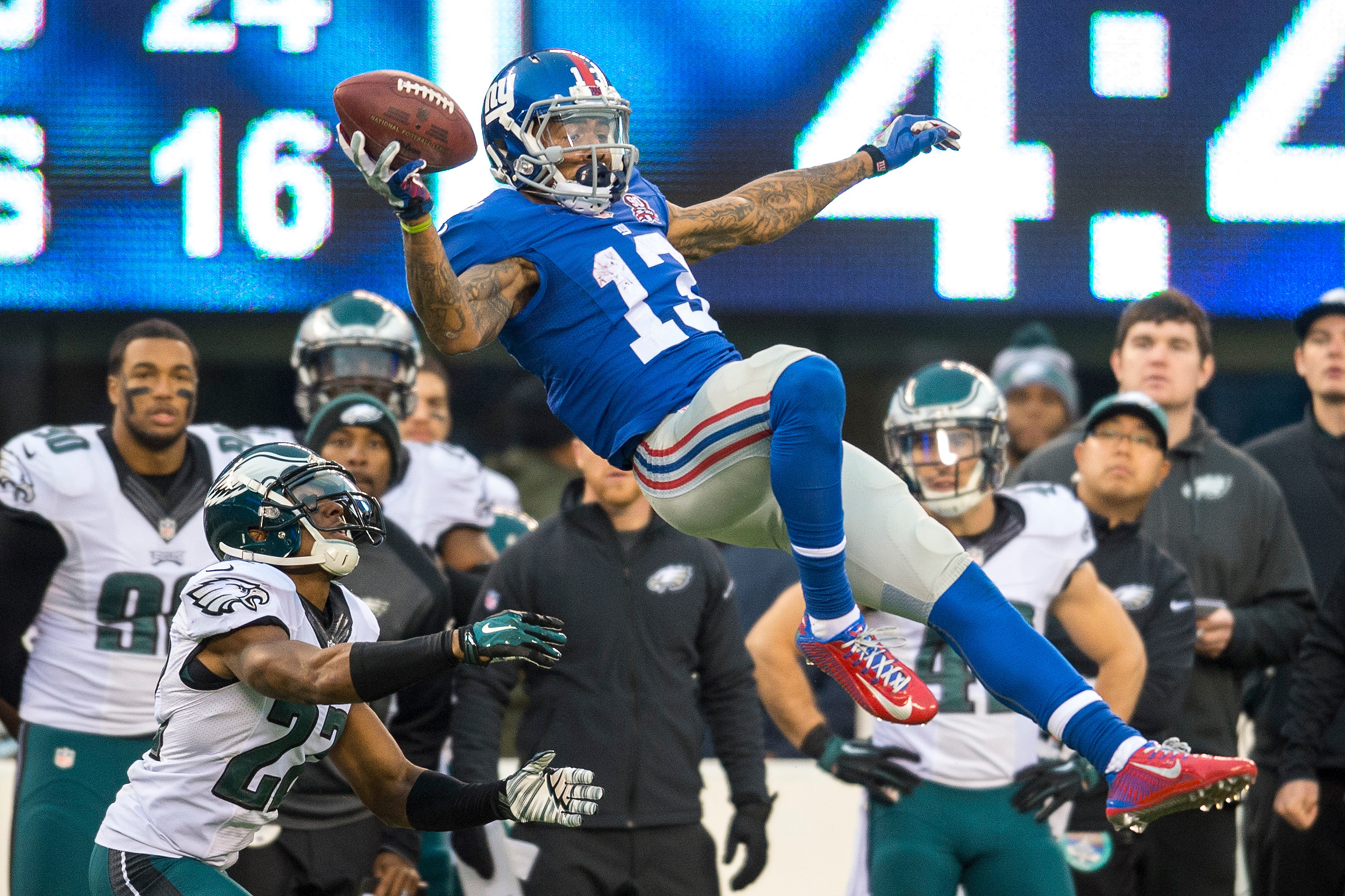 When Odell Beckham Jr. Made 1 of the Greatest Catches in NFL History, His Dad Just Shrugged
Odell Beckham Jr.'s greatest catch occurred in his rookie season against the Dallas Cowboys, and his whole family was there watching.
When he debuted for the New York Giants back in 2014, Odell Beckham Jr. was considered one of the hottest wide receiver prospects in years. He quickly proved why, winning NFL Offensive Rookie of the Year and his first Pro Bowl selection. Since then, Beckham has given fans plenty of eye-popping highlight catches.
That said, arguably his single greatest catch occurred in his rookie season against the Dallas Cowboys. And his whole family was there in the stands watching. Let's look at Beckham's stunning catch and his father's surprisingly cool reaction.
Odell Beckham Jr.'s greatest catch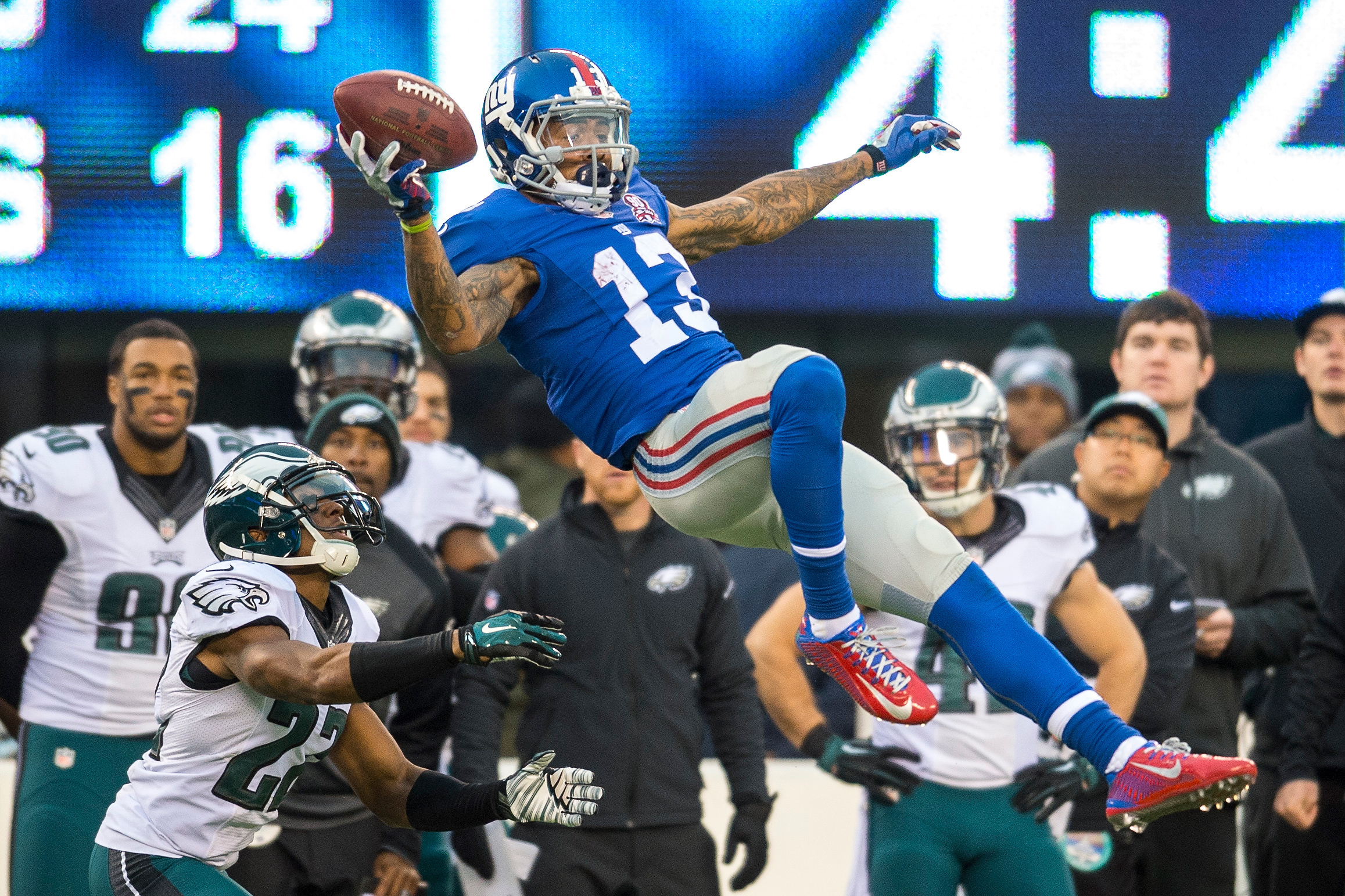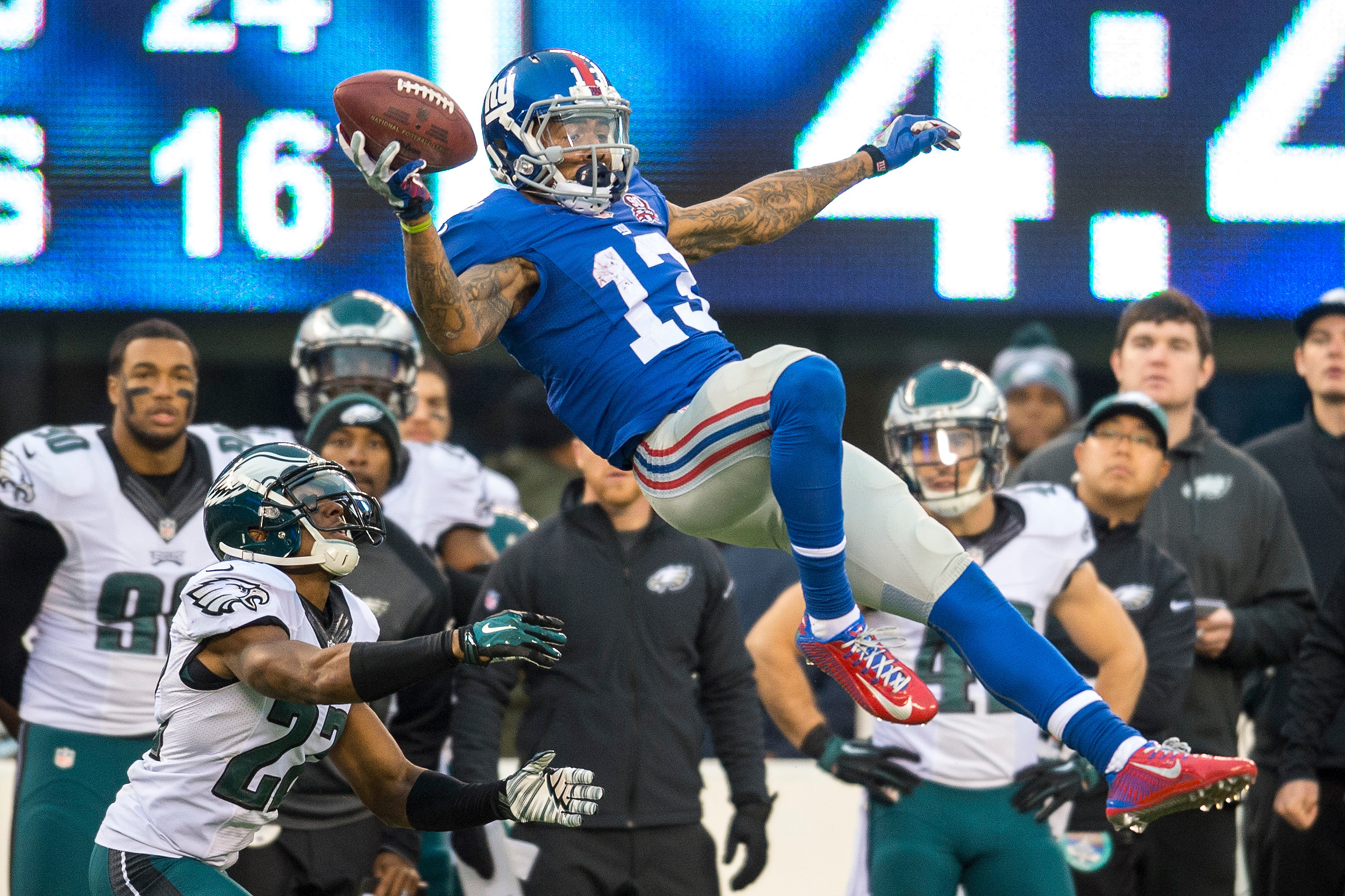 Beckham's epic catch occurred on November 23, 2014, during the Giants' Week 12 game against the Cowboys. It was the start of the second quarter, with the Giants positioned at roughly their 45-yard line. Quarterback Eli Manning targeted Beckham on a deep pass at the corner of the end zone.
Beckham was far from open, details the New York Daily News. The Cowboys' defender, Brandon Carr, was draped all over Beckham, and even got called for defensive interference as Beckham went up to make the grab. Because of that, the pass wasn't exactly on target and likely would've sailed right over most wide receivers' hands.
But Beckham leaped into the air, reached his arm back over his head, and snagged the pass with one hand. In fact, he only managed to get three fingers on the ball. But he still managed to haul it in as he tumbled into the end zone. NBC broadcaster Cris Collinsworth quickly branded it one of the greatest catches he'd ever seen.
How Beckham's father reacted to his catch
That night, seven of Beckham's family members were attending the game, including his father and grandmother. His grandma, a lifelong Cowboys fan, changed her allegiance after the Giants drafted Beckham. In the wake of his spectacular catch, reports the New York Daily News, she praised her grandson and said how proud she was of "who he has become."
It seems fair to assume she must've been beside herself with excitement when he made his one-handed catch. For Beckham's father, however, it was a different story. No fist-pumps, no jubilant screams, no jumping up and down — just a simple shrug. As he explained, he just wasn't that surprised at his son's remarkable play, saying that it "all seems so natural."
In other words, Beckham Sr. had been watching his son make breathtaking catches for his entire life, and so this touchdown catch was really nothing new. Like his son, Beckham Sr. also played football, spending four years as a running back for Louisiana State University, though he never made it to the NFL.
Other legendary catches in NFL history
It didn't take long for Beckham's feat to earn a place in the debate about the greatest catches of all time. Numerous analysts have even argued that it deserves the top spot on that list. If Beckham's catch had come during the Super Bowl — or even the playoffs — it might be considered the unanimous favorite. Instead, commentators tend to place it a little further down the list.
Other legendary catches include Lynn Swann's 53-yard catch to help give the Pittsburgh Steelers a win over the Cowboys in Super Bowl X. Then there was Dwight Clark's remarkable leap to snag a Joe Montana pass in the end zone, giving the 49ers a win in the 1981 NFL championship game.
Finally, we shouldn't forget about another incredible catch from the Giants' 2014 season. After a so-so regular season, they fought their way to the Super Bowl, where they were considered huge underdogs against the Tom Brady-led Patriots. Trailing in the fourth quarter, Eli Manning found receiver David Tyree on a 37-yard pass — often known as "The Helmet Pass." It set the Giants up for one of the biggest upsets in modern sports.