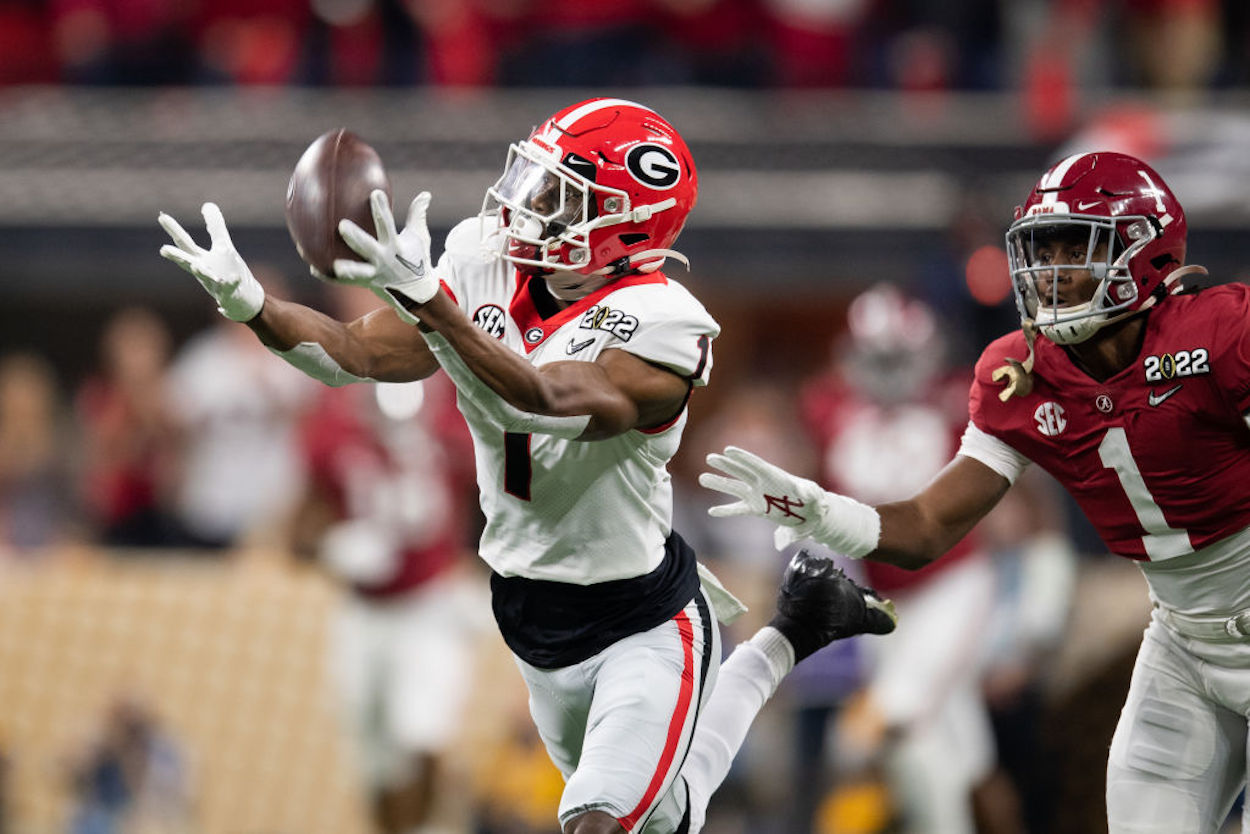 NFL Draft: The Kansas City Chiefs Could Reap the Rewards of George Pickens' Red Flags
If the Kansas City Chiefs are looking to draft a wide receiver, George Pickens' red flags may give them the perfect oppertunity.
While they came within touching distance of another AFC Championship, the Kansas City Chiefs still have some work to do during the 2022 NFL draft. The club, of course, traded away Tyreek Hill earlier this offseason against the backdrop of an improving division. General manager Brett Veach has brought in some reinforcements, but it's safe to assume he'll want to add at least one more wide receiver. That's where George Pickens could come in.
The University of Georgia product seems like a talented player on paper, but the pre-draft process has raised some "red flags" about his NFL potential. Although that could scare some teams away, it might be a blessing in disguise for the Chiefs.
George Pickens is viewed as a 'boom-or-bust' prospect with some 'big red flags'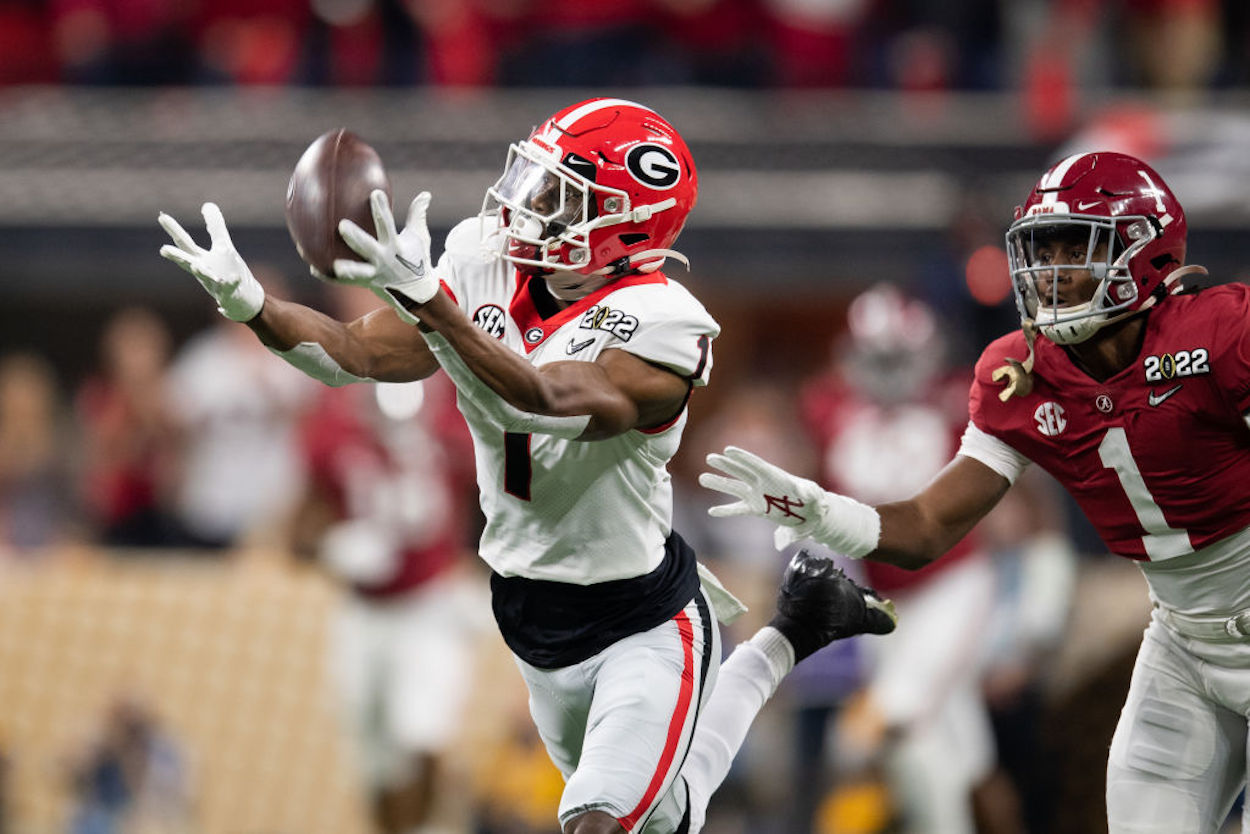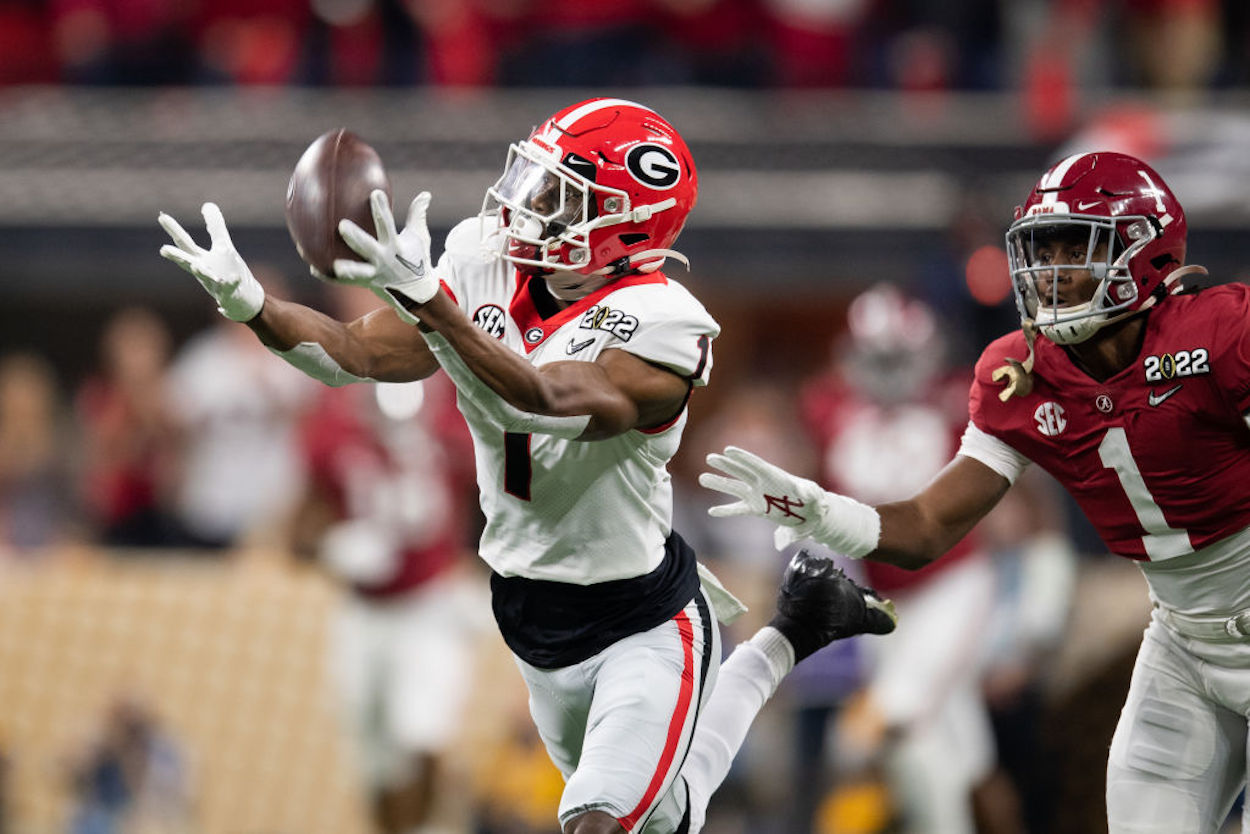 Ahead of each year's NFL draft, there are plenty of whispers about red flags and potential issues that could doom a prospect to irrelevance. Among this year's wide receivers, it seems like George Pickens is at the center of that chatter.
For a recent Athletic post, Bruce Feldman picked the brain of several scouts and position coaches. When the topic of this year's "most boom-or-bust" receiver came up, several responses highlighted Pickens.
"George Pickens," an unnamed scout said. "There's a lot of upside, but he can't get out of his own way. He's been enabled his whole life."
A wide receiver coach shared similar sentiments, explaining that no amount of talent could convince him to draft the Georgia Bulldog.
Pickens. You love his game, but there's some issues. Do you want to work with him? He's a top-6 talent-wise, but it's impossible not to add those other things. He has the size, has really good range. He positions his body on deep throws. He consistently beats press coverage. Has good start-stops with some AI (Allen Iverson) crossover in his game. A lot of the stuff in (Todd Monken's) system translates to the NFL. But I wouldn't touch him.

Wide Receiver Coach 3 speaking to Bruce Feldman of The Athletic
Another coach even broke out the dreaded pre-draft term: red flags.
"On tape, he is probably a top-5 wide receiver but there's just so many red flags, and they're big red flags. He's got a lot of growing up to do," the anonymous Wide Receiver Coach 5 explained. "If he goes to the right place with a room full of veterans that help him go the right way, I think he'll have a chance."
While it's unclear what those red flags would be, some breadcrumbs do exist. As noted by Bernd Buchmasser of Pats Pulpit, the general speculation is that Pickens interviewed poorly. The receiver was also ejected from a game as a freshman for getting into a fight and later squirted water on an opponent. He also tore his ACL in 2021, which could scare NFL teams away.
Those red flags could help the Kansas City Chiefs add another talent to their wide receiver corps
It goes without saying that the scale of Pickens' red flags does matter. If the receiver has done something truly awful, then that obviously trumps any NFL team getting a bargain. Assuming that his issues are fairly ordinary football concerns, though, that skepticism can be exactly what the Chiefs need.
As mentioned above, Kansas City traded Tyreek Hill to Miami and brought in JuJu Smith-Schuster and Marquez Valdes-Scantling. While those two, combined with Travis Kelce and Mecole Hardman, should be enough to tread water, the organization does need to look for some longer-term solutions. That's where the draft comes in.
The Chiefs have a multitude of picks this year, including four within the first two rounds. It's safe to assume that at least one of those will be spent on a receiver, hoping that he can make an immediate impact while growing developing into a mainstay.
Based on most projections, Pickens is projected to be selected in the late first or early second round. While that already bodes well for the Chiefs — they hold picks 29 and 30 — the wide out's red flags could give them a bit more flexibility. If other teams, like the Green Bay Packers, are scared off by their pre-draft findings, Kansas City can play with one of their first-round picks, knowing the other will probably be enough to land Pickens. If they're feeling especially confident, Veach might even be able to trade back and select the Georgia Bulldog in the early second round.
On a fit level, it's easy to see how things connect for KC. Pickens has strong hands, a massive wingspan, and the raw talent that makes him a perfect match for Patrick Mahomes. Reid has also shown a willingness to work with players who have somewhat checkered pasts, which would counteract the reports of red flags.
The Chiefs' strong draft position could also help mitigate some of the concerns about the Alabama native. Pickens tore his ACL during the spring of 2021; while he returned for the end of the fall season, it's understandable if teams are scared away because of that medical history. Should Kansas City draft him alongside another receiver, though, that risk is easier to swallow.
It's also worth noting that followed a similar playbook during last year's draft. When other teams balked at selecting Trey Smith after he missed time due to blood clots, Kansas City snapped him up in the sixth round. He stepped right into the action without missing a beat, giving the Chiefs pretty good value for a pick that would otherwise be a roll of the dice.
As long-time sports fans can tell you, it's risky to assume who a team will select until you hear the name announced. When the 2022 NFL draft arrives, though, don't be surprised to see George Pickens become a Chief.