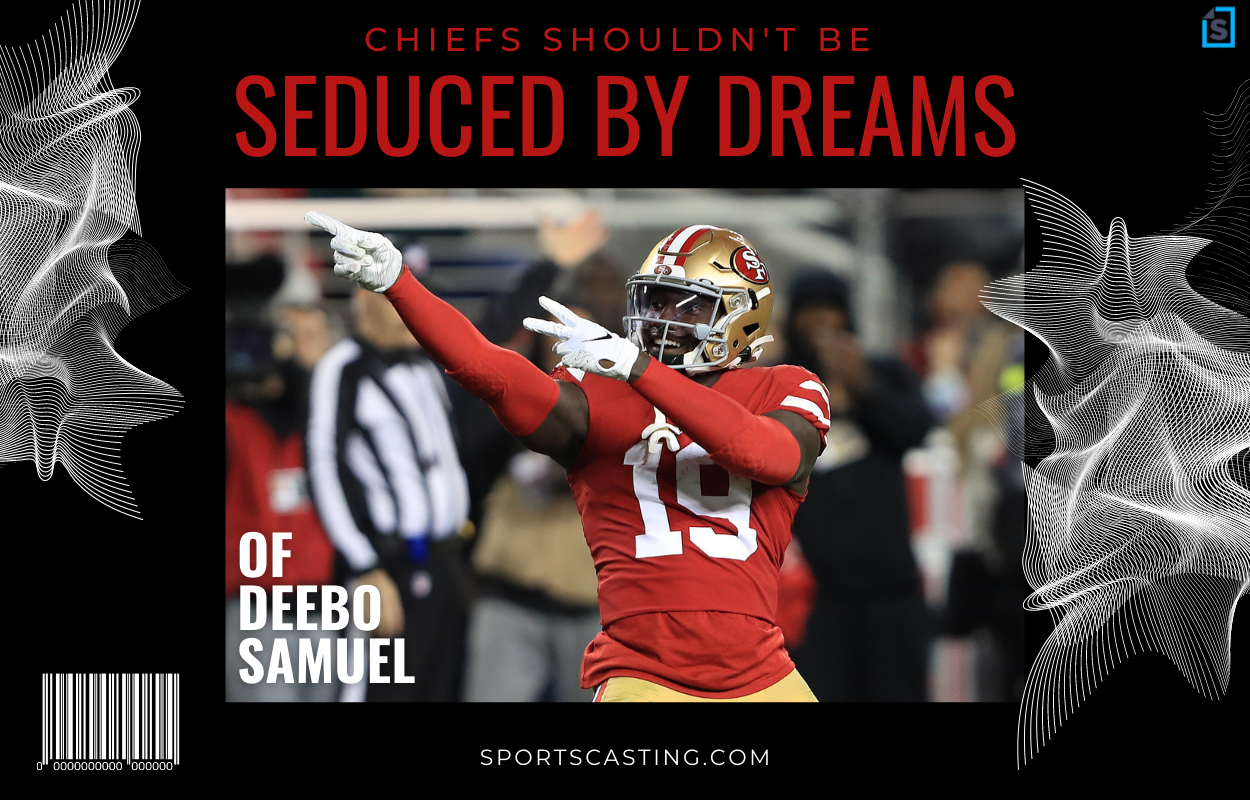 The Kansas City Chiefs Shouldn't Be Suckered Into a Bad Situation by the Short-Term Dream of Deebo Samuel
Deebo Samuel would be a perfect fit for the Kansas City Chiefs' offense, but trading for him isn't a clear-cut decision.
Ever since Tyreek Hill left town, Kansas City Chiefs fans have been dreaming of their next star receiver. While the likes of JuJu Smith-Schuster and Marquez Valdes-Scantling do fill out the depth chart, they don't really bring the Cheetah's level of game-breaking talent to Arrowhead. Deebo Samuel, however, could fill the void perfectly.
Ever since news broke that the San Francisco 49ers star is seeking a trade, speculation has swirled about how he'd be the perfect new toy for Andy Reid's offense. Reports out of KC, however, suggest that the Chiefs aren't going any further than doing their due diligence.
While that update might be disappointing to some of Chiefs Kingdom, it's probably the right move. Landing Samuel would be a statement, but it would also be the ultimate short-term decision.
Deebo Samuel could be on the trading block, but the Chiefs don't seem too interested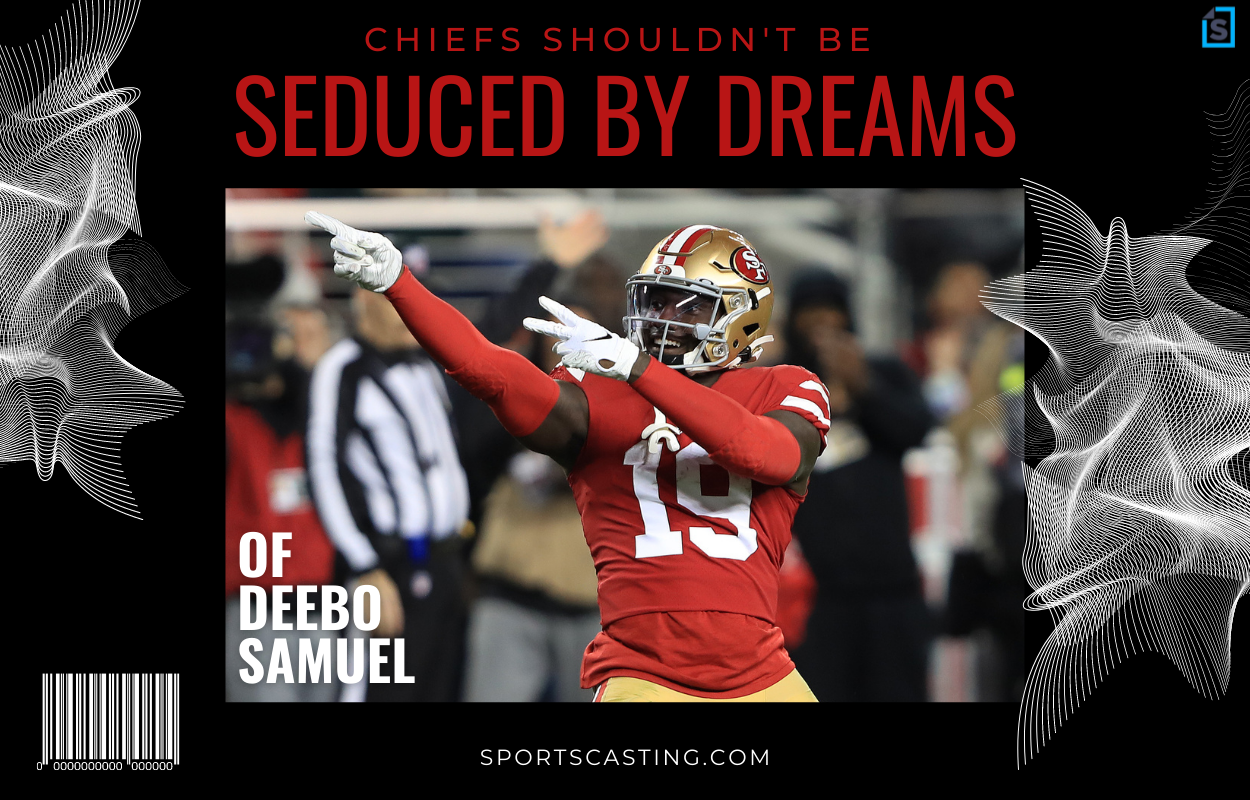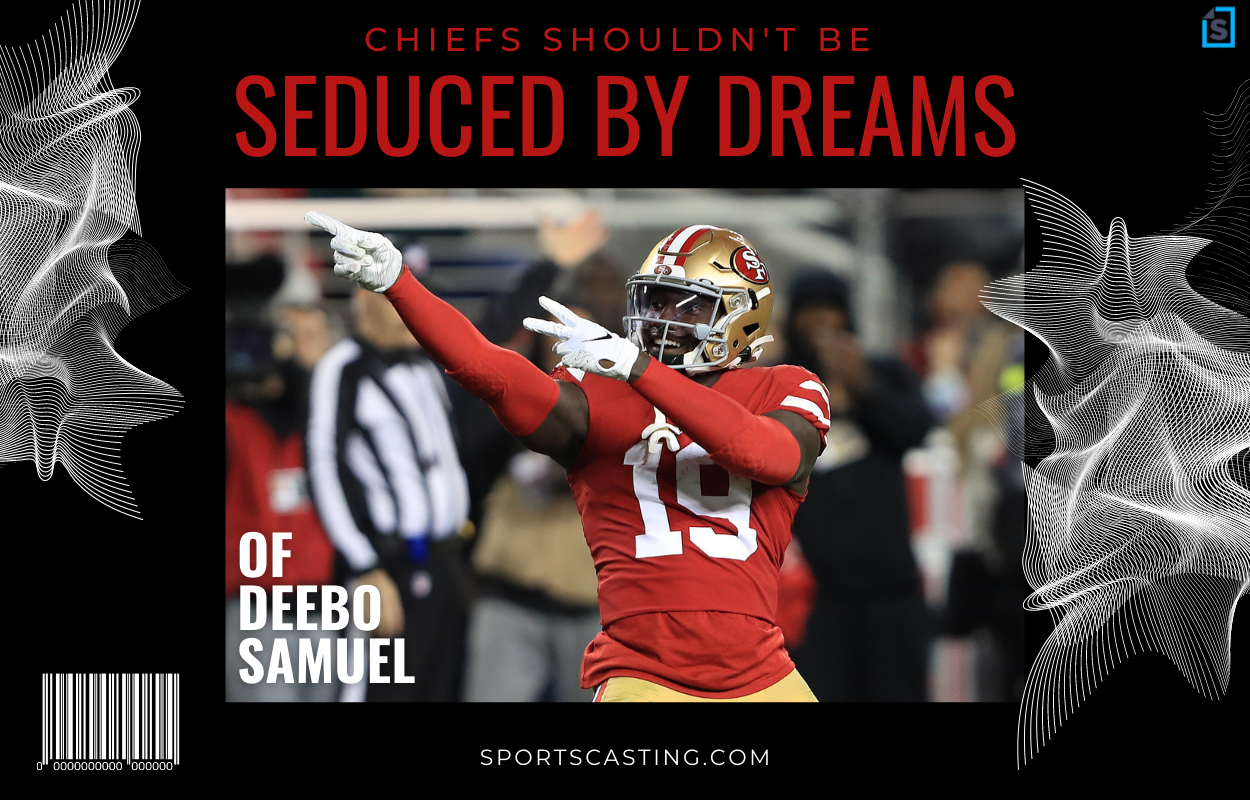 During the 2021 NFL season, Deebo Samuel proved to be an all-purpose threat, capable of making things happen every time he touched the ball. That quality would make him desirable to virtually every coach in the league, and we may see proof of that reality.
As reported on April 20 by ESPN's Jeff Darling, the San Francisco wideout has informed his employers that he'd like to be traded. While it's not clear how things will play out, the news has presumably had the 49ers' phones ringing off the hook.
One of those calls has likely come from the Kansas City Chiefs, but don't assume that Brett Veach will be hammering out the final details of a trade offer.
"When requesting a trade (like Deebo Samuel has, though not guaranteeing move) you always garner feedback from the market," CBS Sports' Josina Anderson tweeted. "Regarding the #Chiefs, a league source told me while Samuel is regarded as highly talented, the team is not actively pursing [sic] him currently*, focused on Draft."
If the Chiefs are serious about building a long-term vision, signing Deebo Samuel simply doesn't work
From a talent-based perspective, it's easy to see the appeal of bringing Deebo Samuel to Kansas City. Not only is the wideout a capable receiver, but he's also deadly in the running game. With Patrick Mahomes' deep ball ability keeping defenses honest, Andy Reid would have a field day drawing up bubble screens, jet sweeps, and all sorts of other creative ways to use the South Carolina alum.
From a larger team-building perspective, though, there's a problem. Samuel simply doesn't work within the context of the Chiefs' long-term vision.
Jumping back to the Tyreek Hill trade, the Chiefs' collective hand was somewhat forced by the financials. While they obviously wanted to keep the speedster under contract, KC was hesitant to allot $120 million of their budget to the wideout. At a certain point, you can't restructure any more contracts to keep finding spare change under the couch cushions. Someone, in this case, Hill, had to be the casualty.
Landing Samuel would immediately use up a good chunk of that new-found flexibility. While the 49er might not have the same overall body of work as Hill, he'll be looking to cash in on his impressive 2021 campaign.
Let's assume that Deebo showed up on the Chiefs' doorstep and signed a contract for $25 million per year. While there's some room to manipulate that number with bonuses and guarantees, there's only so much magic that a general manager can perform. Kansas City has roughly $18 million of cap space ahead of the 2022 campaign and a shade under $39 million free for 2023. If Samuel comes in, something has to give. There's no point in stocking up on receivers if their contracts force you to cut corners in the trenches or on defense.
No one at Arrowhead wants to see the Chiefs put up 42 points but lose because their patchwork defense surrendered 50.
That topic also raises another factor: draft picks. In order to assemble a trade package that would be up to San Francisco's standards, KC would probably have to include at least one of their first-round picks. While that might not seem like a big deal in a vacuum, those moves can have knock-on effects.
If we work under the assumption that the Chiefs are trying to keep this championship window open, they'll need to have a roster that can survive for more than a few seasons. The easiest way to do that is through the draft since you (theoretically) secure talented players at a low cost for the first four or five years of their career. Giving a hypothetical 2022 first-rounder, plus a 2023 third, would only empty the cupboards and make it harder to build sustainable organizational depth. Should Veach trade picks away, it would probably be better to use them to move up in this year's draft.
It goes without saying that the Chiefs are in an unenviable position right now. They have to remain competitive but don't want to mortgage their future for an immediate improvement. In that situation, someone is ultimately going to be left unhappy.
At the risk of trotting out a cliche from another sport, Chiefs fans will just have to trust the process and hope that some short-term regret pays off with longer-term sustainability. If not, the Patrick Mahomes era will be defined by one Super Bowl ring and plenty of disappointment.
Salary cap data courtesy of Over the Cap