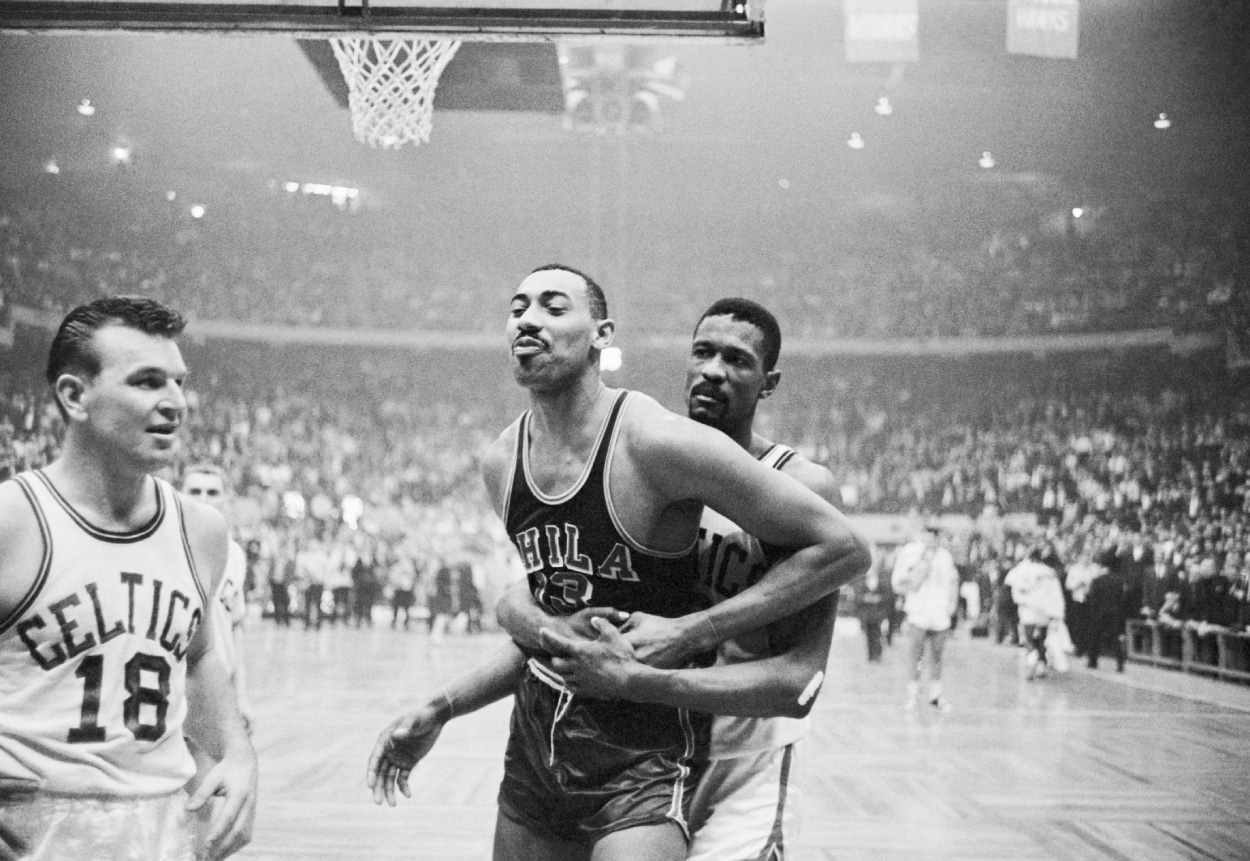 After a Year in the NBA, Wilt Chamberlain's Shocking Announcement He Was Quitting Didn't Stun Everyone
Wilt Chamberlain announced he was quitting basketball after one season in the NBA.
Wilt Chamberlain was Rookie of the Year with the Philadelphia Warriors during the 1959-60 season and put up numbers like no other. In his first year in the NBA, he averaged league-highs in points (37.6) and rebounds (27.0). He guided the Warriors to a 49-win season, second to only the Boston Celtics.
After the Celtics knocked off the Warriors in the Eastern Division Finals, setting up a championship meeting with the St. Louis Hawks, Chamberlain made a shocking announcement. He said he was quitting the sport. While the news shocked the sports world, it wasn't surprising to one of his close friends.
Wilt Chamberlain announced he was quitting basketball after his first NBA season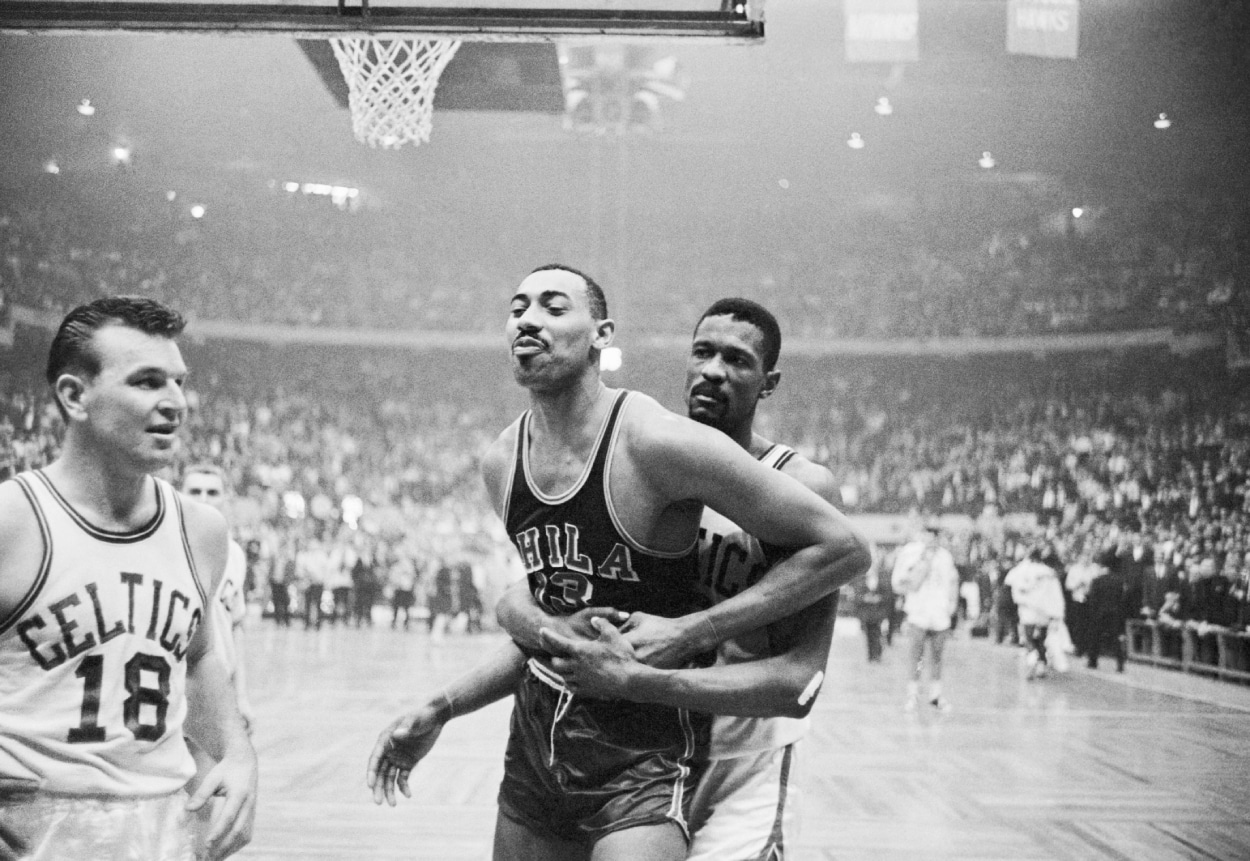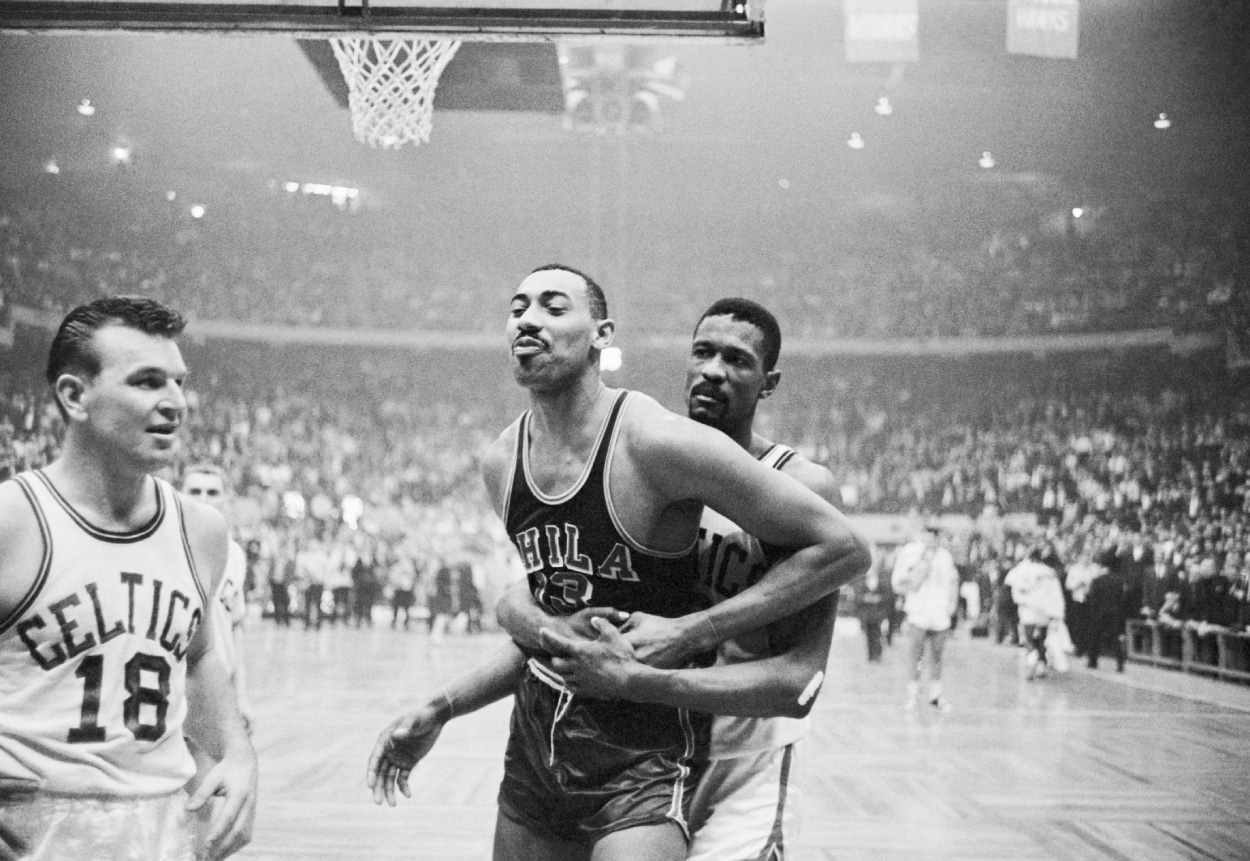 Chamberlain helped Philadelphia emerge from last place in the Eastern Division the previous season with his stellar rookie year. With Chamberlain leading with way, the Warriors improved their win total by 17 games, finishing with the second-best record in the league.
The Celtics, who racked up 59 wins that year, ousted Philly in the playoffs, winning the best-of-seven series in six games. Chamberlain was outstanding against the Celtics, putting up a 50-point, 35-rebound performance in a Game 5 win. After the Celtics closed out the series with a 119-117 victory, Chamberlain made his shocking announcement.
According to Sports Illustrated, Chamberlain told the world he was quitting the sport. He also said his decision was no surprise to Warriors owner Eddie Gottlieb, although it had to be. Chamberlain and the Warriors reportedly had an agreement that the team would pay its star center $100,000 a year for the next three years. That would have made him the highest-paid athlete in any sport.
The Warriors could afford to hand out that type of money to Chamberlain, who was a game-changer on and off the court. His production on the court not only earned him top rookie honors, but he was also named the league's MVP that season. Chamberlain was also must-see basketball. According to Sports Illustrated, he brought in 500,000 new fans into NBA arenas throughout the country.
Still, Chamberlain said he was walking away from the game.
Not everyone believed Chamberlain was quitting
The NBA was a much tougher game for Chamberlain, who took plenty of hard fouls because of his poor foul shooting. He also faced gimmick defenses aimed at stopping him. He was tough on the court, but he was also fragile.
Chamberlain, according to SI, was the same guy who wanted to quit basketball in college as a sophomore after his Kansas team lost to North Carolina in the championship round in 1957. Quitting had been a pattern in Chamberlain's life.
"Wilt has never grown up," said one of his close friends, according to the April 1960 Sports Illustrated article. "For as long as he can remember, he's always been 'Wilt the Stilt' and 'The Big Dipper,' and everything's come pretty easy for him.
"You don't grow up when it's that easy. He sulks when things go wrong, and he says things he doesn't really mean. Then he gets stubborn and sticks by them. He may have trouble getting out of this jam, but I'd bet he changes his mind and plays for Philadelphia next season. His pride will bring him back — that and all that money."
Chamberlain's friend was right. The NBA star played 13 more seasons and became one of the best players in league history, winning four MVPs and two championships. Chamberlain was inducted into the Naismith Memorial Basketball Hall of Fame in 1979.