After Hitting Rock Bottom, Aaron Rodgers Beat More Than the Dallas Cowboys
Aaron Rodgers found Christian Watson three times for touchdowns on Sunday against the Dallas Cowboys.
Things had gotten so bad that quarterback Aaron Rodgers and the Green Bay Packers were home underdogs — and they should've been. Mired in a five-game losing streak, the Packers hit rock bottom after a 15-9 loss to the lowly Detroit Lions in Week 9. Now, they faced the 6-2 Dallas Cowboys with former Packers coach Mike McCarthy leading the way.
The Packers found themselves down two touchdowns in the fourth quarter and staring at a sixth straight loss. Rodgers & Co. battled back with 17 unanswered points for a 31-28 overtime win. Rodgers also shut down an annoying little voice in improving to 4-6.
Aaron Rodgers and Christian Watson steal the show for the Green Bay Packers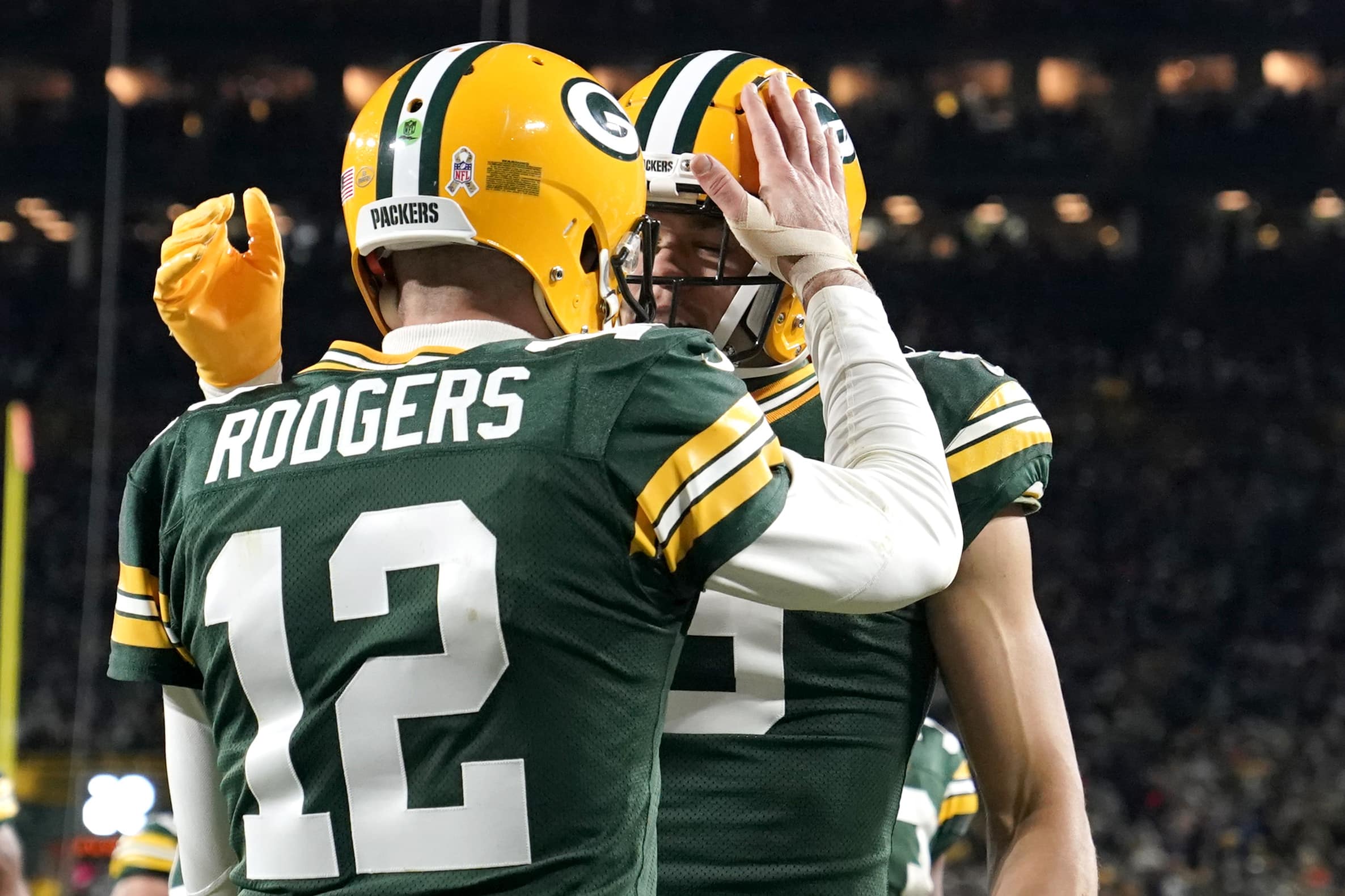 Christian Watson showed resiliency, while Rodgers showed faith in his young wide receiver. Watson has not been the picture of reliability this season. He's either been unavailable due to injury, or he's had a serious case of the drops.
The latter was true again Sunday as he dropped a couple of passes thrown his way, but he battled back. Rodgers also had the faith in him to try and try again. It paid off as Watson finished the game by catching all three of Rodgers' touchdown passes.
"Yeah, 12 and Matt both said early, 'We're going to come back to you,'" Watson said, per ESPN. "And I mean, obviously, that hit me at home. I know that those are plays I can make. Those are plays that I make every day at practice and something I know I'm capable of. So, obviously, just having that to fall back on, knowing that we're still in it, we're still good, they've still got faith in me means the world."
Watson made headlines in Week 1 when he dropped a would-be touchdown pass on Green Bay's first series against the Minnesota Vikings. He's part of a young receiving corps, along with rookie Romeo Doubs, that's battled through growing pains. On Sunday, Watson broke through.
"It's been kind of a roller-coaster ride for him," Packers coach Matt LaFleur said of Watson. "Just to see him respond like that, I told the guys after the game, and it's not just him, but this is kind of like a microcosm of how I feel about the team, the resiliency that he showed, and his ability to bounce back. It started off rough again, having two drops, and to finish the game with three touchdowns, and the one catch, obviously, the first touchdown."
Rodgers beat more than the Cowboys on Sunday
The Packers improved to 4-6, snapped their long losing streak, and beat the Cowboys. Rodgers said he defeated something else in the victory.
"It was definitely a low, rock-bottomish," Rodgers told the media, referring to last week's loss to the Lions. "Not in the depressive, isolationism way, but more disappointment. I felt like that was the bottom, and it was only up from there.
"I think a lot of the battles that we face are between I and I — between the person that can go out there and dominate and knows that they can and the little voice in your head that tries to knock you off that confident perch that you're on. I'm happy that I knocked that voice back into hell and had a good performance today."

Aaron Rodgers
Rodgers didn't sling it much, throwing just 20 passes, but he was effective in completing 14 of them. The Packers have a short week as they host the Tennessee Titans on Thursday. Rodgers hopes the win over the Cowboys is the turning point in a rough first half of the season.
"That was a turning point for us, hopefully, a turning point that leads us to go on a streak," he said. "But that was a chance for guys to, 'Ah, it's not our season, 3-7, what are we doing in the offseason, it's not going to be our year.'
"Sometimes you can't explain the feelings that you have and the energetic waves that come and go during the week, but I just had a feeling all week we were going to win this game."