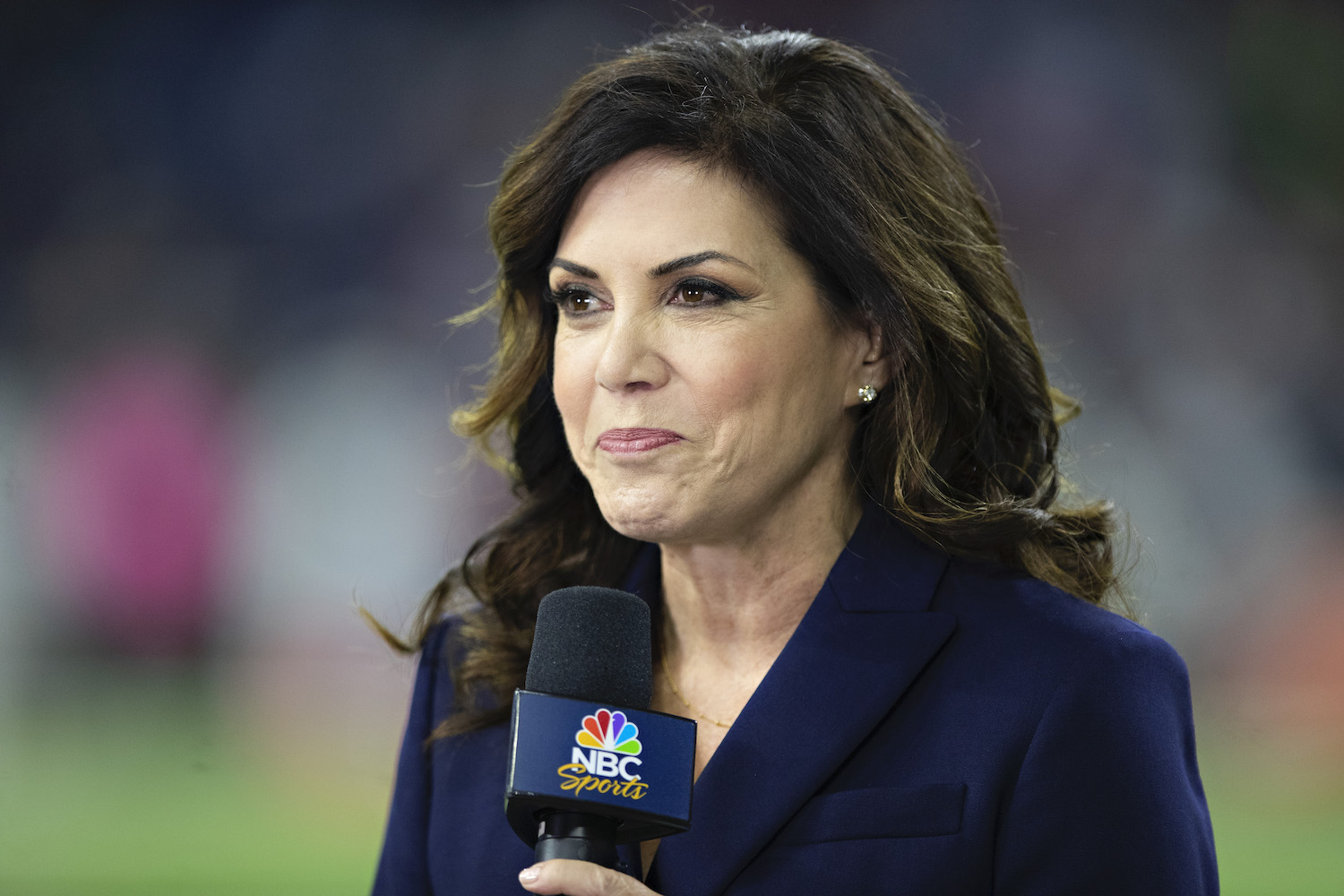 After Michele Tafoya Experienced Devastating Losses and Heartbreak, She Received an Unexpected Miracle
Michele Tafoya has overcome many challenges in becoming a top sideline reporter in the NFL. They are nothing compared to the heartbreak and loss she has endured in her personal life.
Michele Tafoya has made her way to the top of the NFL sports reporting world through hard work and determination. In a male-dominated job covering the NFL played by men, the Sunday Night Football sideline reporter has encountered her share of challenges along the way. 
However, none of them compare to the trials she has had to overcome in her personal life, which has included heartbreaking loss on more than one occasion. Incredibly, her perseverance through tremendous pain and sadness ended with an unexpected miracle.    
Michele Tafoya's career in sports broadcasting
Michele Tafoya started her broadcast career during the early 1990s on the radio in North Carolina before moving to Minnesota and switching over to television several years later. 
She made her network television debut with CBS Sports in 1994. In 2000, Tafoya joined the ESPN/ABC family, where she stayed for more than a decade and worked on various iterations of Monday Night Football with Al Michaels. 
In 2011, Michele Tafoya moved to NBC Sports and reunited with Michaels on Sunday Night Football. For her career, she has worked on the sidelines of four Super Bowls, including Super Bowl 50, a New England Patriots victory over the Seattle Seahawks and the most-watched show in U.S. television history.
Michele Tafoya has multiple miscarriages and pursues in vitro
When Michelle Tafoya suffered her first miscarriage, she felt tremendous pain and sadness like any woman who has experienced the same thing, but recognized, unfortunately, this sometimes happens. Then it happened a second time. 
Following the second miscarriage, Tafoya apologized to her husband, Mark Vandersall, who is seven years younger. In an interview with Artful Living, Tafoya acknowledged that her age was a factor. 
"After the second one, I remember apologizing to my husband, because I felt responsible. I'm seven years older than he is, so I felt like my age was a factor. And it was — the science will tell you. There are biological reasons for it, and it's as simple as that."
At her suggestion, the couple pursued infertility treatment, and in vitro fertilization. 
Experiences more devastating loss followed by a miracle
Michele Tafoya managed one good embryo during the first in vitro process. Incredibly, the embryo split and the couple would be expecting identical twins. Then Tafoya lost the twins. The heartbreak was devastating for both her and her husband.
To make matters worse, Tafoya's sister-in-law got pregnant. She felt incompetent as a woman. 
"It felt like everyone was getting pregnant except me. They're all happy, and you're living with a kind of pain that is indescribable," Tafoya said. "I felt like, I can't do the most basic biological thing that a woman is supposed to be able to do. It was the lowest of low."
Not long after, Michelle Tafoya and her husband began exploring donor eggs. It was the spring of 2005. Around that same time, she was at the NFL owners meetings in Hawaii and felt overly exhausted. She thought it might have been the time change. When she returned home to Minnesota from her trip, she took a pregnancy test. It was positive. 
Later that year, Tafoya and her husband welcomed in a miracle baby boy. The pair decided they wanted to have more children and adopted an infant girl from Colombia. Today, Tafoya's son, Tyler, is 15, and her daughter Olivia is 11.