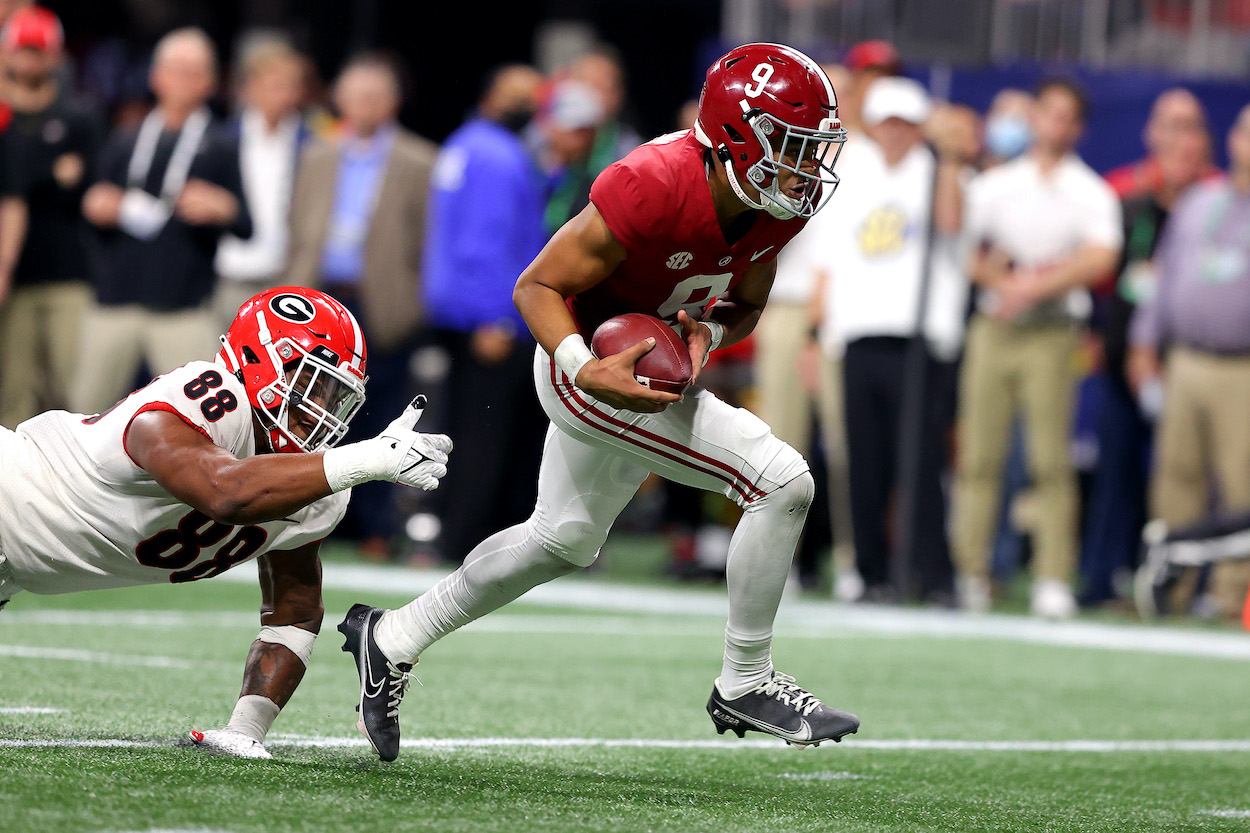 Alabama QB Bryce Young Can Run, Run as Fast as He Can, but Georgia's Defense Will Finally Catch 'The Gingerbread Man'
Bryce Young has a new nickname that tells you just how much Georgia's dominant defense respects the Heisman Trophy winner.
A little more than one month ago, Alabama quarterback Bryce Young thrashed Georgia's vaunted defense for 461 total yards and four touchdowns in a dominant SEC Championship win. Young looked like prime Johnny Manziel in the game, as he consistently evaded Bulldogs defenders with his legs and produced splash plays on the move on seemingly every possession.
Apparently, the 2021 Heisman Trophy winner also looked like a slippery fictional character in the upset win, and his performance earned him a unique nickname from Georgia's defense ahead of the College Football Playoff National Championship.
Bryce Young made Georgia's elite defense look pedestrian
Georgia's defense was the most impressive position group in the country all season long, and it wasn't all that close, either. In 12 regular-season games in 2021, the Bulldogs allowed only 6.9 points per game and pitched three shutouts along the way. They gave up just 10 touchdowns all season before the SEC Championship.
Then, Bryce Young happened.
The talented sophomore tore up Georgia's secondary with 421 passing yards and three touchdowns through the air, and he also added 40 yards and another score on the ground. Young acted as a professional escape artist all game, evading Bulldogs pass rushers and extending plays with his feet for three straight hours. Georgia was unable to sack Young a single time in the contest.
The nation's best defense thought it was prepared for the nation's best quarterback, but it was outdueled in embarrassing fashion.
Georgia's defense calls Young 'The Gingerbread Man'
We all know the story of the infamous Gingerbread Man, right? You know, the one about the festive cookie that comes to life and jukes out every one of his pursuers while taunting them with clever rhymes? Yeah, that one.
Well, apparently, Young's magical performance in the SEC Championship reminded some Georgia defenders of the old folktale. So, they've been referring to Young as 'The Gingerbread Man' leading up to Monday's National Championship.
"He's slippery. And I forgot, we were watching, I think 'Hard Knocks' with the Colts. And they were talking about the Gingerbread Man and how Kyler Murray was running around like a Gingerbread Man," Georgia defensive tackle Jordan Davis told reporters Saturday. "That's what we've been calling him all week. Just seeing him run around our defense in the SEC Championship game, you have to tighten up."
But Davis doesn't plan on letting Young embarrass Georgia's defense like he did last month.
"I've been going against wide receivers in our quarterback rodeo drill in practice, so trying to track down a wide receiver who is shifty," Davis explained. "And I'm a defensive lineman. It takes a lot of skill and a lot of practice. And it teaches you to track the hips. We've just been tracking hips all practice. And definitely this go-around we'll try to contain him and get him."
How Georgia's defense can finally catch the Gingerbread Man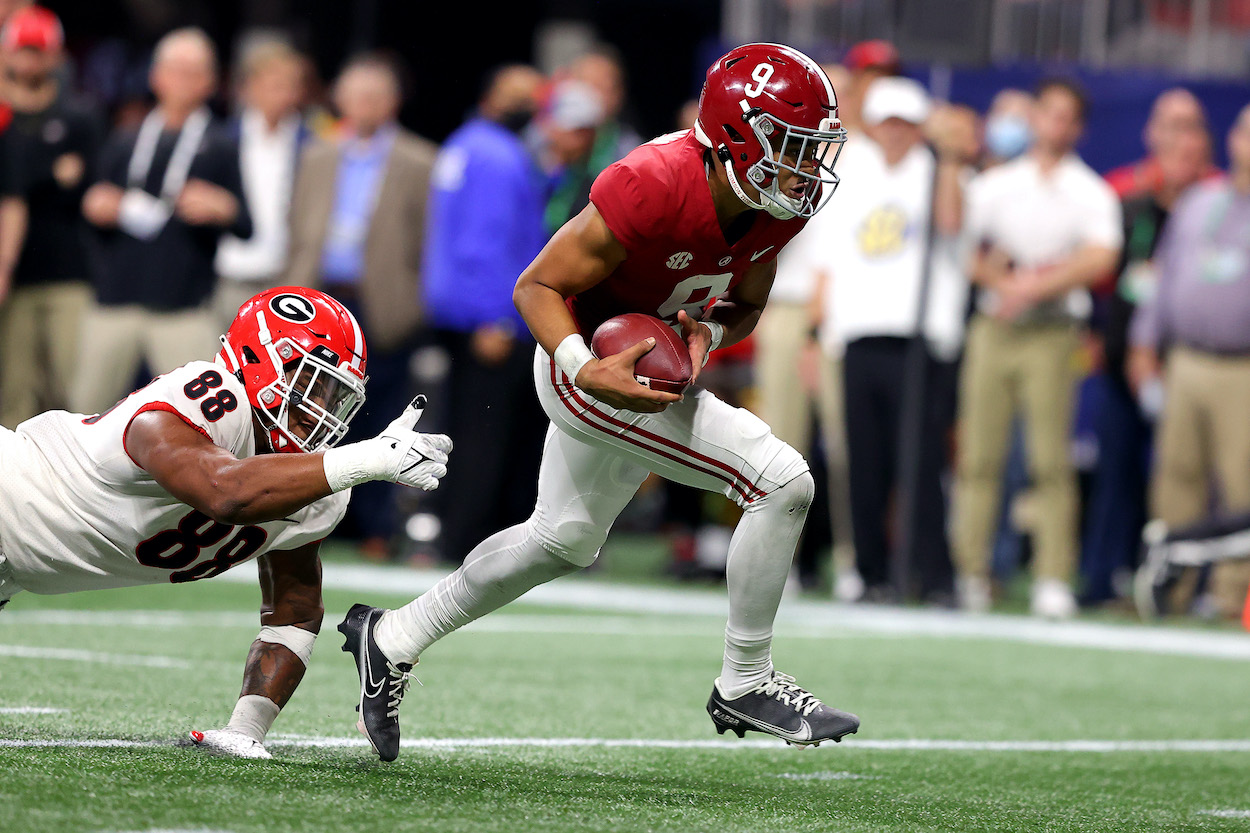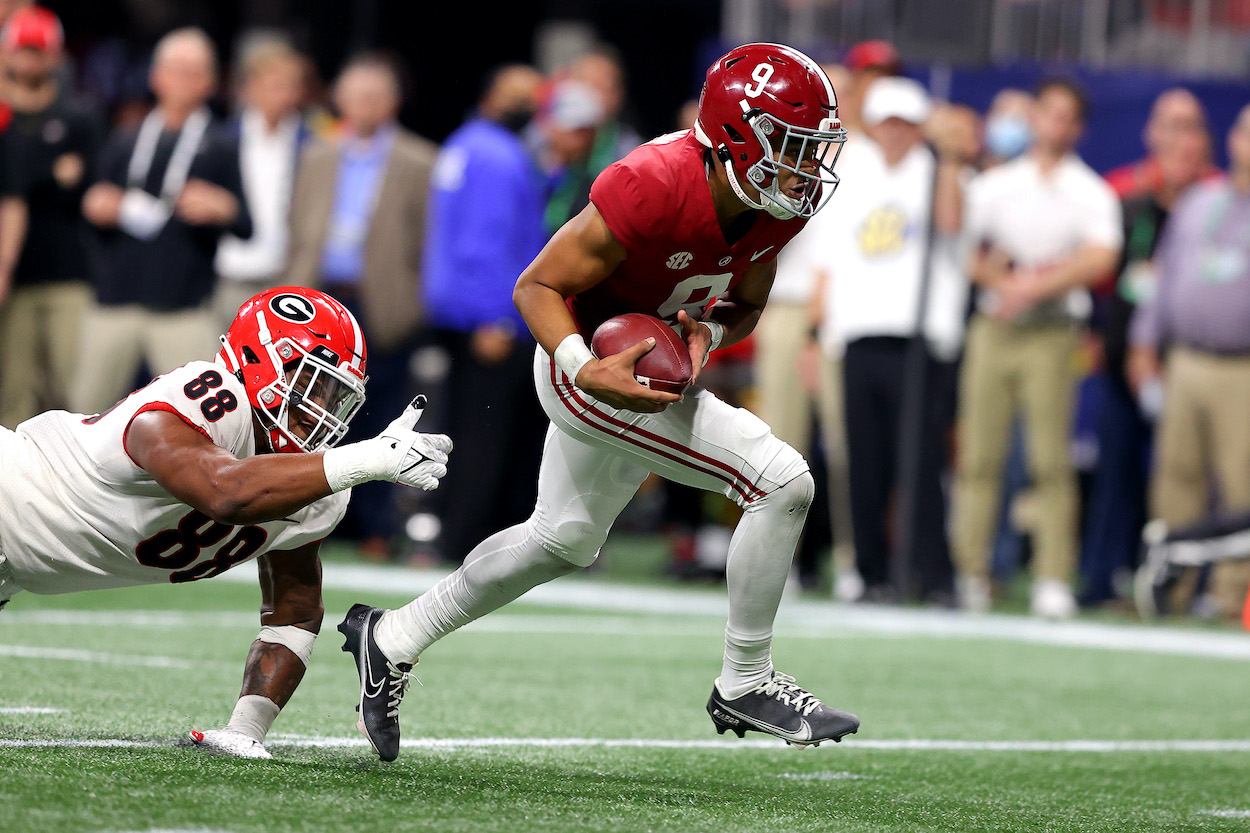 In most iterations of the classic folktale, the Gingerbread Man is able to outrun an old couple and a slew of farm animals attempting to capture and eat him. He's eventually caught when a sly fox convinces the Gingerbread Man to trust him, and once he earns that trust, the fox gobbles him up.
So, this obviously begs the question: How can Georgia's defense channel the sly fox in Monday's National Championship?
It all starts with taking away Young's No. 1 target, Jameson Williams. The speedy wideout made Georgia's secondary look foolish with seven catches, 184 yards, and two touchdowns in the SEC Championship. The Bulldogs must force someone else to beat them down the field this time around.
Considering Georgia didn't sack Young a single time in the first matchup, it's crucial that this dominant defensive front gets home on passing downs and, at the very least, makes Young uncomfortable in the pocket. Defensive coordinator Dan Lanning needs to keep Young guessing by employing various coverages in the secondary and mixing in some exotic blitzes throughout the game.
And once the Gingerbread Man starts to trust what he sees, that's when you gobble him up.
Like Sportscasting on Facebook. Follow us on Twitter @sportscasting19.