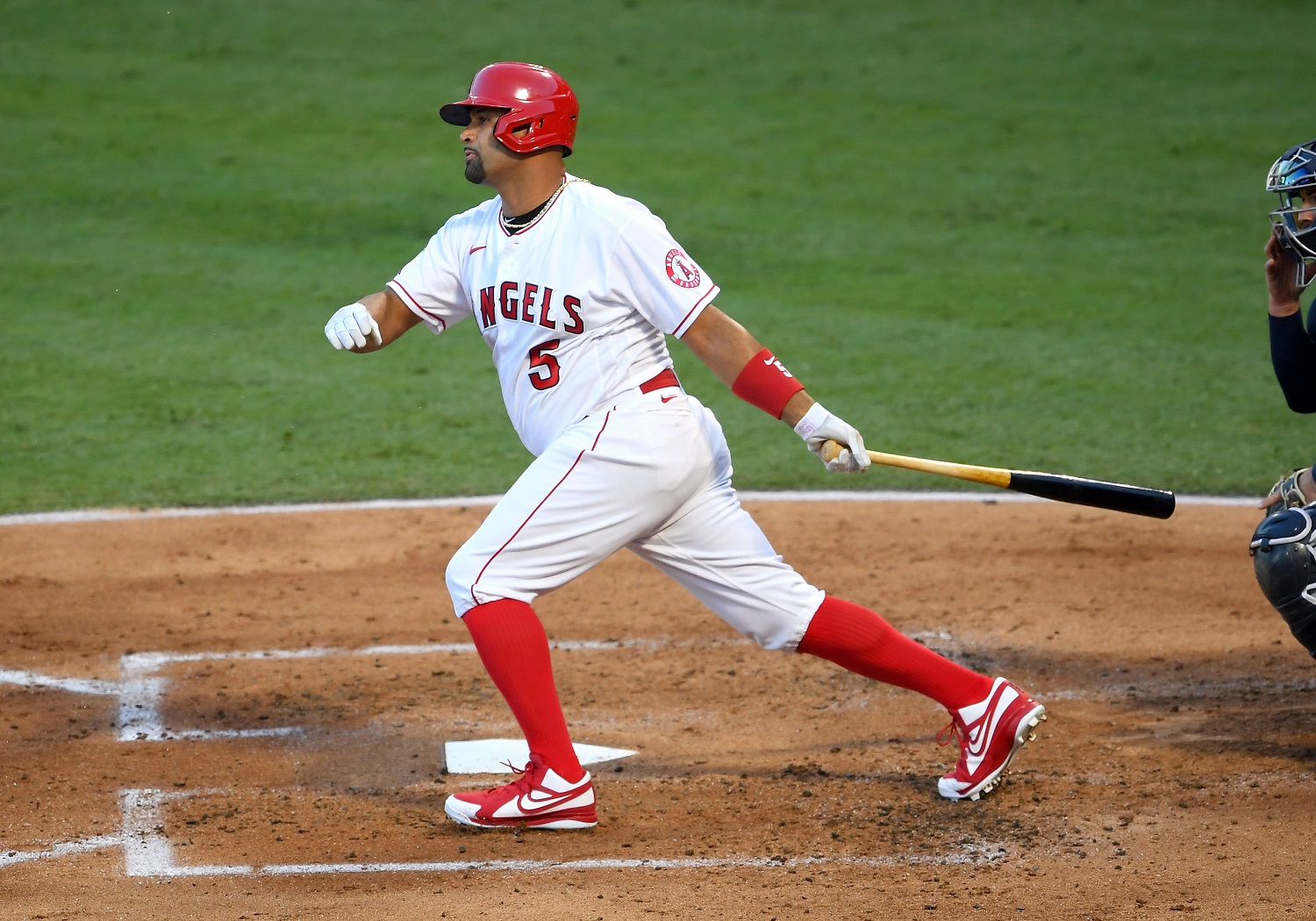 Albert Pujols Is on the Verge of Two Major Milestones
20-year Major League Baseball veteran and future Hall of Famer Albert Pujols is on the verge of reaching two major milestones.
There is no question that Albert Pujols is a first-ballot Hall of Famer. Over the course of 20 seasons with the Los Angeles Angels and St. Louis Cardinals, the three-time MVP has become one of the greatest hitters in MLB history and is on the verge of two major milestone moments, assuming this crazy 2020 season makes it through the week anyway.
Albert Pujols won three MVPs and two World Series titles with the St. Louis Cardinals
Selected by the St. Louis Cardinals in the 13th round of the 1999 MLB draft, Albert Pujols made his big-league debut in 2001 and never looked back. Not only was he voted the unanimous NL Rookie of the Year, but he also finished fourth in the NL MVP vote that season with a .329 average, 37 home runs, and 130 runs batted in.
In 11 seasons in St. Louis, Pujols finished outside the top five in the NL MVP vote only once and won the award on three occasions (2005, 2008, 2009). He was an All-Star nine times, won six Silver Slugger Award, two Hank Aaron Awards, two Gold Gloves, and helped the Cardinals win two World Series. He finished his career in St. Louis with a .328 average, 445 home runs, and 1,329 runs batted in.
He's hit some big-time milestones in an Angels uniform
Ahead of the 2012 season, Albert Pujols signed a 10-year/$240 million deal with the Los Angeles Angels. He struggled at the start of his first year with the Angles but finished the year strong, hitting .285 with 30 home runs and 105 runs batted in.
He certainly hasn't been the player he was in St. Louis but that would have been close to impossible to duplicate. He has had some good seasons in Anaheim and earned an All-Star appearance in 2015. Pujols has also reached some major milestones in an Angels uniform. He hit career home runs No. 499 and 500 on April 22, 2014, becoming the 26th player in MLB history to reach the 500 mark. On June 3, 2017, he became just the ninth player to reach 600 home runs, doing so in style with a grand slam.
On May 4, 2018, Albert Pujols recorded his 3,000th career hit and then became just the fourth player in MLB history to reach 2,000 career runs batted in on May 9, 2019. Again, assuming this 2020 season continues, he's about to have some more big moments.
Albert Pujols could have two big moments very soon
In Sunday's 6-5 extra-innings loss to the Houston Astros, Albert Pujols launched a 437-foot grand slam in the third inning to give the Angels a 4-2 lead. It was Pujols' second home run of the year and the 658th of his career, which leaves him just two shy of Willie Mays' 660. With three more long balls, Pujols would be in solo fifth on the all-time MLB home run list, trailing only Alex Rodriguez (696), Babe Ruth (714), Hank Aaron (755), and Barry Bonds (762).
The grand slam also gave Pujols 2,080 RBIs for his career, which puts him just six behind A.Rod for third place on the all-time list behind Babe Ruth (2,214) and Hank Aaron (2,297). Following an off day on Monday, the Angels will travel to Seattle for a three-game set with the Mariners and will then head to Arlington for a weekend series with the Rangers.
Let's hope Albert Pujols gets the chance to make some history this week.
All stats courtesy of Baseball-Reference