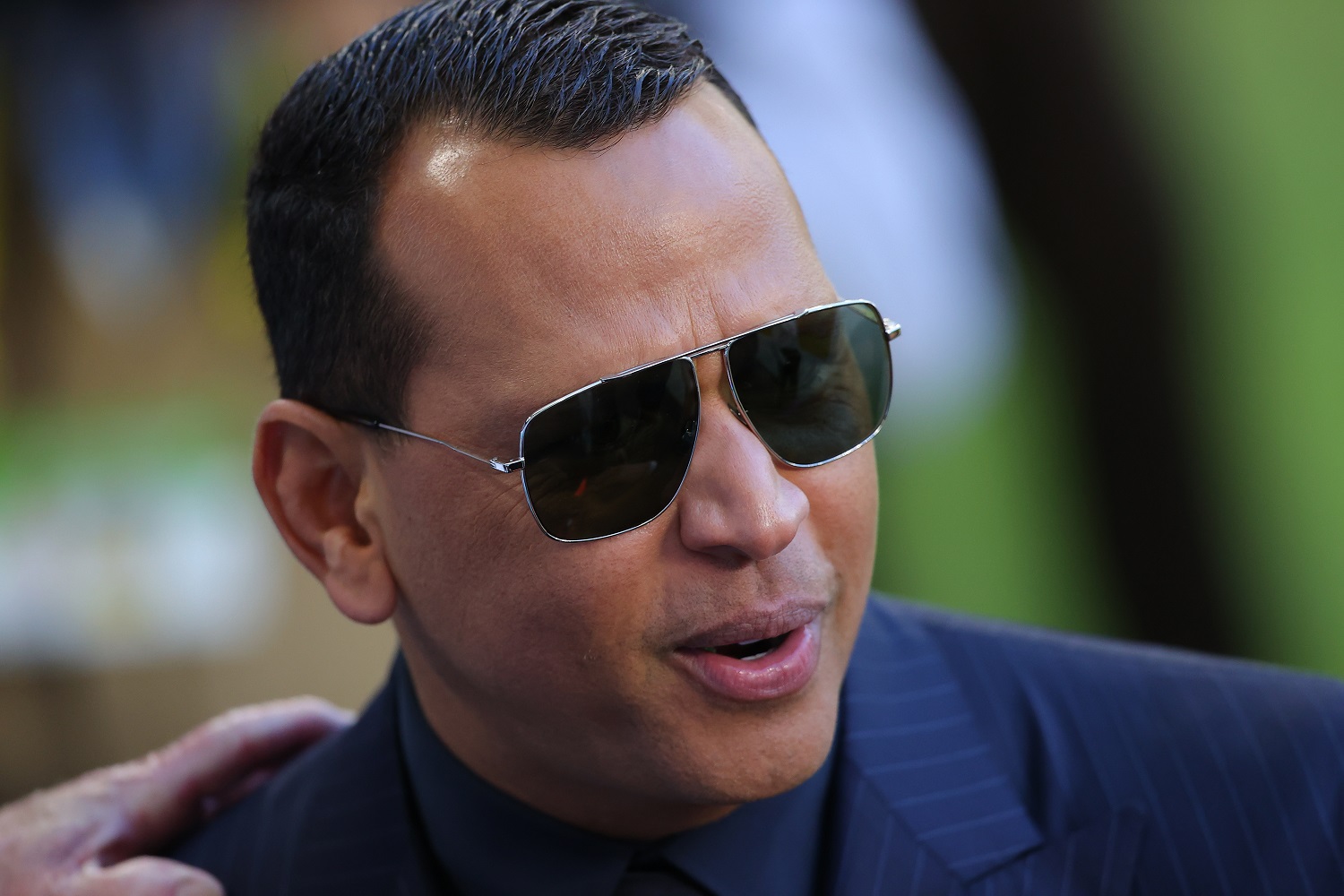 Alex Rodriguez's Word Games Don't Fool His Critics
Alex Rodriguez's take on upcoming labor negotiations doesn't sit well with the MLB players' union.
Why is Alex Rodriguez trying to buy the New York Mets when it sounds as though he'd be better in politics? His spin on what he claims he didn't say about imposing salary caps in Major League Baseball is proof that he's mastered double-talk and establishing plausible deniability, traits that assure elected officials lifetime employment.
A-Rod says MLB players must agree to change the system
Former MLB star Alex Rodriguez is in a complicated position. An otherwise superb career as a player ended on a down note as controversy consumed his final seasons. But he's carved out a nice second career as a baseball analyst on cable TV, and he's actively trying to pull together a group that would buy the New York Mets.
It means he's always wearing more than one hat at a time, which makes for potentially pleasing one constituency while infuriating another. He may have thought that he'd successfully walked the tightrope on a touchy subject recently – only to find out that MLB players heard him say "salary cap" loud and clear, even if A-Rod technically didn't say it.
In discussing the perception that the players' association lacks the clout it once had, Rodriguez suggested that it is time for a different model to be discussed when it comes to negotiating a new collective bargaining agreement. He sees that as the way to avoid a shutdown when the current CBA expires in 2021.
"The only way it's going to happen is if they get to the table and say the No. 1 goal, let's get from $10 to $15 billion, and then we'll split the economics evenly," Rodriguez said of the players, according to The New York Post.  "But that's the type of conversation instead of fighting and fighting against each other because there is too much competition (from other sports) out there right now."
Nowhere in there does A-Rod say "salary cap." However, he's calling for a finite financial obligation on the part of owners. In other words, a man who made $440 million as a player is telling the guys who followed him, "I got mine and you're on your own."
"I answered honestly, but never mentioned the word salary cap," Rodriguez wrote on Twitter.
Retired player blasts Alex Rodriguez
Brandon McCarthy pitched for seven major-league teams in 13 seasons before retiring with a 69-75 career record in 2018. That included a stint with the New York Yankees in 2014 – the year Alex Rodriguez was suspended for violations of the MLB drug policy. If McCarthy missed A-Rod then, he certainly doesn't now.
In fact, McCarthy would like to see every player give Rodriguez the cold shoulder in his role as an analyst on ESPN's Sunday Night Baseball after A-Rod's comments about the salary structure.
"I hope to God he's shouted out of every clubhouse he attempts to enter in this and future seasons," McCarthy tweeted. "Call him a self-serving liar and make him explain himself to a room full of his former peers if he wants broadcast content."
Tony Clark, head of the players' union, was similarly unhappy.
"Alex benefited as much as anybody from the battles this union fought against owners' repeated attempts to get a salary cap," Clark said. "Now that he is attempting to become an owner himself his perspective appears to be different. And that perspective does not reflect the best interest of the players."
Alex Rodriguez remains serious about buying the New York Mets
Alex Rodriguez, a three-time American League MVP, and girlfriend Jennifer Lopez are among the bidders for the New York Mets. Though both are enormously wealthy by everyday standards, they'll need to bring multiple partners into the group. They have retained JPMorgan Chase as their adviser on a potential purchase that could value the team at around $2.5 billion.
There are still multiple groups interested in buying the Mets, and the process could continue until at least the end of the year. In the meantime, ESPN will likely keep Rodriguez off the air for Mets games this season, senior vice president of production and remote events Mark Gross said.