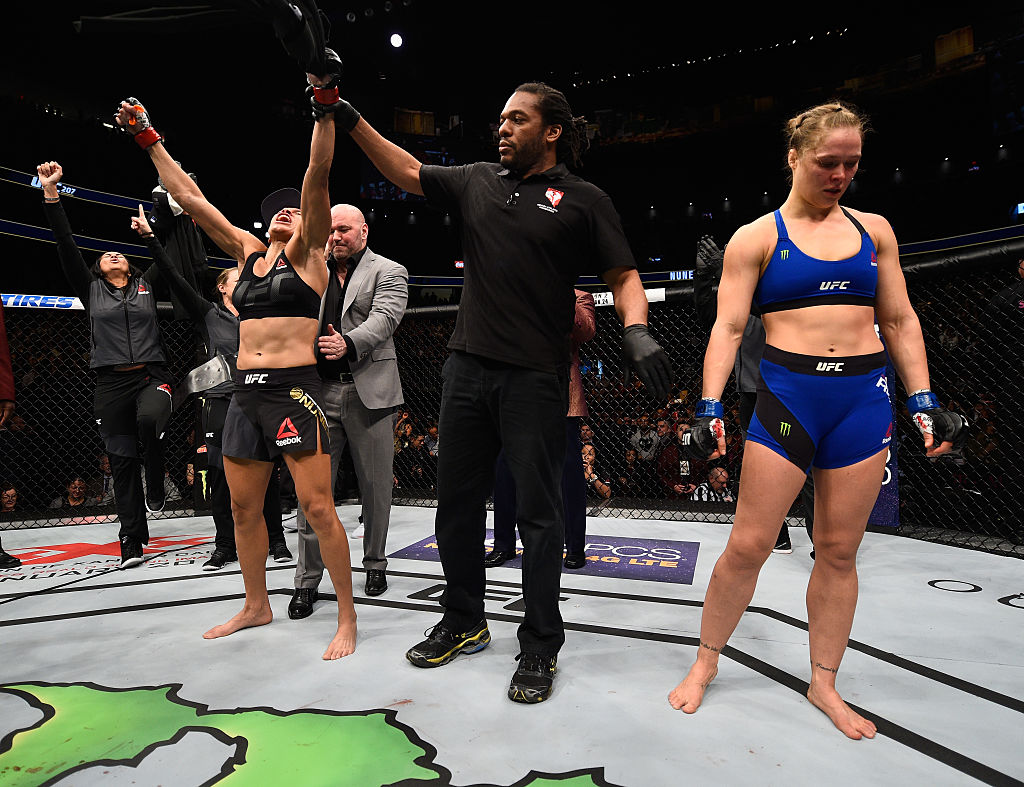 Amanda Nunes Is a Better UFC Fighter Than Ronda Rousey Ever Was
Amanda Nunes defeated Felicia Spencer at UFC 250 Saturday night, cementing her status as the best women's UFC fighter of all time.
Ronda Rousey may be the household name, but Amanda Nunes just proved again why she's the greatest women's mixed martial artist of all time. Nunes defeated Felicia Spencer by unanimous decision Saturday night in UFC 250. With the victory, Nunes defended her featherweight title and cemented her legacy as the GOAT in women's UFC. Rousey was and still is a fan-favorite because of her large personality and dominant finishing ability, but Nunes has a far more successful career and a head-to-head win.
Amanda Nunes made UFC history Saturday night
Amanda Nunes and Felicia Spencer headlined UFC 250 Saturday night. The duo fought for the featherweight title belt in the main event, and Nunes dominated all five rounds.
Nunes defeated Spencer by unanimous decision to keep her featherweight belt. With the win, Nunes became the first fighter in UFC history to defend two titles in two weight classes while still holding both of them. She's only the seventh fighter to ever be named a double champ. Nunes also won her eighth title belt with the win, the most in women's UFC history.
"I'm defending both belts, I'm the greatest," Nunes said after the fight. "I'm so happy now. I don't know what's next. But I proved it already."
Nunes has proved she's the best the sport has to offer plenty of times before, and Saturday night was just another installment of a historic MMA career.
Amanda Nunes has the most impressive resume in women's UFC
Amanda Nunes has quietly put together the best resume of any women's UFC fighter in history. She owns a 20-4 record and eight title fight wins, the most in women's UFC history.
Nunes' last loss came in 2014 against Cat Zingano. Since then, Nunes is a perfect 11-0 in the octagon. Five of those wins came by KO or TKO, and only one victory came by split decision.
The most impressive part of Nunes' resume is the quality of her wins. When the bright lights are on her, Nunes performs her best. In the past five years, Nunes boasts wins over Cris Cyborg, Holly Holm, Miesha Tate, and yes, Ronda Rousey.
All she does is beat the giants of the game in their primes, and most of those fights weren't even close. Nunes defeated all four challengers in the first round. She doesn't just like to win. She wants to pummel the greatest in the sport and prove she belongs on top of the all-time list.
Nunes destroyed Rousey in their only UFC meeting
Ronda Rousey was the hottest name in women's mixed martial arts for much of the 2010s. In 2016, she had built up a 12-1 record to start her UFC career. All but one of her wins came in the first round, making Rousey the most lethal finisher in the sport at the time.
That was until she met Amanda Nunes in the octagon. Nunes pummeled Rousey from the bell and finished her by KO/TKO in just 48 seconds. "The Lioness" overtook Rousey as the greatest in the sport that night, and she never looked back.
Nunes went on to win her next six fights, and Rousey never fought in the UFC again. It takes a special kind of beating to scare a top competitor out of the sport for good, but that's just how dominant Nunes is in title fights.
All stats courtesy of UFC Stats