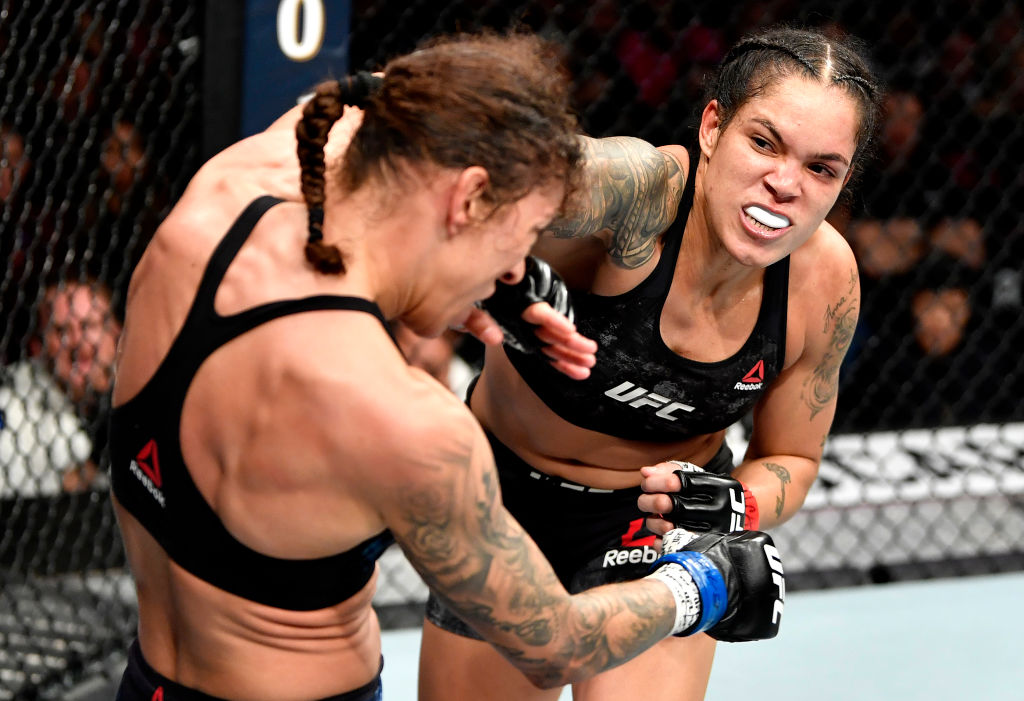 Amanda Nunes' Former Opponents Speak on Just How Tough the Two-Division UFC Champ Really Is
Ahead of UFC 250, some of Amanda Nunes' former opponents spoke out on just how tough the two-division champ really is.
It's been close to six years since Amanda Nunes lost a fight, racking up 10 consecutive victories in UFC since 2014 heading into tonight's matchup with Felicia Spencer. Along the way, she also made a little history, becoming the first woman in UFC history to win championships in two weight divisions (bantamweight and featherweight) and just the third person overall to hold two titles simultaneously. Her UFC Women's Featherweight Championship will be on the line tonight at UFC 250.
Amanda Nunes has faced off against some of the biggest names that the women's division has ever seen, some of whom spoke on just how tough the two-division champ really is ahead of tonight's bout.
Miesha Tate was surprised at how hard Amanda Nunes could hit
The UFC 200 card was absolutely stacked, featuring fights involving both Jon Jones and Brock Lesnar. But it was Amanda Nunes that stole the show that night, winning the Women's Bantamweight Championship, her first title in UFC, by destroying Miesha Tate. While Nunes won via submission, it was her power punches that got her into that position, which Tate says really surprised her.
"I just remember being really surprised at how powerful her punches were.


"I think what really stood out to me was her ability to deliver power in her shots. Once we hit the ground, I was really out of it. I remember my body was not coordinating with what I wanted it to. It was so strange. I couldn't get my body to respond the way I wanted it to. I was so off-balance. I actually fell on my own, because I was already dazed."

Miesha Tate on Amanda Nunes
Holly Holm was impressed with her all-around talent
In July 2019, more than three years after her shocking victory over Ronda Rousey, Holly Holm stepped into the octagon in an attempt to regain the UFC Women's Bantamweight Championship. But this fight wasn't against Rousey. This fight was against the woman that knocked Rousey out in 48 seconds, Amanda Nunes. Nunes came in as the heavy favorite and proved why with a vicious first-round knockout of Holm, flattening the former champion with an array of punches and kicks while also showing off some of her grappling skills. It's that all-around talent that impresses Holm the most about Amanda Nunes.

"She's confident. Any fighter that confident I always fear more than anyone else. She's diverse. Everybody knows her for her power, but she's also got scrambles on the ground. So, she's very well-rounded. It's like, man, I could be in a situation here or here or here. It's not like you're only watching out for one thing. I think that's what makes her kind of a scary fighter to face. She's confident for a reason — because she's winning."

Holly Holm on Amanda Nunes
Germaine de Randamie has lost to Amanda Nunes twice and seen all she has to offer
Germaine de Randamie has seen plenty of Amanda Nunes. In 2013, she was knocked out after catching an onslaught of elbows. This past December, which was Nunes' most recent fight, she fared much better, becoming the first woman in more than two years to go all five rounds with the champ. So she's certainly got some insight into just how talented Nunes is.
"I was impressed at how good she was at keeping top position. A lot of people said after the fight, 'Germaine needs to work on her ground game.' A lot of people forget she's a black belt on the ground. She's not the double champ for just being a great knockout artist. She's the champ because she's a great MMA fighter. I was impressed by the fact she had good top position. She was heavy on top. Every time I tried to put my feet on her hips, she adjusted. She stayed heavy."

Germaine de Randamie on Amanda Nunes
Amanda Nunes defends her featherweight crown against Felicia Spencer in the main event of UFC 250, which takes place tonight in Las Vegas on pay-per-view.
*All quotes obtained from ESPN