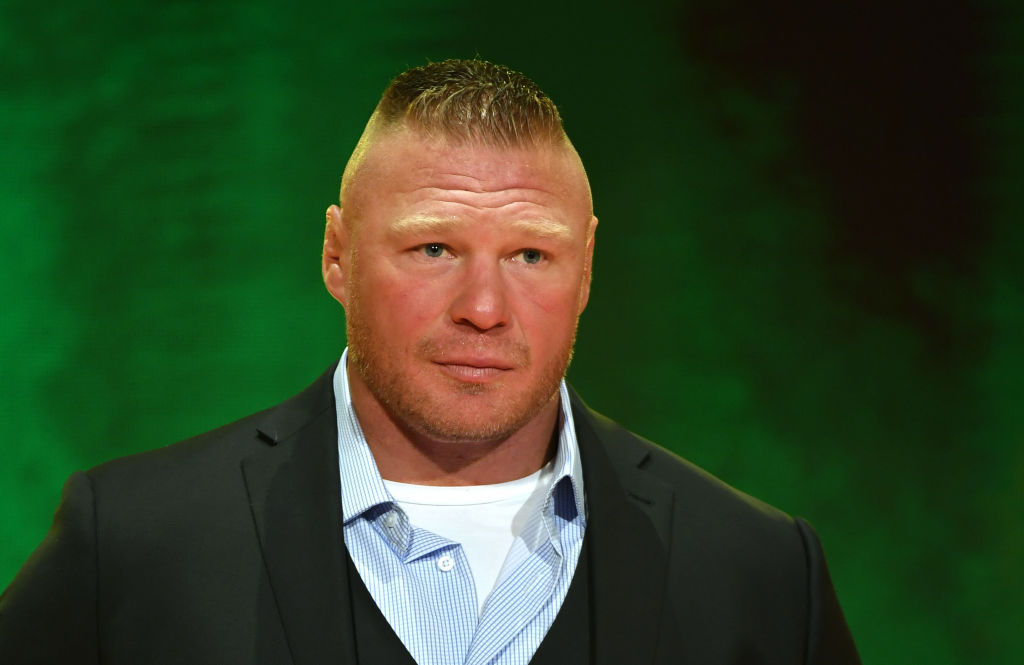 Brock Lesnar: How Much Is the WWE Star and Former UFC Champ Worth?
A look at how WWE star and former UFC heavyweight champion Brock Lesnar has made millions throughout his career.
Brock Lesnar may have lost the WWE Championship to Drew McIntyre at WrestleMania 36 but the "Beast Incarnate" is sleeping just fine at night.
Since leaving the University of Minnesota after winning the 2000 NCAA Heavyweight Championship as an amateur wrestler, posting a 33-0 record his senior season, Lesnar has racked up millions of dollars between his time in WWE and UFC.
Brock Lesnar's first run in WWE
After graduating from Minnesota, Brock Lesnar quickly signed in WWE, spending nearly two years in the company's developmental system, Ohio Valley Wrestling, before making his television debut in March 2002. Lesnar was a natural entertainer, wowing crowds with his strength but also impressing with his agility. He quickly became one of WWE's top draws and defeated Dwayne "The Rock" Johnson at SummerSlam in August 2002 to win his first WWE title, running over the legendary Hulk Hogan in the process.
However, his first run in WWE didn't last long. In 2004, citing a desire to play in the NFL, Lesnar left the company after a match with Goldberg at WrestleMania XX.
He nearly made the Minnesota Vikings
Brock Lesnar hadn't played football since high school but was still granted a tryout with the Minnesota Vikings in 2004 after a solid effort at the combine. After recovering from an injury suffered in a motorcycle accident, Lesnar signed with the Vikings in July and appeared in multiple preseason games for Minnesota. However, he was cut in late August and continued his professional wrestling career, making sporadic appearances in Japan before turning his attention to MMA.
Lesnar joined the UFC in 2008
After competing briefly in K-1, Brock Lesnar joined UFC in March 2008 but lost to Frank Mir in his debut. After defeating Heath Herring in his second fight, he took on Randy Couture for the UFC Heavyweight Championship in November and knocked the legend out in the second round, for which he earned $450,000. He got his revenge on Mir in July 2009 with a second-round TKO.
It would be close to a year before Lesnar stepped back in the Octagon after battling diverticulitis but came back to submit Shane Carwin in July 2010. However, in his next fight in October, Lesnar lost his title to Cain Velasquez, who destroyed the champion, knocking him out in the first round. After more health issues, Lesnar returned to fight Alistair Overeem in November 2011 but was again taken out in the first round, ending his initial run with UFC with a 4-3 record.
Lesnar returns to WWE and makes millions, briefly returns to UFC
After eight years away, Brock Lesnar returned to WWE in 2012, attacking John Cena the night after WrestleMania 28. In the years since, Lesnar has worked a limited schedule with the company, only competing at the biggest events such as WrestleMania, SummerSlam, the Royal Rumble, and Survivor Series while also appearing sporadically on WWE's flagship television program, Monday Night RAW. He is contractually obligated to make a certain number of appearances every year and is compensated extra if he exceeds that amount. Lesnar is currently WWE's highest-paid wrestler, making an annual salary of approximately $12 million.
In July 2016, Lesnar had his first fight in UFC in nearly five years when he battled Mark Hunt. WWE chairman Vince McMahon had allowed Lesnar to do the one-off appearance ahead of SummerSlam and Lesnar was paid a then-record $2.5 million for the fight. He defeated Hunt by unanimous decision but that was later turned into a no-contest when it was discovered that Lesnar had tested positive for a banned substance. He was suspended for a year and fined $250,000. While a few different fights have been teased, Lesnar has not fought in the UFC since and at 42 years of age, his MMA career is likely over.
How much is Brock Lesnar worth?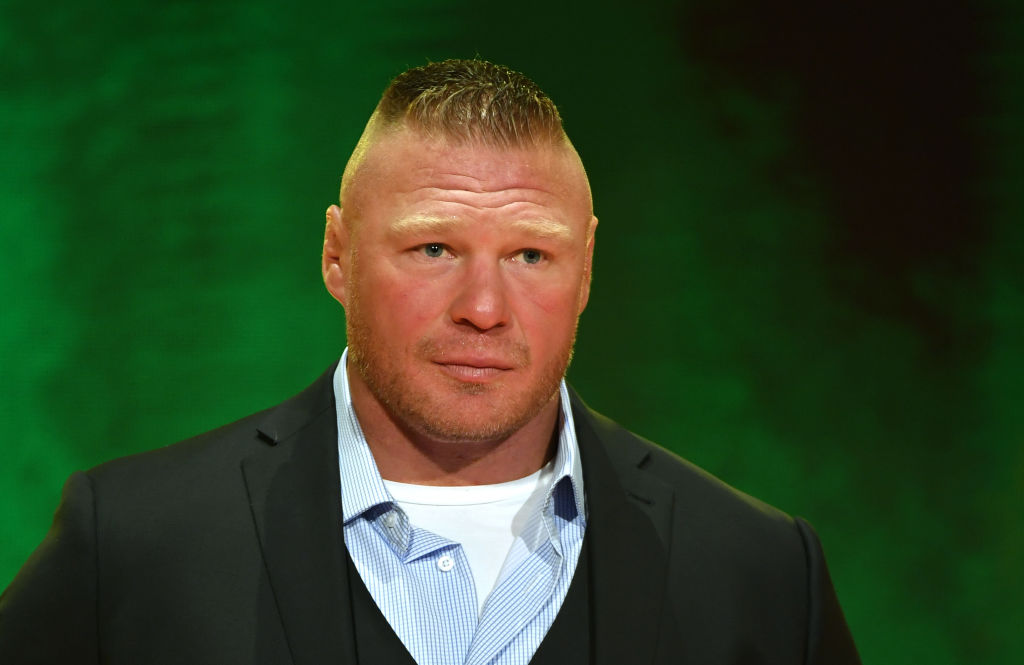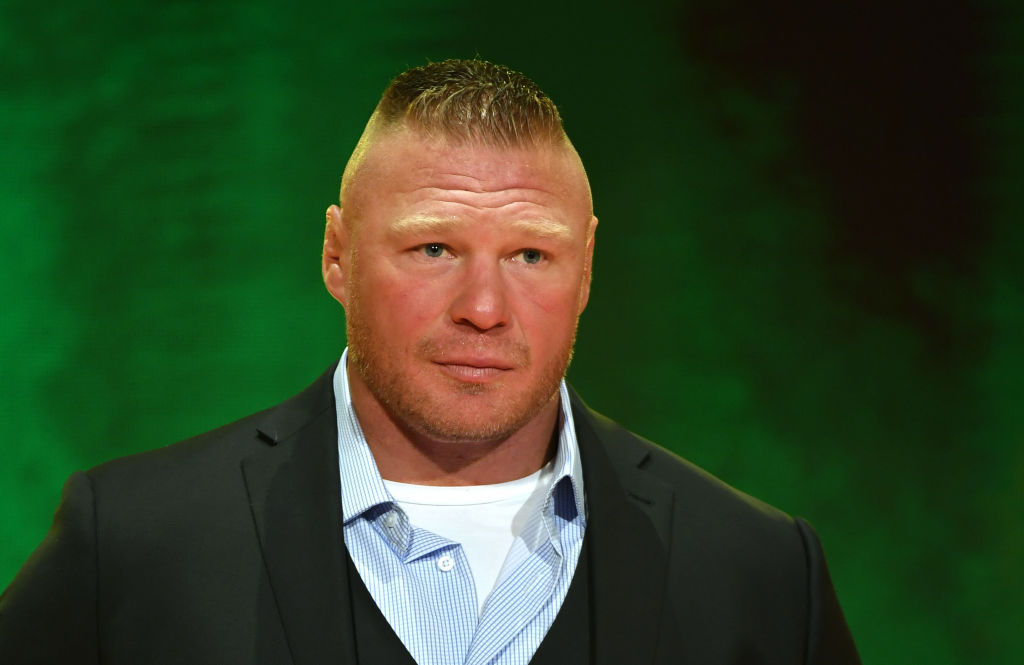 When not in front of the camera for WWE, Brock Lesnar prefers his privacy at his farm in Maryfield, Saskatchewan, Canada. He has been married to Rena Greek, better known to WWE fans as Sable, since 2006, and is stepfather to her daughter from a previous marriage. Lesnar also had kids before the marriage, twins Luke and Mya Lynn. The couple also has two sons together, Turk and Duke.
According to Celebrity Net Worth, Brock Lesnar is currently worth $28 million. Not bad for someone who doesn't have to show up for work that often.