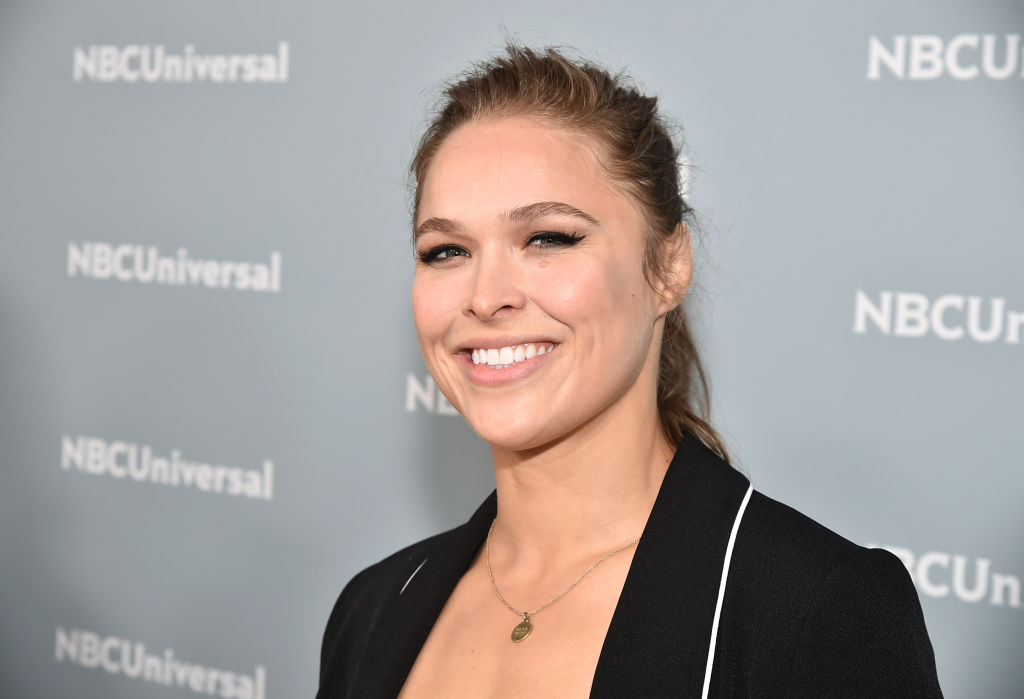 Ronda Rousey Absolutely Torched WWE Fans in Brutal New Interview
Former UFC champion and WWE star Ronda Rousey absolutely tore into fans of WWE in a new podcast interview.
Ronda Rousey hasn't been seen in a WWE ring for over a year and from the sound of things, it looks like that will remain to be the case.
In a scorching interview with former "Jackass" star Steve-O, Rousey discussed how much she enjoyed her time in the ring but tore into WWE fans. Perhaps she's still embracing that heel turn and was doing her best to stay in character but it all sounded pretty genuine.
Following her UFC career, Ronda Rousey made her WWE debut in 2018
Following a successful UFC career that saw Ronda Rousey defend her bantamweight championship a record six times, she made her big debut in WWE at the Royal Rumble in 2018. She had made some sporadic appearances in the company in years prior but Rousey was now a full-time member of the WWE roster and shocked the world when she made her way to the ring in January 2018 after Asuka had won the Women's Royal Rumble match. She pointed to the WrestleMania sign, as you have to do during that time of year, shook hands with Stephanie McMahon and she was off and running from there.
She made her in-ring debut on April 8, 2018, at WrestleMania 34 in New Orleans, teaming with Kurt Angle to take on the team of Triple H and Stephanie McMahon and performed quite well, easily exceeding expectations in the ring. Rousey was a natural and the year that followed helped take the women's division in WWE to new heights.
She was part of the first-ever women's main event at WrestleMania
The year that followed Ronda Rousey's in-ring debut was easily the most successful year in the history of the WWE women's division. In August 2018, Rousey defeated Alexa Bliss at SummerSlam, WWE's second-biggest pay-per-view of the year, to win the RAW Women's Championship. Rousey held the title all the way up to WrestleMania 35 in April 2019, where she competed in the first-ever women's match to headline WWE's biggest show of the year.
On the way to WrestleMania, Rousey turned heel as Becky Lynch had become not only the biggest star in the women's division but the biggest star in WWE as a whole. The main event saw RAW Women's Champion Ronda Rousey vs. SmackDown Women's Champion Charlotte Flair vs. Becky Lynch in a winner-take-all triple threat match, which Lynch won by pinning Rousey, marking the first time the former UFC champion had been beaten cleanly.
And just like that, Ronda Rousey was gone from WWE.
Ronda Rousey ripped into WWE fans in a new podcast interview
Citing her desire to have a family with her husband, fellow UFC fighter Travis Browne, Ronda Rousey left WWE following her loss at WrestleMania 35 and hasn't been back in the company since. She still has a year left on the three-year contract she signed but it certainly doesn't sound like she's overly excited to come back, at least not as far as dealing with WWE fans is concerned. In an interview with Steve-O on his podcast, "Wild Ride", Rousey voiced her displeasure with WWE fans and was pretty harsh on the matter.
"What am I doing it for if I'm not being able to spend my time and energy on my family, but instead spending my time and my energy on a bunch of f— ing ungrateful fans that don't even appreciate me? The thing is, I love performing. I love the girls. I love being out there.

"But, at the end of the day, I was just like, 'F— these fans, dude.' My family loves me. They appreciate me. I want all of my energy to go into them."

Ronda Rousey on WWE fans
Wow. If that's a heel promo, it's a pretty good one. But if it isn't, that's a pretty harsh take on WWE fans. Yes, they're a passionate bunch that can sometimes get out of hand but that's any group of sports or entertainment fans. But the interview certainly wasn't all bad. Rousey did go on to say that she loved the company and the art form that is professional wrestling.
"I love the WWE. I had such a great time. I love all the girls in the locker room. Running out there and having fake fights for fun is just the best thing. I love choreography. I love acting. I love theatre. Live theater and some of the last forms of live theatre."

Ronda Rousey on her time in WWE
If Ronda Rousey ever does return to WWE, it will certainly be interesting to see how the fans react.