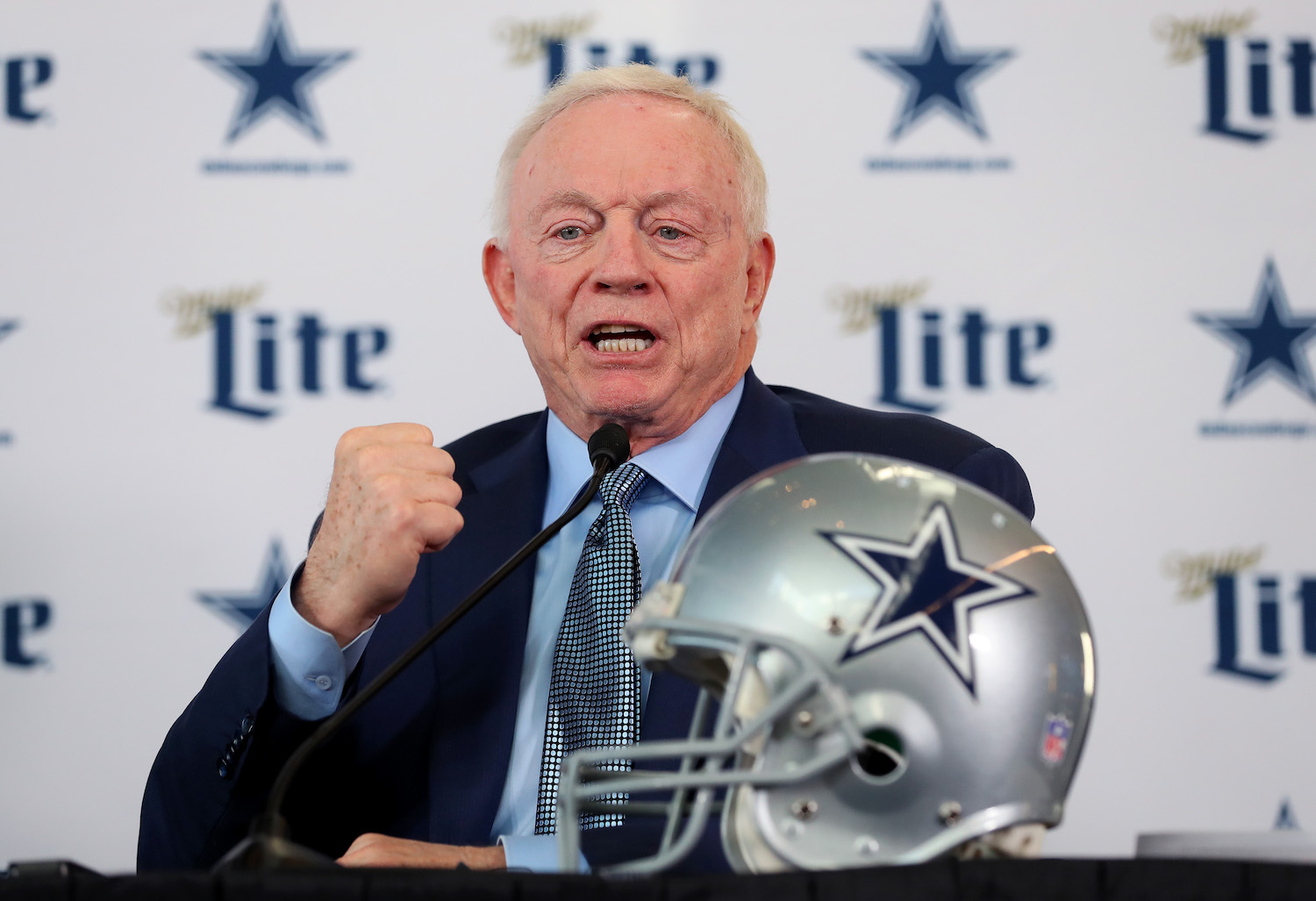 Angry Jerry Jones Questions Talk Show Hosts and Rips Reporter During Contentious Interview
Dallas Cowboys owner Jerry Jones made his weekly radio appearance and it got extremely heated when discussing the report of players questioning coaches.
Dallas Cowboys owner Jerry Jones has watched his team and first-year head coach Mike McCarthy get off to a terrible start in 2020. This last week, things took a more troubling turn when anonymous players questioned the coaching staff and its competence. Through it all, Jerry Jones has remained quiet. Until now.
In an interview during his weekly radio appearance on 105.3 The Fan, Jones was asked about this week's events. His fiery and lengthy response revealed it's a subject matter he's been stewing about all week, and he was eager to share his thoughts about the players, the reporter, and the radio show talk hosts who pressed him on the issue.  
Jerry Jones watches Dallas Cowboys struggle to start 2020
Jerry Jones and the Dallas Cowboys fans could have never imagined such a poor start to the 2020 NFL season. Through six games, the Cowboys have a 2-4 record. That record is reflective of a team that is struggling in multiple facets of the game.
The defense has been a major trouble spot for the Cowboys this season. Through the first six weeks, the Cowboys defense is allowing 410 yards per contest, which is 26th in the league. More significantly, opposing offenses have been converting those yards into points. The Dallas D has surrendered a staggering 36 points per game, which ranks dead last in the NFL. 
The Dallas Cowboys offense has also contributed to the disappointing start by turning the ball over an NFL-leading 15 times. Dak Prescott's injury was another serious blow to the offense, but it was also reflective of the season, as the team has suffered a rash of injuries. In fact, in Sunday's matchup against Washington, the Cowboys offensive line will feature the seventh different starting lineup.   
Trouble brewing behind the scenes
RELATED: Jerry Jones Believes Dallas Cowboys Potentially Have Next Charles Haley and It's Not Who You Think
With the Cowboys 2-4, this week it was reported that not only were fans unhappy with what's going on, but so were the players. And some of those players didn't sugarcoat their feelings and offered pointed criticism directly at the coaching staff.
"This coaching staff is totally unprepared. They don't teach," NFL Network reporter Jane Slater said, relaying what the players had told her. "They don't have any sense of adjusting on the fly. Another saying, they just aren't good at their jobs."
While Jerry Jones remained silent on the matter, Mike McCarthy responded. 
"I've always stated this to every team that I've coached. I think it's important to handle things as men; if you do have something to say publicly that is of most importance, I think it's important to say it to the individual," McCarthy said on NFL.com. "Particularly in a group dynamic, setting. Especially in the game of football, especially for the Dallas Cowboys. That's all part of the development of our program, of the system we're installing here."
Jerry Jones gets angry about report on players questioning coaches
During Jerry Jones' weekly appearance on 105.3 The Fan, he was asked about the behind-the-scenes rumblings. Initially, Jones said he hired Mike McCarthy because he was a Super Bowl-winning coach and he knew how to deal with both success and failure. When pressed on whether or not Jones might be questioning the players who made the comments, the owner got agitated.
"Did you really think it (the report) has any credibility? Think about it. Do you really think it has any credibility?" Jones asked the radio talk show hosts. After a pause, he continued. "It has none. Certainly if you're sitting here trying to make a decision on it. It might be news fodder rolled out around here that might entertain me and others. Do you think that has any credibility to me that somebody wrote anonymously?"
When two of the hosts suggested they thought the reporter was credible, Jones quickly responded. 
"Credible, what? You're so full of it. I mean it, to say that, get it on out there reporter and say who said it. Get with it. If you want to influence something. Is the reporter trying to influence me? Of course not. Seriously guys, because it is so irresponsible, we're wasting some good time. My goodness. If I spend my life making decisions based upon some innuendo or something I read in the paper, I'd be a sick puppy."
The bad play on both sides of the ball, the 2-4 start, the rash of injuries, and now the players questioning the coaches, Jerry Jones is clearly not happy with what's happening with the Dallas Cowboys. If things don't improve in short order, things could get very interesting in Dallas in the coming weeks.