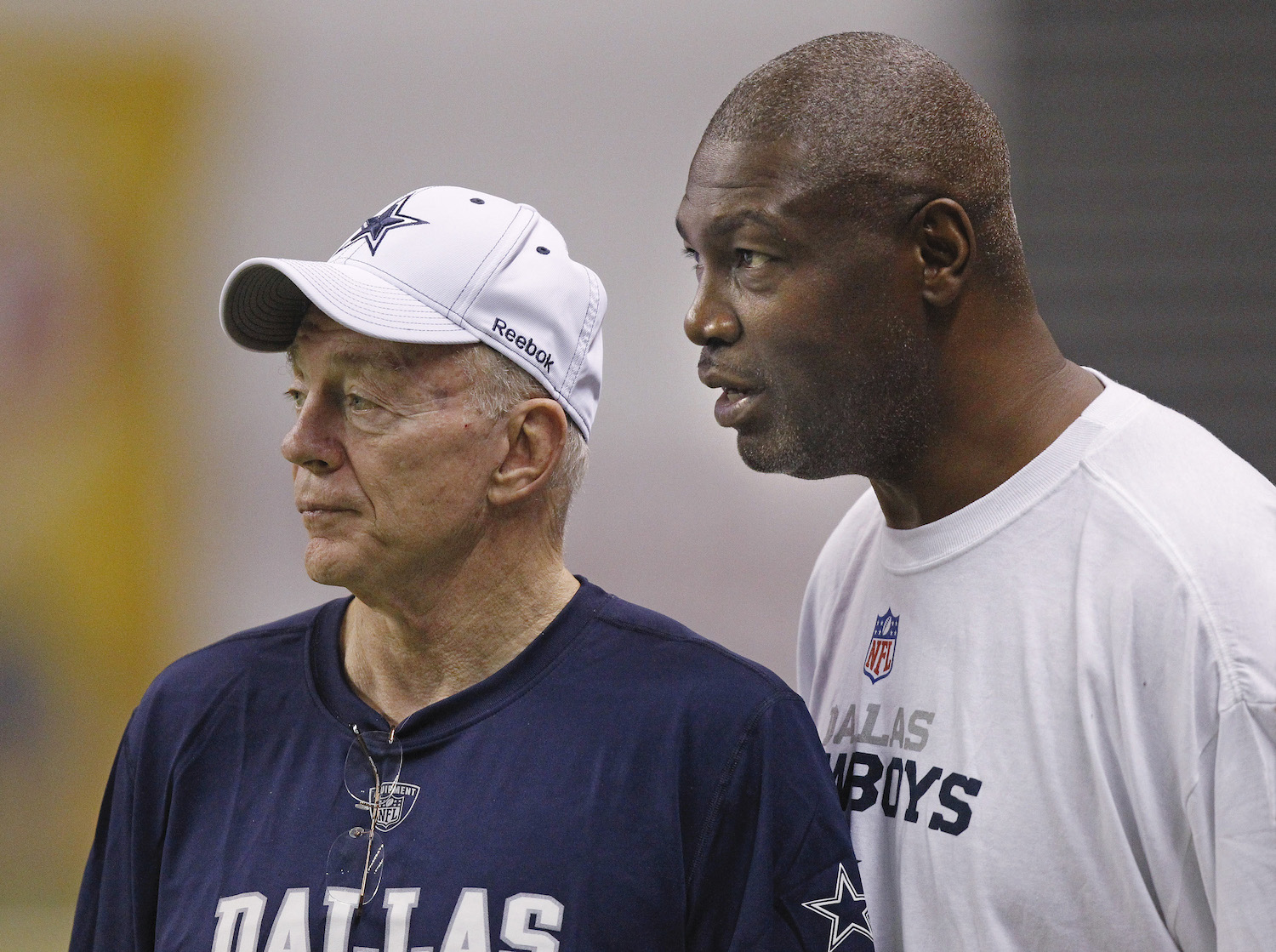 Jerry Jones Believes Dallas Cowboys Potentially Have Next Charles Haley and It's Not Who You Think
Dallas Cowboys owner Jerry Jones thinks the Cowboys defense potentially has the next Charles Haley on the roster and it's not who you think.
Throughout the storied history of the Dallas Cowboys, some of the game's greatest defensive players have donned the silver and blue. Bob Lilly, Randy White, Ed "Too Tall" Jones, Harvey Martin, and Charles Haley all terrorized opposing offenses in their careers. Cowboys owner Jerry Jones said he thinks there's another player currently on the roster who is capable of joining that list, and it's not who you think.
Dallas Cowboys defensive greats 
Bob Lilly set the bar exceptionally high for Dallas Cowboys defensive players during the 1960s and early 1970s, earning 11 Pro Bowl appearances in his 14-year career. He was part of the original Doomsday Defense and was inducted into the Pro Football Hall of Fame in 1980. 
After Lilly, Cowboys fans were fortunate to watch what would turn out to be some of the best defensive players in the history of the franchise play in the 1970s and 1980s, including Ed Jones, Harvey Martin, and Randy White. Martin and White were so impressive they earned co-MVP honors at the Super Bowl win over the Denver Broncos in the 1977 season. 
The Cowboys have had other impressive defensive players, including Demarcus Ware, Ken Norton Jr., Thomas "Hollywood" Henderson, and numerous others. 
Charles Haley has Hall of Fame career
The San Francisco 49ers drafted Charles Haley in the 1986 NFL Draft. Haley played linebacker in the 3-4 defense and proved he belonged that rookie season recording 12 sacks and making the All-Rookie Team. Haley played six seasons in San Francisco, made three Pro Bowl appearances, and won a pair of Super Bowls.
In 1992, he joined the Dallas Cowboys and switched to defensive end as part of a 4-3 defense. Haley made the switch of position to a different defense look easy and many attributed that to his intellect and high football IQ. He recorded six sacks that first season and helped the team improve from the 17th overall defense to best in the NFL. 
In the four out of five full seasons Charles Haley played in Dallas, he recorded 33 sacks and made two Pro Bowls. More importantly, he was part of three Super Bowl-winning teams with the Cowboys, finishing his career with five total rings. He was inducted into the Hall of Fame in 2015.
Jerry Jones believes Randy Gregory could be next Charles Haley
Since the Dallas Cowboys drafted Randy Gregory in the 2015 NFL Draft, he's just played in 28 games, making one start. In 2018, he played in 14 games, recorded two forced fumbles, recovered a fumble, and had six sacks. Unfortunately, Gregory hasn't been more effective because he's missed action due to the NFL suspending him four different times for violations of the league's substance abuse policy.
With his reinstatement this year and expected return to action next week, Cowboys owner Jerry Jones has high expectations for Gregory.
"Randy Gregory is an impact player. Always has been, and when he's been on the field for us, he's impactful," Jones said during an interview on 105.3 The Fan. "He is obviously smart, has high football IQ. He made the highest SAT test of anyone we've ever drafted. Anybody. He has good intellect. Charles Haley also had one of the highest intellects we've ever had and you see how he used that to be a good pass rusher."
While it's a stretch to compare Gregory to Haley when the former has yet to play a full season, it's clear Jones has high hopes for the oft-suspended defensive player when he does see substantial action. With the Cowboys defense ranked near the bottom of the NFL in multiple categories, chances are Gregory's inclusion will likely improve a porous Dallas defense. It's hard to imagine he could make it any worse.