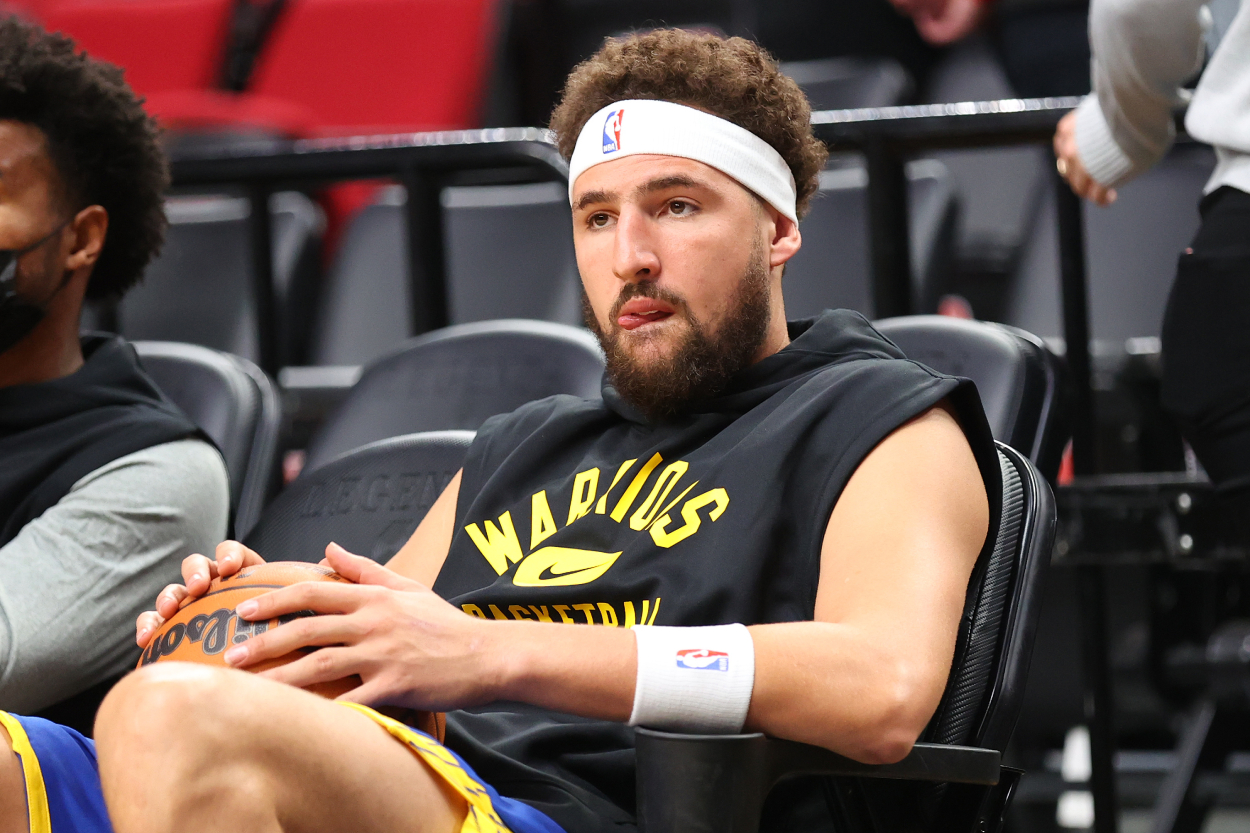 Angry Klay Thompson Still Griping Over NBA Top 75 List When It's Alex English Who Got the Raw Deal
Klay Thompson is still upset over the fact he wasn't chosen as one of the NBA's top 75 players of all time.
Klay Thompson is a great basketball player. The injured Golden State Warriors sharpshooter just isn't one of the top 75 of all time, and he's quite upset about it.
Alex English was a better basketball player than Thompson. He didn't make the top 75 either, but he handled it just about the way you would think.
Klay Thompson continues to complain about not making the NBA's top 75
To be blunt, Thompson is not one of the best 75 NBA players of all time. He's one heck of a shooter, but he still isn't even the best shooter on his team. That honor unquestionably goes to Stephen Curry. Thompson has had an outstanding career and should be proud of that. Instead, he's complaining about his absence on a list.
"Maybe I'm just naive in my ability to play basketball, but in my head, I'm TOP 75 all time," Thompson posted on Instagram after first seeing the NBA's list.
That message hinted at his disappointment. He expressed his thoughts and his belief in himself.
The following morning, he appeared angry.
"Woke up this AM, still pissed about this stupid ass list," he wrote. "Ga damn I can't wait to hoop again. Sick of the disrespect. Winning isn't everything to some people like it is to me I guess."
Alex English also didn't crack the top 75 and handled it the way you'd think
English may be the most underappreciated player in NBA history. The eight-time NBA All-Star, 1982-83 scoring leader, and Hall of Famer also didn't hear his name called when the NBA's top 75 players of all time were announced.
English never won an NBA title and played the bulk of his career in relative obscurity with the Denver Nuggets. Still, he quietly led the league in scoring with a 28.4 points-per-game average during the 1982-83 season. He did that while pulling down 7.3 rebounds and 4.8 assists per game.
Like Thompson, he was disappointed in not being named to the 75th-anniversary team. Unlike Thompson, he seemed to understand why.
"Can't say I am not disappointed for not being included on the 75th-anniversary team after seeing the list," English posted on Twitter. "I felt the same after the first list of 50. I have always known that my understated style wasn't conducive to being associated with such a flamboyant sport."
He hit it right on the head. English was quiet, business-like on the court. The peak of his career was in the '80s when Larry Bird, Magic Johnson, and Michael Jordan stole the headlines even as he led the entire NBA in scoring for the decade. In his 11 seasons with the Nuggets, English averaged 25.9 points, 5.6 rebounds, and 4.4 assists. He shot 51% from the floor.
Thompson has a shot to get there but isn't top-75-worthy now
Thompson isn't what English was. He has more NBA championships, but that's not what the list is about. Even if it was, 40 players in league history have more rings than Thompson's three. Beyond that, English owns Thompson in nearly every statistical category.
Thompson can score, but not like English. The Warriors guard has averaged 19.5 points, 3.5 rebounds, and 2.3 assists during his eight seasons in the league. He's shot 46% from the floor in his career.
Golden State backers will say Thompson's numbers won't be as good as English's because he plays with Curry and isn't the main scorer on the team as English was. That may be true, but if that's the case, putting down English for not winning a title has to be off the table since English didn't play with multiple All-Stars as Thompson has.
Thompson has missed the last two seasons with multiple injuries. He's still young enough that he just may be able to vault himself into that top-75 list one day. For now, he's not there.
The bottom line is they are both great players. One can still be a great player and not be among the top 75 in league history. If either of the two players has a valid gripe, it's English.