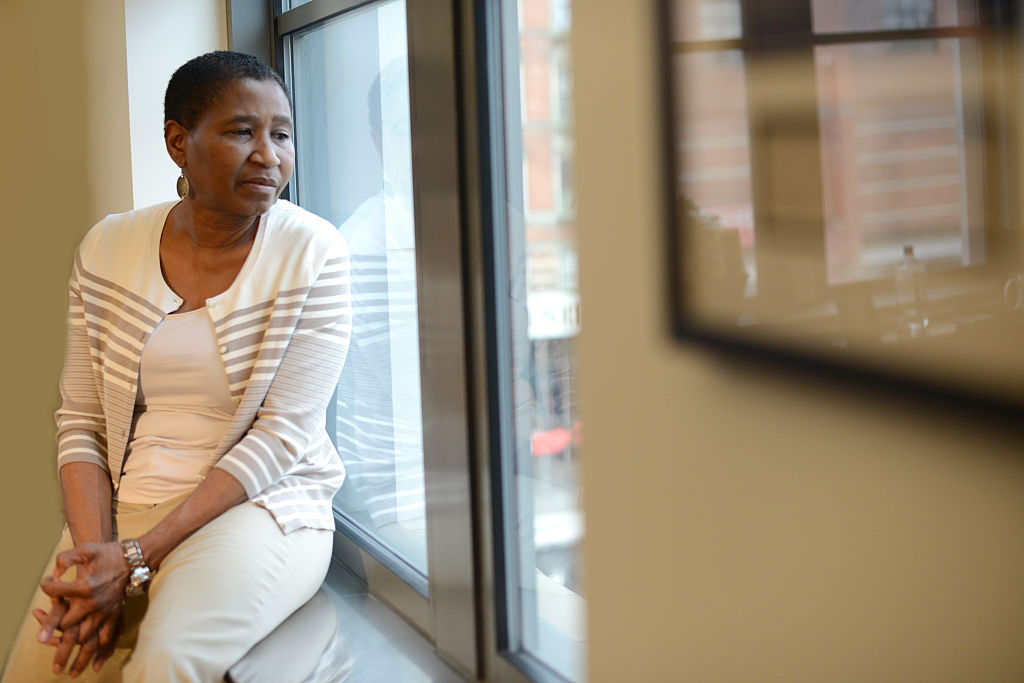 Angry NBPA Executive Says Alarming Number of NBA Players Could Test Positive for Coronavirus
National Basketball Players Association executive Michele Roberts says an alarming number of NBA players could test positive for coronavirus.
The NBA has already had seven players announced as having tested positive for the coronavirus (COVID-19) and that's likely to just be the beginning.
Michele Roberts, the executive director of the National Basketball Players Association, said she knows the situation will get worse before it gets better and she was upset that the NBA players known to have contracted the virus were identified.
Michele Roberts aggressively defends NBA players' testing
While some folks were upset NBA players were getting special treatment and had much easier access to the virus testing, Michele Roberts blamed the federal government.
"There's nothing irresponsible — if you've got that information [that you've been exposed] — about trying to get the tests," Roberts told ESPN on Wednesday. "The problem that more of us can't get the tests — and I'm not apologetic about saying it — in my view, that rests at the foot of the federal government. They were responsible for making sure we were protected in that regard, and I think they failed."
In a Twitter post, New York City Mayor Bill de Blasio criticized the fact that an entire NBA was tested, while critically ill patients had to wait in line.

In a statement Wednesday, the Brooklyn Nets said several members of the team were experiencing symptoms so they decided to pay for the test themselves to do their part in preventing the spread of the virus.

Roberts suggests up to half the league could be positive
Although Michele Roberts still believes the NBA season will be back in action by the summer, she did say that she expects many more people within the league ( NBA players and staff) will come down with the virus, if they haven't already. In an interview with USA Today's Mark Medina, Roberts threw around some sobering numbers.

"A whole lot of us are going to test positive. Even if we aren't positive, we got the virus. I don't intend to disclose identities because there's a stigma attached to that. But I certainly know there will be more players, more league staff and my own staff [that will be tested positive]. I was hearing the numbers that 40 to 50% of our population will be positive for the virus, whether or not we test for it."


Michele Roberts
She continued by saying how upset she was that players who tested positive were identified, but she believes, given their age and physical skills, they will be fine.
"Hearing about the players that tested positive and that their identities were disclosed upset me to no end, she said. "I was mortified any of our players would test positive. But the more I learned about the likelihood of fatalities among all of us given our ages and pre-existing conditions, I have learned to embrace the probability that many of our players will be positive for the virus."
Commissioner Adam Silver remains hopeful the season will continue
Saying he's optimistic by nature, NBA Commissioner Adam Silver outlined three options the league is looking at in hopes of resuming the season. He did say that fans need a diversion from what's happening in the real world.
"One is when can we restart and operate as we've known it, 19.000 fans in the buildings?" Silver said. "Sort of that one set of criteria."
Option No. 2, he said, was playing games without fans and the logistics of that."Because presumably if you had a group of players and staff around them, and you could test them and follow some protocol, doctors, health officials may say it's safe to play," Silver said. "So that's sort of the second set of circumstances."
The third option would involve having a game, likely for charity, that featured NBA players to help give fans that diversion.