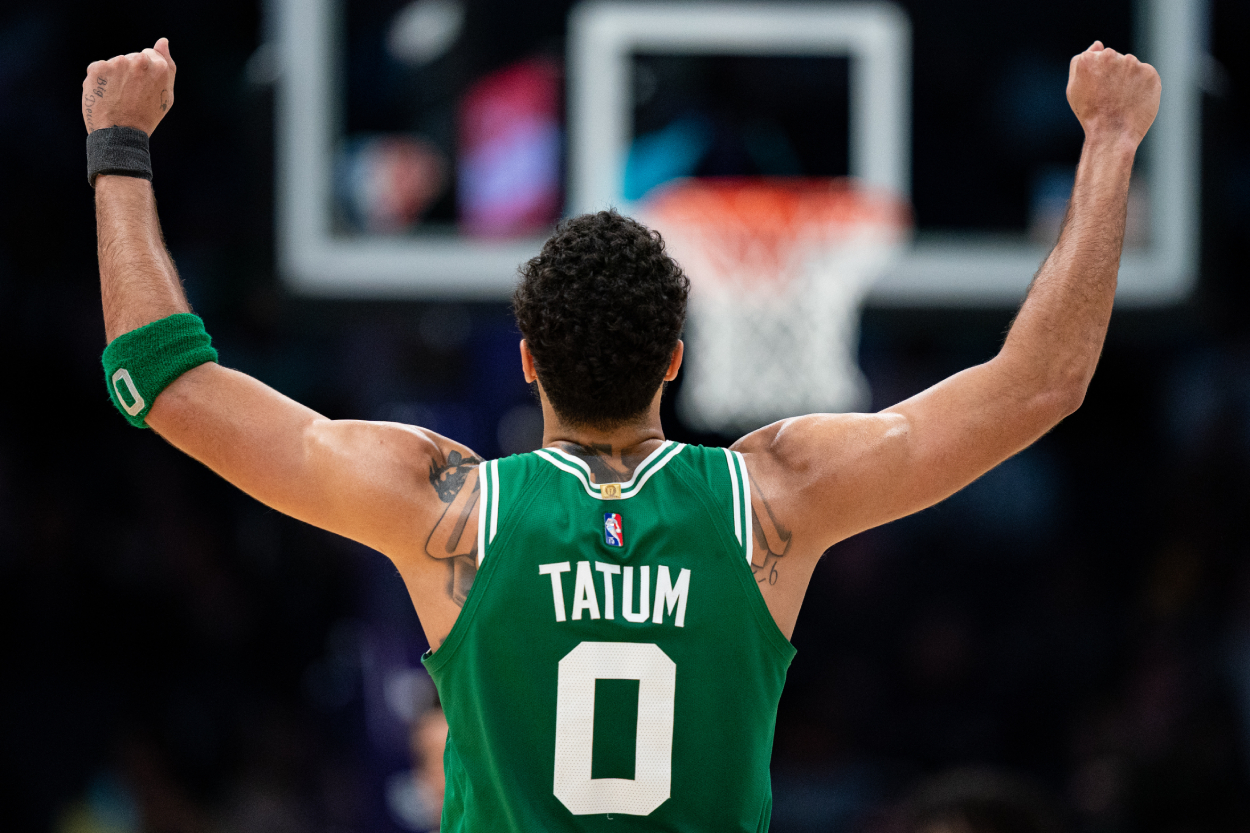 Another Masterpiece Has Jayson Tatum in MVP Race, According to Kendrick Perkins
Is Boston Celtics star Jayson Tatum a legitimate MVP candidate?
Three-time All-Star Jayson Tatum is playing like a man on a mission these days. In his last four outings, the Boston Celtics star is averaging 42 points, all in victory. The Celtics are as hot as any team in the league right now.
Tatum is living up to expectations from the $195 million extension he signed. That wasn't the case earlier this year. Have those early-season struggles hurt Tatum's chances of a shot at becoming the NBA's MVP? Not if you ask former Celtics center and current basketball analyst Kendrick Perkins.
Jayson Tatum living up to expectations for the Boston Celtics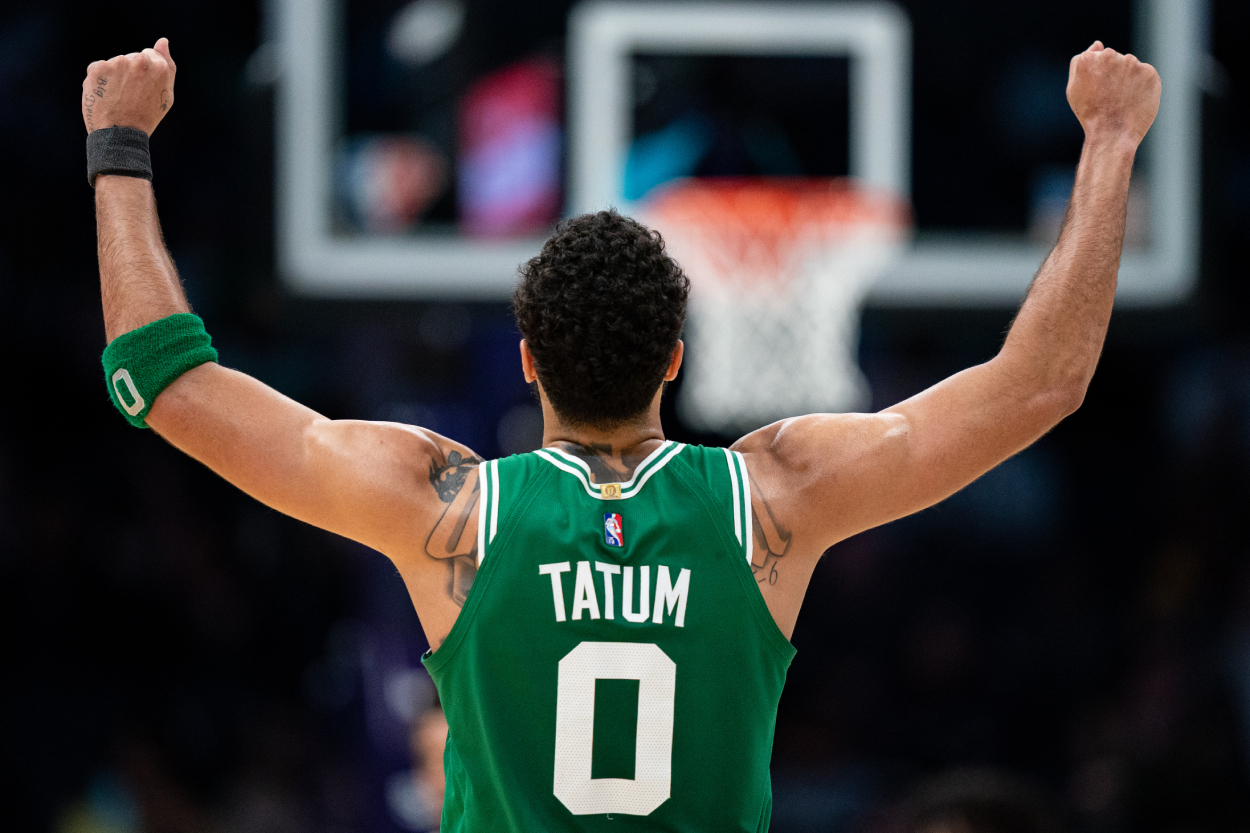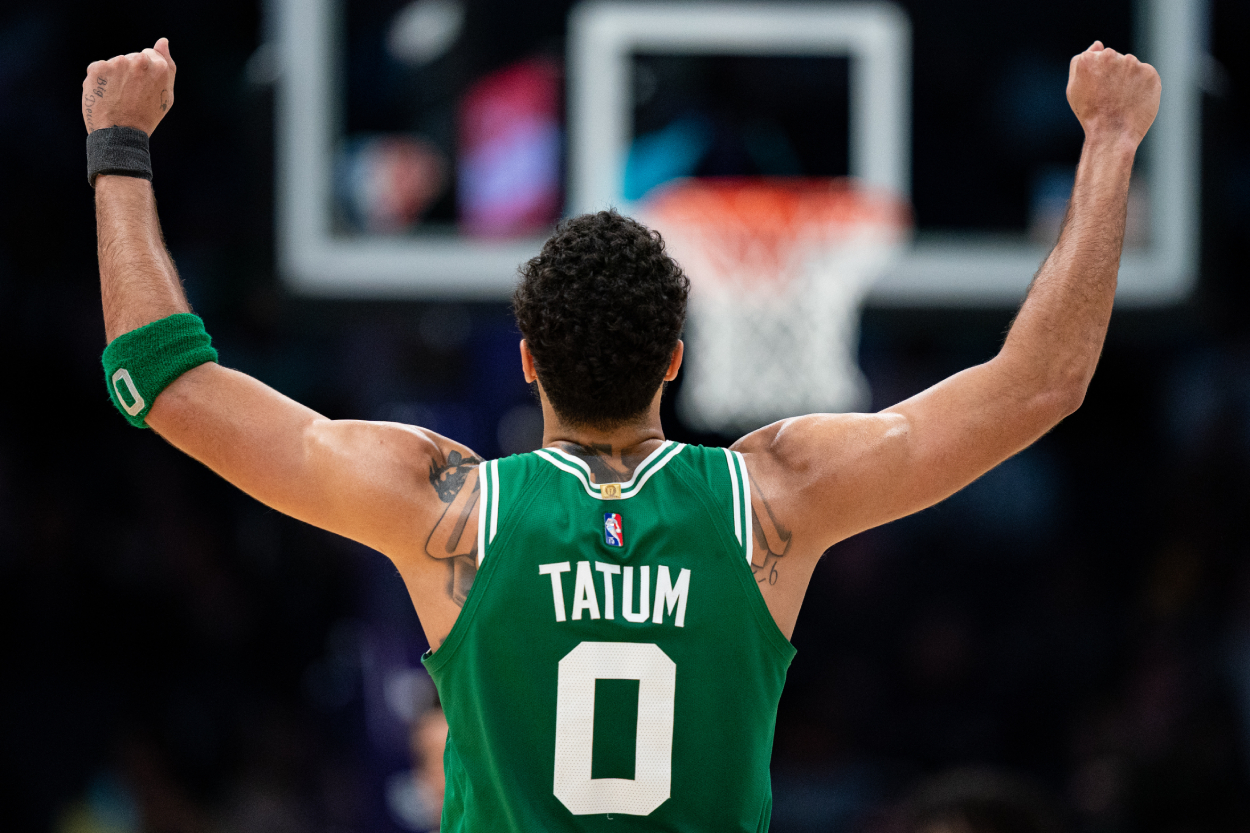 How hot has Tatum been lately? He made his way into the same conversation as Larry Bird with his 54-point performance Sunday against the Brooklyn Nets. He joined Bird as the only two Celtics players in history to score 50 or more points four times. Tatum is just 24 years old and in his fifth year in the league.
Tatum has been Bird-like recently. He's put up 33, 37, 54, and 44 points in his last four outings. He's led the team in scoring six out of the last seven games. Tatum has helped put the Celtics in position for a high playoff seed and a strong postseason run.
Earlier in the season, the team would've been happy with a simple playoff berth. Tatum has been the leader the Celtics have needed. He's accepted the challenges he's faced on the court, playing against some tough competition.
Against Kyrie Irving and Kevin Durant, Tatum was the best player on the court, pouring in his game-high 54 points.
"Those matchups — when you're playing one of the better teams in the league, two of the best guys — as a competitor, those are the kinds of moments that as a kid you looked forward to," Tatum said after the Nets game, per ESPN. "When those opportunities come, you try to make the most of it."
Kendrick Perkins says Jayson Tatum is a legitimate MVP candidate
Tatum has been as good as anyone in the NBA recently. Is that good enough to vault him into the MVP conversation?
Yes, his numbers are good enough for consideration, but can he be a serious candidate after struggling much of the first half of the season? Remember, the Celtics were at .500 after 50 games. Tatum was also mired in a major shooting slump as his frustrations kicked in.
At one point this year, he was 0-for-17 from three-point land and 1-for-21 in a four-game stretch. He had been hounded about his shooting slump and was just as frustrated talking about it as he was with his shooting performance.
"I will (get out of the slump)," Tatum said, per Jay King of The Athletic. "and we'll be able to talk about something else."
He certainly found his way out of the slump, and according to Perkins, he's now in the MVP race.
"Jayson Tatum has played himself right into the MVP conversation!" Perkins tweeted. "The numbers that he's been putting up along with willing his teams to victories has been right up there with the Best of them! Carry the hell on…"
Is Tatum a legitimate MVP candidate?
There's no question Tatum is as hot any anyone in the league at the moment, but his lack of consistency this year will keep him from being a serious MVP candidate.
Tatum is good, but not Joel Embiid good. He's not Nikola Jokic or Giannis Antetokounmpo, either. Had he been this good earlier in the season, Perkins may have a case. Through 50 games, the Celtics were mediocre at best, and Tatum was inconsistent.
According to Vegas Insider, Embiid is the clear favorite to win the award. The Philadelphia 76ers star leads the league in scoring at 29.7 points while pulling down 11.2 rebounds. The line on Embiid is -135. Jokic, the Denver Nuggets versatile center is second on the list at +200, followed by two-time MVP Antetokounmpo at +800.
There are plenty of others in the picture, including Memphis Grizzlies guard Ja Morant (+1200) and Chicago Bulls star Demar DeRozan (+1800).
For the record, Tatum's odds are +30000 to win the MVP.
Carry on.