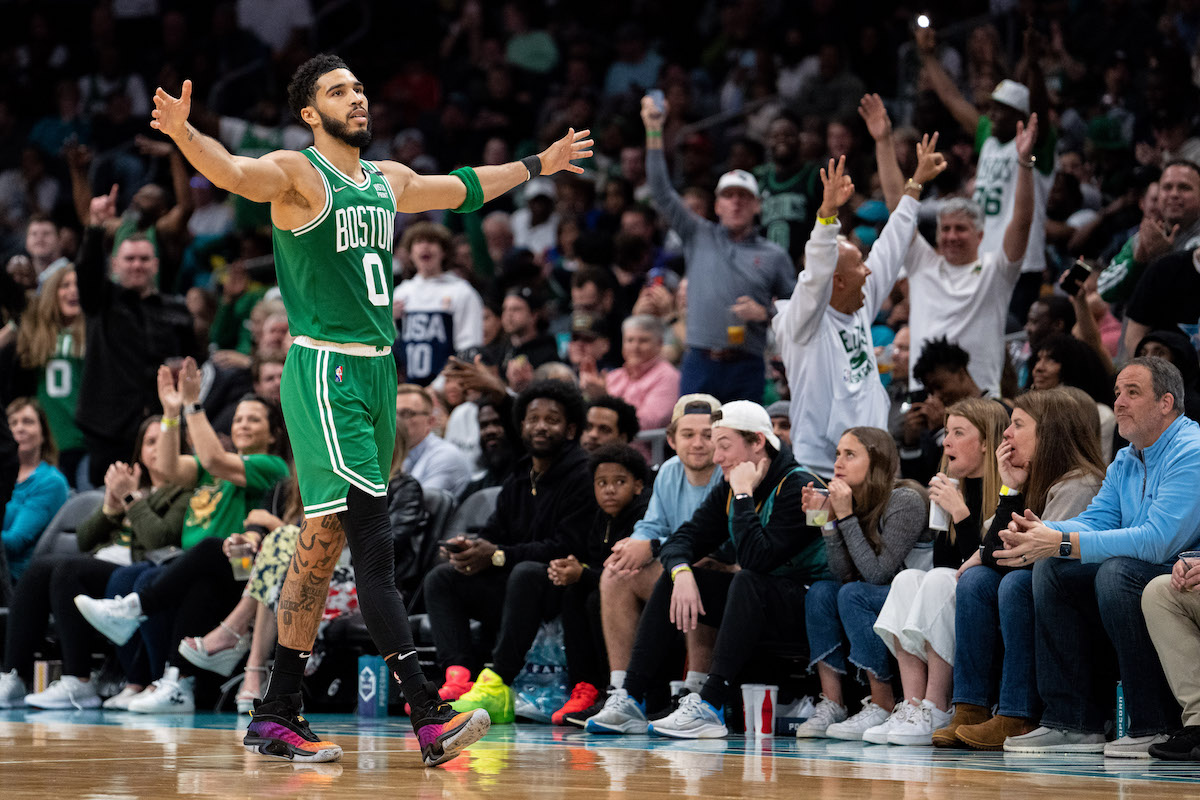 Jayson Tatum Keeps Blowing Kisses as Boston Celtics Keep Blowing Away Foes
The Silencer. The Rock-a-Baby. The shimmy. Stirring the pot. Is it time to add blowing kisses to the list of signature NBA celebrations for Jayson Tatum and the surging Boston Celtics?
Jayson Tatum is just being — Stephen A. Smith voice — disrespectful now.
The Boston Celtics' 19-year-old 24-year-old superstar is surging under first-year head coach Ime Udoka at the best possible time for the Eastern Conference hopefuls, putting up high-scoring performance after high-scoring performance while obliterating opponents in every way possible.
And with that rise into the periphery of a heavily contested MVP race has come a new signature celebration following the high-leverage fourth-quarter buckets that have become such a frequently used part of his interminable arsenal.
Jayson Tatum is blowing kisses now
The NBA has plenty of signature celebrations.
Russell Westbrook's Rock-a-Baby still exists even if it's been utilized with far less frequency during a disastrous season for the Los Angeles Lakers. Carmelo Anthony uses the Three-to-the-Dome each time he splashes in a triple. Stephen Curry pulls out the "I don't even need to make sure this shot is on target" three-pointer every once in a while, and that's when he's not shimmying or extending his index finger upward.
LeBron James has The Silencer. Dame Time remains a thing when Damian Lillard is healthy. James Harden loves to show off his cooking skills. The list goes on and on, and that's without bringing signature celebrations from the NBA archives into the picture — Dikembe Mutombo's finger wag, Michael Jordan's tongue, Sam Cassell's … well, you get the point.
Now that Jayson Tatum's son, Deuce, is on board with his newfound celebration, he might be joining the list. He certainly doesn't seem likely to stop blowing kisses with three fingers extended on each hand after fourth-quarter threes anytime soon.
"I did it once and then I went home and Deuce started imitating me," Tatum explained in a postgame interview following a March 9 victory over the Charlotte Hornets, per NBC Sports Boston's Chris Forsberg, who highlighted that the celebration has now emerged against the Memphis Grizzlies, Brooklyn Nets, and Hornets. "I think that's the new thing."
Having a child on board certainly ups the likelihood of a celebration continuing. So does playing to the crowd on the road, which Tatum did after his 44-point masterpiece in Buzz City. The kisses first surfaced on the parquet floors of the TD Garden, but celebrating in hostile territory indicates confidence in both his play and his unique way of justifiably tooting his own horn.
Behind Jayson Tatum, the Boston Celtics have emerged as a legitimate Eastern Conference contender
Remember when Jayson Tatum started the 2021-22 campaign off slowly, slashing just 39.5/31.6/80.0 through the end of November?
It's hard to believe now that he's flat-out dominating. He's tickling twine with much greater consistency, operating with unabashed confidence, still finding time to contribute to a suffocating Boston defense, and rubbing it in opponents' faces with his newfound celebration.
Dating back to a 51-point outburst in a Jan. 23 victory over the Washington Wizards that began a 17-3 stretch for the Beantown residents, Tatum is averaging 30.1 points, 7.4 rebounds, and 5.0 assists while turning the ball over just 2.6 times per contest and shooting 49.8% from the field and 39.2% from downtown on a whopping 9.5 three-point attempts per game.
Over his last four appearances, he's avenged a late-January loss with a 33-point showing against the Atlanta Hawks, torched a contending Memphis Grizzlies squad for 37 points, exploded for a 54-spot against the reeling Brooklyn Nets to join Larry Bird in the record books, and staggered the Hornets with 44 points, 28 of which came in the second half.
Those numbers are, to put it mildly, unreal for a player who doesn't just dabble on the defensive end so much as assume tough assignments of his own in between Defensive Player of the Year candidates Marcus Smart and Robert Williams III.
And it's not just him.
Here come the Boston Celtics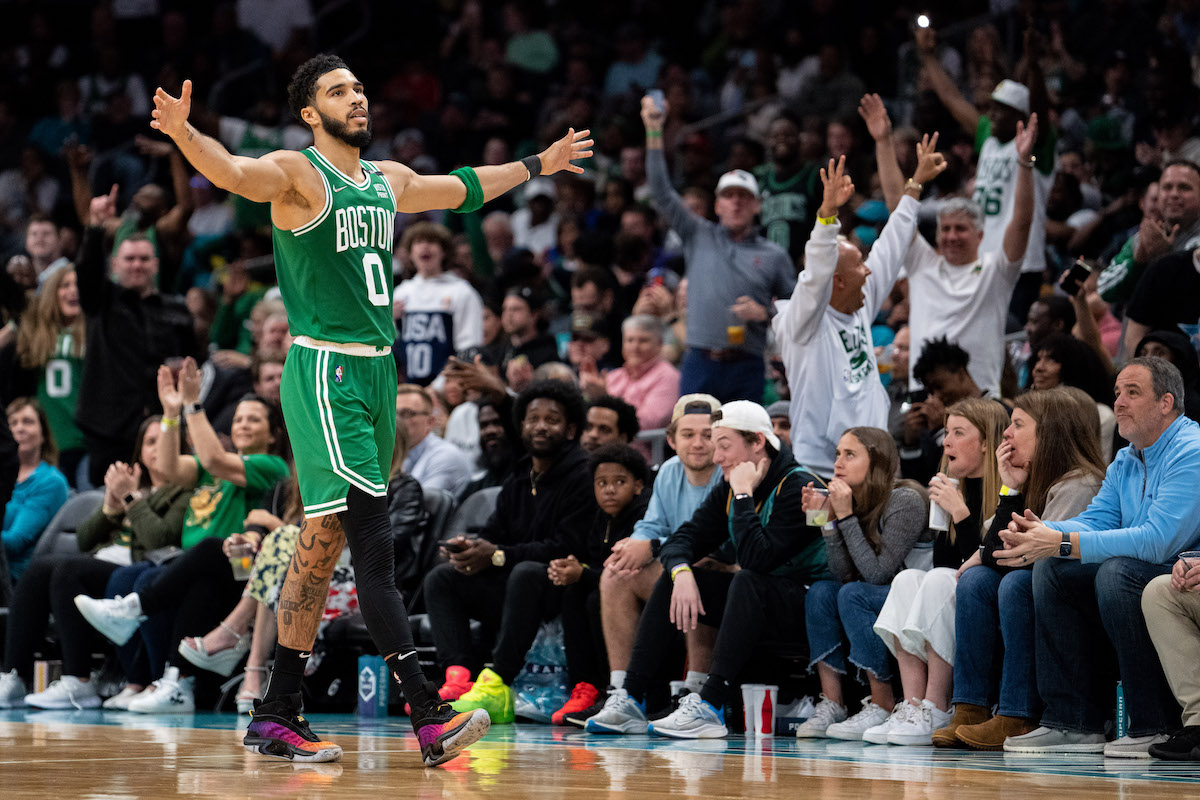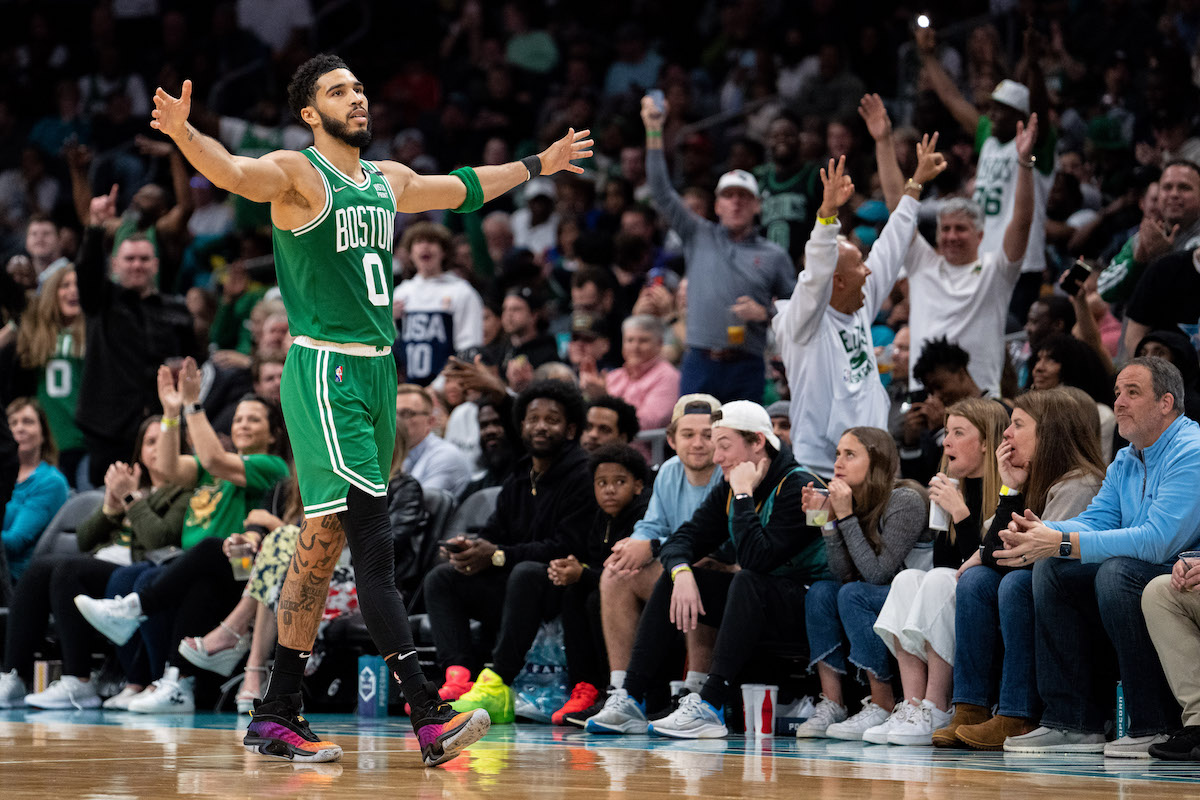 The Celtics are mirroring Jayson Tatum's rise into the fringes of the MVP conversation by surging toward the upper echelon of the Eastern Conference. At 40-27, they're nipping at the heels of the 40-26 Chicago Bulls for the No. 4 seed and home-court advantage in the first round of the playoffs, and they're not too far behind the 40-24 Philadelphia 76ers, 42-25 Milwaukee Bucks, and 44-23 Miami Heat, either.
Shockingly, after a dismal start to the season that saw the C's fail to permanently rise above .500 until Jan. 29, they're within shouting distance of the East's best record. Should they maintain their recent form, what once seemed inconceivable might actually be possible.
Dating back to Tatum's first 50-point showcase, Boston has the league's best record and a net rating that blows away the competition:
| | | | | |
| --- | --- | --- | --- | --- |
| Team | Record | Offensive Rating | Defensive Rating | Net Rating |
| Boston | 17-3 | 117.7 (No. 3) | 101.6 (No. 1) | 16.1 (No. 1) |
| Minnesota | 16-6 | 119.6 (No. 2) | 111.8 (No. 14) | 7.8 (No. 2) |
| Phoenix | 17-4 | 116.3 (No. 7) | 108.7 (No. 3) | 7.6 (No. 3) |
| Memphis | 13-6 | 117.7 (No. 4) | 110.2 (No. 6) | 7.5 (No. 4) |
| Denver | 17-5 | 117.2 (No. 5) | 109.8 (No. 4) | 7.4 (No. 5) |
Team performance dating back to Jan. 23, per NBA.com/stats
This outfit isn't just winning games so much as eviscerating adversaries behind the league's No. 3 offense and a defense that sits a full Boston Marathon ahead of the competition. Over the relevant stretch, the Miami Heat's defense has come closest to matching the Celtics' stifling schemes and has fallen a whopping 5.4 points per 100 possessions short — as large as the gap between Miami and the No. 16 Oklahoma City Thunder.
Tatum might cool off eventually, but even regression would leave him in an undeniably impressive spot. And should he stop shooting flames, Boston can still fall back on what's rather easily been the Association's premier defense.
This team isn't going anywhere in the race for Eastern Conference supremacy. In all likelihood, it'll keep blowing away opponents as Tatum keeps blowing kisses to various crowds.
All stats, unless otherwise indicated, courtesy of NBA.com and Basketball Reference and current heading into games on March 10.