Jayson Tatum Fires Back After Marcus Smart Called Him out Last Week: 'I Know How to Play Basketball'
Although the Boston Celtics have played better in their last three games, they still seem to have family friction. After an ugly loss last week, Celtics guard Marcus Smart called out Jayson Tatum and Jaylen Brown for never passing the ball. In his first media session since Smart's comments, Tatum fired back after Saturday night's loss to the Dallas Mavericks.
Frustrated Marcus Smart called out Jayson Tatum and Jaylen Brown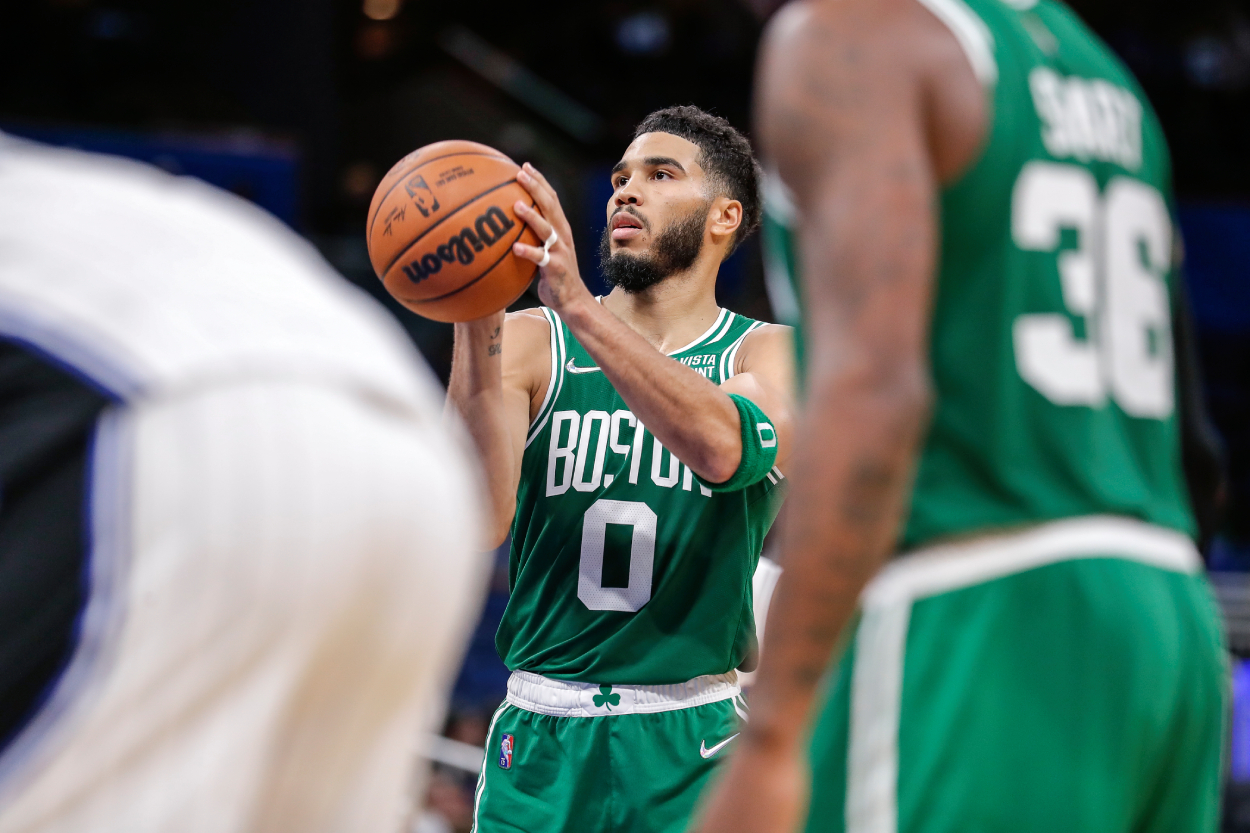 The Celtics have struggled this season, especially at home. In last week's home game against the Chicago Bulls, Boston led by 19 points late in the third quarter only to get outscored 39-11 in the final quarter. They lost 128-114 and frustration set in. Smart didn't hold back in his postgame press conference.
"Every team knows we're trying to go to Jayson and Jaylen," he said, according to CLNS Media. "Every team is programmed and studied to stop Jayson and Jaylen. I think everybody's scouting report is to make those guys pass the ball. They don't want to pass the ball."
Smart wasn't finished.
"That's something that they're going to learn," he said. "They're still learning. We're proud of the progress they're making, but they're going to have to make another step and find ways to not only create for themselves but create for others on this team to open up the court for them later down in the game.
"There's only so much I can do without the ball in my hands and just stand in the corner. We're running plays for our best players and every team knows that. They do a great job of shutting that down. When they shut that down, we can't keep trying to go to those guys.
"Like I said, for me, I can only do so much standing in the corner."
Effort had been the biggest question regarding the Celtics in their early games. The lack of effort and watching the Tatum and Brown Show finally caught up with Smart.
Jayson Tatum fires back in first media session since Smart's comments
Tatum hasn't been made available to the media since Smart's comments. After Saturday's loss to the Mavs, he took to the podium for the first time, and reporters asked for his reaction to Smart's comments.
"Personally, I mean, we talked about it — individually and had a team meeting, I guess. But I know how to play basketball. I've been doing it a long time, and I'm pretty successful at it," Tatum said, according to WBZ 4 in Boston.
Tatum said he knows he has some things to work on, but he believes he's made the right decisions on the court when it comes to passing and shooting.
"I've always made the right plays — not perfect, I've got things I can work on," Tatum said. "I think that's the good part about that. You know, as young as I am, as good as people think I am, I got a lot to improve on, and I'll be the first one to say that. But I'm always gonna play the game the right way and the way that I was taught and the way that I've been playing my whole life. So that's never gonna change."
Tatum put up 32 points on 12-for-19 shooting in the loss as Luka Doncic hit a shot at the buzzer. He also had 11 rebounds.
Tatum hinted that Smart's comments should've been said behind closed doors
Although he didn't come right out and say it, Tatum suggested Smart's comments weren't delivered in the correct forum. A reporter asked him if he felt like Smart should have stated his opinion on the locker room.
"I think, you asking that question, I think you know," Tatum said. "I think there are certain things that, obviously, as a group, that we would … you know, there's certain things that I wouldn't come on here and tell you guys about our game plan, you know, specifically.
"But I think the moral of it is, it happened. And you can't change it. We're still a team, we're still trying to figure it out, we're still trying to win games."
While the Celtics got off to a horrendous start and remain winless at home, they are 2-1 since Smart called out his teammates. They've played with more passion and won two straight on the road after that ugly collapse against the Bulls.
While it can be argued Smart's comments were made in the wrong setting, they may have helped turn things around for Boston on the court.