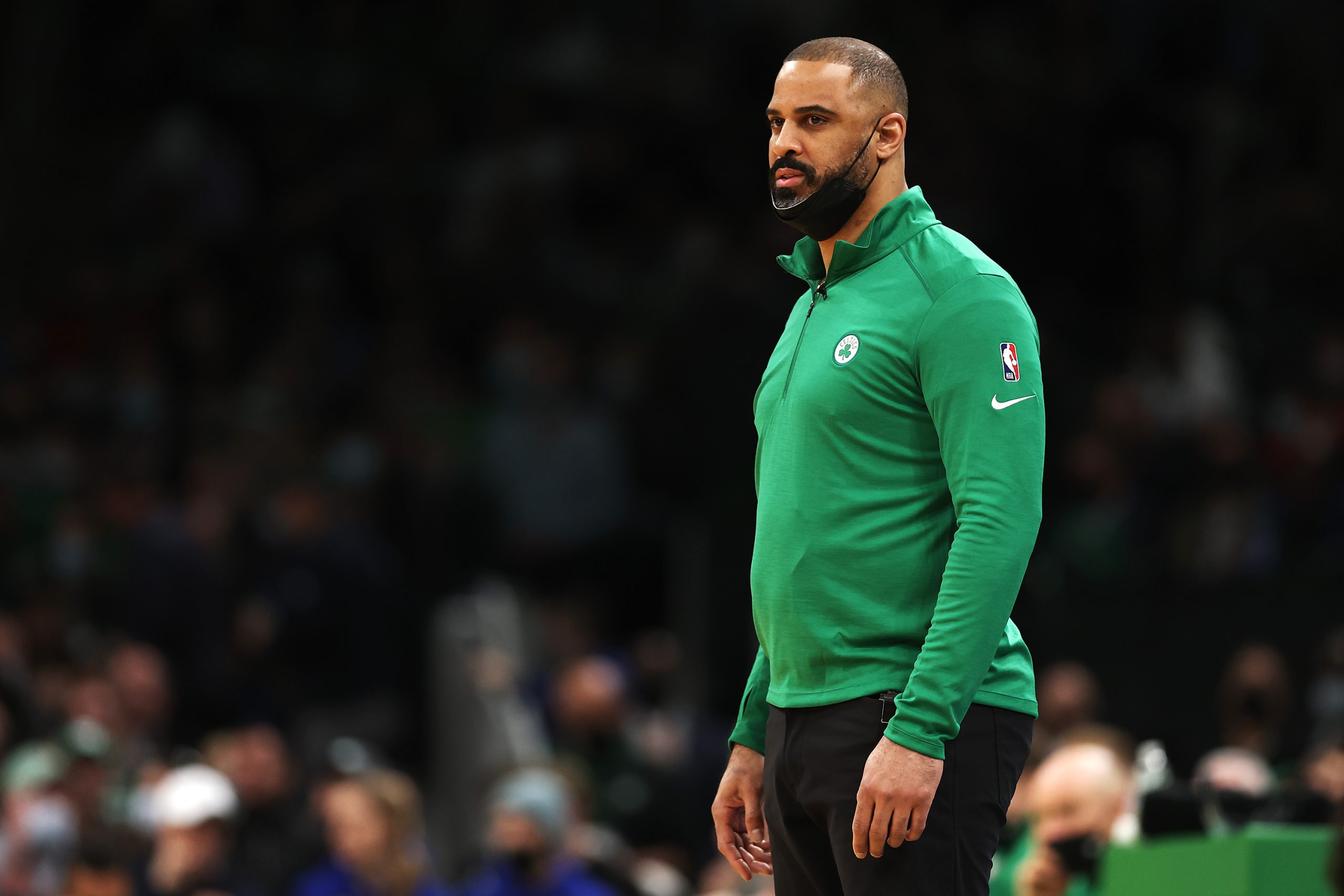 Boston Celtics News: Recent Hot Streak Has Ime Udoka Changing His Personality
Boston Celtics coach Ime Udoka had the media laughing after Thursday's win over the Memphis Grizzlies.
Boston Celtics first-year head coach Ime Udoka is usually laid back but all business. San Antonio Spurs coach Gregg Popovich once labeled him "boring." At least publicly, hasn't ever shown signs of starting a stand-up comedy career with the media.
Udoka's rookie season in Boston has been filled with ups and downs. Recently, they have been on an up, winning 13of their last 15 games. That hot streak may have loosened up Udoka, who had media members laughing hysterically after Thursday night's win over the Memphis Grizzlies.
Ime Udoka named Eastern Conference Coach of the Month for Febraury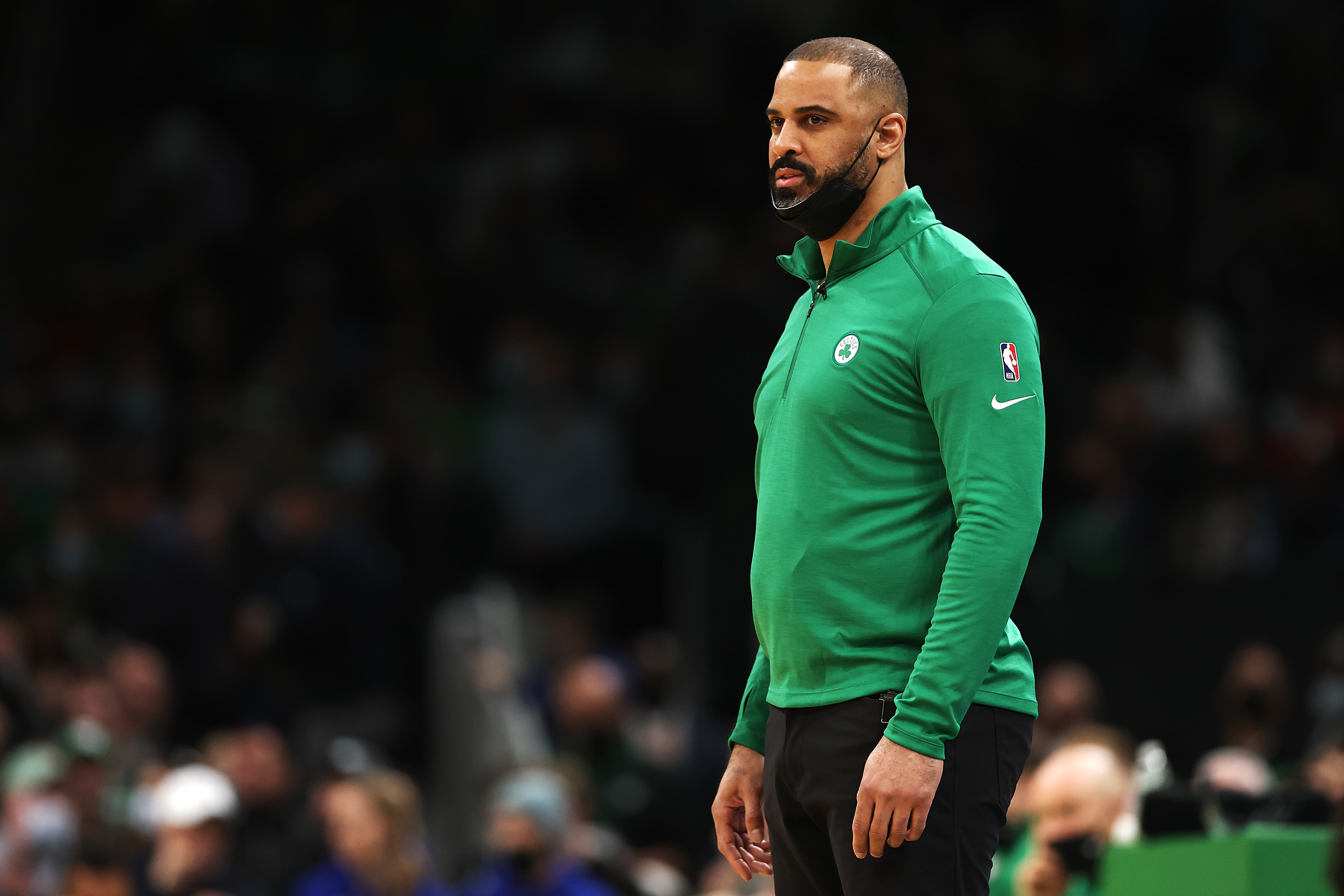 After struggling to stay afloat for most of the season, the Celtics finally broke free from the .500 mark by posting a nine-game winning streak that began with a road win at the New Orleans Pelicans on Jan. 29. Defense has been the key to Boston's resurgence, but the team is also gelling nicely after a rough start.
Boston's 9-2 mark in February earned Udoka Eastern Conference Coach of the Month honors. In typical Udoka fashion, he deflected the honor by saying it's a reflection of his players.
"Means we're playing well, bottom line," he said before Thursday's Grizzlies game, per The Boston Herald. "I mean, those individual awards are really a reflection of the team and what they're doing. And, as I've said all year, our group is great and lets us push them, coach them hard. And that's where the results are showing for that.
"So more than anything, means we're heading in the right direction. And those accolades come but, for me personally, it's a reflection of those guys. I don't care about the personal, but I care how we're playing, what direction we're going."
Udoka said health has been a big part of the team's success, but he also said his players have let him coach them.
"It means you're reaching them. I've talked about it quite a bit, that the guys asked for that and then they've allowed us to coach them, which is not always the case," he added. "A lot of people will say one thing and when you're on them relentlessly, over and over about some of the things that you want to change or improve on, they'll either go south or not be receptive to them. Our guys have responded, as I mentioned, quite a bit."
Ime Udoka offered a rare joke at a press conference after the Grizzlies game
 Since the All-Star break, the Celtics have won four of five. Their latest win came at home against the red-hot Grizzlies, who are third in the Western Conference with a 43-21 record.
After that game, a reporter asked Udoka why the team was able to come out on a mission in the second half and take charge against the Grizzlies after a sluggish first half. The coach's response caught everyone off guard.
"You have the coach of the month in there," he said as laughter erupted in the locker room.
Udoka quickly went back to being himself.
"Joke, obviously," he said.
"Focus. We felt like we were self-inflicted and we were hurting ourselves in the first half. It was like the same thing in the Atlanta game (trailed by 17 in the first half). These are two of the best teams in transition, and we're basically aiding them by the turnovers."
Udoka gave a brief update on Jaylen Brown's ankle injury
Boston's win over the Grizzlies was impressive, but what made it even more satisfying is the Celtics did it without Jaylen Brown. Brown missed the game with an ankle injury suffered in the first quarter of their previous game against the Hawks.
Udoka offered a brief update on Brown's injury.
"Still swollen and some pain there and be evaluated day to day," said Udoka. "Don't know much more than that, other than they'll take a look every day and hopefully it ends up being a pain tolerance thing. Hope to have him this weekend, but you never know how he responds to treatment."
The Celtics get back into action Sunday when they host the Brooklyn Nets.