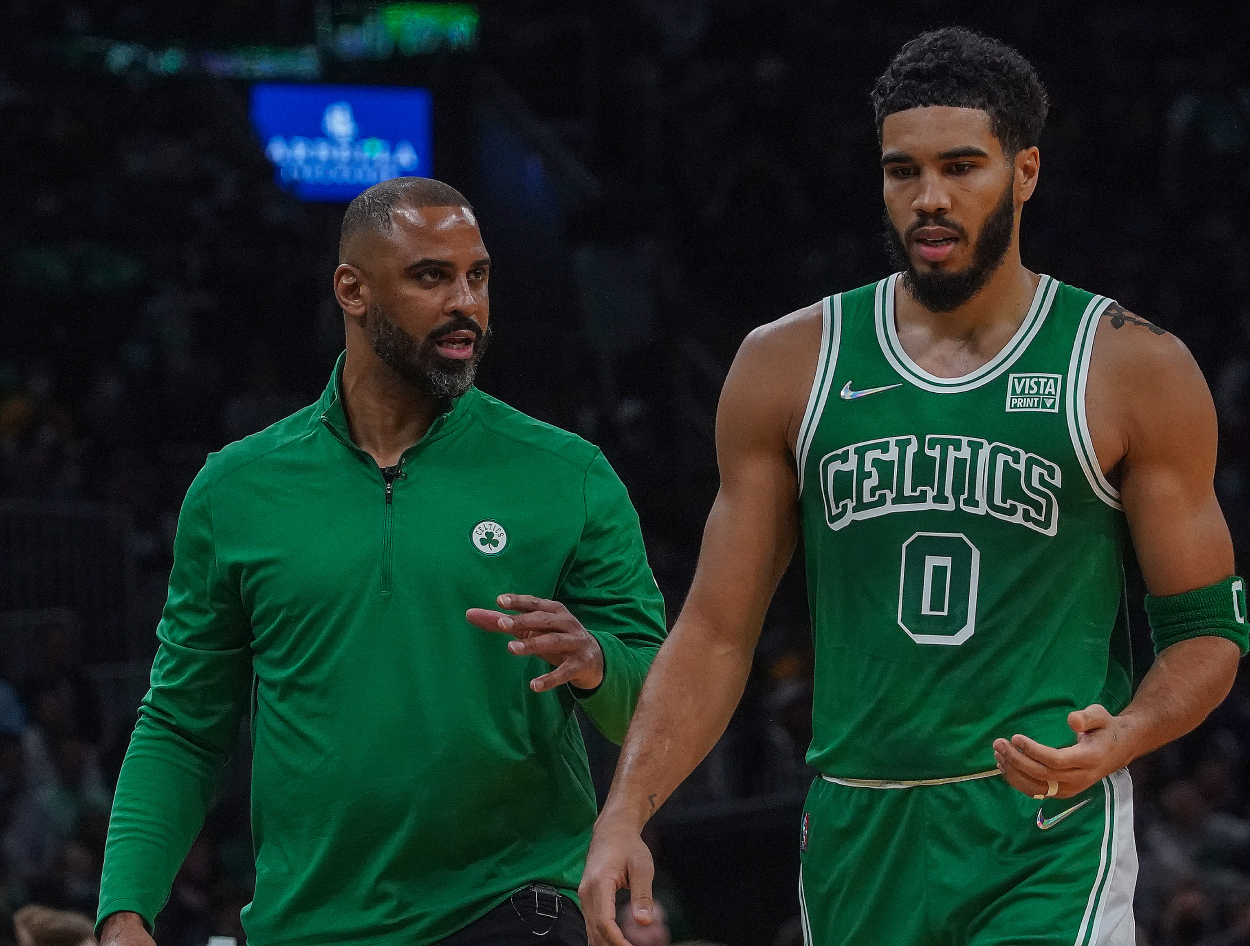 Boston Celtics Coach Ime Udoka Frustrated With Effort, Yet He Might Be the Problem
Frustration is setting in with Boston Celtics coach Ime Udoka, yet he might be a big part of the problem.
The dreaded 'E' word has popped up again in Boston. Just when it looks like the Boston Celtics are starting to become the team many think they should be, effort — or lack of — stands in the way. It's happened again in the middle of a five-game road trip. Head coach Ime Udoka recently said he was frustrated with the "effort and inconsistency." If that's the case, he just might be the problem.
The Boston Celtics have been called out for lack of effort since Week 1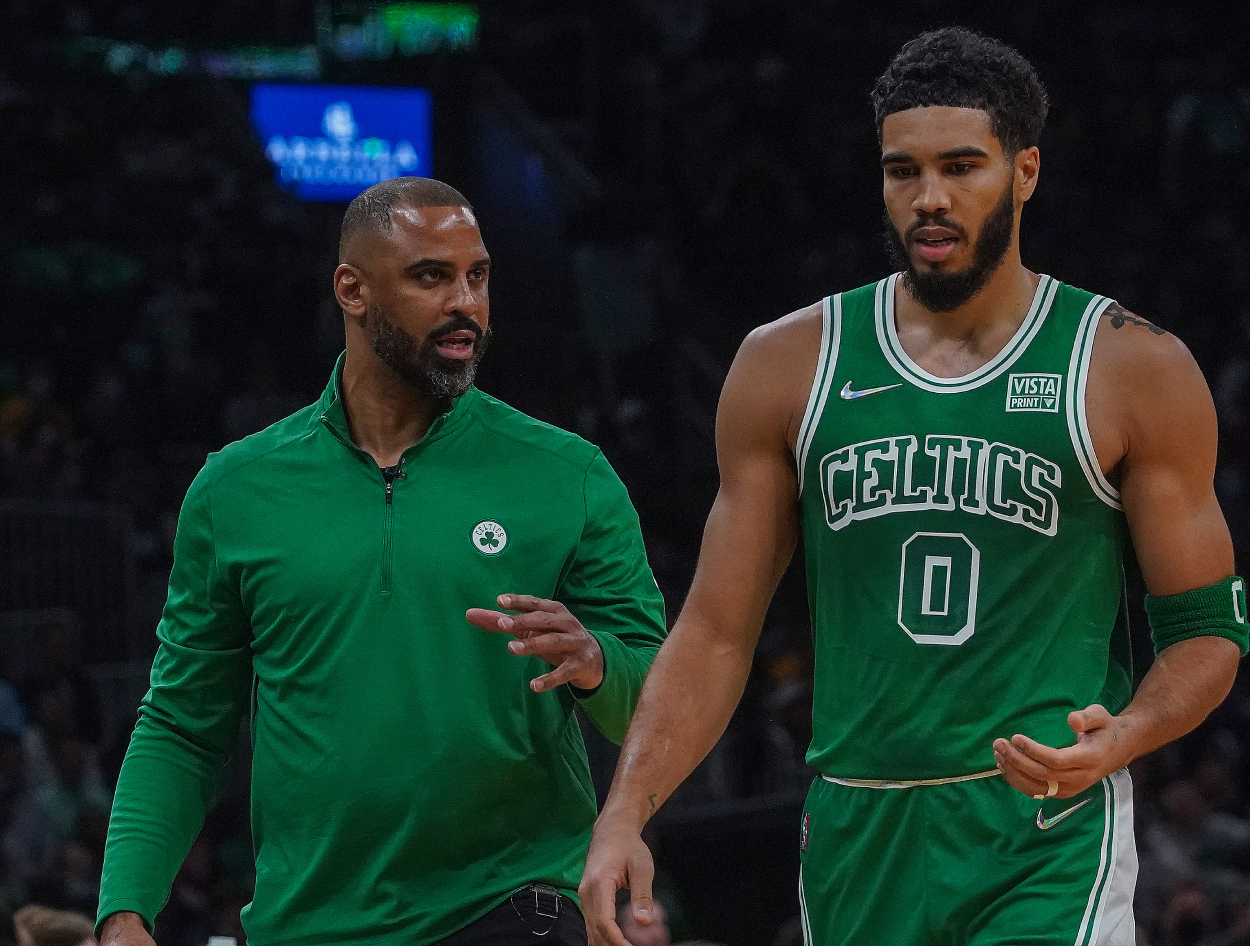 The Celtics are short-handed. They're playing without one of their two young All-Stars as Jaylen Brown remained sidelined with tightness in his hamstring. The Los Angeles Clippers were without one of their top players in Paul George. One team played harder than the other Wednesday night. It wasn't the Celtics who won the effort battle.
The result was a 114-111 Clippers victory. Boston's loss came on the heels of an ugly 117-102 defeat suffered at the hands of the LA Lakers after another lackluster performance. These occurrences are all too common for the Celtics this season.
In the second game of the season, Celtics star Jayson Tatum mentioned the team's lack of effort after a loss to the Toronto Raptors in the home opener.
"We know why we lost," Tatum said then, according to Mass Live. "They just played harder than we did, played tougher. It wasn't rocket science. We're all professionals. We're all adults. We understood what had happened." 
Boston Celtics coach Ime Udoka frustated by his team's 'effort and inconsistency'
After road losses to the Lakers and Clippers on consecutive days, Udoka wasn't too happy.
"A little disappointed as far as I felt we were out hustled, out-toughed a little bit," Udoka said of the performance against the Lakers, per Mass Live. "They wanted to put their head down and get to the basket, and they did too easily.
"So it hasn't happened in a long time, so I told the guys, a blip on the radar, but we need to get back to it tomorrow and we got a chance to. So that part was disappointing as far as them really wanting to put their head down and get to the basket, get whatever they wanted as I mentioned. And so we said obviously we're better than that defensively, we've shown that. The effort and lack of toughness showed a little bit tonight."
Against the Clippers, it was deja vu.
"We only played a quarter and a half," Udoka said, according to ESPN. "Gifting them points, that is the frustrating part. The turnovers (22) were enough of a gift.
"The effort and inconsistency is frustrating at times."
Udoka might be a part of the Celtics' problem
So how long does the effort problem have to go on before something is done? NBA players don't often appear to go all out throughout the game, but we've now heard Boston's opposition has played harder multiple times.
Against the Lakers, Udoka had a feeble attempt at some form of disciplinary action by yanking Tatum, Al Horford, and Marcus Smart with 5:21 and his team down 104-89. After the game, he said he wasn't throwing in the towel on the game. He just didn't like what he saw out there.
"Obviously, the back-to-back played into it, but that unit, there was no spark there," Udoka told reporters after the game, per NESN. "It's just a feel that there wasn't much there offensively, defensively, all night that was the case. It wasn't like we were scoring great with that group anyway, so we wanted a spark there."
Again, no spark and no hustle.
Udoka needs to send a message, not with the game out of hand and with five minutes to go. The lack of effort has been an issue since game No. 2, and he needs to do something about it. Pull Tatum in the first quarter. Sit Smart, although he's usually the one going all out.
Udoka needs to make a change or send a message. If he doesn't, Boston's lack of effort is on him.