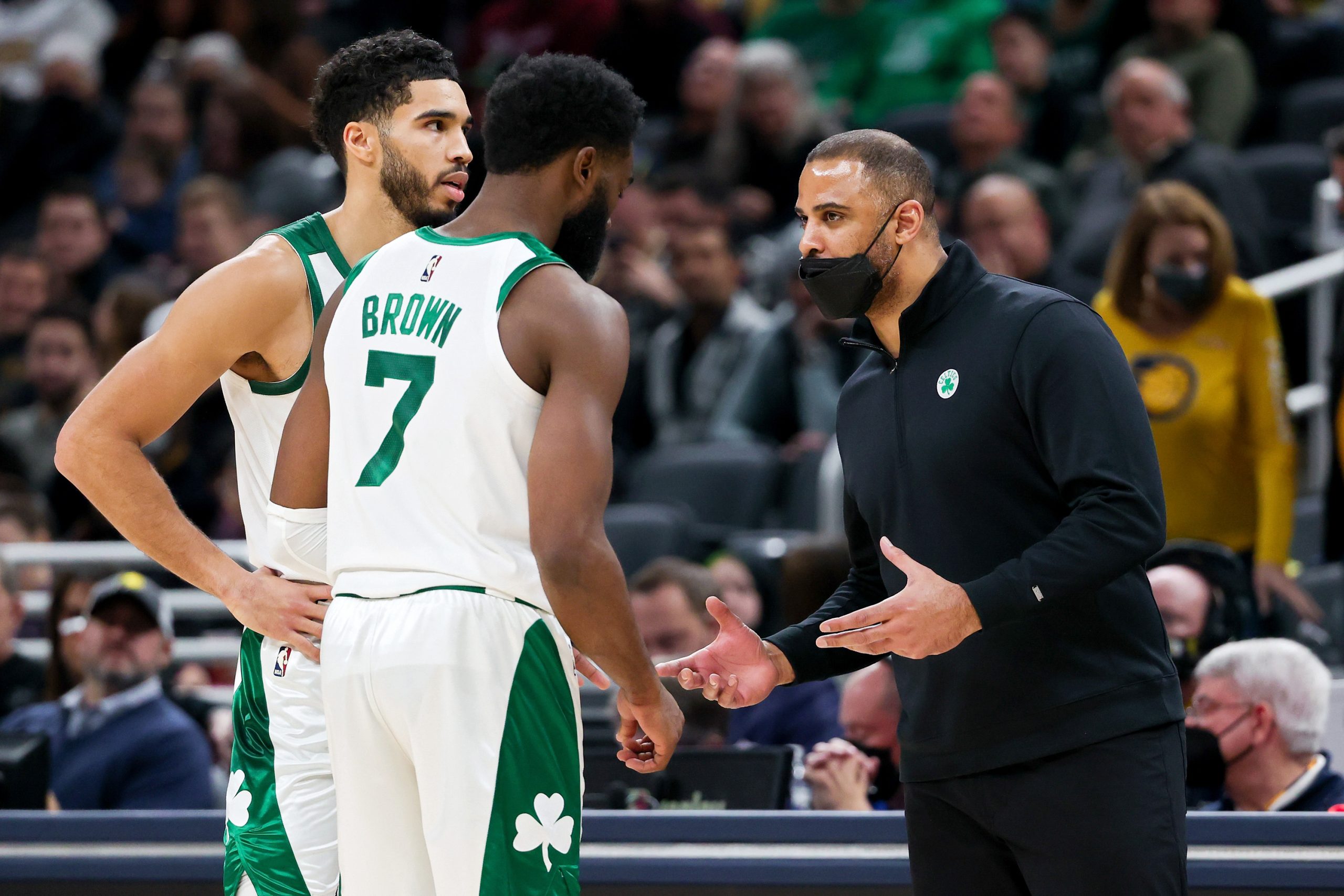 Ime Udoka Joins Marcus Smart in Pinpointing the Key to Success for the Boston Celtics
Ime Udoka echoed Marcus Smart's comments from November about what makes the Boston Celtics a better team.
Maybe Marcus Smart was right. Earlier this season, the Boston Celtics guard called out stars Jayson Tatum and Jaylen Brown for not passing the ball. Prior to Saturday's game against the Chicago Bulls, Celtics coach Ime Udoka made a similar reference, signaling that, although publicly calling out his teammates probably wasn't the best way to go about it, Smart was correct.
Ime Udoka and the Boston Celtics rallied to knock off the Chicago Bulls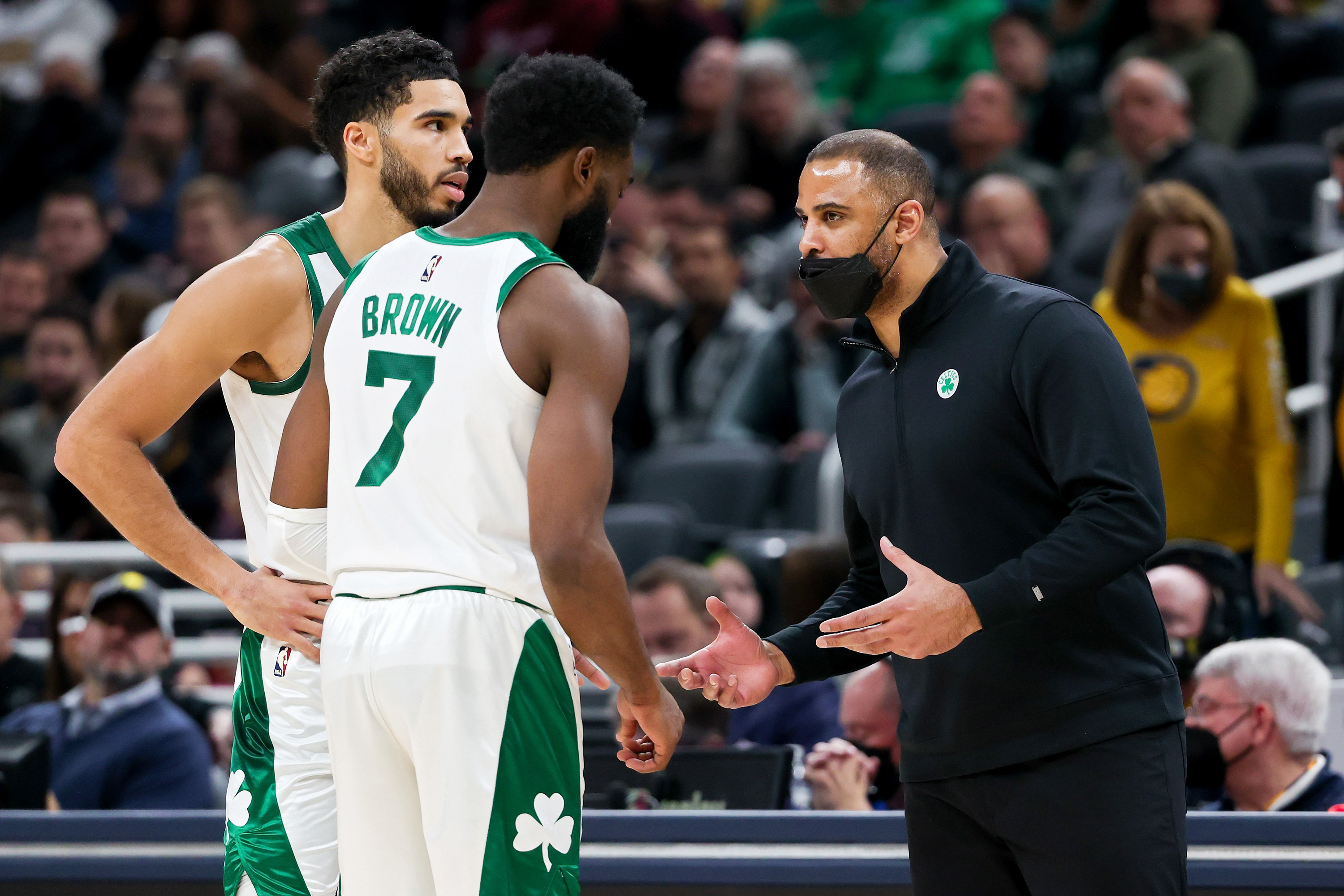 In what has been an up-and-down season filled with more downs than ups, the Celtics were on the right side of a close game Saturday night. Close games have usually gone the other way for the Celtics but not this time. The Celtics scored the final eight points of the game in defeating the Bulls 114-112.
"We've been in a lot of tough games like this, and the guys have been growing from it," Udoka said after the game, per ESPN. "To the credit of our guys, they got down a little bit and never hung their heads, continued to fight, and dug their way back out of it."
The game was a far cry from their last meeting at TD Garden when the Bulls rallied from 19 points down in the second half to stun the Celtics. That first meeting prompted Smart to publicly call out Tatum and Brown during the postgame press conference.
"Every team knows we're trying to go to Jayson and Jaylen," Smart said postgame, per CLNS Media. "Every team is programmed and studied to stop Jayson and Jaylen. I think everybody's scouting report is to make those guys pass the ball. They don't want to pass the ball.
"That's something that they're going to learn. They're still learning. We're proud of the progress they're making, but they're going to have to make another step and find ways to not only create for themselves but create for others on this team to open up the court for them later down in the game."
Ime Udoka echoed Marcus Smart prior to Saturday's meeting with the Bulls
Before the Bulls game Saturday, Udoka spoke about what makes the Celtics a better team. His comments were very similar to what Smart said back in early November. His comments took place a day after getting thumped by the Philadelphia 76ers after they had rattled off three straight wins, including two against the Indiana Pacers.
A reporter asked Udoka what he had hoped to see in Saturday's upcoming game against the Bulls.
"More of what we saw in Indiana and less of last night," he said, per CLNS Media. "We looked at the numbers, and obviously, you can see it and feel it, but (Thursday was) one of our least-efficient ball-movement nights. The Indiana game, that was obviously a little bit surprising and we want to get back to what we did well in that game.
"When the ball moves, obviously we are a different team. It's easier for our guys to get going, and we'll just continue to build on that."
In that Indiana game, the Celtics cruised to a 119-100 victory. Brown led the Celtics with 34 points, while Tatum finished with 33.
Udoka also said he hoped Tatum and Brown would become more complete players
Tatum and Brown had big nights in that Indiana victory. It was also a rare night where they both shot well from the floor. The two stars each made 11 of 19 field-goal attempts. They were a combined 11-for-20 from 3-point land. More importantly than the scoring, the two had well-rounded games, something Udoka has stressed they need to do more often.
"The main goal coming into this season is to get them to do more than just score," Udoka said Friday. "At times, we've looked really good doing it. Other times, they get rattled and kind of revert back to some things that make us less successful.
"Whether it's referees or getting caught up in individual matchups, whatever the case may be, or scoring in general. They take the onus on themselves at times. I think just being consistent as far as that and not reverting back to some old habits. That's the challenge every night and an area they've grown. We've seen flashes. Now it's just putting it together more often than not."
Although Brown and Tatum didn't shoot all that well against the Bulls, going a combined 16-for-43, the ball was moved around all night long. All five starters scored in double figures with Tatum leading the way with 23 and Brown adding 19. Dennis Schroder finished with 16, Al Horford 15, and Robert Williams 14.
Smart sat this one out because he is in the league's health and safety protocols, but it appears he and Udoka are clearly on the same page.