Marcus Smart Sets Record Straight On His Relationship With Jaylen Brown
As the Boston Celtics continue through their roller-coaster season, veteran point guard Marcus Smart wanted to set the record straight. It had nothing to do with heart, effort, or even wins and losses. Much has been made of the turmoil in Boston this year, highlighted by Smart calling out All-Star teammates Jayson Tatum and Jaylen Brown earlier this year. Smart recently spoke specifically about his relationship with Brown, making a point that what you often hear isn't necessarily the truth.
Marcus Smart isn't one to hold back his thoughts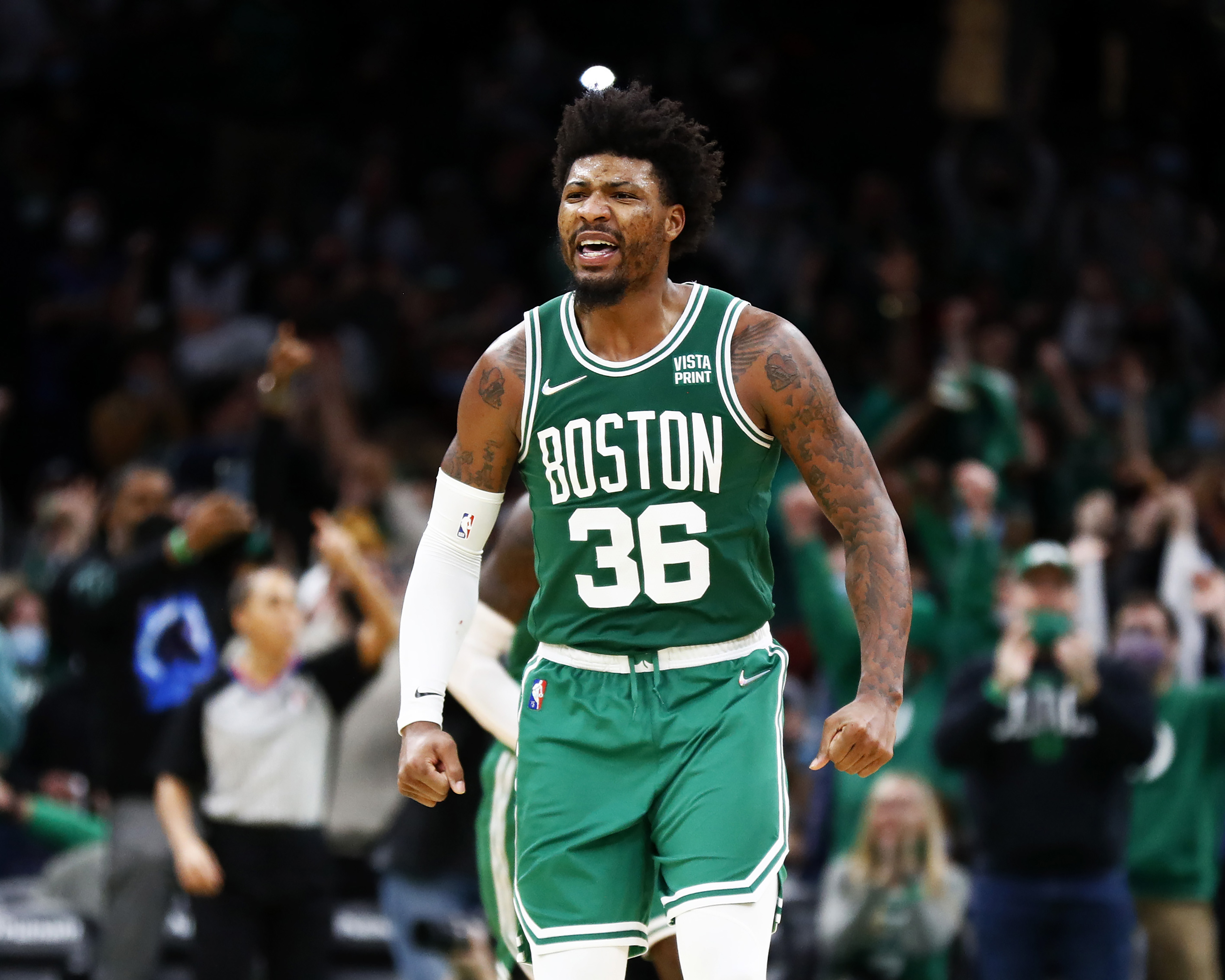 Smart is the guy teams need in the locker room and on the basketball court. He's fiery. He's the guy diving for the loose balls and drawing the charge. With Smart, effort is never questioned.
Those same characteristics, however, can get Smart into trouble. He demands the same type of intensity from his teammates. He'll call them out. Smart wasn't afraid to publicly criticize Tatum and Brown earlier in the season.
"Every team knows we're trying to go to Jayson and Jaylen," he said postgame via CLNS Media. "Every team is programmed and studied to stop Jayson and Jaylen. I think everybody's scouting report is to make those guys pass the ball. They don't want to pass the ball.
"That's something that they're going to learn. They're still learning. We're proud of the progress they're making, but they're going to have to take another step and find ways to not only create for themselves but create for others on this team to open up the court for them later down in the game."
Smart seemingly took a shot at first-year head coach Ime Udoka and the Celtics' game plan.
"There's only so much I can do without the ball in my hands and just stand in the corner," he said. "We're running plays for our best players, and every team knows that. They do a great job of shutting that down. When they shut that down, we can't keep trying to go to those guys."
Marcus Smart gets candid about his relationship with Jaylen Brown
On Sunday, Brown netted a career-high 50 points in an overtime win over the Orlando Magic. Brown carried the load as Tatum was sidelined by the league's COVID-19 health and safety protocols. The Celtics had to work a little harder without Tatum and it resulted in a 116-111 victory with Brown carrying much of the load.
As quickly as Smart called out Brown for not passing the ball months ago, he was just as quick with his praise after Sunday's performance. He also went out of his way to speak about his relationship with Brown.
"The growth with JB is very real," Smart said via CLNS Media.
"I think we've all witnessed — I've been here for the whole part of it, his journey. I know it might not seem like it, but me and JB are closer than people probably think. We talk all the time, constantly, just trying to keep his confidence."
The Smart/Brown relationship has been no stranger to conflict. Even before Smart called out Brown and Tatum, there was an instance after Game 2 of the 2020 NBA Eastern Conference Finals against the Miami Heat when the Smart and Brown had an incident in the locker room.
Sources told The Athletic that the two had to be separated by teammates after a heated confrontation when the Celtics found themselves down 2-0. the two had a "tense interaction" with objects thrown. One source later said, "They will move past this and focus on the task."
The Boston Celtics look to get back to .500
A victory over the San Antonio Spurs at home Wednesday would put the underachieving Celtics back at the .500 mark. Boston hasn't seen .500 since Dec. 22 when it defeated the Cleveland Cavaliers to improve to 16-16. After defeating the Cavs, Boston lost three straight to fall to 16-19 but is now seeking its third straight win after beating the Phoenix Suns and the Magic.
The biggest part of Sunday's game for Boston wasn't that Brown netted 50 points. It was that the Celtics won back-to-back games for the first time since posting wins on Nov. 28 and Dec. 1.
"We needed to win, Brown said, according to ESPN. "No way we could have lost this game. It wouldn't have been good."
Smart echoed those sentiments, saying even though they won ugly,they'll gladly take it.
"We let the game come to us," Smart said. "It wasn't pretty. It was a little ugly. But we came out with the win and that's because we kept our composure and we kept with it."
The Celtics have underachieved all season. Maybe they can get back over the hump against the Spurs and turn their ugly season around.