Ime Udoka's Recent Flip-Flop Suggests Trouble in Paradise for the Boston Celtics
Ime Udoka hasn't had the best of starts in his first season as head coach of the Boston Celtics. Heading into Wednesday night's matchup against the Toronto Raptors, the Celtics haven't won a home game. They are off to a 4-6 start, and there's been some trouble brewing in Boston.
Marcus Smart publicly called out his teammates last week. Jayson Tatum didn't speak with the media for days after it. Now, Udoka's recent change of plans hints that all is not well with the Celtics.
Ime Udoka and the Boston Celtics seek their first home win of the season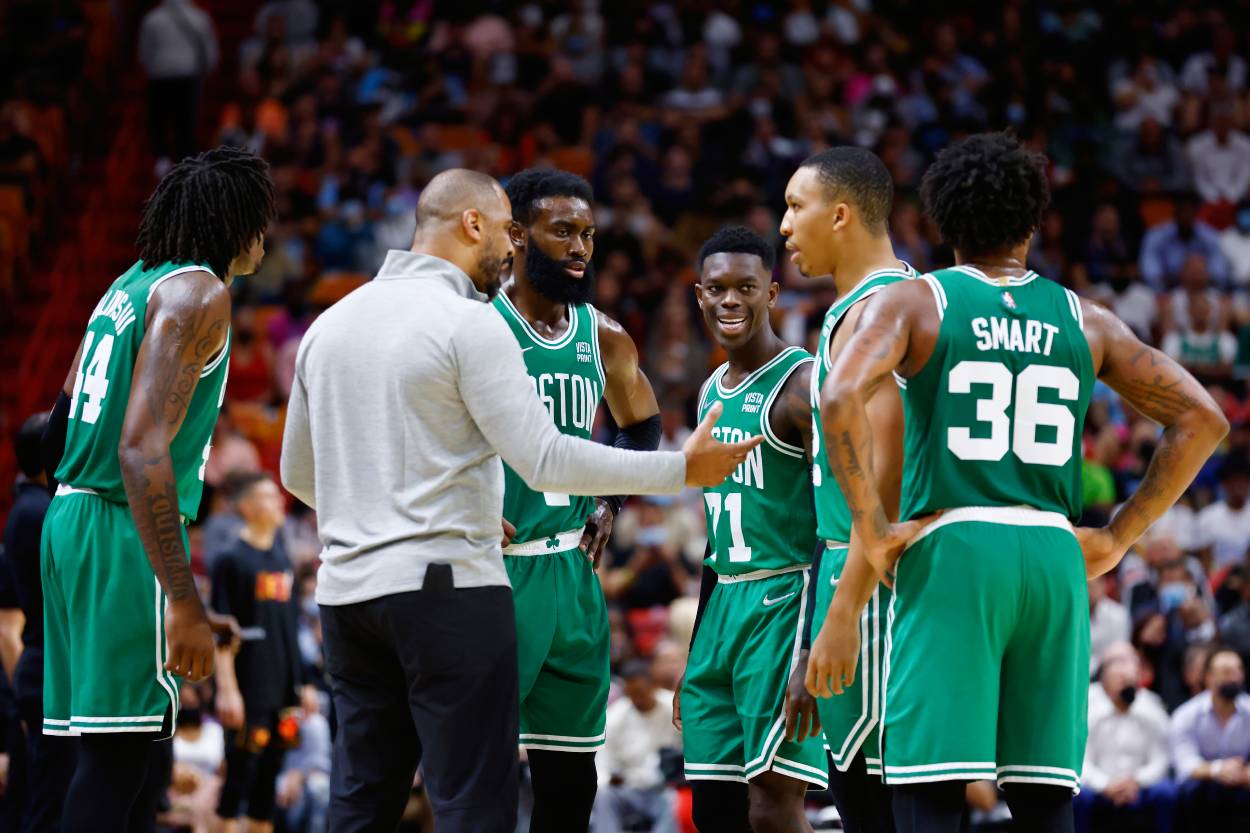 The Celtics are 0-3 at TD Garden this season. All three of those games have been ugly, but it was the first one against the Raptors that set the tone for the ugly beginning in Boston.
The Celtics were humiliated in their own building, losing 115-83, but it was the comments from Tatum, their supposed leader, after the game that opened some eyes.
"We know why we lost," Tatum said, according to Mass Live. "They just played harder than we did, played tougher. It wasn't rocket science. We're all professionals. We're all adults. We understood what had happened." 
It was disturbing that two games into the season the Celtics' top player was admitting there was a lack of effort with his team.
In their last home game against the Chicago Bulls, they blew a 19-point lead late in the third quarter and lost by 14. That's when Smart called out Boston stars Tatum and Jaylen Brown.
"Every team knows we're trying to go to Jayson and Jaylen," he said postgame, per NESN. "Every team is programmed and studied to stop Jayson and Jaylen. I think everybody's scouting report is to make those guys pass the ball. They don't want to pass the ball."
Ime Udoka's recent flip-flop may indicate some troubles with the Boston Celtics
Udoka is only one part of a massive change for the Celtics this year. Danny Ainge resigned as the team's president of basketball operations after 18 years of being in Boston's front office. Brad Stevens replaced Ainge, leaving the head coaching job open. Stevens then hired Udoka, who spent last year as an assistant with the Brooklyn Nets.
Since the 2014-15 season, the Celtics have not had a team captain. Rajon Rondo was the last player to be named a captain in Boston. Udoka said that was going to change.
After the fourth practice of the preseason, Udoka addressed the issue.
"We've talked about it; I've talked about it with the staff," Udoka said, per Mass Live. "You got guys who have been here, the core guys, with Marcus, Jaylen, Jayson, they've been here forever. But you got a guy like Al who's coming back and is a veteran presence, veteran voice that they all respect and listen to.
"We're going back and forth on that. You can't have four team captains but it's something that we'll pick and choose and we know some of the guys off the top that everybody respects and listens to."
Now, those plans have changed. Whether it's because of all the turmoil or a simple change of heart, Udoka said Tuesday that naming a captain is in the "rearview."
"They all (lead) in different ways," Udoka said Tuesday. "Jayson is a guy who does it on the court every day here, maybe not as vocal as other guys but Al (Horford) and Marcus do it in their own way, and Jaylen brings some as well."
Udoka's change of heart can only make Celtics fans wonder
Ten games into the season and the Celtics are a mess. Is there a true leader on the team? Is the chemistry and ego situation so bad that if two players are named captain that other players may throw a fit? It's a bizarre change of plans for Udoka during a rough patch for the team that will raise those questions.
The four likely candidates for captains would be Tatum, Brown, Smart, and Horford. Tatum and Brown are the cornerstones of the team. Smart has been there the longest and is Boston's most intense player. Horford is the savvy veteran in his second stint with the team.
Smart didn't seem overly concerned about not having a captain.
"It's just a title; anybody can be a captain," Smart said, according to Mass Live. "We're all captains out there. We lead and we show our captainism in different ways. I don't think it was a problem last year because we didn't have captains. We're all grown here. Gotta go ahead and do your job, plain and simple."
The Celtics remain a mess. A captain or two won't likely cure Boston's woes. They need to string a few wins together to fix their problems.