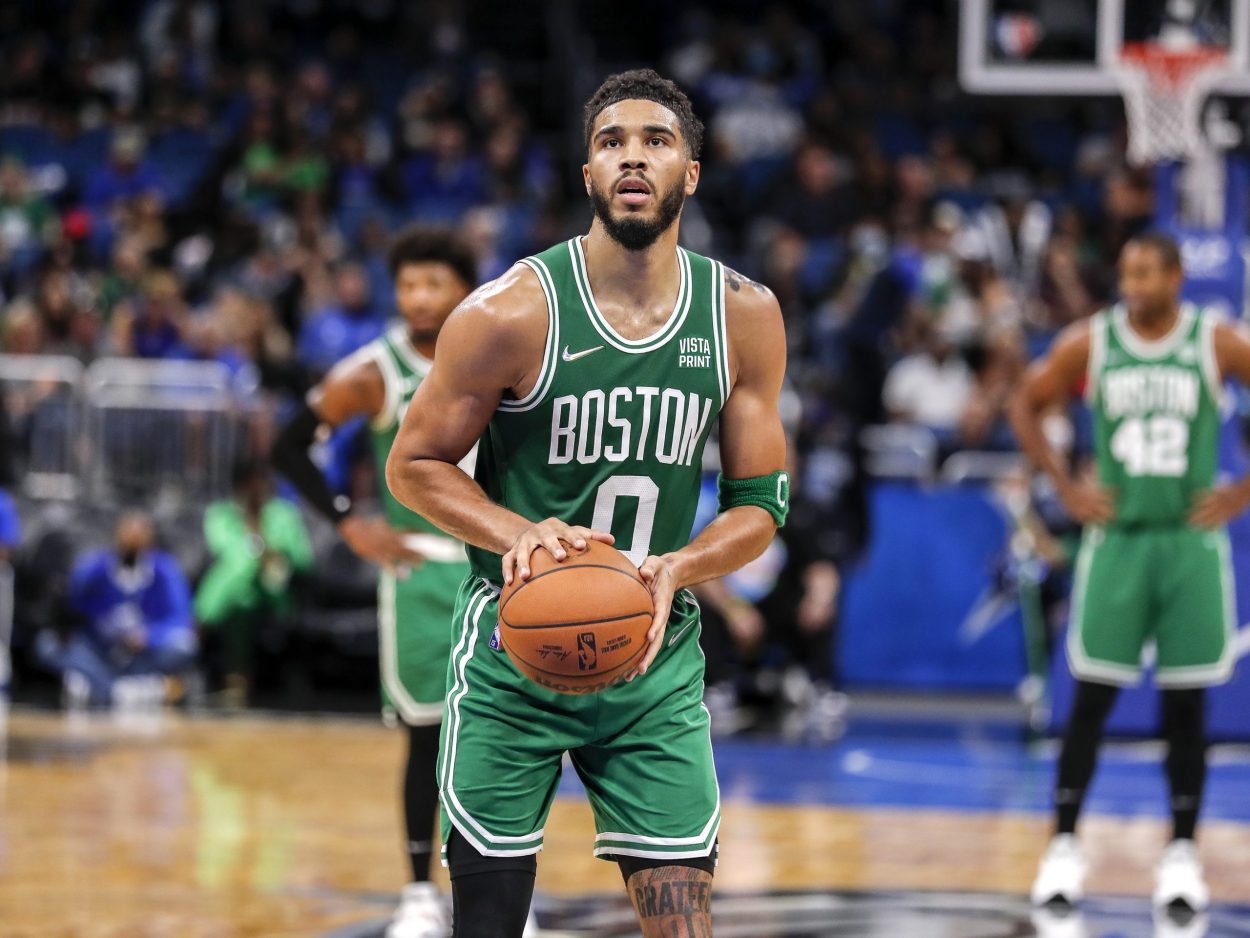 Jayson Tatum Gets Real About Using Recent Struggles to Inspire Celtics Fans and Power Through Tough Moments: 'It's Always Internal and Me Trying to Be as Great as I Want to Be'
Boston Celtics star Jayson Tatum is not hiding from the team's slow start. He spoke openly about embracing adversity and being transparent regarding the ups and downs of being a star athlete.
Boston Celtics star forward Jayson Tatum does not dwell on the negatives, per se, but he is hoping to use his early-season struggles as a means of inspiration.
Tatum spoke over the weekend about embracing adversity and acknowledging that even star athletes go through challenging periods. He hopes Celtics fans can respond similarly when enduring tough times.
Jayson Tatum and the Celtics are struggling early in the 2021-22 NBA season
The Boston Celtics made it to the Eastern Conference Finals during the 2019-20 season, but somehow it feels as though that happened ages ago.
The Celtics are 11th in the Eastern Conference after a 4-6 start to the season. Losing is frustrating enough. But Boston is also grappling with some internal turmoil. Marcus Smart called out Jayson Tatum and Jaylen Brown after a stunning loss at the hands of the Chicago Bulls last week, eventually prompting a "players only" meeting.
Smart appeared to take issue with Tatum's and Brown's offensive approaches and the number of shots they've been taking. Indeed, Tatum is averaging a career-high 22 field-goal attempts through 10 games, and the results aren't very pretty. The 23-year-old is averaging 23.6 points, but he's shooting below 40% from the field.
Tatum had one of his best games of the season on Nov. 6 against the Dallas Mavericks, scoring 32 points on 12-of-19 shooting, also adding 11 rebounds. But the Celtics came up short after Luka Doncic hit a buzzer-beating three.
The former Duke star isn't hiding from the difficulties Boston is facing. Instead, he wants to highlight individual and collective struggles to motivate and inspire.
Tatum opened up about using his "platform" to showcase the difficulties of being a star athlete
Jayson Tatum likely understands that Celtics fans are frustrated as the team continues to labor. No doubt the fifth-year forward wants to turn the corner in a hurry.
However, Tatum is not trying to belittle the situation.
After the Nov. 6 loss to the Mavericks, reporters asked Tatum about his recent social media posts, many of which indicated a need for perseverance. He said the posts speak to a desire for stability in terms of mindset and outlook.
"I understand that I got a platform," Tatum said, via Jared Weiss of The Athletic. "I have been who I am, and a lot of people look at what I say and what I do. I think addressing, not always just the 60- and 50-point games and those big moments, you're favorite player struggles. They miss shots, they go in slumps. Understanding that I'm gonna figure it out."
The Celtics star added that he wants to be honest with himself and not allow outside narratives to determine the course of his season.
"It's always internal, and me trying to be as great as I want to be, you go through tough times. But not to ever shy away from it. You've got to be the same person when you're scoring 60 and the same person when you're 3-of-15 and you're losing a couple games and everybody's looking at you."

–Jayson Tatum, via The Athletic
Tatum's message is valuable, especially with so many more athletes being more outspoken about mental health. It's all the more important considering he is just 23 years old.
Still, while Tatum and his Celtics teammates try to build momentum, there's no question Boston needs him to take a leap forward.
Will the Celtics turn things around?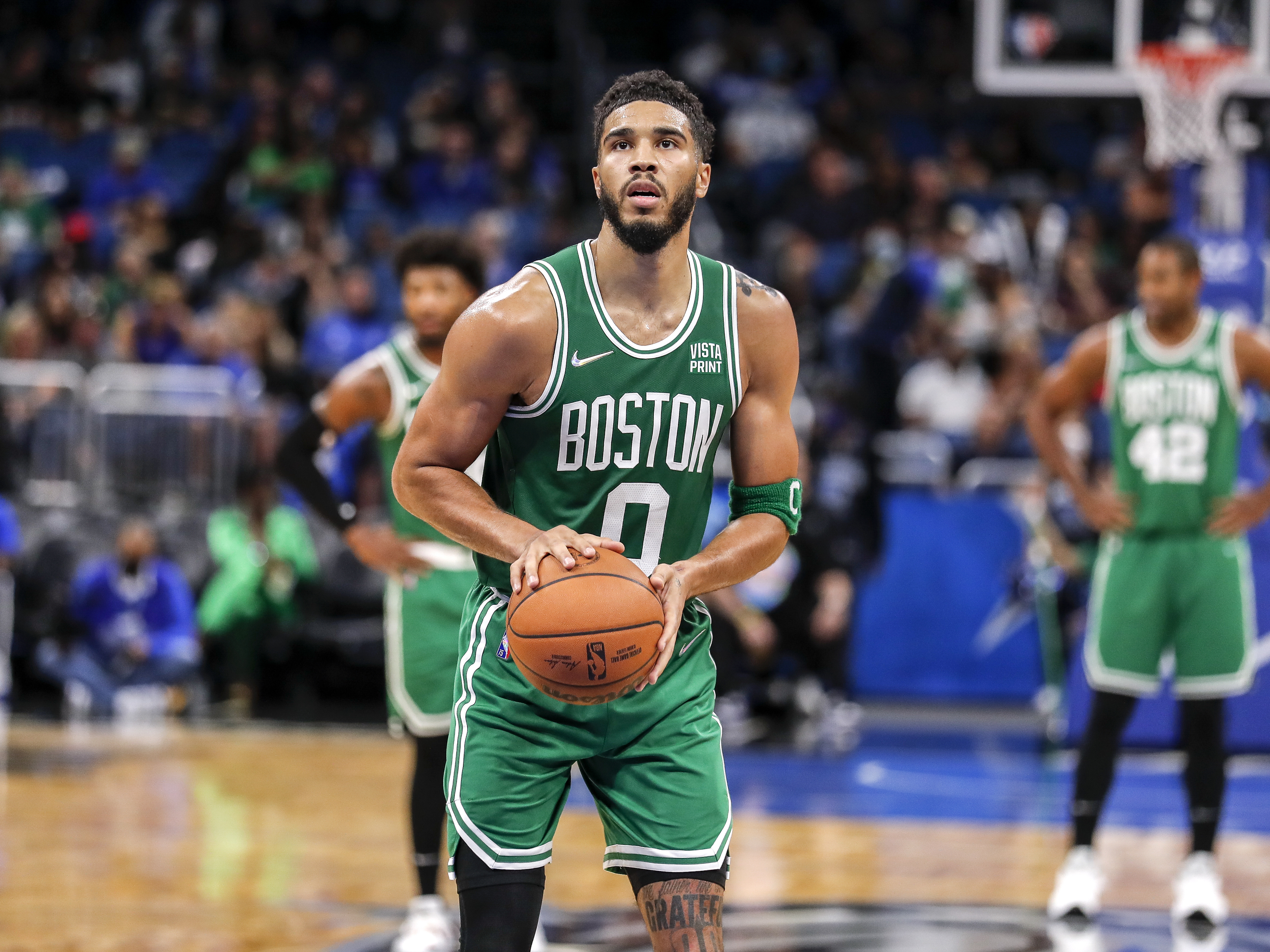 Although the Celtics are laboring, there are reasons to be encouraged.
Brown is playing like a star and scoring the ball efficiently. The frontcourt of Robert Williams and Al Horford poses an issue for opposing teams at the rim, with Horford serving a critical role as a viable playmaker and Williams hunting opportunities as a rim-runner.
What needs to change? Well, Tatum can undoubtedly be more consistent. The same can be said of Smart, who is shooting the ball poorly and has looked like less of a playmaker than Dennis Schroder.
Ultimately, as Tatum said, every member of the C's should be accountable for themselves and one another. It might be the only way Boston can turn right the ship.
Stats courtesy of Basketball Reference.