Jayson Tatum Just Received the Same Advice a Young Kawhi Leonard Got From Ime Udoka, and It's Paying Off
Boston Celtics star Jayson Tatum recently got some advice from coach Ime Udoka, and it could pay dividends the rest of the season.
The Boston Celtics need some fire. Effort has been an issue this season, as has team leadership. The Celtics are fresh off an ugly road trip that saw them lose four of five, including the last three. In their first home game in nearly two weeks, things appeared to go unchanged as the Milwaukee Bucks built an early 12-point lead. For the final three quarters, however, Boston took charge, and it may have had a little something to do with some advice first-year head coach Ime Udoka gave to his star player, Jayson Tatum.
Jayson Tatum and the Boston Celtics are back home again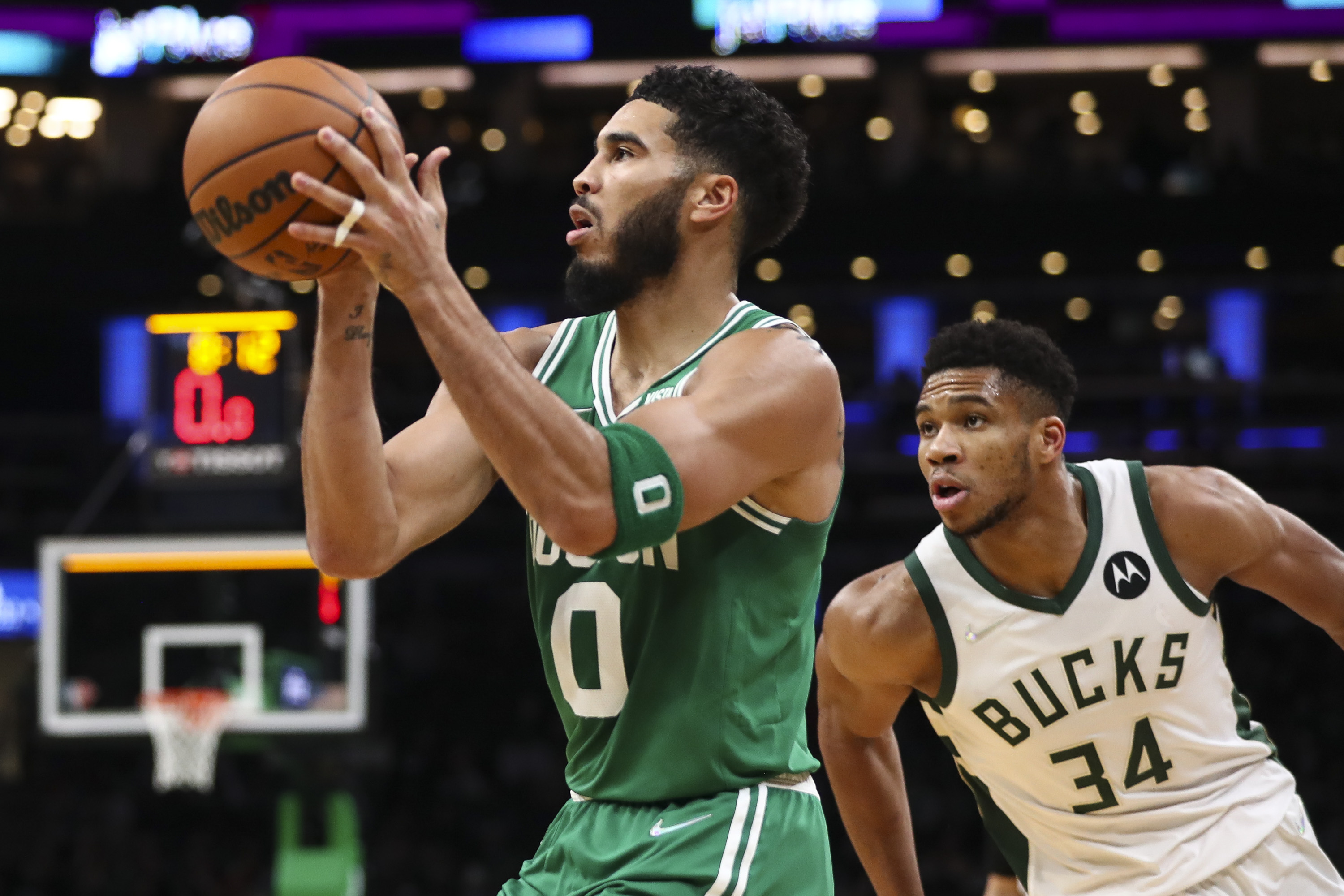 The Celtics haven't played a game at TD Garden since Dec. 1, and they desperately needed some home cookin'. They hadn't tasted victory since the second game of their West Coast swing when they trounced the Damian Lillard-less Portland Trail Blazers on Dec. 3. After that, they were dealt losses by the Los Angeles Lakers, LA Clippers, and Phoenix Suns.
Heading into Monday's game with the Bucks, the underachieving Celtics were a game below .500 at 13-14. Boston trailed 30-21 after the first quarter and was down 12 at one point in the first half.
Tatum got hot down the stretch. The two-time NBA All-Star netted 16 of his game-high 42 points in the fourth quarter of Boston's 117-103 win.
"He had it going," Bucks guard Jrue Holiday said, per ESPN. "He got a couple of wide-open 3s. It was just some rhythm stuff."
The Bucks game was the first of five straight at home for Boston.
Jayson Tatum got the same advice a young Kawhi Leonard got from Ime Udoka
In his first year as head coach of the Celtics, Udoka hasn't gotten the warmest of welcomes. He has two young All-Stars, but the team continues to be mired in mediocrity. In the first two months of the season, Tatum has mentioned the lack of effort. He's been called out by Marcus Smart for not passing the ball. It's been a rough go for the man who spent the first eight years of his coaching career with the San Antonio Spurs.
With the Spurs, Udoka worked with Leonard, who began his NBA career in the 2011-12 season and spent the first seven years in San Antonio. Leonard, a mild-mannered star, who was average at best in his first four years, finally turned things up a notch.
He became a more forceful, more passionate player. In the 2015-16 season, he made the first of his five All-Star appearances. The change in his game may have been the result of a little talk from Udoka. Tatum recently got that same talk, and it worked wonders in the final three quarters of the Celtics' win over the Bucks.
"I told him, 'These guys aren't your older brother, don't treat them like that,' and he took it to heart," Udoka said, according to The Boston Globe. "It's across the board. Our group, we know what we have to do to be effective, and if my guys know me I'm the most competitive guy and I want to see that reflect on you guys."
Udoka has had a problem with Boston's physicality
The Celtics aren't considered a tough team, and that concerns Udoka. He wants them to have more of a physical presence, and that was the focus of a film session Sunday.
"We didn't like some of our lack of physicality," Udoka said after Monday's win, per The Boston Globe. "We talked about that and I said 'I'd rather you guys put somebody on their ass or get into it with somebody than let guys waltz down the lane.' We knew Giannis and other guys were going to be aggressive tonight and we needed to fight back and get back to who we were at the start of the year and I welcome that."
Udoka also welcomed the return of Jaylen Brown after sitting out with a hamstring strain. Having the two All-Stars in the lineup certainly won't hurt.
Although Boston's next four games are at home, it's a brutal stretch. The Celtics will face the Golden State Warriors, New York Knicks, Philadelphia 76ers, and the young and talented Cleveland Cavaliers.
With Brown back in the fold and Tatum taking charge as he did against Milwaukee, maybe the Celtics can finally pull away from that .500 mark.