Jayson Tatum Receives Flattering Message From Boston Celtics Legend After Impressive Stretch
The Boston Celtics are snapping out of their early-season funk. Winners of four of their last five games, the Celtics have improved to 10-8 after a dismal start. Leading the charge has been Jayson Tatum, who has gone for 30 points or better in each of his last four games. After an impressive four-game stretch, Tatum received a flattering message from a Celtics icon.
Jayson Tatum guiding the way for the Boston Celtics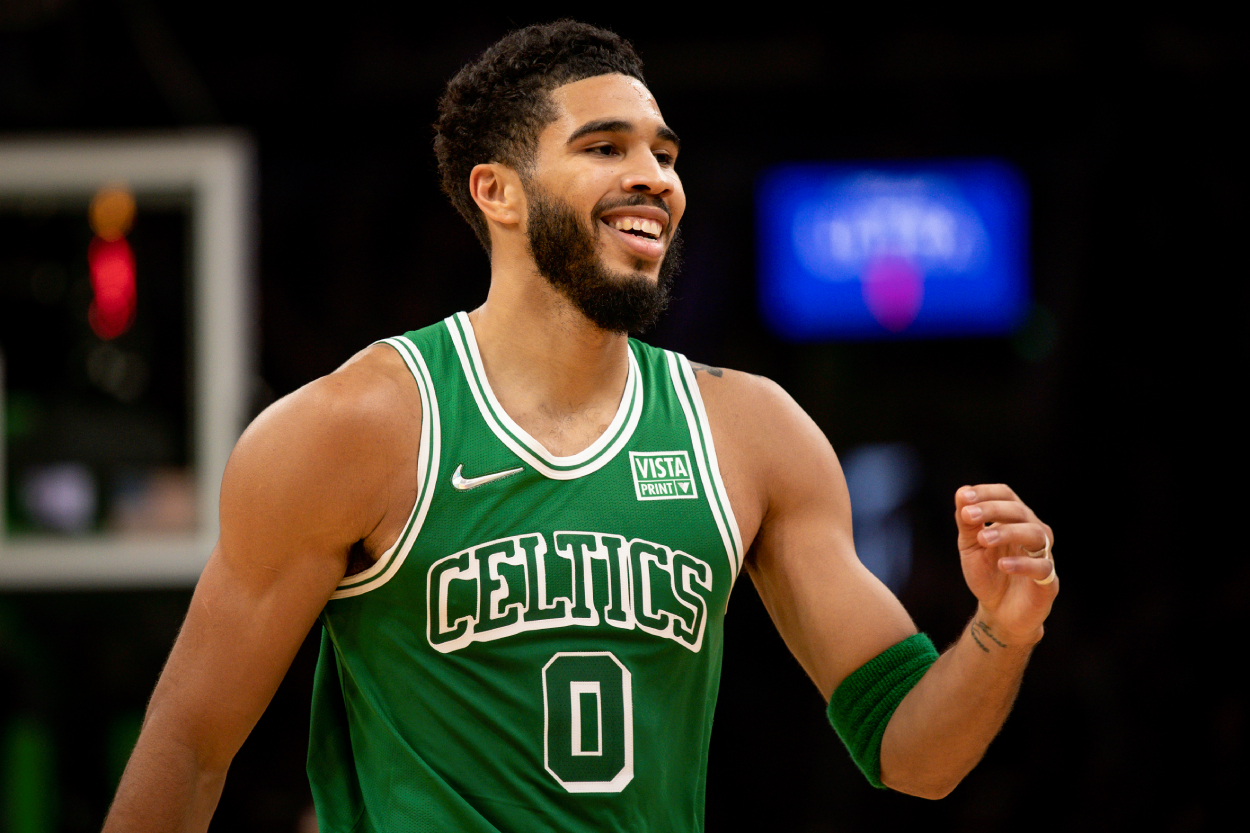 The struggles were real for the Celtics in the early part of the season. Boston failed to win a game at TD Garden in its first three attempts as the Celtics began the season with a 2-5 mark. Tatum took some heat after losing to the Toronto Raptors in their home opener and saying the team didn't play as hard as the Raptors.
"We know why we lost," Tatum said, according to Mass Live. "They just played harder than we did, played tougher. It wasn't rocket science. We're all professionals; we're all adults. We understood what had happened." 
In another ugly home loss, this time when they blew a 19-point lead in the third quarter to the Chicago Bulls, Tatum and Jaylen Brown were called out by teammate Marcus Smart. Since then, the Celtics have gone 8-3.
Tatum has been a different player during that 11-game stretch. He's been more active in going to the basket, allowing him to get to the free-throw line more often. He's been more active on defense. Tatum has racked up 34, 37, 33, and 30 points in his last four games.
Jayson Tatum gets high praise from Celtics legend Bill Russell
On Friday against the Los Angeles Lakers, Tatum's play overshadowed the return of LeBron James, who came back after missing eight games with an abdominal strain. Tatum and the Celtics, despite trailing by eight after the first quarter, dominated the rest of the way. Boston cruised to a 130-108 victory with Tatum pouring in 37 points and pulling down 11 rebounds.
He played that game in front of former Celtics stars Bill Russell and Paul Pierce. The moment was surreal for Tatum.
"It's a surreal moment, obviously, Bill Russell and the impact he had on the Celtics and the NBA," Tatum said, per ESPN. "Having someone like Paul come to the game and someone I have a relationship with. I remember watching him play. Now he's watching me play, that's crazy."
It got even crazier when Russell himself put out a message to Tatum via Twitter.
"All I'm gonna say is I see you @jaytatum0 keep up the hard work!," Russell wrote in a post that included Tatum's stats during the last week. "It was a treat watching you put up 37 against the Lakers the other night @[email protected] all this in the last 4 games."
Tatum responded to the post, saying, "Appreciate you living legend," while adding a goat emoji.
The Celtics are starting to put it together under first-year coach Ime Udoka
Eighteen games into the season and it's still tough to get a read on the Celtics. The team has battled through COVID-19 issues, injuries, and personnel changes. Boston welcomed the return of Brown during Monday's 108-90 win over the Houston Rockets. Brown had been sidelined the previous eight games with a hamstring strain.
First-year head coach Ime Udoka was happy with the result but not completely satisfied.
"We love what the young guys have done and the other guys have done in those roles, but obviously we want to be whole," Udoka said, according to ESPN. "It's good to get some continuity there to see where we're going to be eventually when we get healthy."
Former Celtics center Daniel Theis, now with the Rockets, said with a healthy Brown and Tatum in the lineup, the Celtics are tough to stop.
"It's almost impossible," Theis said. "You saw when Jaylen had it going, a couple of layups, free throws, and he had two 3s in transition, it's hard. You have to stop them as a team. You can't stop him or Jayson one-on-one."