Bill Russell Once Claimed Basketball Was 'the Most Shallow Thing in the World'
For Bill Russell, basketball got him the glory and the fame. It turned him into a larger-than-life figure. Although the sport put the former Boston Celtics star and five-time MVP of the NBA on a pedestal, it wasn't the most important aspect of his life. In fact, during his playing days, Russell even called basketball "the most shallow thing in the world."
Bill Russell dominated with the Boston Celtics but believed life in the NBA wasn't productive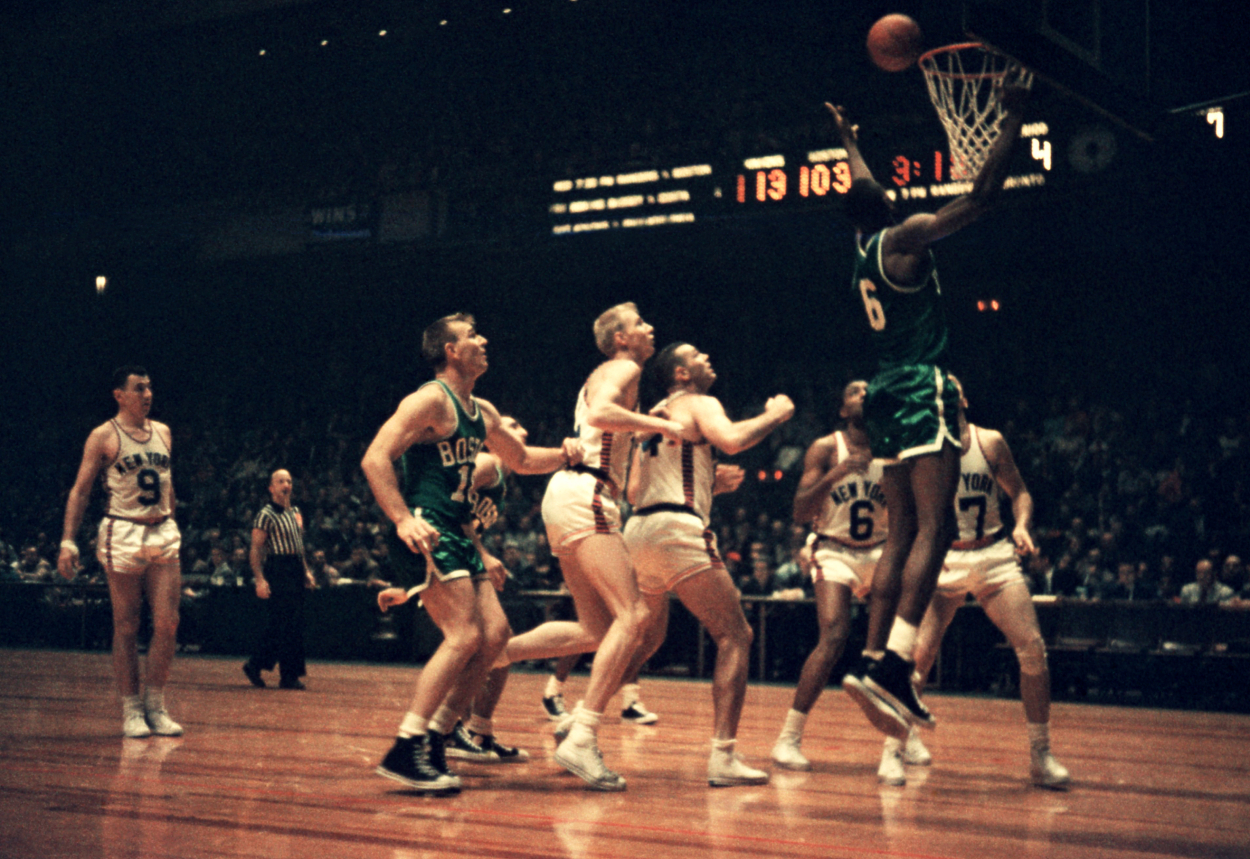 Russell could fill a stats sheet. He also knew how to win. Boston's 6-foot-10 center captured 11 championships in his 13 years as a player for the Celtics. That didn't mean as much to him as it did to others.
"We're a bunch of grown men playing a child's game," Russell said to Sports Illustrated in November 1963. "It's a child's game we've made into a man's game by complicating it. Silly, isn't it? We entertain people for x number of hours during the winter. They may talk about it for a few minutes, maybe an hour; then it's forgotten. Is this a contribution? No. Analyze it — it's a silly game. I'm also a silly man because I enjoy it."
Russell believed people interacted with him simply because he played and excelled at basketball.
"Basketball — that's all people want to talk to me about," he said. "It's a waste because they have nothing to say. I resent people who talk to you and have nothing to say. So I don't say anything. 'How's the weather up there?' 'How are things on Main Street?' That's where I live. What the heck kind of question is that?" 
Despite making a good living, Bill Russell once said basketball was 'the most shallow thing in the world'
Russell was a 12-time NBA All-Star who led the league in rebounding in five seasons. He has more championship rings as a player than he has fingers. He wowed capacity crowds with his dominance. Fans flocked to see Russell vs. Wilt Chamberlain.
None of that mattered to Russell, even when he was playing.
"I don't consider anything I have done," he said, according to Sports Illustrated, "as contributing to society. I consider playing professional basketball as marking time, the most shallow thing in the world." 
He knew basketball was good to him. In fact, he said the sport was probably too good to him, and that was part of the problem.
"One of the saddest things that has happened to me," Russell said, "is that in basketball so many good things have happened to me it's hard to get a real thrill anymore. You know what I get excited about now? When my kids say funny things or I get two new speakers for my stereo, although I had a perfectly good system before that."
Russell used his prowess with the Celtics to help 'make life better' for others
What mattered most to Russell was his accomplishments off the basketball court. At the time, he had three young children. He also experienced high levels of racism. While his celebrity status had him in the spotlight, subjecting him to more racism, he focused on making things better for his children and many other Black kids.
"I've got three kids now, a certain amount of responsibility to them," Russell said. "I also have a certain amount of responsibility to a lot of other kids. I give most Negroes a certain amount of pride. Here's one of our guys doing all right, they say. The world can't be all bad. That contribution is very shallow.
"The contribution I'd like to make as a person — to my kids and little Black kids all over the world — is to make life better, so their ambitions aren't stifled when they face the world, to give them the opportunity to do what they're most skilled at. I could have a burning ambition to give my kids a million dollars. If I gave them that alone, I'd be giving them nothing."
In 1966, Russell became the NBA's first Black head coach and won two more rings with the Celtics. He will be honored as a coach Saturday during his Naismith Memorial Basketball Hall of Fame enshrinement ceremony.
Russell is a Hall of Famer as both a player and a coach, but the big man had a bigger impact off the court.