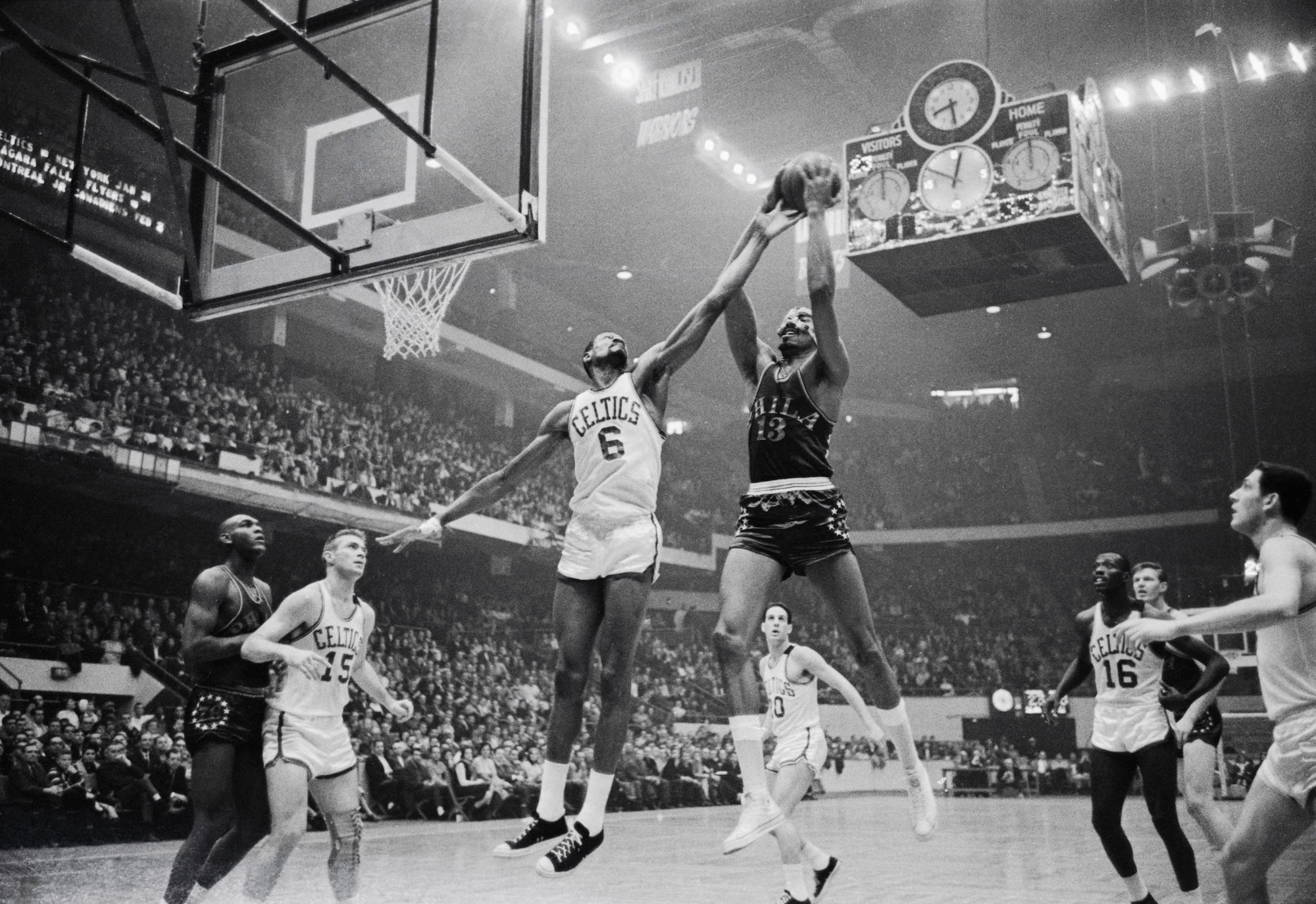 Bill Russell and Wilt Chamberlain Had a Nationwide Competition Nobody Knew About
As any basketball fan can tell you, Bill Russell was one of the greatest players ever to hit the hardwood. The Boston Celtics big man wasn't just an amazing athlete, though. Some of his stories seem like the exploits of 'the most interesting man in the world.' Take, for example, his famous battle with Wilt …
As any basketball fan can tell you, Bill Russell was one of the greatest players ever to hit the hardwood. The Boston Celtics big man wasn't just an amazing athlete, though. Some of his stories seem like the exploits of 'the most interesting man in the world.' Take, for example, his famous battle with Wilt Chamberlain.
While the two big men constantly faced off on the court, their rivalry didn't end there. According to a recent tweet, Bill Russell and Wilt Chamberlain apparently raced their sportscars across the country.
Bill Russell was a serial winner on the basketball court
Purely from a basketball perspective, it's impossible to argue with Bill Russell's resume. While some athletes have impressive individual stats and others have plenty of titles, the Celtics' legend has both.
While Russell started playing basketball relatively late in his youth, he quickly developed into a star. At the Univesity of San Francisco, the big man announced himself to the nation; during his three seasons on the Dons varsity squad, he averaged 20.7 points per game and won back-to-back national titles.
After graduation, Russell entered the 1957 NBA draft. The St. Louis Hawks selected the big man with the second-overall pick but promptly traded him to the Boston Celtics. With that move, Red Auerbach had made basketball history.
As the Celtics boss suspected, Russell proved to be exactly what the club needed to reach the next level. The big man spent 13 seasons in Boston; 11 of those campaigns ended with an NBA championship. While he's most remembered for his imperious defense, the center proved to be a dominant player on both ends of the floor and has rightfully earned a place in basketball's pantheon of greats.
A legendary rivalry with Wilt Chamberlain
During his time in the NBA, Bill Russell wasn't the only dominant big man. Los Angeles Lakers center Wilt Chamberlain was also a legitimate star.
Due to their physical similarities and the dominance of the Lakers and Celtics, Russell and Chamberlain were framed as natural rivals. The former was portrayed as a defensive stopper who had little interest in anything other than winning; the latter was an offensive powerhouse and a larger than life character, boasting about his athletic accomplishments and romantic relationships.
Despite that perception, though, Russell didn't consider Wilt to be his rival. Instead, they were both competitors with the ultimate belief in their own greatness.
"Everybody thought for years and years that we were [rivals] because they projected," Russell said in an Achievement.org interview. "They didn't know either one of us. We were not rivals.  That's what most people did not understand. That's somebody that didn't know either one of us.  We were not rivals. We were competitors, which is a totally different thing, because in a rivalry there's a victor and a vanquished.  Neither one of us fit either side of that.  We were competitors that played the same position in completely different ways.  Both of us had our agendas, and our agendas were to win."
Bill Russell and Wilt Chamberlain raced across the United States
Whether Bill Russell and Wilt Chamberlain were rivals or competitors, their battles weren't confined to the basketball court. According to the Celtics center, the two big men raced across the country.
On Twitter, Jalopnik's Max Finkel publicly wondered what sort of Lamborghini Bill Russell drove in the 1970s. While the Celtics great wasn't tagged in the tweet, he still responded. "[email protected] 400GT," Russell wrote. "If the seat was all the way back I could not touch the pedals."
As if that image wasn't enough, Russell added another detail. Apparently, he used that car to race Wilt Chamberlain across the United States.
"I used to race Wilt in his @Maserati_HQ Ghibli. Don't ask who won, you know the answer," Russell explained on Twitter, taking a playful jab at the late Chamberlain. "Did I mention we raced across country."
Admittedly, it's not 100% clear what Russell meant. Did he and Chamberlain drive across the entire United States in one race? Did they take part in their own Grand Prix, traveling to different cities and racing in different locations "across the country?" Either way, that still sounds like quite the competition.
Stats courtesy of Sports-Reference and Basketball-Reference