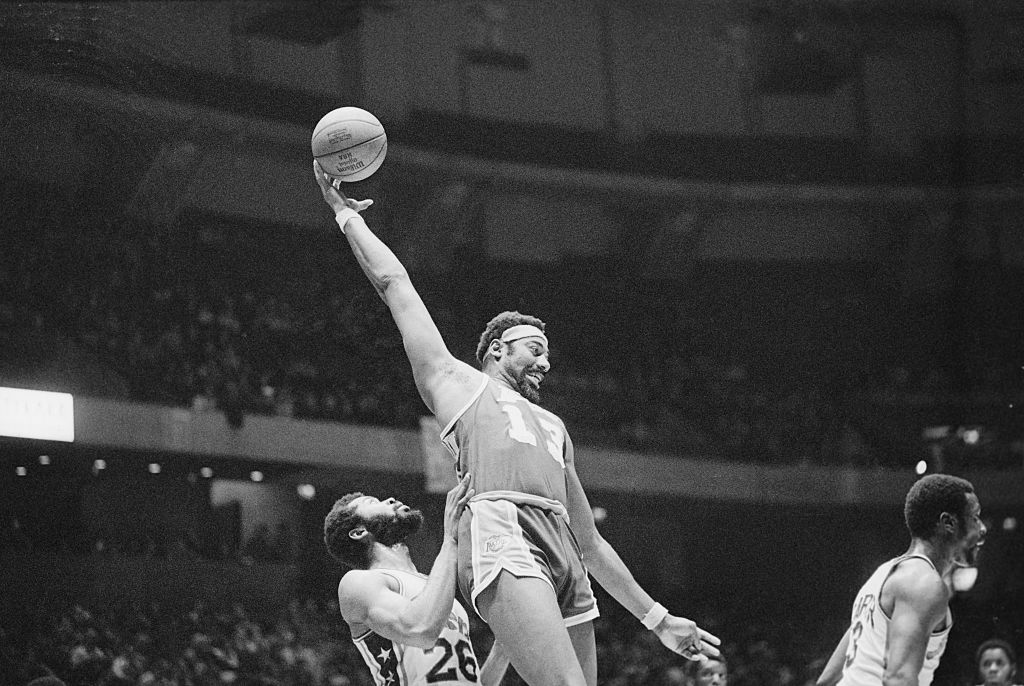 Wilt Chamberlain Almost Had a Second Career as an NFL Wide Receiver
Wilt Chamberlain was an unstoppable scorer in the NBA, but he could have had an equally dominant career as an NFL player.
While going pro in one professional sport is tough enough, some athletes have what it takes to shine in multiple arenas. Deion Sanders and Bo Jackson split their time between the gridiron and the baseball diamond; LeBron James could have played football if he didn't focus on basketball. Before any of those men, though, Wilt Chamberlain could have plied his trade in the NFL.
Everyone knows how dominant Wilt was in the NBA, but one coach tried to bring his talent to the gridiron. In fact, Chamberlain could have suited up as a wide receiver for the Kansas City Chiefs.
Wilt Chamberlain's legendary basketball career
Growing up, Wilt Chamberlain had no interest in playing basketball. Due to his height, however, he eventually found his way to the hardwood. Unsurprisingly, he started dominating the competition.
After blossoming into a high school star, Wilt headed to the University of Kansas to play his college ball. He spent two seasons with the Jayhawks varsity squad and posted eye-popping stats, but wasn't able to capture a national title. Chamberlain then spent a year with the Harlem Globetrotters before going pro in 1959.
The big man spent 13 seasons in the NBA, playing for the Warriors, 76ers, and Lakers. While he didn't win as many titles as his famous rival Bill Russell, Chamberlain was one of the most dominant players ever to hit the court. He averaged 30.1 points and 22.9 rebounds per game for his career; he famously scored 100 points in a single game during his time in Philadelphia, which still stands as a record today despite the league's increased scoring.
Chamberlain the Kansas City Chief?
While Wilt Chamberlain made a name for himself in the NBA, Hank Stram had a different plan. The head coach wanted to bring the center to the gridiron and slot him in as a wide receiver for his Kansas City Chiefs.
In Stram's 1986 book, "They're Playing My Game," he recalled Chamberlain's tryout. The two men were appearing at a youth sports clinic in New York state when Stram told Wilt to stand near the goalpost. The coach then started lobbing passes through the uprights and asked Chamberlain to catch them. Unsurprisingly, he complied with relative ease.
"I threw again, and he leaped up, flat-footed, and caught it," Stram remembered. "I kept throwing. After a bit, he was catching the ball with one hand like he was wearing a baseball glove." The coach was apparently ready to sign Chamberlain on the spot—"How could you possibly defense him? You'd have to have a 7-foot defensive back," Stram mused—but the deal wasn't to be.
"His basketball club had other plans for him," Stram concluded.
Wilt Chamberlain still excelled beyond basketball, though
Unfortunately, Wilt Chamberlain's NFL career never came to pass. The big man did try his hand at some other sports, though. In retirement, he served on the board of the International Volleyball Association; Wilt then played in the league's All-Star game and took home MVP honors.
Beyond that, though, Chamberlain's athleticism knew no bounds. While his prowess may have been exaggerated due to his status, the big man seemed to excel at everything. He waterskied, lifted weights, and ran marathons; he was even slated to box Muhammed Ali, but the bout never took place.
Due to his size and athleticism, Wilt Chamberlain could have been a star in any sport he chose. Unfortunately for Hank Stram and the Kansas City Chiefs, that sport wasn't professional football.