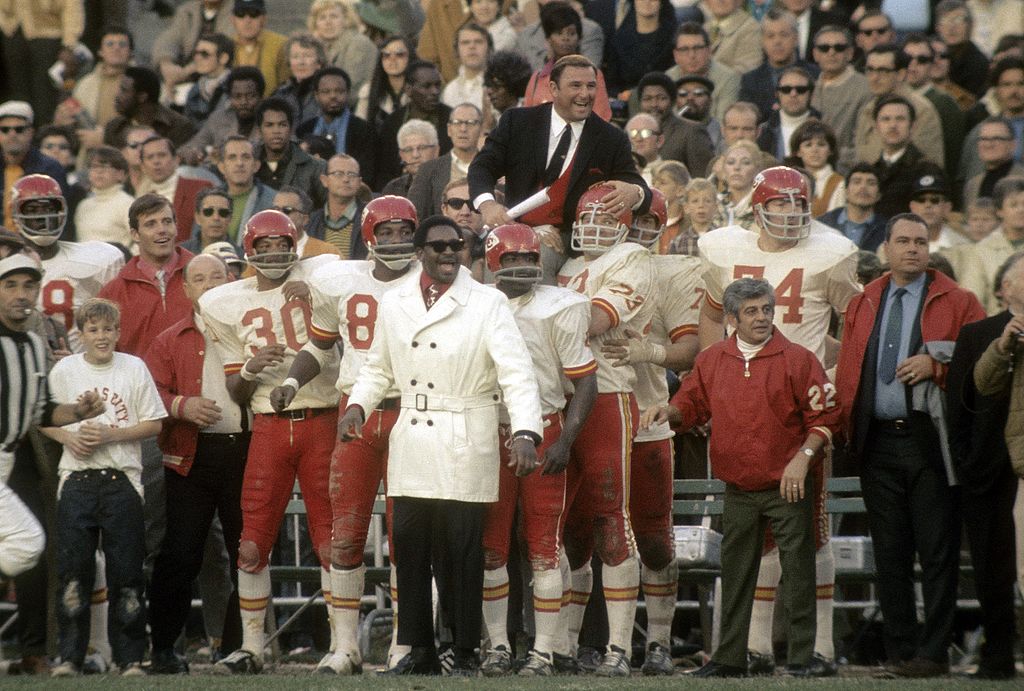 How Hank Stram Stole the Spotlight During the Kansas City Chiefs' Last Super Bowl Appearance
Normally, players steal the show during the Super Bowl. In Super Bowl IV, however, Kansas City Chiefs head coach Hank Stram became a star.
Every NFL coach has their own unique personality. Some, like Bill Belichick, are gruff and grumpy. Others, like Andy Reid, are more gentle, guiding a team like a respected uncle. Few men, however, can match the sheer presence of the Kansas City Chiefs' Super Bowl-winning head coach, Hank Stram.

While it's been more than four decades since Stram last stepped on an NFL sideline, the coach still lives on in popular culture. His Chiefs might have won Super Bowl IV, but Stram stole the show.
Hank Stram's coaching legacy

Hank Stram grew up in Gary, Indiana, before heading to Purdue University. He played baseball and football at school and, following graduation, he headed into coaching. After spending a few seasons as a Boilermakers' assistant, however, Stram decided to branch out; he would also work at SMU, Notre Dame, and Miami.
While Stram was on the Hurricanes' staff, Lamar Hunt came calling; the Dallas Texans needed a head coach for their inaugural American Football League season, and Hunt thought Stram was the right man for the job. That choice proved to be prophetic.

Stram immediately started winning but did more than simply get results. He built a solid squad with talented players at every position and innovated to help those players thrive; he was credited with developing the moving pocket, the two-tight end offense, and the stack defense. 

During his time with the Chiefs, Hank Stram won 124 of his 210 games in charge. He claimed three AFL titles and one Super Bowl crown; that championship performance, however, lives on today.
Hank Stram Steals the show at the Super Bowl

Prior to Super Bowl IV, Ed and Steve Sabol of NFL Films fame had an idea. They asked the Kansas City Chiefs head coach if he would wear a microphone during the game; Stram agreed that he would, for a $500 fee.

That microphone captured what became an indelible part of NFL culture. Stram—who was a natural showman already—proved countess quotes as he guided his team to victory. He patrolled the sidelines in a black suit, complete with a Chiefs logo on his breast, questioning the referees, then praising their judgment on a spot. He joked about the Minnesota Vikings' defensive struggles and urged his team to "negotiate" and "matriculate" the ball down the field.

In perhaps the game's most famous moment, Stram called for the offense to run the 65 Toss Power Trap. The play worked to perfection, giving the Chiefs comfortable lead and earning the head coach a place in NFL history.
Can Andy Reid become the next Kansas City Chiefs legend?

While things have changed quite a bit since 1969, the Kansas City Chiefs still have a capable coach on the sidelines. Andy Reid might not have the same flair as Hank Stram, but a win on Super Bowl Sunday will still earn him a place in franchise lore.

When Andy Reid arrived in the midwest, the Chiefs were at a low point. The club had just gone 2-14 under Romeo Crennel; the previous seasons with Todd Haley and Herman Edwards hadn't gone much better. Reid provided stability and credibility. Once he was in place, the Chiefs started moving in the right direction.

No matter when Reid decides to leave Kansas City, he'll be remembered fondly. If nothing else, he helped Patrick Mahomes grow into the star we see today; that alone deserves a place in the Kansas City Chiefs pantheon. If Big Red can win a Super Bowl, though, he'll earn a spot alongside Hank Stram in Kansas City history.