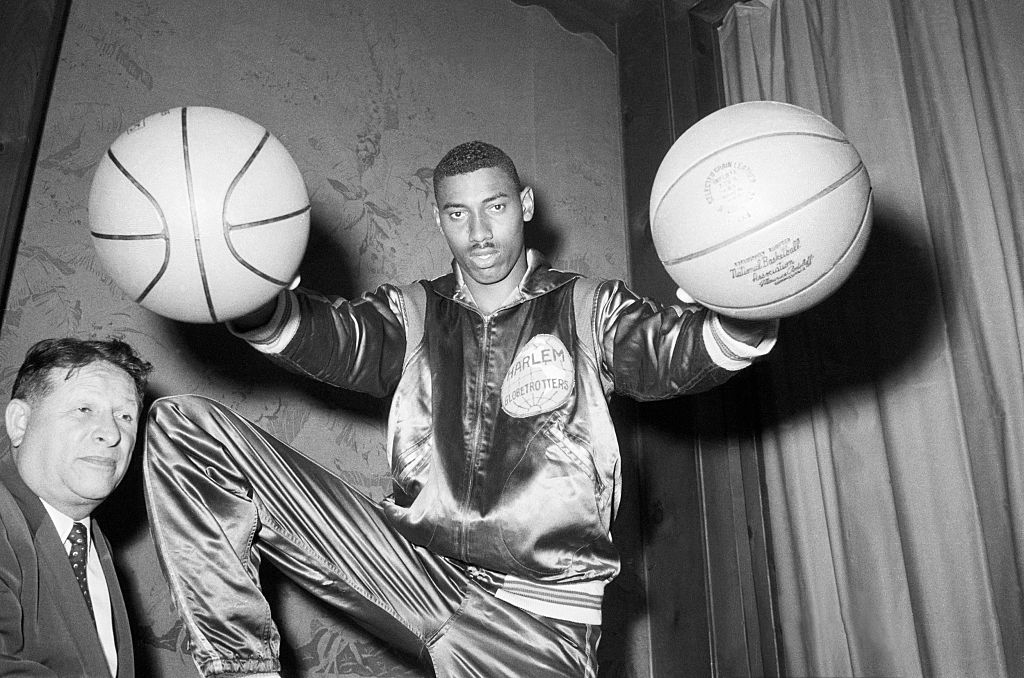 Wilt Chamberlain Made $65,000 Before He Was Even Allowed to Play in the NBA
Wilt Chamberlain was so talented that he earned $65,000 before he was even allowed to go pro and play in the NBA.
Even if conventional big men weren't going the way of the dinosaurs, we'd never see another Wilt Chamberlain. While plenty of NBA players have been incredibly talented, the Big Dipper was one of a kind. Thanks to his incredible size and skill, he could do seemingly anything, both on and off the basketball court, with ease. Unsurprisingly, that reality helped him earn plenty of money, too.
Chamberlain's earning power wasn't limited to the professional ranks, though. The big man even earned $65,000 before he was allowed to join the NBA.
Wilt Chamberlain's rise to dominance
Once he stepped foot on the basketball court, Wilt Chamberlain proved to be a force to be reckoned with. Even in high school, he was already a game-changer; at one point, the opposing team even used all five of their players to defend the center, leaving the rest of his teammates unguarded.
After taking over the Philadelphia high school scene, Chamberlain headed to the University of Kansas. He spent his first year on campus on the freshman team; when he joined up with the varsity in 1956 though, he picked up where he left off.
Despite his statistical dominance and the team's success—the Jayhawks lost in the national championship game during his sophomore year—Wilt left Kansas after two seasons on the varsity squad. He had simply grown tired of the college game; racial abuse, stall tactics, and dirty play had taken their toll.
"The game I was forced to play at K.U. wasn't basketball," he wrote in Look Magazine, explaining his departure. "It was hurting my chances of ever developing into a professional player."
Earning $65,000 but not in the NBA
While Wilt Chamberlain left Kansas after his junior season, he wasn't able to go pro right away. At the time, the NBA only accepted players whose class had graduated from college; the big man would have to wait one more year.
That didn't prevent Chamberlain from playing basketball or earning money, though. He joined up with the Harlem Globetrotters and took part in their tour of the Soviet Union.
While the big man had a ball—he reportedly considered his time with the Globetrotters "some of the most pleasant days of his life"—he was also paid handsomely for his trouble. Chamberlain reportedly earned $65,000 for that season; that was five times the average NBA salary and, with inflation, works out to roughly $580,000 today.
Wilt Chamberlain earned even more while dominating the NBA
After that season with the Globetrotters, Wilt Chamberlain finally got his chance to enter the NBA. While he had to take a brief step backward in terms of salary, he would go on to make plenty of money in the professional ranks.
As Rober Cherry lays out in his biography of the big man, Chamberlain was always paid incredibly well by professional basketball standards. While it's tough to put an exact value on contracts from that era, the Wilt's first deal with the Philadelphia Warriors was in the neighborhood of $40,000 to $50,000 per season; seven years earlier, the entire franchise sold for $25,000.
As Wilt dominated the NBA, though, his value only increased. His next deal with the Warriors was worth $65,000 per season; when he joined the 76ers, he signed the first $100,000 contract in NBA history. In 1968, he took things even further and joined the Los Angeles Lakers on a $250,000 per year deal.
By the time he called it a career, Chamberlain had poured in more than 31,000 points and pulled down almost 24,000 rebounds during 14 NBA seasons. When he died in 1999, he had an estimated net worth of $10 million. Whether he was on the basketball court or in the bank, Wilt simply towered over the competition.