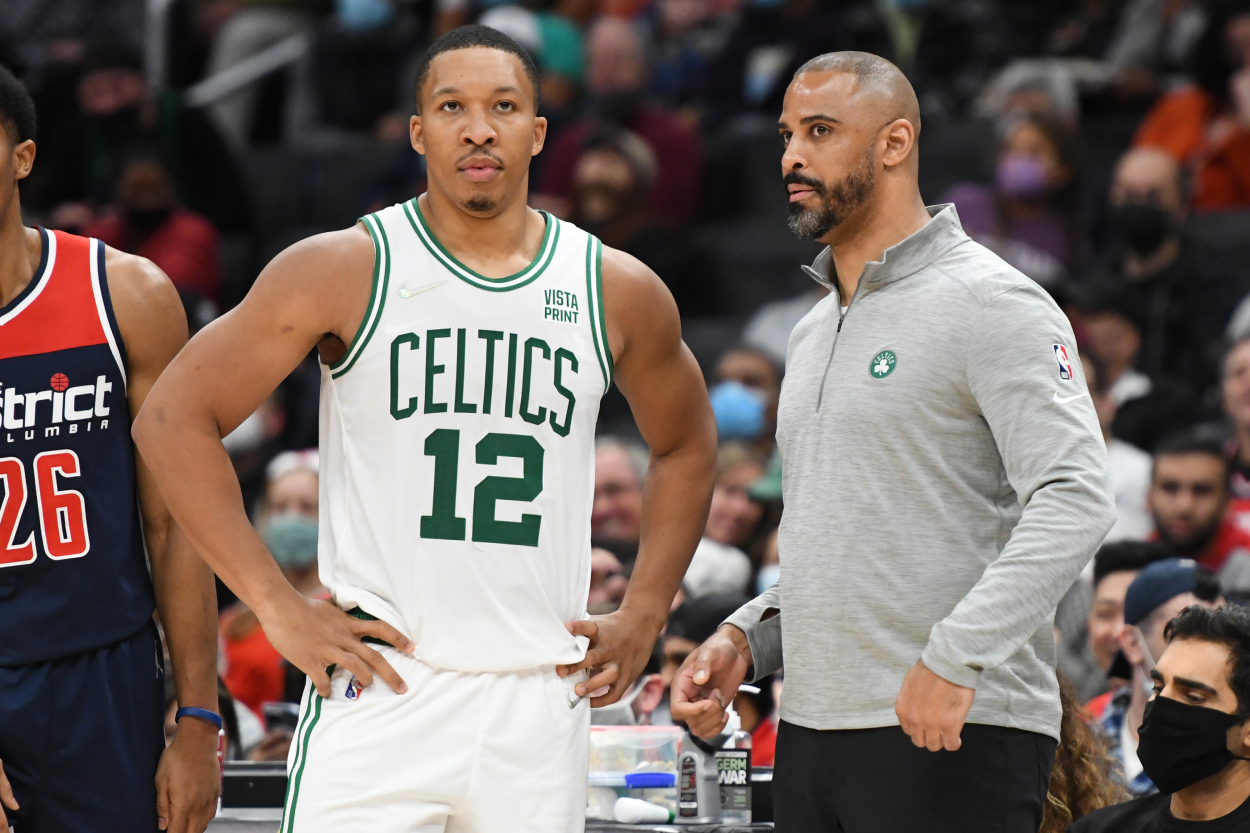 April Fool's Joke At Boston Celtics Shootaround Draws Classic Response From Ime Udoka
Boston Celtics coach Ime Udoka and forward Grant Williams used their acting skills to perfection Friday.
First-year coach Ime Udoka and Boston Celtics reserve forward Grant Williams had a bit of an argument during a game this week. That prompted the two to stage a fight at a shootaround Friday as an April Fool's joke.
At a press conference before Friday's game against the Indiana Pacers, Udoka gave a little rundown of how it all went down. He said the fight fooled just about everyone, and then he had a classic response when asked why nobody jumped in to break up the so-called fight.
Ime Udoka loosening up as the Boston Celtics head down the homestretch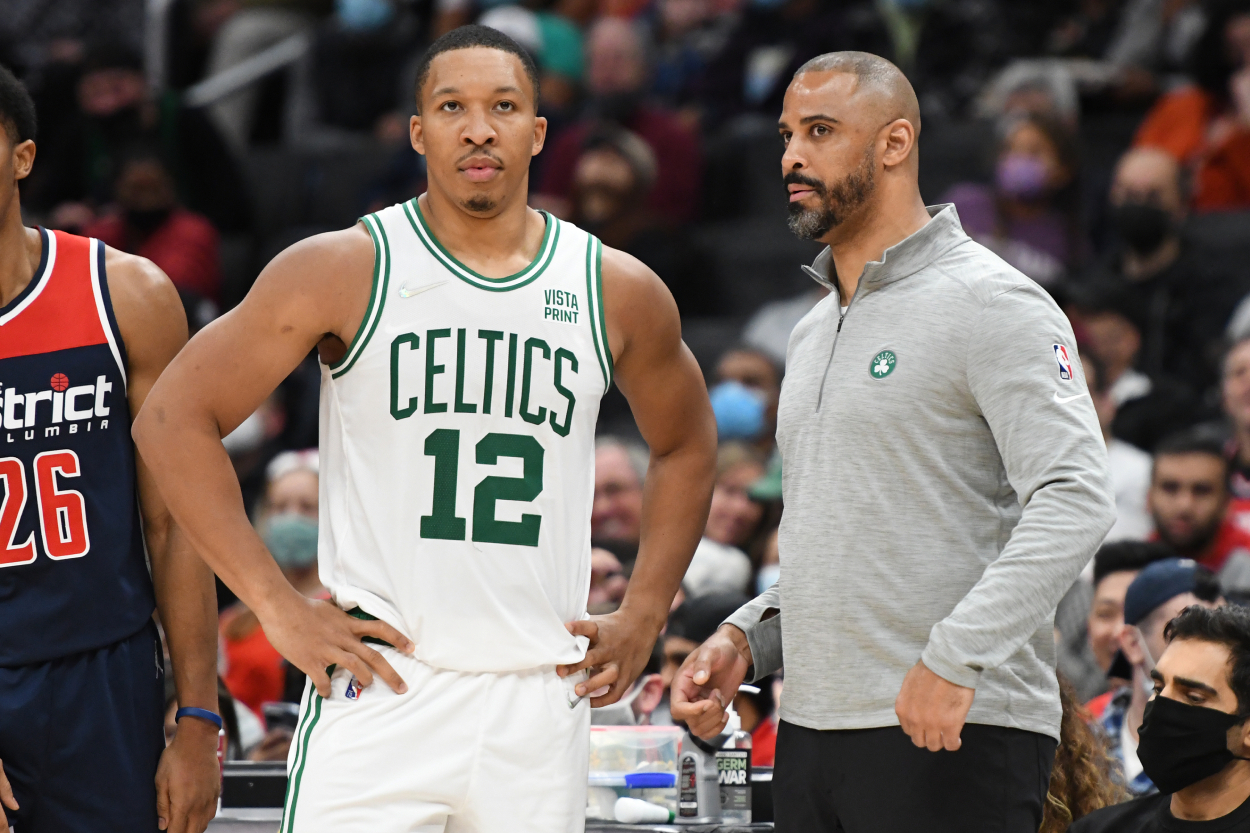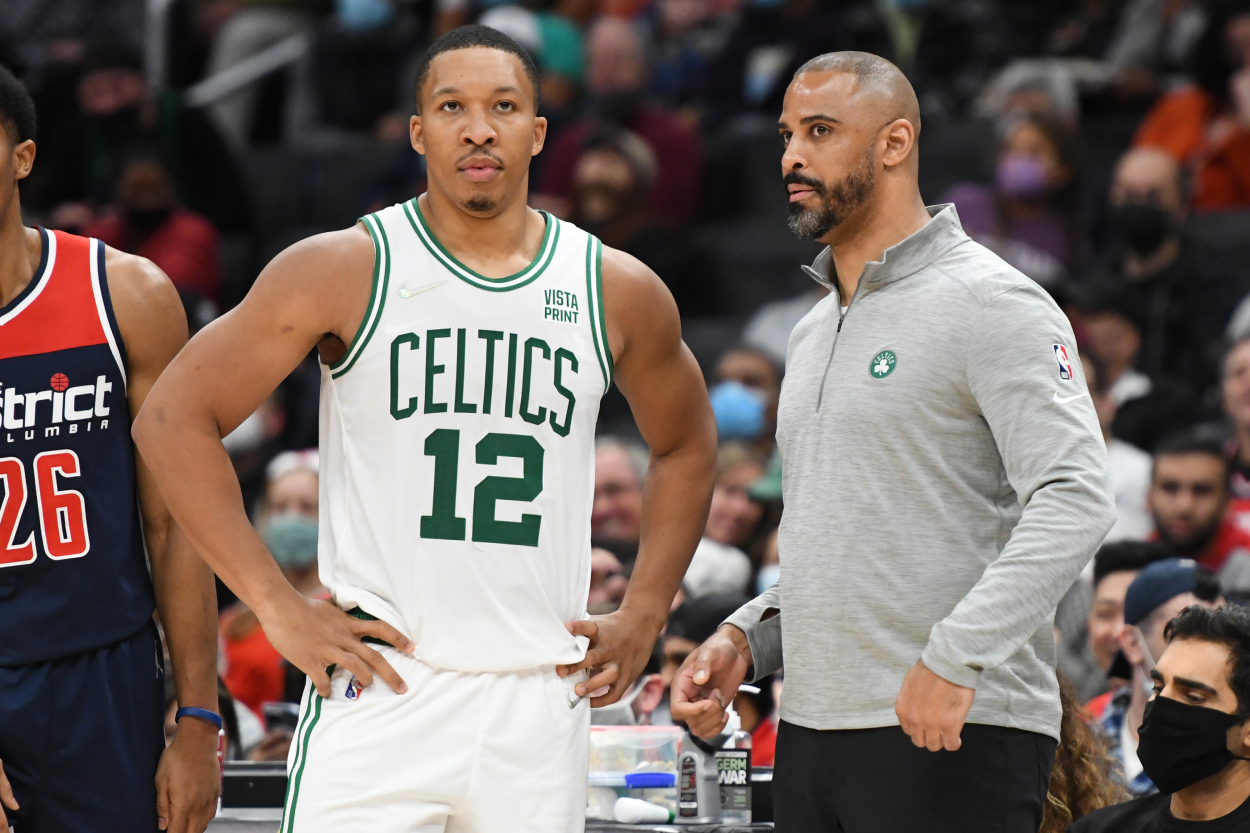 Udoka has been all business this season in his first year as a head coach in the NBA. Maybe it was because his team struggled through a good portion of the season. His press conferences were no laughing matter — just straight to the point.
As the Celtics began to turn things around, Udoka loosed up a bit. He began joking around after he was named Eastern Conference Coach of the Month in February when his Celtics went 9-2. At first, he gave credit to his players.
"Means we're playing well, bottom line," he said before a home game against the Memphis Grizzlies, per The Boston Herald. "I mean, those individual awards are really a reflection of the team and what they're doing. And, as I've said all year, our group is great and lets us push them, coach them hard. And that's where the results are showing for that.
"So more than anything, means we're heading in the right direction. And those accolades come but, for me personally, it's a reflection of those guys."
After that Grizzlies game, a game in which the Celtics turned things up a notch in the second half to win handily, he offered a rare joke. A reporter asked what prompted the strong start to the second half.
"You have the coach of the month in there," he said, drawing laughter from the reporters. "Joke, obviously."
On Friday, he decided another joke was in order, in honor of April Fool's Day.
Boston Celtics coach Ime Udoka and Grant Williams staged a fight as an April Fool's joke
During Friday's shootaround, Udoka and Williams staged a fight to see who they could fool on April Fool's Day. As it turns out, everyone there fell for it.
Udoka explained it at Friday's pregame press conference.
"It was a good one," Udoka said, per CNLS Media. "I got everybody, literally, the coaching staff and all the players. I just whispered to Grant — we butted heads a little bit last game. This was my way of making it up to him and apologizing in front of the team I guess.
"Just got into a fake argument. Grant likes to talk back, so it wasn't unexpected that he had something to say back. We started chirping, walked toward each other. I expected a teammate or two or a coach to get in the middle and I would've kinda turned it up from there. Nobody got in the way.
We kept going. As people started to think it was very serious, we hugged and yelled April Fool's. It was crazy watching Rob (Williams) on the side and Jayson's (Tatum) face. I almost started laughing a few times. Nobody got their teammate or coaches or players back, so they were gonna let us go."
A reporter asked Udoka why he thought nobody stepped in.
"I heard later, three or four players wanted to see Grant get his ass kicked," he said.
The Celtics look to snap a two-game losing streak
It's no time to worry, but the Celtics have dropped two straight. It's something that hasn't happened since mid-January.
The first loss came when Boston traveled to Toronto and played without four starters in an overtime loss to the Raptors. They followed that up with a home loss to the conference-leading Miami Heat on Wednesday.
The Celtics hosted the Indiana Pacers on Friday. Before the game, Boston was in third place in the conference, two games behind the Heat.
Things have really picked up for the Celtics over the last three months and they have themselves in the thick of the race for the top seed.
Now they just have to worry about sticking up for one another.