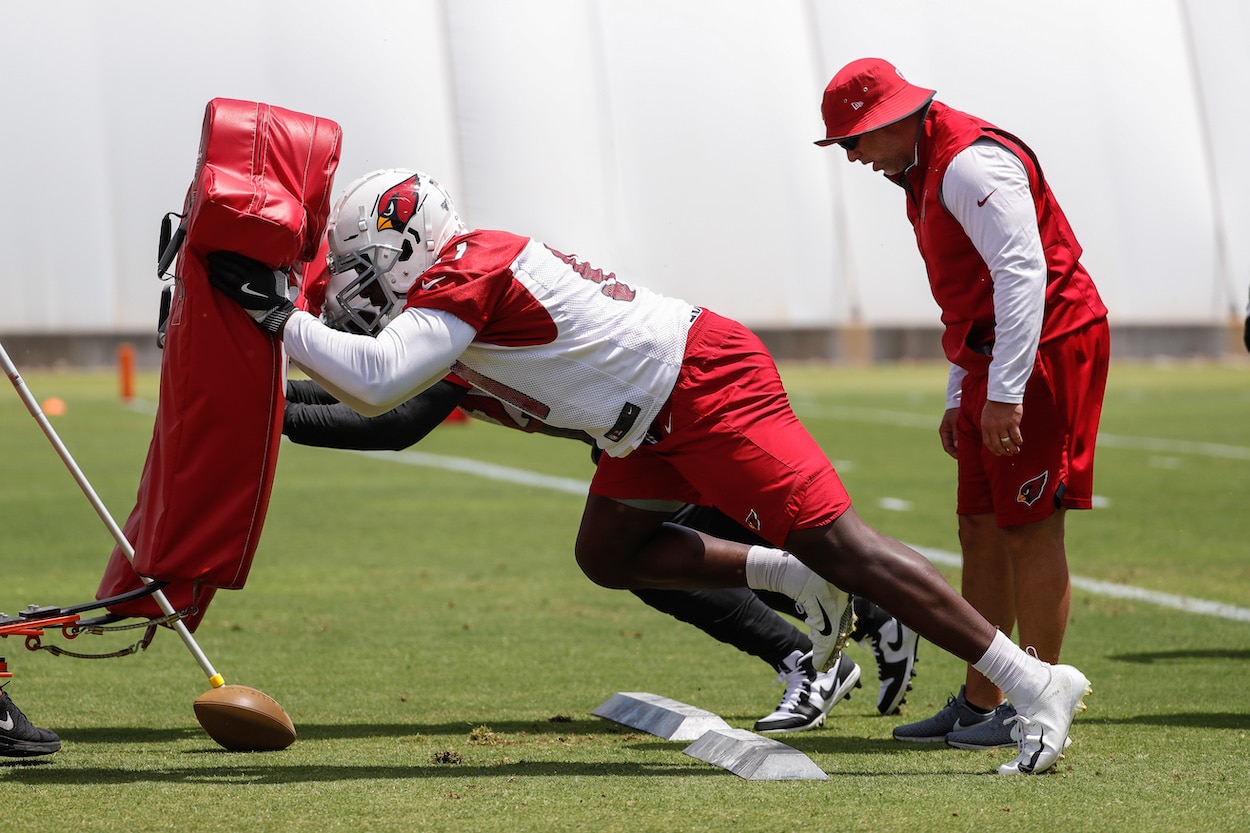 Arizona Cardinals Training Camp: 3 Position Battles to Watch in 2022
As the Arizona Cardinals training camp opens ahead of the 2022 NFL season, here are three camp battles to keep a close eye on.
The Arizona Cardinals just made quarterback Kyler Murray the second highest-paid signal-caller in the NFL. Now that the franchise is set at QB, head coach Kliff Kingsbury must figure out which players to put around Murray to give him the best chance to live up to that massive deal. As Arizona Cardinals training camp gets underway, here are three positional battles to watch closely.
Arizona Cardinals Training Camp Info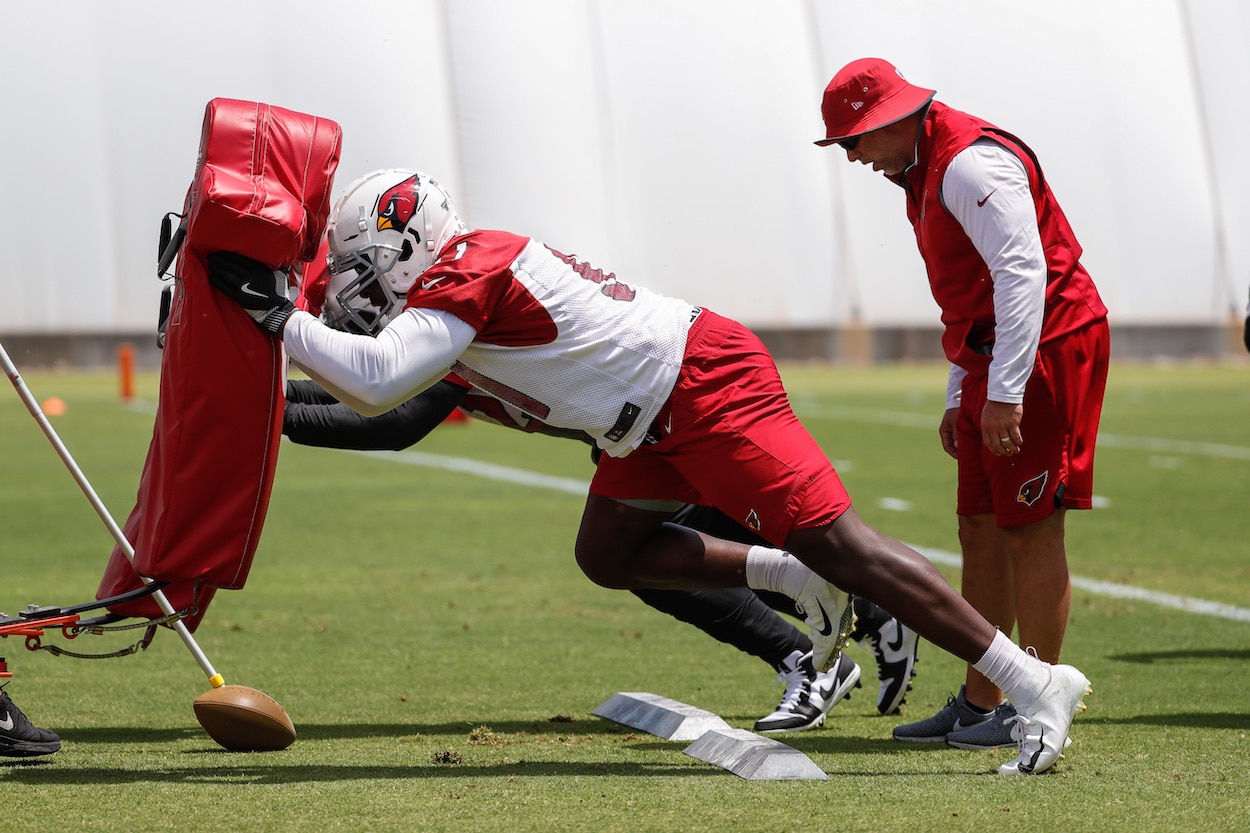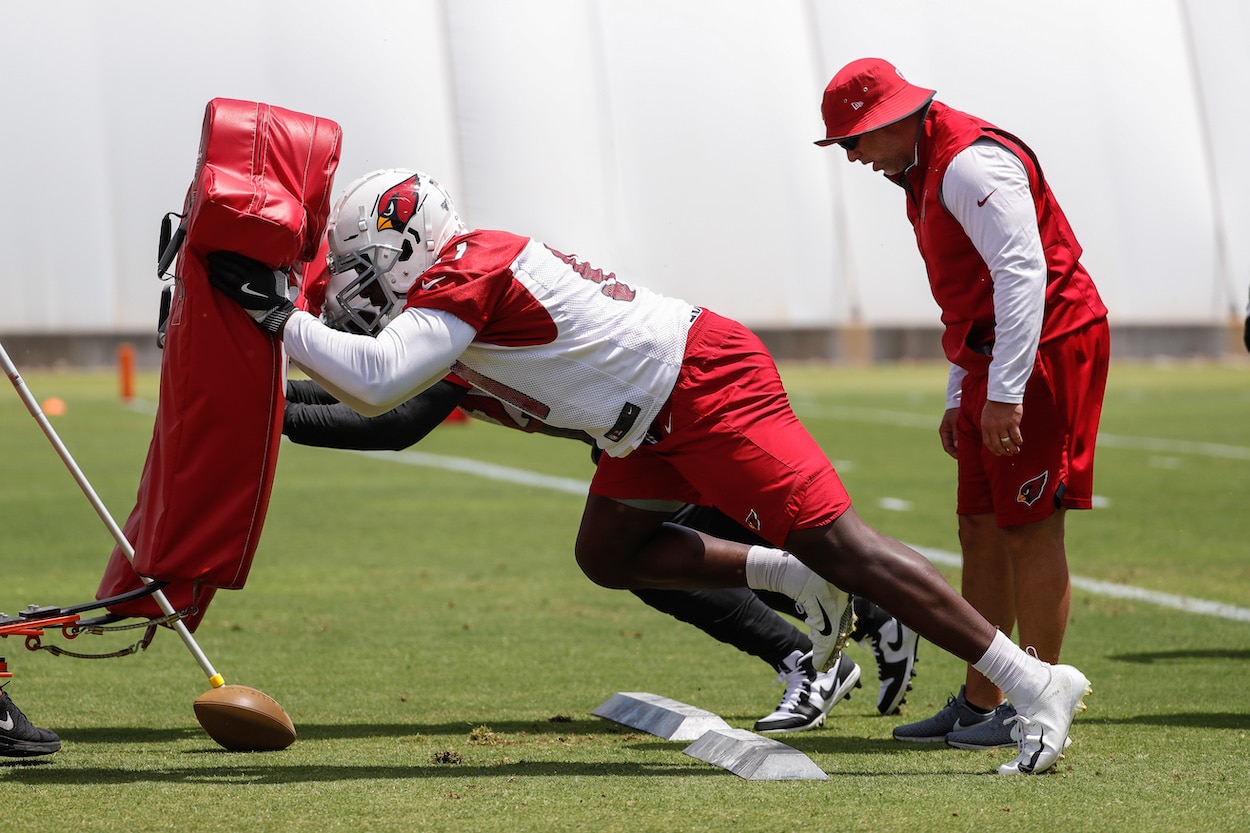 Location: State Farm Stadium, Glendale, Arizona
Rookies report: Thursday, July 21, 2022
Veterans report: Tuesday, July 26, 2022
First game: vs. Kansas City Chiefs, Sunday, September 11, 4:25 p.m. EST
Battle No. 1: TE1 — Zach Ertz vs. Trey McBride
Zach Ertz, who the Arizona Cardinals acquired in a trade with the Philadelphia Eagles last season, is a good — not great — tight end. He's a three-time Pro Bowler (2017-19), Super Bowl champ (2017), and routinely puts up 70-plus-catch and 700-plus-yard seasons. 
Last year he was again right in line with his standard numbers with 74 catches for 763 yards, spread out between six games with the Eagles and 11 with the Cards. Ertz has only cracked the 100-plus-catch and 1,000-plus-yard barrier once, though, in 2018. 
So, there is room for an upgrade at the position. 
The Cardinals hope they made that upgrade in the long-term by drafting Colorado State TE Trey McBride No. 55 overall in Round 2. The 6-foot-4, 246-pound pass-catcher was the top tight end in the 2022 NFL draft on most draft boards. 
McBride will now push Ertz in a good, old-fashioned Arizona Cardinals training camp battle for the TE1 spot. 
Tight end is one of the most challenging positions for a rookie to excel, so McBride has an uphill battle. Look for Ertz to win the job in camp, but the young player will still be on the field a lot in two TE sets and should develop as the season goes along. 
Battle No. 2: EDGE — Cameron Thomas vs. Myjai Sanders vs. Devon Kennard
Two other rookies who could play a significant role in the Arizona Cardinals season are a pair of third-rounders, Cameron Thomas (No. 87) and Myjai Sanders (No. 100). 
Markus Golden will start on one side of the defensive line in the pass-rusher spot. But with the departure of Chandler Jones this offseason, the Arizona Cardinals training camp battle on the opposite side is wide open. 
Thomas is bigger (6-foot-4, 267 pounds) and was more productive last year than Sanders, with 11.5 sacks. The slightly undersized Sanders (6-foot-5, 228 pounds) is speedy and versatile, though. 
These two will also compete with nine-year veteran Devon Kennard. The former New York Giants and Detroit Lions pass-rusher didn't play much in the desert last year, but he is a solid NFL player with 26.5 sacks. 
The Cardinals hope that both Thomas and Sanders eventually take both pass-rushing spots, and both will see time in a rotation. However, Thomas is the most NFL-ready right now, so he should win the job. 
Battle No. 3: RB2 ­— Eno Benjamin vs. Jonathan Ward vs. Darrel Williams
Running back James Conner had an excellent year last season, rushing for 752 yards and scoring a career-high 15 TDs. When Chase Edmunds signed with the Miami Dolphins this offseason, though, the Cardinals lost the lightning to Conner's thunder. 
Conner has also missed less than two games in a season, so figuring out the RB2 slot behind him is of the utmost importance in Arizona Cardinals training camp. 
Kliff Kingsbury has set up this competition with the Cardinals media between these three players, but Jonathan Ward is a long shot to win the job. The real battle comes down to Darrel Williams and Eno Benjamin. 
Williams had over 1,000 all-purpose yards and eight TDs last season for the Kansas City Chiefs. He is a physical veteran back with good hands and a tough-nosed style. Benjamin, a seventh-round pick in 2020 from nearby Arizona State, is smaller, faster, and more explosive. 
Williams is the safe choice and will likely be Conner's primary backup if an injury happens. However, it's easy to see the speedy Benjamin getting more playing time alongside a healthy Conner as the perfect thunder and lightning complement. 
All stats courtesy of Pro Football Reference