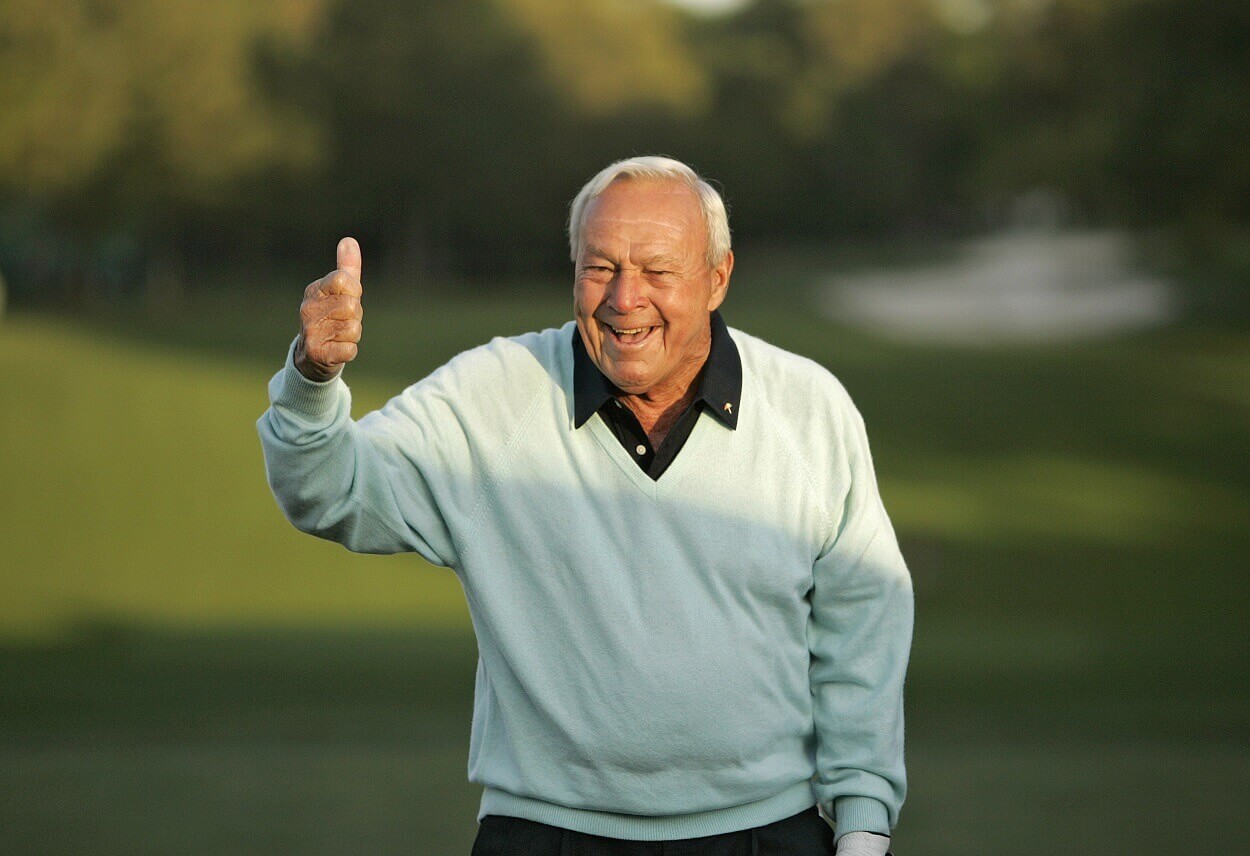 Arnold Palmer, Who Lived to Be 87, Narrowly Escaped Death at 21 by Taking a Nap
62-time PGA Tour winner and seven-time major champion Arnold Palmer narrowly escaped death at the age of 21 by simply taking a nap.
Few golfers, if any, in the history of the world have been more beloved than Arnold Palmer. In the prime of his career, a career that included 62 PGA Tour wins and seven major championships, his popularity was unmatched, even by fellow legend Jack Nicklaus, who was a little more stoic in the way he went about things.
To put things in more of a modern perspective, Jack was Tiger Woods, while Arnie was Phil Mickelson. Nicklaus, like Tiger, may have had better career numbers, but Palmer, like Phil, was more relatable as he truly let his fans, affectionately known as "Arnie's Army," into his world.
And when his playing days were behind him, Palmer essentially became a grandfather to seemingly every player on the PGA Tour, which is why the field at the Arnold Palmer Invitational at Bay Hill was always so strong while he was with us and has continued to be in the years since his death.
Arnold Palmer was 87 years old when he passed away in September 2016, but what some may not know is that all of the things mentioned above — the 62 wins and the seven majors and "Arnie's Army" and Bay Hill and everything else — were a single, tragic car ride away from never happening as he made a choice at age 21 that saved his life.
Arnold Palmer has the fifth-most PGA Tour wins with 62
Arnold Palmer made his PGA Tour debut in 1955 and won one tournament as a rookie. He followed it up with two victories in 1956, four in 1957, and his career was off and running from there. Palmer won six more times before the end of the decade, including his first major, and then enjoyed the greatest stretch of his career from 1960-1963, a span during which he won 29 times.
Over the next decade, he won 20 more times, his last victory coming at the 1973 Bob Hope Desert Classic, a tournament he won five times. His 62 PGA Tour wins rank fifth on the all-time list behind only Sam Snead, Tiger Woods, Jack Nicklaus, and Ben Hogan.
Arnold Palmer also won 10 times on what's now known as the PGA Tour Champions.
"The King" won seven major championships
Of Arnold Palmer's 62 PGA Tour wins, seven of them came in major championships. His first came at The Masters in 1958, a victory that truly solidified his place as one of the game's elite. He won at Augusta a second time in 1960 and then went on to win the 1960 U.S. Open, where he staged the greatest comeback in tournament history by overcoming a seven-shot deficit during the final round to claim the championship.
In 1961, he won The Open Championship for the first time and then won The Masters for a third time in 1962, a year in which he won The Open for a second time. Palmer won a fourth green jacket in 1964 and has the third-most wins at Augusta behind only Jack and Tiger. Overall, his seven major championship wins are tied for seventh on the all-time list.
Arnold Palmer's best friend was killed in a car accident that "The King" would have been in had he not fallen asleep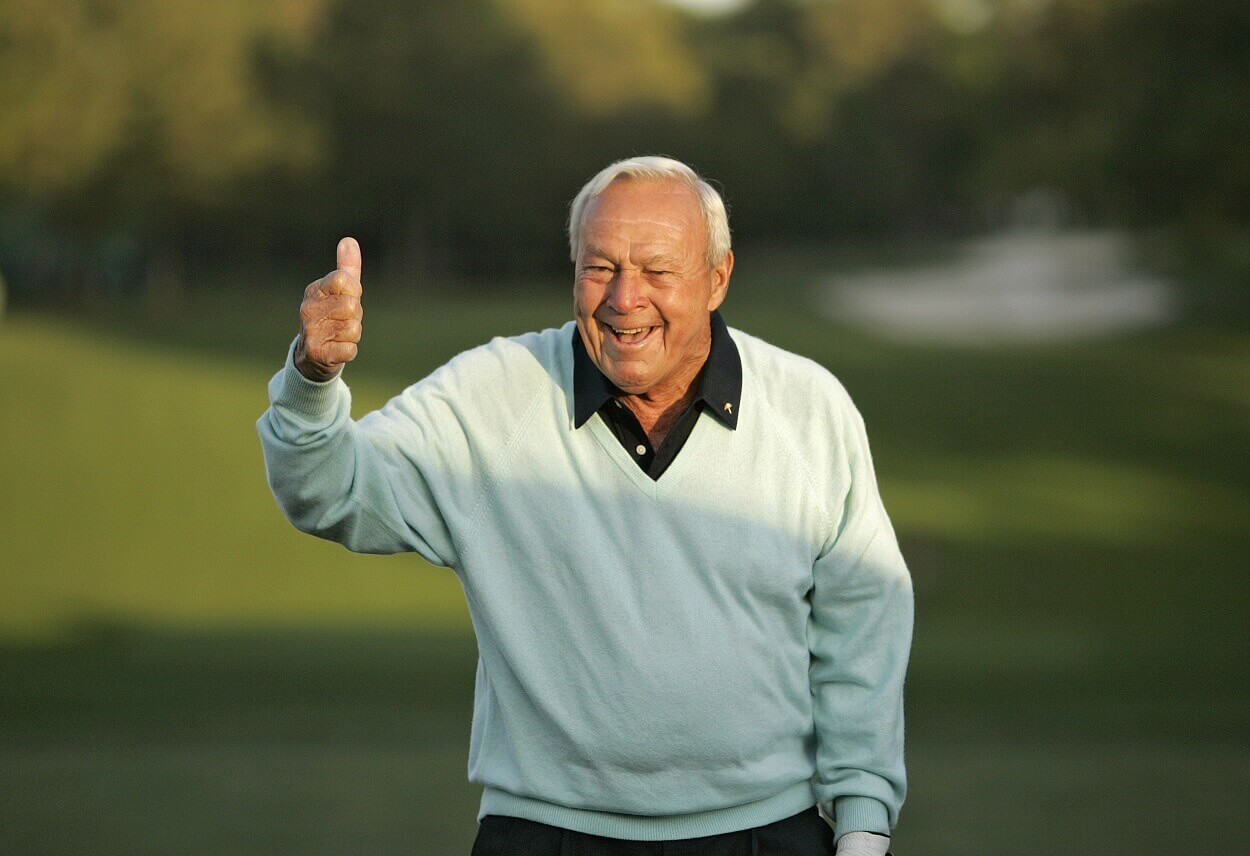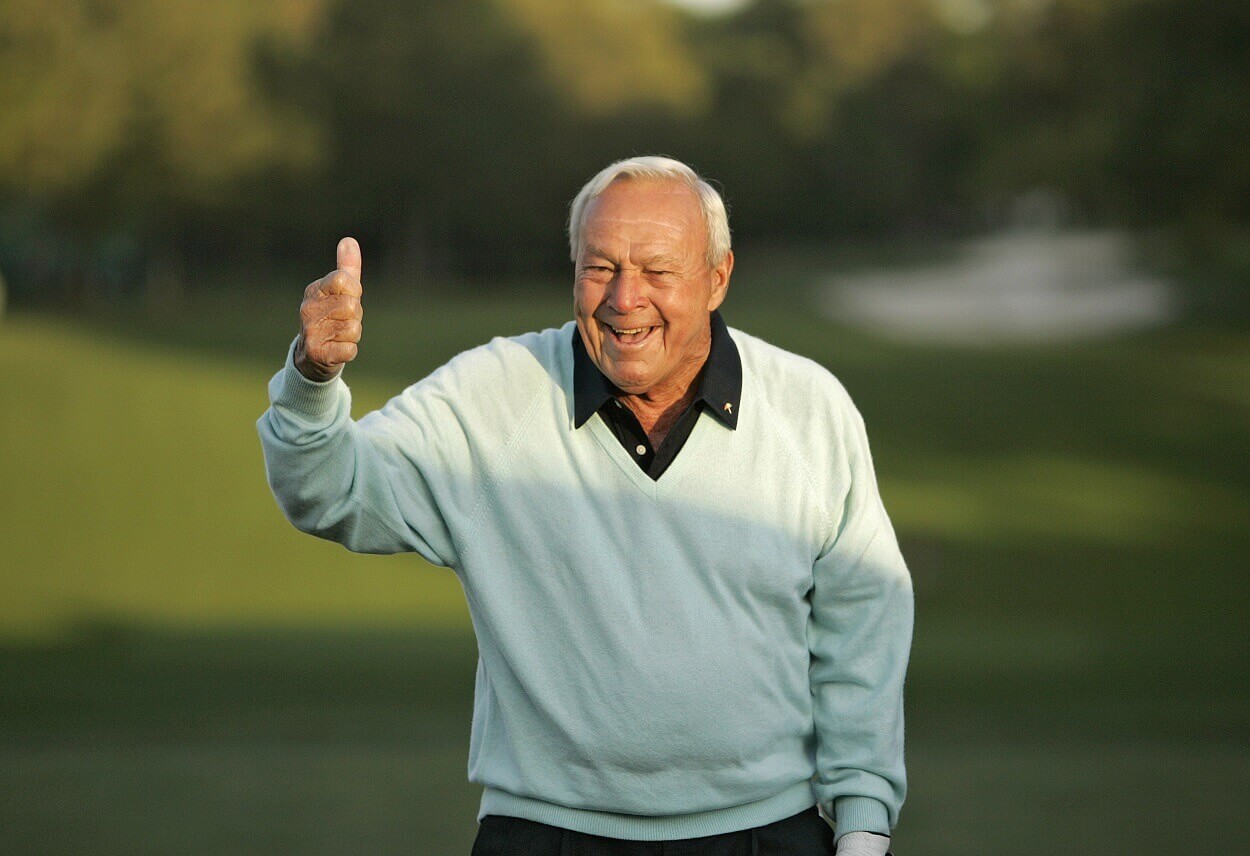 Now, before Arnold Palmer was a 62-time PGA Tour winner and a seven-time major champion, he was simply a highly-skilled amateur at Wake Forest, as was his best friend and roommate, Bud Worsham.
Palmer and Worsham met in 1946 at a junior tournament and were Wake Forest's first two real golf recruits. The university had started a golf program in 1933, but it was rather informal as there was no actual recruiting of players and not even a real coach. But that changed in 1947. Worsham, whose older brother Lew won the U.S. Open that year by outdueling Sam Snead, was the first to be offered a scholarship, and he then convinced Palmer to join him.
Palmer and Worsham were inseparable and quickly made the Demon Deacons one of the best programs in the country. But just a few months into their senior year, tragedy struck. On October 21, 1950, the duo spent their Saturday afternoon watching Wake Forest's football team defeat George Washington in the homecoming game. On their walk back to their room, the two discussed the plan for the night, which was to get dinner and attend the homecoming dance, which was being held in Durham.
However, Arnie ended up falling asleep. So when Bud woke him up to tell him that he and Gene Scheer, the roommate of their teammate Jim Flick, who went on to become one of the greatest golf instructors of all time, were ready to go, a groggy Palmer declined, saying he and Flick were going to the movies instead. Arnie tried to persuade Worsham and Scheer to stay, but their minds were made up, and they left while Palmer went back to sleep.
When Palmer and Flick arrived home from the movies, they stayed awake as long as they could, waiting for their respective roommates to arrive home so they could hear stories from the dance. But Worsham and Scheer never came back. On the way back from Durham, Bud's car had veered off the road where a bridge crossed the Neuse River and plunged 50 feet down into a streambed. The Buick had flipped when hit the bridge abutment, and it was determined that both Worsham and Scheer died on impact.
To make matters worse, Arnold Palmer was the one who actually had to identify his best friend's body, and he then had to accompany the casket to Washington, D.C., which is where Worsham was from. Palmer and Flick moved in together to try and help each other through the tragedy, but Arnie couldn't take being at Wake Forest any longer and left school just a few months to enlist in the U.S. Coast Guard, for whom he served three years.
Palmer returned to Wake Forest in 1954 but never graduated as he chose to pursue a professional golf career instead. But he always maintained ties with the school and later established a scholarship in his friend's honor.
About a year before his death, Arnold Palmer said his "life never would have happened the way it did without Bud Worsham."