Ben Hogan Was Told He Might Never Walk Again Following a Near-Fatal Car Accident and Won the U.S. Open 16 Months Later
There are few things in sports better than a good comeback story. But not the ones that are blown out of proportion or just made to sound a bit more dramatic than they actually are. We're talking about the real comeback stories that have truly inspired people, stories such as that of 64-time PGA Tour winner Ben Hogan, who may just have the greatest comeback story in sports history.
Coming into the 1949 PGA Tour season, Hogan had 51 wins and three major championships to his credit. He quickly added two victories in January and nearly won a third. But driving home from that third event, Hogan and his wife nearly lost their lives in a car accident, an accident that also nearly cost him the ability to walk.
But Ben Hogan fought through all of it and made his return to the PGA Tour in less than a year and then went on to win the U.S. Open in 1950. And that crazily is only part of this legendary comeback story.
Ben Hogan and his wife were involved in a near-fatal accident in February 1949
Ben Hogan picked up two PGA Tour victories in 1949, first the Bing Crosby Pro-Am at Pebble Beach and then the Long Beach Open at Lakewood Country Club. He nearly picked up a third consecutive win at the Phoenix Open, a tournament he'd won twice before, but lost in a Monday playoff to then-two-time Masters champion Jimmy Demaret (he added a third win at Augusta in 1950).
Two days later, on February 2, 1949, Hogan and his wife were near Van Horn, Texas, on their way home to Fort Worth from Phoenix. They were driving east on Highway 80 in extremely foggy conditions when their vehicle was hit head-on by an oncoming Greyhound bus that was attempting to pass a truck.
In an extremely heroic and romantic move, Ben threw himself across the passenger seat to protect his wife and saved her from major injury while also actually saving his own life as the steering column of the Cadillac sedan was thrust into the back of the driver's seat.
Some outlets initially reported that Ben Hogan was dead, which obviously wasn't true but essentially the entire left side of his body was crushed in the wreck as he suffered a fractured clavicle, a double-fractured pelvis, a fractured left ankle, a broken rib, and near-fatal blood clots, also suffering damage to his left eye. He spent 59 days in an El Paso hospital, during which his weight dropped to 95 pounds, and was told at one point that not only might he never play golf again, but he also might actually never walk again.
But as it was on the golf course back in those days, you just don't bet against Ben Hogan.
Ben Hogan returned to the PGA Tour 11 months after his accident and then won the 1950 U.S. Open
Ben Hogan obviously did walk again and that became one of the biggest parts of his rehab process. He slowly began resuming golf activities in the ensuing months and made his glorious return to the PGA Tour in January 1950 at the Los Angeles Open at famed Riviera Country Club. And, magically, he nearly won the tournament but lost to fellow legend Sam Snead in a playoff. But there was certainly more magic to come.
Five months later, just 16 months after the accident that nearly killed him, Ben Hogan won the U.S. Open at Merion Golf Club in suburban Philadelphia and hit one of the most famous shots in golf history en route to victory. Tied for the lead on the 72nd hole, Hogan hit a 1-iron into the green at the difficult 18th, which produced one of the most iconic photographs in sports history, and two-putted his way into an 18-hole playoff with Lloyd Mangrum and George Fazio.
Hogan was the only player to shoot under par in the playoff, firing a 1-under 69 to win by four over Mangrum and six over Fazio to secure his second U.S. Open and fourth major championship.
And there was still even more magic to come.
He went on to win 10 more times on the PGA Tour, including five additional major championships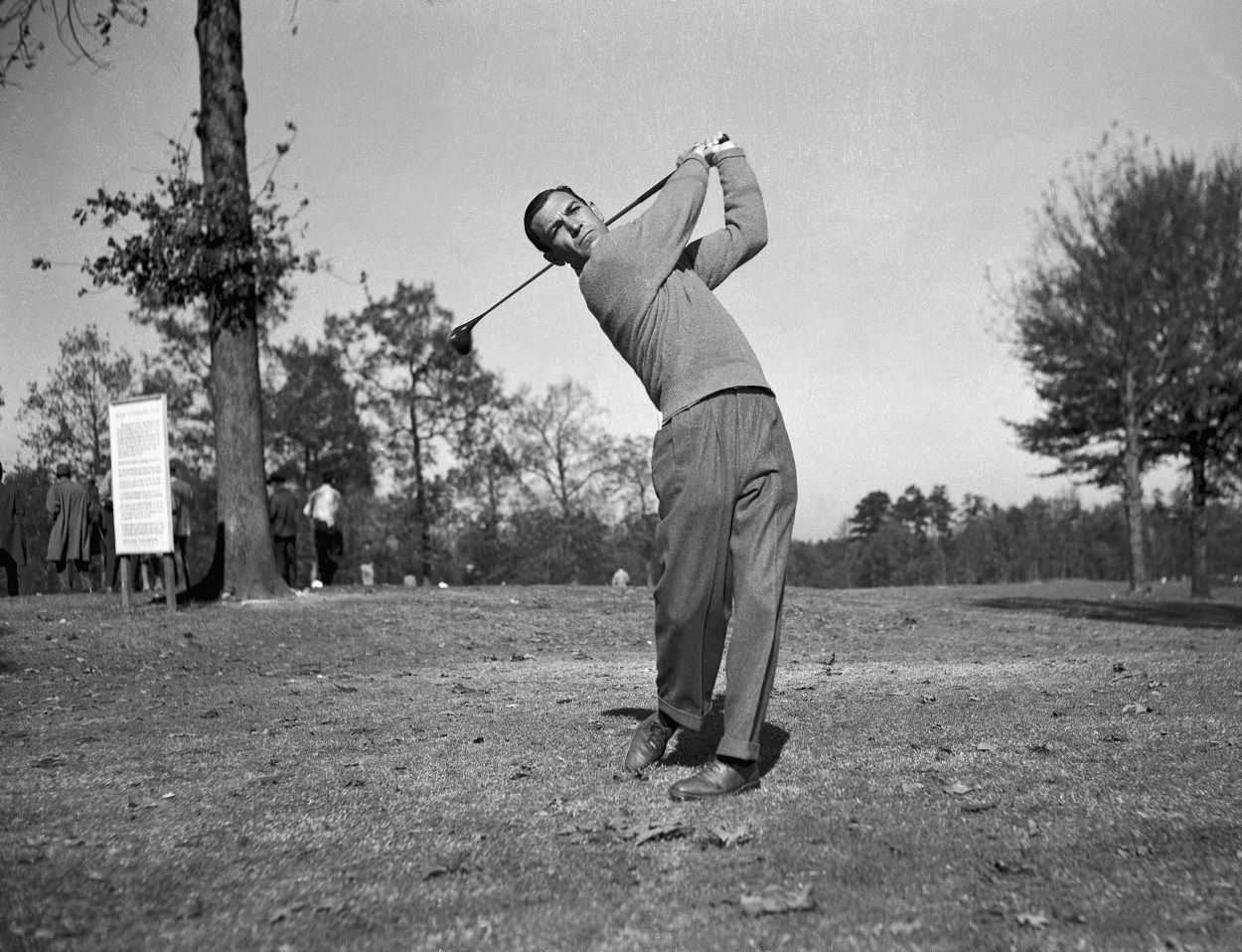 The famous U.S. Open win at Merion was Ben Hogan's only victory of the 1950 PGA Tour season but it certainly wasn't the final victory of his career.
In 1951, he won The Masters for the first time and won a second consecutive U.S. Open, also winning the World Championship of Golf. The following year, he earned his third win at Colonial Country Club in Fort Worth, the same course that honors him to this day with a statue just outside the clubhouse.
Then, of course, there was that magical 1953 season in which he became the first (and still the only) player to win The Masters, the U.S. Open, and The Open Championship in the same calendar year. His victory at The Open, which was actually the only time he played the tournament in his entire career, made him just the second player in history — Gene Sarazen was the first — to win the career Grand Slam.
Since then, only Jack Nicklaus, Gary Player, and Tiger Woods have joined the highly-exclusive club. Hogan won two other PGA Tour events in 1953 and one last one in 1959, naturally at Colonial. His 64 wins are good for fourth on the PGA Tour's all-time victory list and his nine major championships also rank fourth (tied with Player).
After nearly losing his life at age 36, Ben Hogan lived to be 84 years old before passing away on July 25, 1997. Valerie passed two years later.