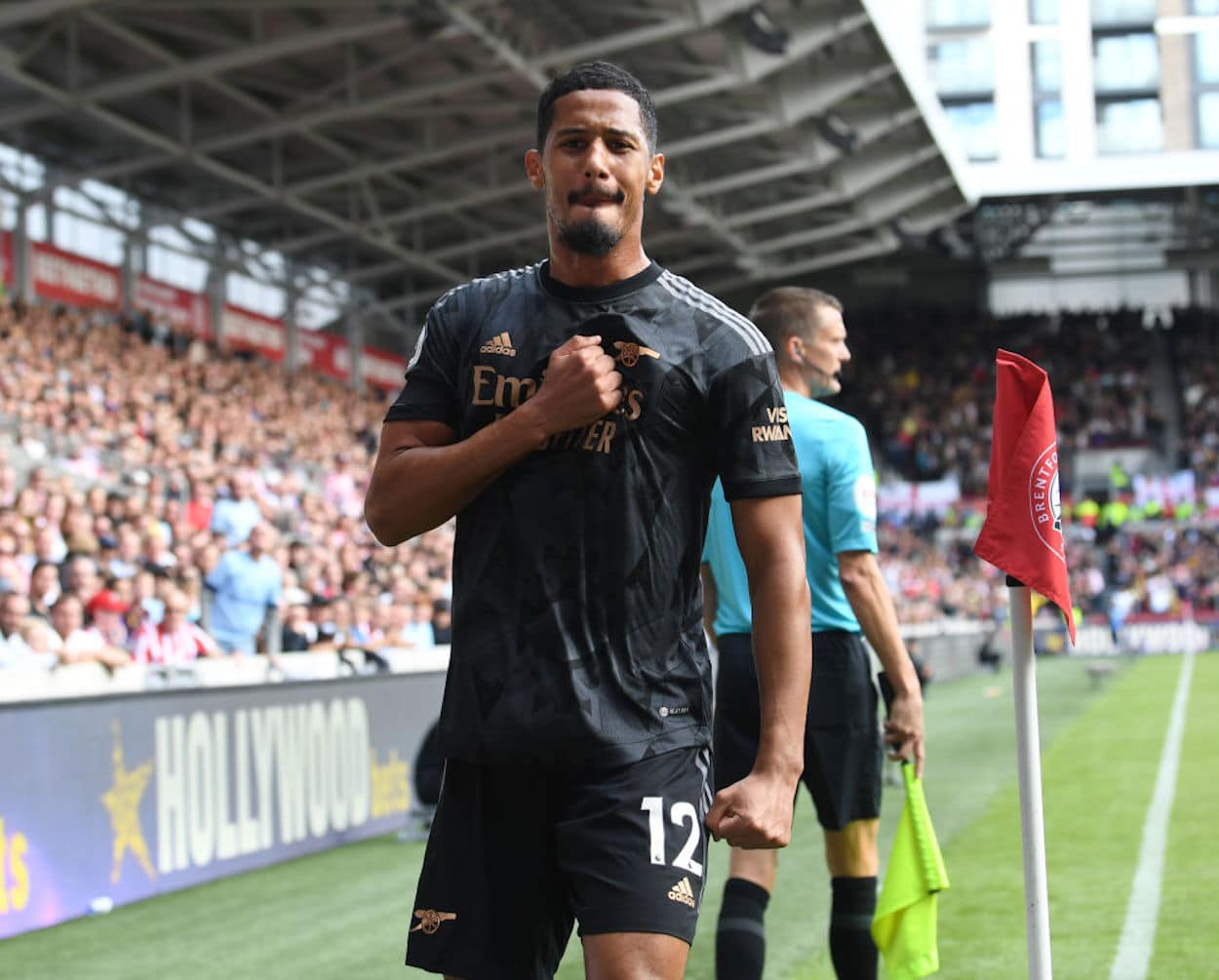 Arsenal News: William Saliba's Latest Comments Suggest a Contract Extension Could Be Coming
William Saliba has shone for Arsenal this season, and he'll need a new contract sooner rather than later.
Through the early stages of the 2022-23 Premier League campaign, Arsenal have looked pretty good. The squad seems to have been constructed with a coherent vision in mind, and, crucially, everything is coming together on the pitch. While there's obviously a long way to go, it seems safe to say that the Gunners are on the right track.
With that being said, though, the future could be getting even brighter.
William Saliba has been one of Arsenal's break-out stars this year, but his contract's expiration is already looming large. Through that lens, the defender's recent comments to Sky Sports seem like a major breakthrough; an extension, it seems, could be more likely than ever.
William Saliba has spoken about his comfort at Arsenal, which means a lot given his recent history
When it comes to professional athletes, it's easy to think that they're robots who only have to perform on the pitch. In reality, though, the player (usually) has to feel happy, comfortable, and part of a bigger picture in order to sign a contract extension.
Through that lens, William Saliba's recent comments seem incredibly important.
"I'm at home here," the young defender told Sky Sports, according to a tweet from Fabrizio Romano. "I like London, I like the club, I like everything. I feel at home here".
While those words sound pretty generic, they mean a great deal, given the Frenchman's history with the Gunners. He signed on the dotted line in 2019 but remained with Saint-Étienne for that entire campaign. He arrived in London before the 2020 season but only made a handful of Under-23 appearances before being loaned back out in January. He'd return to Arsenal again during the following preseason, only to depart on another loan, spending the entire 2021-22 season with Marseille.
Given those repeated loans and the botched beginning of the 2020 campaign — Arsenal dropped the ball from a paperwork perspective, essentially forcing Saliba to waste several months — a general online rumbling formed, suggesting that the defender was unhappy at Arsenal and couldn't wait to leave. Even if you didn't buy into those rumors, though, there was some logic to be found.
Saliba, based on his time in France, had proven to be a promising young defender. If he goes to the World Cup and shines for his country on the global stage, he'd have his pick of clubs when his contract expires. Why would a player in that position remain with a club that he wasn't 100% all-in on?
Thankfully for everyone in North London, his recent comments suggest that he's feeling like Arsenal could be a place for him to shine.
In the context of Saliba's contract, Arsenal needs to stick or twist ASAP
Saliba (theoretically) wanting to extend his stay in London, however, is only half of the equation. Arsenal, on a club level, also need to figure things out ASAP.
Although the defender has only begun playing for Arsenal in earnest this year, his contract will expire at the end of the 2023-24 season. If you combine that reality with the details I mentioned above — in a few months, Saliba could be a World Cup winner — the Gunners are facing a pretty strict timeline. If the Frenchman doesn't agree to a new deal by the end of this campaign, there will have to be serious conversations about selling him.
Talk of selling Saliba will undoubtedly bring back memories of all the stars Arsenal lost over the years, but that's the reality that his contract would dictate. When the 2023-24 season stats next fall, the defender will be in the final year of his contract. As painful as it would be to sell him, letting a talented young player walk for nothing would be even worse.
Thankfully for everyone in North London, though, Saliba's comments, his performances, and Arsenal's overall form paint a promising picture. While no one will relax until the ink dries on the contract extension, the context clues are there for all eyes to see.
Like Sportscasting on Facebook. Follow us on Twitter @sportscasting19 and subscribe to our YouTube channel.